A guide to social media demographics
How can social media marketers & researchers begin to make sense of the billions of users creating and engaging with content across different platforms? Social media demographics of users are complex, dynamic and ever-changing – but wrapping your head around prospective consumers your brand resonates with online is vital for reaching your target market and guaranteeing the success of social media marketing campaigns for your brand.
The potential - how big are social media demographics?
Firstly, how big is social media – and how many people can be in a simple demographic?
Meta alone has 3.7 billion monthly users, while in America, 7 out of 10 people are on at least one social media platform.
Each of those billions of people proves on a daily basis that they're complex, and capable of possessing a myriad of opinions. It's undeniable that the amount of information has exploded in volume and availability.
According to research from Melvin M. Vopson, Senior Lecturer in Physics, University of Portsmouth:
"Each day on Earth we generate 500 million tweets, 294 billion emails, 4 million gigabytes of Facebook data, 65 billion WhatsApp messages and 720,000 hours of new content added daily on YouTube."
On the various platforms, there's an overwhelmingly enormous number of thoughts, opinions and perspectives shared and expressed by millions of people every day. And, of the billions that make up social media audiences, 100s of millions can fit in a single target demographic.
How do you get through this bulk of data to reach those who are right for your brand? The answer is simple. By using a method far superior to others – audience insights and analysis.
Conducting audience analysis will open up countless ways social media demographics can be so complex – and the countless (and constantly growing) ultra-valuable opportunities this offers your brand.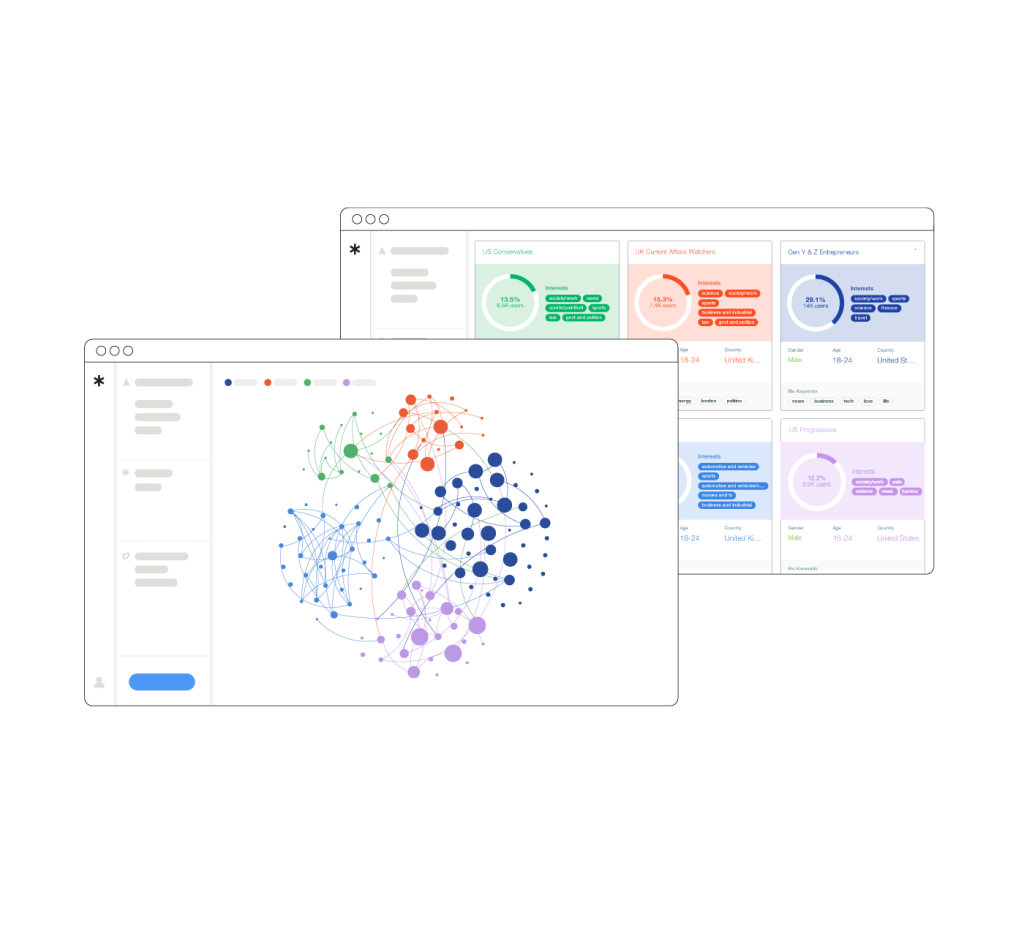 What are social media demographics?
To talk about social media demographics, let's start with the foundation of general audience demographics.
General demographics are the basic classifications of people just about everyone knows. This includes:
Age groups

Gender

Location

Education level

Etc.
Such information can be useful for developing a limited marketing strategy, but is simply far too broad.
Two people can share identical demographics of this sort – for instance be neighbours (location), 30 (age) and have masters' degrees (education) but be incredibly different people in every other way.
One perhaps loves travelling across the world, watching TV sports, and listening to 70s rock. The other doesn't even have a passport, doesn't own a TV, and loves K-pop. They're the 'same person' at a simple demographic level, but share almost nothing else in common.
If you hit them both with the same message, you may alienate both for different reasons. But with the right (but unique) messaging, you could potentially win both instead.
But social media demographics go deeper.
People on social networks aren't simply identified by anyone else – instead many self-identify. They tell you their age, etc – there's no guesswork.
It's here that we can find out things like, loved or loathed, such as:
Entertainment choices

Travelling habits

Hobbies

Shopping habits

Food and beverages

Etc.
Details of likes and dislikes are insightful, but it's only the beginning of the path one must take to delve into audience analysis.
Just as important as what separates individuals is what binds them together into coherent, dynamic communities - thanks to shared views, behaviours, interests, motivations, and so much more.
Hence, understanding what online audiences think and say and the communities of thought they join, often without even realising it, is essential to your social media marketing strategy.
Thankfully this more valuable data is available – via audience insights and analysis.
Why does getting social media demographics right matter for creating a successful marketing strategy?
So, now you know what social media demographics refer to, it's important to understand why demographic data is beneficial for facilitating social media marketing strategies.
As we mentioned above, traditional demographic data only provides the very basic insights needed to form a very limited social media marketing strategy.
By going further, using Pulsar TRAC, you can also see how people react to your brand, sub-brands, individual products, and also those of your competitors. Audience intelligence is how you can find surprising insights for behaviours, views, etc. - and find unexpected groups of people that could potentially become profitable customers.
What are the social media demographics of users of major platforms (Facebook users, Twitter users, Instagram users, Snapchat users, etc?)
The groups that make up each platform's basic demographics are clearly broader than the individual communities we'll explore shortly - but understanding how they each skew towards different user bases can be a deeply informative basis on which to build any research.
Why is it useful to understand the differences between each social network's demographics?
It's evident that people react and are attracted to different platforms (and even parts of platforms) for different reasons. It's when you get this authentic and genuine customer info, you can personalise a strategy which can be as effective and efficient as possible.
According to social media demographic research from Statista, here are the groups most prominent on each major platform:
Facebook social media demographics
While Facebook may no longer be as dominant as it once was, with younger users shifting to platforms such as Snapchat and TikTok - it remains one of the most-used forms of social media globally.
Of all the social media platforms, marketers can reach almost every age demographic using Facebook, making it an essential component for every brand's social media marketing strategy, despite a noticeable decline in younger users.
Facebook users
Active monthly users worldwide: 2.98 billion

Biggest age group: 25-34 (17.6 percent)

Gender: 44% female, 56% male

Time spent using the app per month: 30 minutes // 19.42 hours
Instagram social media demographics
Instagram is regularly evolving to keep up with younger users and competing platforms, enabling it to remain one of the most popular social networks worldwide.
With new features, such as Instagram Stories, which directly competes with Snapchat and Instagram Reels, which mirrors the short-form video platform TikTok, in many ways, Instagram's user base is increasingly Gen Z.
Instagram users
Active monthly users worldwide: roughly 1.35 billion, or

2 billion

(reported by Meta)

Biggest age group: 18-24 (30.8%)

Gender: 48.2% female, 51.8% male

Time spent using the platform per day: 30.1 minutes
Twitter social media demographics
Most notable about Twitter usage is that the platform is that users enjoy the platform as a news source and information on current affairs, making it a leading choice to drive discussions and see how topics of interest form. According to Twitter data:
85% of Twitter users watch, read, or listen to the news at least once daily

94% of Twitter users express interest in current events

83% of Twitter users Tweet about news

55% of Twitter users get their news from Twitter, more than any other social media platform
With a focus on newsworthy content and an interest in real-world affairs, some notable Twitter audience demographics indicate that 'one-third of Twitter users are college-educated and make more than $75K annually' in the US, highlighting the platform's alternative user base, as opposed to social media sites that attach a younger user base.
In the past, we've teamed up with Twitter to delve into how Twitter ads affect brand conversations on social media - concerning conversation spread and audience growth. For more information on how to drive conversation, engagement and positive business outcomes, read our blog covering building the future of audience intelligence for advertisers on Twitter.
Twitter users
Active monthly users worldwide: 237.8 million

Biggest age group: 18-29 (42%)

Gender: 34.1% female, 61.29% male

Time spent using the platform per day: 34.8 minutes
YouTube social media demographics
In line with TikTok short-form videos and Instagram Reels popularity, YouTube is a social media platform similarly proving popular for a younger user base - highlighting the shift towards video content as the preferred form. The drift towards short-form video content is evidenced further by the introduction of 'YouTube Shorts', aligned with current content trends.
Interestingly, however, based on the active monthly users worldwide, YouTube users comprise the broadest age span of all social networks, positioning the platform as a stable favourite.
What is distinguishable about YouTube is the platform's heavy focus on streaming purposes and longer-form video content. YouTube is currently more set up for entertainment means than advertising a brand or product to a target audience demographic.
YouTube users
Active monthly users worldwide: 2.1 billion

Biggest age group: 15-35

Gender: 51.4% female, 48.6% male

Time spent using the platform per day: 45.6 minutes
TikTok social media demographics
Taking the title of the most downloaded app worldwide in both 2021 and 2022, TikTok has taken the social media space by storm since its release in recent years by acquiring a steady base of growing users.
Based on TikTok user data evidenced below, TikTok users spend the longest time using the platform every day than any other user of another social network.
TikTok is the most popular social network amongst Gen Z users, with ages 10-29 amassing 47.4% of its active users in the US.
TikTok users
Active monthly users worldwide: 834.3 million, while many other sources report over 1 billion

Biggest age group: 18-24 (21%)

Gender: 54% female, 46% male

Time spent using the platform per day: 45.8 minutes
Pinterest social media demographics
Pinterest's significant gender split makes the image-sharing social network particularly unique. The platform exists to inspire future purchases, supporting users with aesthetically pleasing ideas, ultimately positioning Pinterest as a network with heaps of advertising potential for brands and businesses.
According to Pinterest's audience analysis, 31% of its users are UK millennials with a household income over £100K - further emphasising its shopping-centric purpose and popularity amongst a high-earning base.
Pinterest users
Active monthly users worldwide: 450 million

Biggest age group: 25-34 (28.5%)

Gender: 76.2% female, 17% male, 6.6% unspecified

Time spent using the platform per day: 14.2 minutes
How can surface social media demographics limit you and your brand?
Once you understand the potential of social media demographics, they can be the most valuable marketing strategy tool you'll ever find. But you have to know the right way to use and understand demographic data first.
Basic social media demographics can be a good start if you know who you want as your target audience and/or want to explore the outcome of broad advertising efforts. But this does not maximise potential.
A marketer or insights professional may miss out on entire lucrative but undiscovered target audiences by limiting themselves to who they already think is interested in their offerings beforehand. Missed audiences may be subcultures and sub-sub-cultures. It may also include groups with shared affinities and behaviours (and crave the same things).
Even in these groups, coming across countless beliefs pointed towards one singular topic and sometimes startlingly different perspectives is highly likely. And opinions and community connections are not static; perhaps something they liked at one time is now derided. You have to stay on top of these changes - so you don't waste your money or efforts or cast a negative light on your brand.
Connecting to these unexpected audiences and their traits can grow your brand in new directions, but not using language that resonates with that particular audience can prove a costly error.
How to find target audiences beyond simple social media demographics – an easier way to go granular
As we noted above, a niche group of thought, behaviour, motivation or interest may be things a person may not even realise they are a part of. And if they don't realise it, how could you?
Fortunately, this information can be uncovered easily with the right tools.
By using Pulsar TRAC and its Communities feature, which allows you to instantly segment any public conversation you're tracking, here's what we found in a search of the audience behind Netflix's popular Seaspiracy documentary: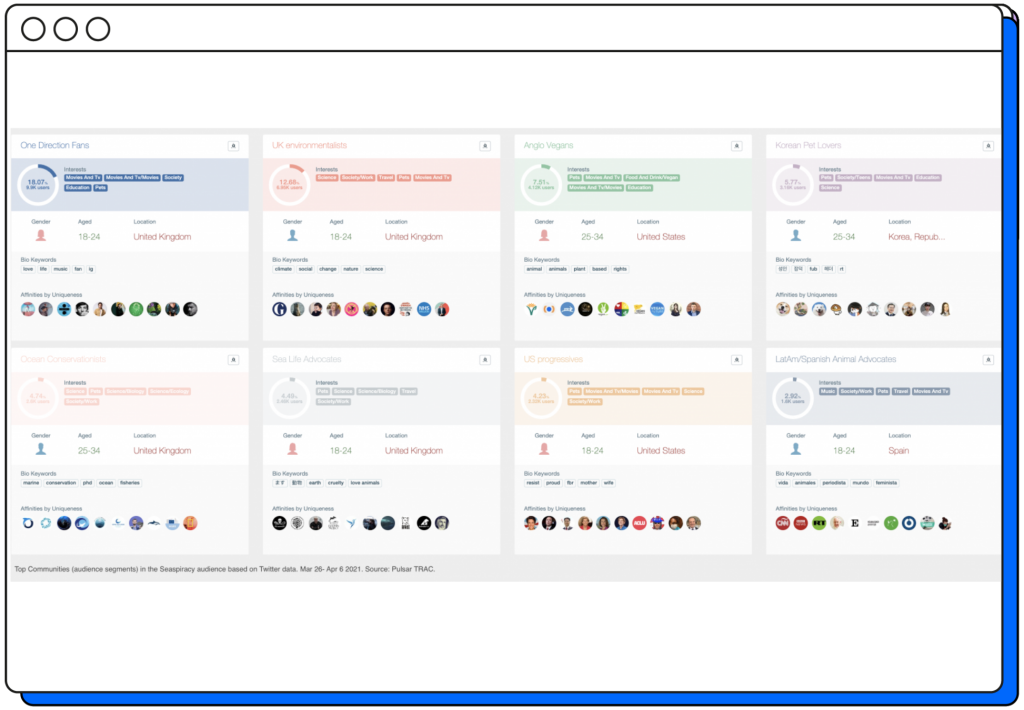 Doing one click from Pulsar TRAC to Audiense means things can get extra interesting.
Below, is a visualization of the top audience segments for our research on "sustainability". 
Now you can see where your audiences are linked with each other. Who is speaking the loudest? The biggest bubbles. Which communities are talking to each other? The ones linked by lines. The most prominent audience groups are also on the left – the first level of audience understanding.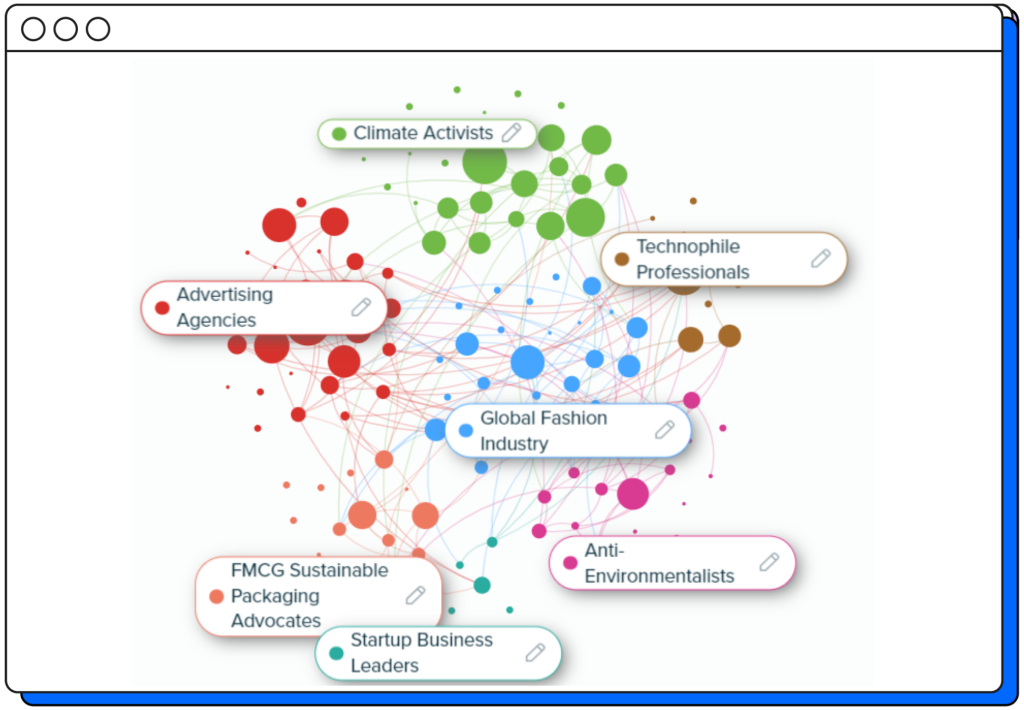 It's when you get this authentic information, you can personalise your marketing strategy, which is essential for both effective and efficient audience demographic targeting.
You can:
Segment your audiences and mould messaging, outreach, and advertising efforts in the most valuable way.

Cluster the communities taking place in conversations connected to your product, brand or business.

Focus on their topics of interest, rather than the incredibly limited approach of overly simple demographics, and actually see with your own eyes how they talk about these topics.
This is how you can map out fragmentation to people not just interested in your offerings, but also learn the context of how they use it – such as at home? At work? For plane travel? Etc.
Pulsar TRAC combined with Audiense, means it can be much easier to get the insights you need to super-personalize your social media marketing strategy to the innermost level.
And that's how you can find out the answers to vital questions. When you do, you can truly discover:
What motivates your

audience's activities

& how to activate them

What digital content is most likely to resonate

What your actual personas are (including ones you did not previously know about)

The influencers that your audiences (including the previously hidden ones) care the most about – and why (via social intelligence)

The SEO keywords that they are more likely to search for.

Where you should direct PR efforts

The places to advertise, who to show it to, and what to say to them

The actual

social media audiences

that actually exist vs anything more speculative

The brands this audience is most interested in

The distributions of the segments looking towards you

Taking from bios to see how people identify and what they say about themselves
Case study: An example social media demographics insight and audience analysis works well
So, how do brands or businesses use Pulsar to uncover social media demographics to form a clear and defined target audience?
Fulham FC uses Pulsar to reveal valuable insights to help the premier league club better understand fanbase behaviour. Using Pulsar TRAC, they can explore the communities that make up their global supporters, track how specific players come up in conversation, and measure the success of commercial or advertising campaigns, including new kit releases each year.
In relation to how Fulham FC utilise Pulsar for audience insights, Tim Griffith, Head of Strategy & Insights at Fulham FC, states that: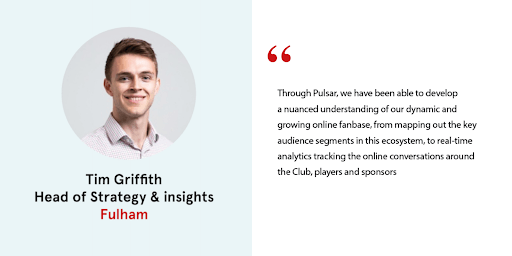 For even more on how the Premier League team uses Pulsar for insight into fanbase behaviour, read our full Fulham FC case study.
Why understanding your social media demographics is vital for a successful social media marketing campaign?
As outlined in this guide, by taking the time to go deeper and understand your audience beyond basic demographics and common stereotypes, you'll be positioning your social media marketing campaigns for significant success.
Delving into your audience to reveal social media demographic data can uncover who you should be targeting, the content that will resonate with them, the language they use, their interests, opinions, stances, and so much more. Once aided with the power of these insights, accelerating the reach, engagement and growth of your brand or business becomes simpler for social media marketers.
Combined, all of the information in the guide can go above & beyond purely building a social media marketing strategy – it can also strengthen & inspire future product development, CX approaches, your company's overall positioning, and so much more.