How Fulham FC use Pulsar to reveal insights in fanbase composition & behavior
Modern sports teams possess some of the most passionate and active fanbases around – highly dynamic audiences that are constantly evolving their relationship based on pitch-side moments, transfers and a myriad of factors away from the field. 
So how does the insights function at a Premier League team understand the nuances of an ever-changing audience? How does it learn what's driving fan behavior, and map the impact of sponsorship and commercial activities?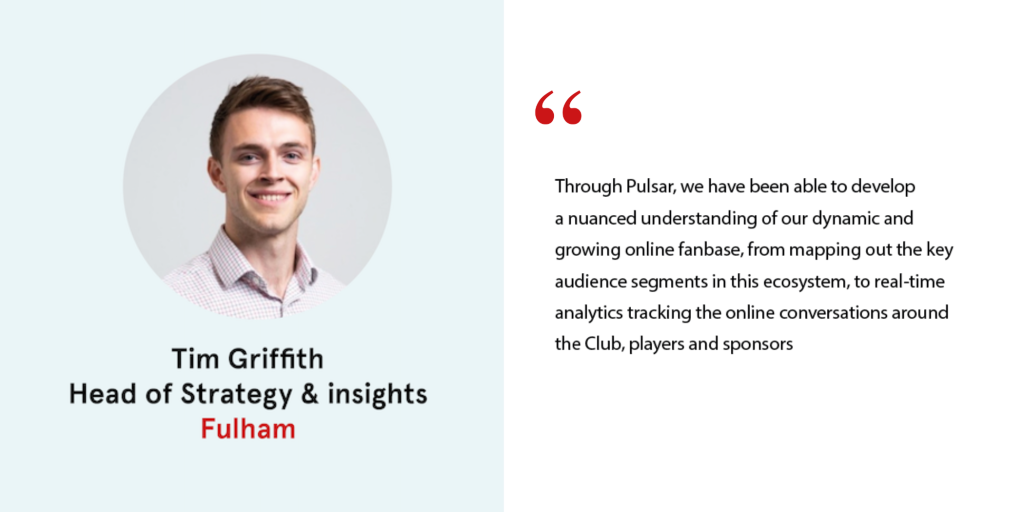 We spoke to Tim Griffith, Head of Strategy & Insights at Fulham FC, about how Pulsar TRAC informs the team's understanding of its fans.
In this case study, you'll discover how Fulham use Pulsar to: 
Understand the distinct communities who make up their global fandom 
Track how specific players & topics drive discussion
Measure the impact of commercial campaigns, including the annual kit release 
Read the full story by filling out the form below.