Virtual influencers: what do they say, who follows them and why?
Being a 'personality' doesn't mean being a person any more
In-the-flesh influencers could have their days numbered.
Over the past two years, virtual influencers (or CGI influencers) have started to gain ground, racking up followers on social networks, prestigious collaborations, and brand sponsorship deals.
A few examples?
A digital modelling agency exclusively employing models who aren't real….
A trio of virtual influencers sharing audiences and reality-TV-level drama in L.A….
Billion-dollars corporations using CGIs as their public face on social media… 
Who's the audience?
To better understand virtual influencers we need to see who actually cares enough to follow and talk about a person who doesn't exist.
We dived into the audiences talking about some of the top virtual influencers using our audience insights tool TRAC to gather mentions. Here's who the people talking about them say they are (based on Twitter bios):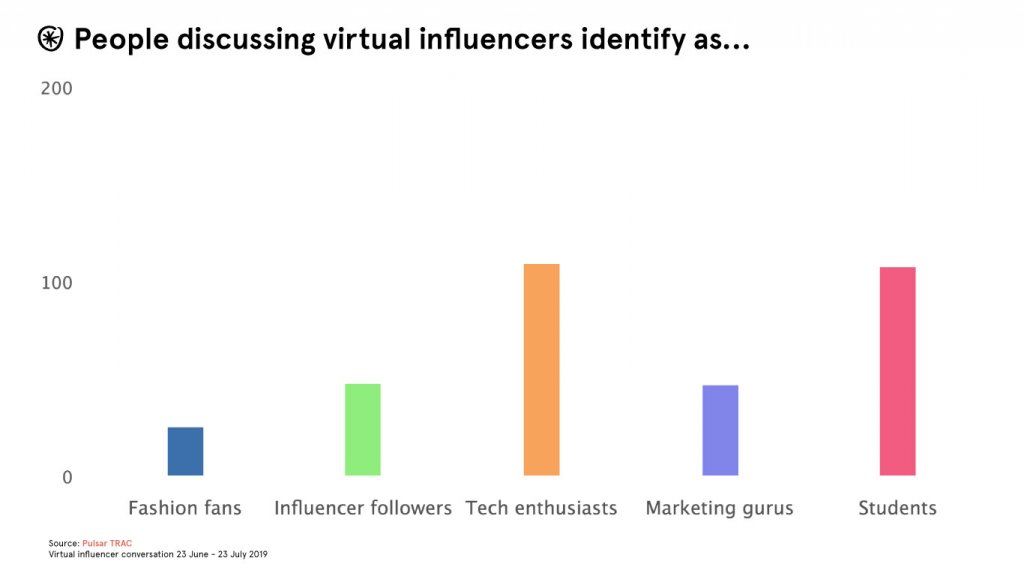 And here is what those virtual influencers mentions are about in terms of topic: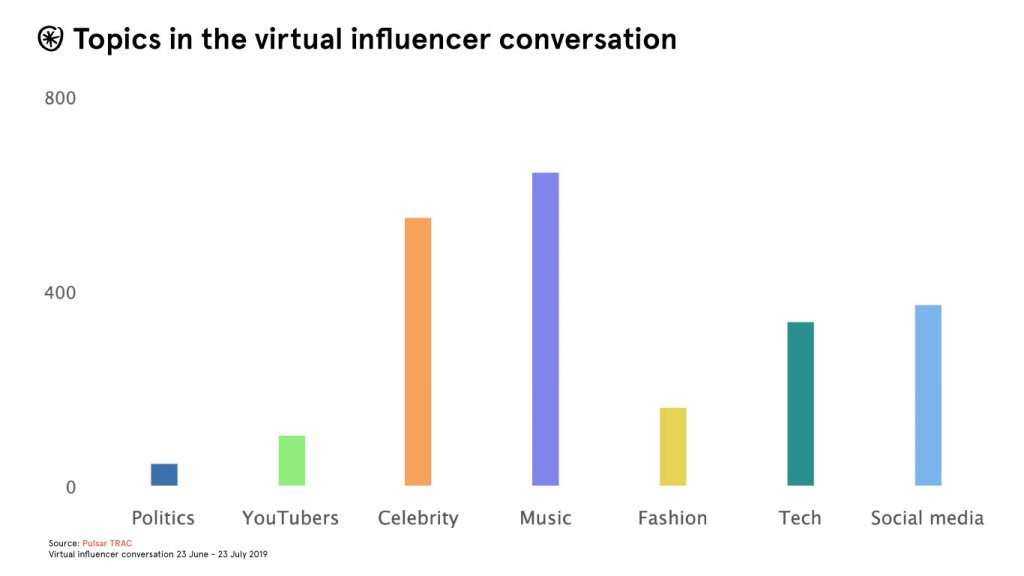 Although this group identifies heavily as involved in technology, their conversations about CGI influencers are not entirely focussed on the computer graphics and technical finesse. Rather, these virtual influencers mentions attract interest because of the celebrities and musical stars involved in their posts.
This seem to audience need some sort of IRL anchors to draw their interest. Using Pulsar CORE, we've broken three categories of virtual influencer by what makes them interesting: the influencer, model and spokesperson.
Virtual human influencer
Three of the most successful virtual influencers come out of the same LA agency Brud: they currently have on their roster Lil Miquela (1.6m followers), Bermuda (137k) and Blawko (137k), who trade off having the most interesting stories.
Brud's gang are a friendship trio. Lil Miquela, perhaps most famous virtual influencer out there, has collaborated on singles with Harlem Shake creator Baauer, and now has her own shop Club 404, selling eye masks and t-shirts, which she describes as "a place where people create and share and thrive… this is where we feel alive".
Bermuda and Blawko, her two friends, used to date, and besties Miquela and Bermuda have also had a spat over how to 'do' influence, which resulted in Bermuda hacking Miquela's account in 2018.
On Instagram, Miquela is the clear leader of the group – getting most engagement by a long shot – an average 27k engagements per post in the past month compared to Bermuda's 3.99k and Blawko's 2.31k.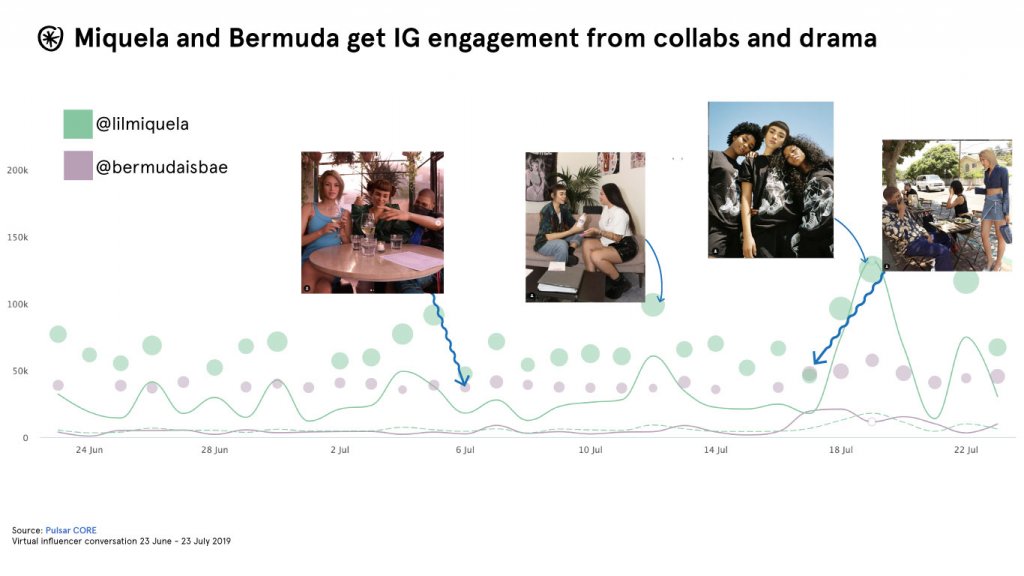 Bermuda's most engaged posts are ones that featured the trio, or her and Blawko's latest drama, but Miquela's most engaged also features another influencer, although this time a 'real' one. Operating in a silo doesn't seem to be successful: as Blawko's least engaged post this month, a close up of himself, proves. With these three, interacting with society and one another is what gets the engagement.
And this could be true for any human influencer gang. Brud's real success has been understanding what makes for a successful influencer. Creating a spectacle of your life feels strange for humans – like this infamous Instagram proposal – but feels more natural from avatars.
Virtual models
Another 'type' of virtual influencer is the fake model – a character who doesn't speak, but are still recognisable for ad campaigns. Also, they don't need to sign complicated contracts or want raises and vacations, and best of all, will fit into every style of clothing created.
The business need is particularly evident in the fashion industry: French haute couture brand Balmain commissioned photographer… Cameron-James Wilson for three virtual models for a campaign, which he has now spun out into the "first virtual model agency", the Diigitals.
The most popular model on The Diigital's books is Shudu (179k followers on IG).
Shudu doesn't post very frequently, but her audience engages enthusiastically, with an average of 9.02k likes and comments per post this month.
Unlike the Brud gang, Shudu's posts are written in Wilson's voice, discussing the creation of the animation which might explain why some of the most successful hashtags on Shudu posts include #3D, #3Dart and #fantasy.
Virtual brand ambassadors
Working much harder than Shudu and filling out their IG grids are brand ambassadors Noonnouri, Daisy, and Colonel Sanders from KFC, although they each operate on different business models.
Freelancer Noonoouri, who has a manga-style look, gets deals with fashion houses from YSL to Pucci. More or less every post from her – every few days – is a new ad.
Her engagement per post this month has been 9.02k, a similar level to Shudu, and her most successful hashtags are about her unique appeal: #doll #dolls #manga.
Other brands have grown their own in-house CGI talent.
Online shopping company Yoox has created its own CGI ambassador, Daisy, who looks very human and helps model clothes Yoox are pushing on the site and is increasingly showing up on their IG feed taking up the majority of top posts in their grid currently, with tap to buy links to the clothes she's 'wearing'.
And finally, Kentucky Fried Chicken (KFC) has created a CGI version of their Colonel, who has set out partnering with other virtual influencers, and even embarking on a collaboration with Casper, the leading DTC mattress brand:
Skipping the pesky human for influence seems to be working in 2019.