How AS Roma won at Football Twitter
Over the past year a handful of European football (soccer) teams have been on a tear, on social media, at least.
Scouring Twitter for the Interwebs' favorite accounts consistently brings up 3 teams: @ASRomaEN (from Rome, Italy), @FCBayernUS and @bayer04_en  (from Munich and Leverkusen, Germany).
Holy Trinity of Club Twitter Accounts

☑ @bayer04_en
☑ @ASRomaEN
☑ @FCBayernUS

Sorry, I dont make rules. But this was inscribed in a stone trophy somewhere.

— 😩 (@filthyfranzz) November 5, 2018
All 3 of these are English-language accounts, catering to the international fanbase of these teams, rather than the one at home in Italy and Germany. Each of these teams of course also has Twitter accounts in their country's native language.
And while it's not unusual for German or Italian brands to want to communicate beyond their borders, it is rare for international brands as localized as football teams to outperform the native-speakers.
Kings of engagement
We took a look at the social data through Pulsar CORE to understand exactly how successful these accounts are, and the results spoke for themselves. During a single week in mid-October, the 3 teams attained the following engagement rates* on Twitter:
@ASRomaEN – 65.3
@FCBayernUS – 92.3
@bayer04_en – 109.1
* cumulative interactions (likes, retweets, replies) to all tweets, divided by the number of followers
For context, Wolverhampton Wanderers – the perennial leaders of our Premier League Fan Engagement table – achieved a comparable Twitter engagement rate of 12.02 during the same week.
"Bigger" English clubs like Chelsea, Liverpool, Manchester United and Manchester City came in at less than 2.4.
In short, @ASRomaEN, @FCBayernUS and @bayer04_en are massively outperforming the industry on Twitter.
How do they manage?
It comes down to 'native' Twitter tone, humor and memes, and boisterous confidence.
Sexy two degree increase in global temperatures which causes sea levels to rise by 1.6 metres that in turn floods coastlines and transforms more than 143 million people into climate migrants and results in new global wars caused by clean water scarcity https://t.co/IuvV2U11Tx

— AS Roma English (@ASRomaEN) October 11, 2018
This was a reaction to the third goal in a 3-0 upset over football powerhouse Barcelona:
DAJEEEEEEEEEEEEEEEEEEEEEEEEEEEEEEEEEeifefefbejfwjofnwjfnwjfbrufbwfubweufbewfuewbewbfwejfwjlfjfwfjlwfjbfjwfbwjfbwjofwjfnewjofnewjofnwjfnweAHHHHHHHHHHHHHHHHHHHHH!!!!!!!!!!!!! #RomaBarca 3⃣-0⃣#ASRoma #UCL

— AS Roma (@OfficialASRoma) April 10, 2018
As anyone who has worked with social media audiences knows, this kind of tone is very hard to strike. Yet the team managing the @ASRomaEN account seem to have no shortage of ideas, confidence and willingness to experiment to deliver winning tweet after winning tweet.
*record scratch*

*freeze frame*

Yup, that's me. You're probably wondering how I ended up in this situation...#ASRoma #UCL #RomaBarca pic.twitter.com/J9Vbq68e77

— AS Roma English (@ASRomaEN) April 10, 2018
A recent article by Bleacher Report, a leading sports news and commentary site, summarized it well:
"In a world where elite footballers and their clubs are increasingly more difficult to engage with, Roma have led the way in changing their relationship with an audience. By adopting an English-speaking account, many teams have looked to capture the interest of other fans who may not previously have had reason to relate to their team. But Roma have built a bridge with banter and intelligence that changes the digital landscape."
🎨 The Creation of Thomas. 🎨 pic.twitter.com/4JWk8bgYPc

— FC Bayern US (@FCBayernUS) November 7, 2018
Other teams like @FCBayernUS are also fluent in this, but on social media @ASRomaEN are the undisputed champions.
Word-of-mouth champions
But when did this shift to a tone that's more "native" to social media begin for these accounts?
We interviewed an employee of one of the agencies creating content for such clubs:
"Although these accounts may have gained mainstream fame in 2018, we adopted the strategy of being more relatable and conversational at least two-years previously."
The data backs this up. Here is an analysis of conversation levels about the managers of the accounts (i.e. how much people spoke about the "Roma Admin" or @FCBayernUS being the best Twitter account, rather an overall look at conversation or engagement elicited by the account):
@ASRomaEN win bragging rights with 93k mentions, compared to 13k for @FCBayernUS and 7k for @bayer04_en. The momentum, increasing attention and respect these social media manager roles have gained as the year progresses is clear.
Act local, think global
Again, these aren't the clubs' primary Twitter accounts, but foreign language spin-offs.
Yet the twin forces of social media and globalization have turned those in the most promising growth area for these sports brands.
Our man behind-the-scenes explains the business logic:
"Roma, for instance, know they have limited scope in increasing their fanbase in Italy – the vast majority of Italian football fans will already have a club. It's a different matter abroad, where football fans may have a passing interest in Serie A without supporting a team. Good social content can help them gravitate to a club and potentially even convert into fully-fledged supporters."
This echoes a talk given by Paul Rogers – Roma's Head of Digital and Social – at the 2016 Sports Innovation Summit in Mexico:
"It used to be a case if what you delivered as a club or sports team wasn't that great, you could probably rest assured that a fan wasn't going to go and support a different team because they had a better website of social media account. But now I think the competition is far bigger."
Does this international outlook have to do with the priorities of Roma's American owners, who've been in charge since 2011?
In general, for the likes of Roma, Leverkusen, Schalke (Germany) and Valencia (Spain) – all of whom do not have the trophy-laden history or near-guarantee of yearly success of Barça, Manchester United or Juventus – social media represents one of the best bets to attract new fans across the globe.
But what about English clubs? Intuitively, one would think they would  have a leg up given that global-level Twitter conversations are carried out, after all, in the Queen's language.
But globalization works backwards in this case: an English club setting up a foreign language account will only be reaching the audience of that country, e.g. Arsenal's official Indonesian account will only attract Indonesian fans – and the English speakers in that country will already have their content needs fulfilled by the main account.
On the other hand, when Roma branches out from its predominantly Italian flagship @OfficialASRoma account to @ASRomaEN, the expansion into English language attract fans all over the world.
Then again, it's not just English-speaking fans they are catering to: on its bio, @ASRomaEN also lists other multi-country languages such as @ASRomaArabic, catering to the more than 200 million Arabic speakers, or @ASRomaEspanol (350 million native speakers).
Finding new fans worldwide
Looking at the country share-of-voice amongst the 93k people talking about the "Roma Admin" is especially revealing: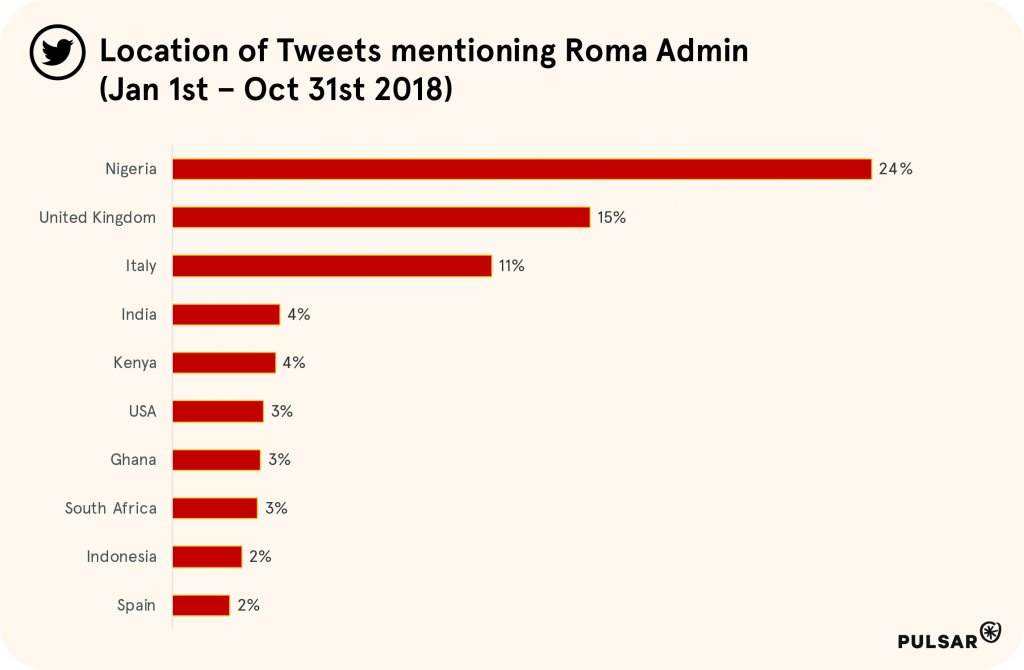 The majority of conversation stems from Nigeria, India and Kenya, which account for 32% of total mentions. This illustrates just how successful @ASRomaEN has been in broadening its global reach, and is given further evidence when looking at the makeup of its following: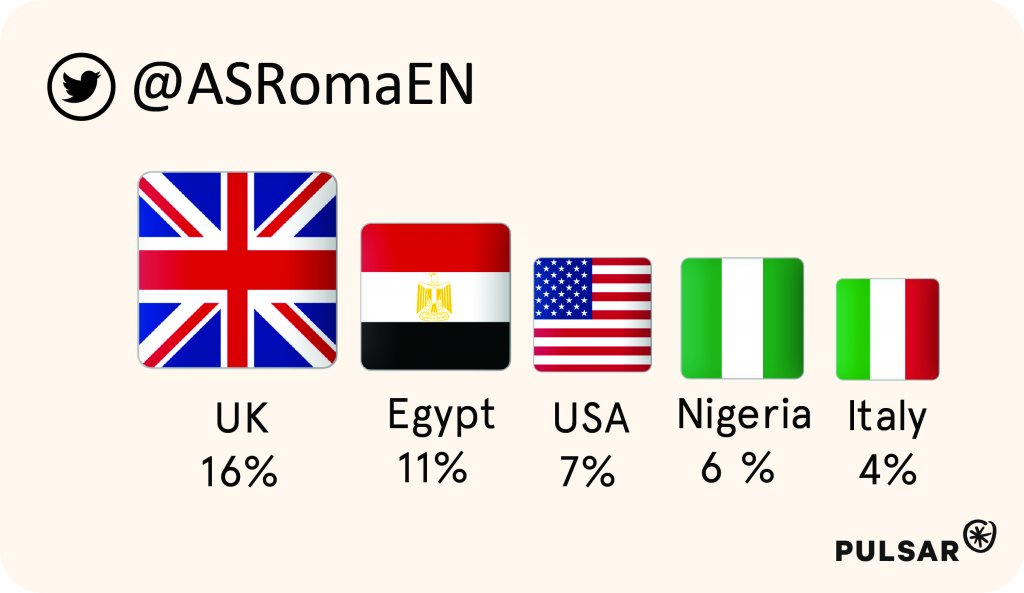 Though the USA and UK and Italy figure prominently in Roma's audience, there is substantial penetration also in Egypt and Nigeria. As a benchmark, the following of the flagship Italian @OfficialASRoma account illustrates how much impact @ASRomaEN has had in making the club more globally accessible on social:
Setting the trend
Football Twitter has certainly picked up on this, and even demanded that some of the more serious and traditional flagship club accounts follow suit – with evidence that some of them are beginning to do so:
Once again, Roma are the Kings of social media@Arsenal you guys should look into someone as charismatic as whomever is the admin for this wonderful page is 👏 https://t.co/9nXiCPVtxK

— Daniel Finton (@Daniel_finton) May 20, 2018
The new arsenal admin is 🔥🔥 https://t.co/HoHYnJpRAh

— #AdventureThrills (@njooro) November 6, 2018
Regardless of their on-pitch performance, AS Roma have proven to be trendsetters on social – and social is helping them grow their worldwide fanbase.