#WengerOut: the evolution of a hashtag
Now that the ink has dried on Arsène Wenger's new contract, our resident Gooner and researcher Sameer Shah investigates the ultimately futile social media-led campaign to get the manager to leave Arsenal.
In a world of political protests, entertainment events and campaigns battling for visibility, a curious trend has recently developed: the entirely unrelated presence of posters or banners containing two words: WENGER OUT.
This simple two-word statement about Arsène Wenger, manager of Arsenal Football Club, has become a global phenomenon…
From Anti-Trump protests in London:
#WengerOut banner at a Trump protest pic.twitter.com/iNAnGs9goK

— MARCUS JOSIAH (@AmDASHY) February 21, 2017
To a Coldplay concert in Singapore:
A Wenger Out banner was spotted at a Coldplay concert in Singapore last night pic.twitter.com/lk1ZxFu2eN

— Dream Team (@dreamteamfc) April 2, 2017
And even at WrestleMania in Orlando:
There are two types of people in the world. #WengerIn #WengerOut pic.twitter.com/xV1MyYDSY2

— Sarcastic One (@GouravGR23) April 3, 2017
As the phrase has taken a life of its own, we at Pulsar have investigated its roots further. Using our access to full historical Twitter data ranging back to 2006, we've analysed the evolution of the #WengerOut hashtag before it became a meme.
The history of #WengerOut
Alongside the primary #WengerOut hashtag, we've tracked similar ones that express the same sentiment – and also those lending support to Wenger, such as #ArseneKnows.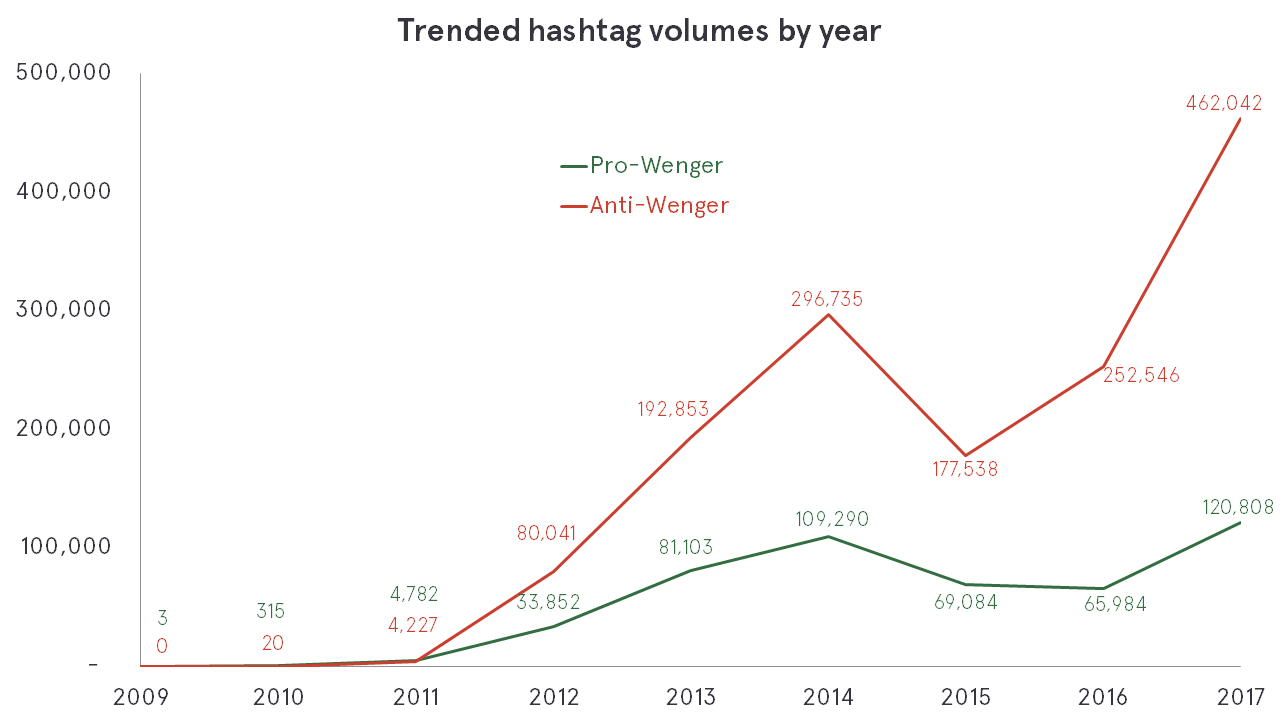 The first hashtag on either side of the divide didn't actually appear until August 2009 (and, curiously enough, held positive sentiment for him).
This isn't much of a surprise, though, given that hashtags were only first suggested as a means of social media communication in April 2007 by @ChrisMessina and then formally recognised by Twitter in June 2009.
how do you feel about using # (pound) for groups. As in #barcamp [msg]?
— Chris Messina (@chrismessina) August 23, 2007
Hashtags started out as a neat way to hyperlink to discussions around the same subject, and then became featured as trending topics which highlighted the most prevalent conversations.
They've since evolved into a super-efficient manner of self-expression that add a layer of context or underlying feeling to the remaining 140 characters in a Tweet. Indeed, some hashtags don't even need any other words: as is the case with #WengerOut.
How does Twitter feel about Wenger?
We then compared the favourable and unfavourable hashtags around Wenger's continued reign at Arsenal, formulating an "approval rating" of sorts throughout the seasons:
This approval rating (calculated as the difference between hashtags expressing support and hashtags wanting him to resign) is extremely favourable in 2009/10 and still positive in 2010/11. While things were certainly rosier for Wenger back then, the extent of this in terms of our data is exacerbated due to a smaller sample of mentions.
Mentions of the hashtags do pick up considerably thereafter, and his approval rating sinks to negative for the first time in 2011/12; before plummeting the following season. The 2013/14 FA Cup win provides some respite, but the three most recent campaigns bear witness to an increasingly disgruntled fanbase.
So, why the negativity?
Invariably, this is linked to his performance as Arsenal manager. But does it also feed into the proclivity of people using social media as a soapbox to challenge the status quo?
A study conducted by the Institute of Customer Service in 2015 revealed a massive EIGHT-FOLD increase in consumer complaints on social media throughout 2014.
It's not difficult to see how this translates into sporting opinions – especially as sports teams become more corporate and increasingly treat their supporters as customers rather than custodians.
On the other side of the spectrum, individuals feel a greater sense of empowerment and importance on social media, using these platforms to voice their opinions; sometimes even seeking others going through similar experiences.
The open dynamics of Twitter make it an even more natural home for this. I mean, we all know someone who never tweets, except to complain to a brand for the below-par service they received, right?
What was the #WengerOut catalyst?
We've looked at broad trends so far, so now we must look at specific event(s) that helped transform #WengerOut in to the worldwide meme is has become.
Rather than identifying individual matches or moments that sent the Arsenal faithful over the edge, an analysis of the usage of the hashtags in different months is extremely revealing: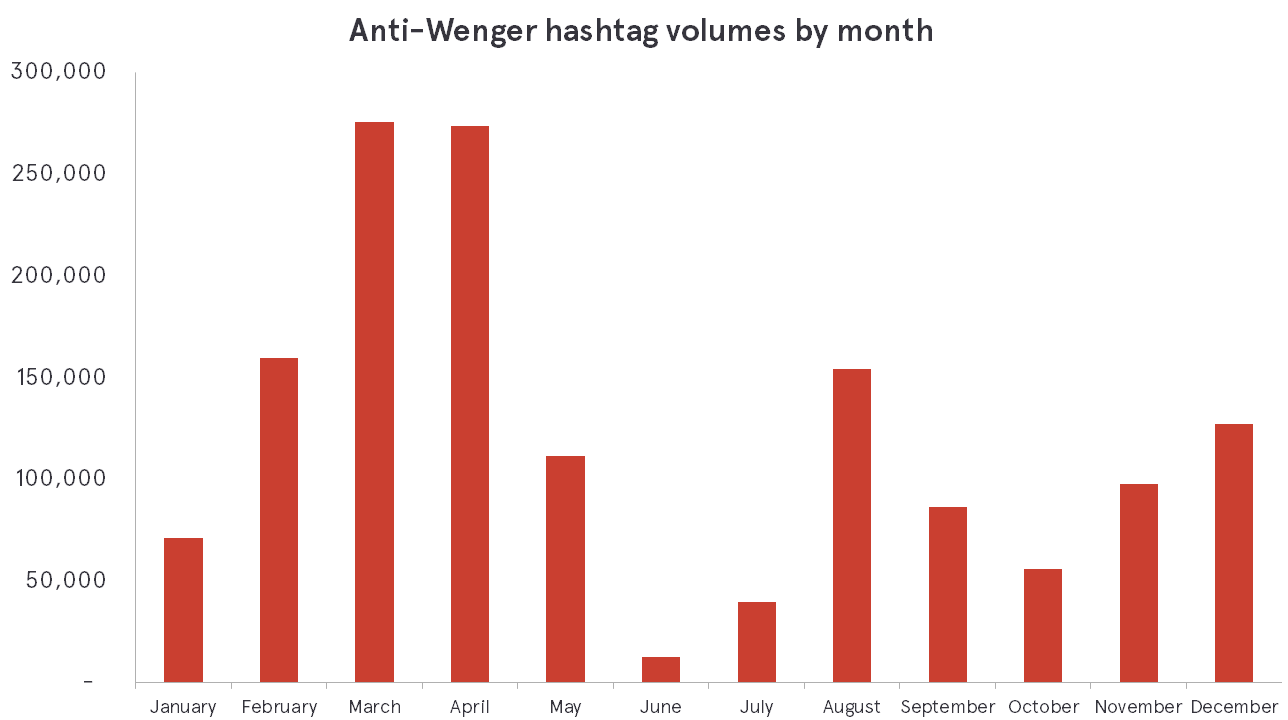 For football fans, seeing February, March and April rank highest is no surprise – Arsenal are notorious for their tendency to collapse just as the end-of-season finish-line comes into view. Too many times have these months seen early-season promise fall by the wayside.
Interestingly, August (i.e. the very beginning of the season) also features highly. You would think that hope springs eternal at this stage, but Arsenal's renowned frugality in the transfer market has left swathes of fans tearing their hair out at a squad that is just short of sufficient quality – despite heightened expectations following the lucrative move to the Emirates Stadium in 2006.
And as we see everyday with the millions of customer service complaints on social, if there's two things that turns loyalists against a brand (or, in this case, a manager) it's broken promises and unmatched expectations.