How newsrooms turn to data for audience understanding
At Pulsar, our aim is to provide audience insights to help a wide variety of organisations produce better creative and planning strategies and stay relevant to their audiences.
The Reuters Institute, an Oxford University research centre, last month released 'Editorial Analytics: How news media are developing and using audience data and metrics'. This report reviews how US and European newsrooms are using audience insights to enhance their reporting, grow audiences, increase engagement and improve newsroom workflow.
Editorial Analytics is relevant for any publication looking to better understand their audiences & tailor content to specific demographics. The report's main takeaways are summarised below.
85% content gets almost zero traction
With 85% of all posted content getting practically no traction online, creating content isn't just about pressing publish and praying it goes viral. Content is about knowing your audience, having a strong voice and having a relevant message to that very audience. It's also about knowing when (and where) to post, and understanding how to properly measure success.
The key challenge is being able to cut through the noise and connect content with the right people, which is why audience intelligence tools are crucial for any organisation wanting to make an impact with their content as part of their marketing strategy. To achieve this, using and analysing audience data is the key.
The Editorial Analytics report highlights some key steps to consider:
Firstly, the aim is to get your content in front of the right people. Ask yourself: who would be interested in it? Who would spread it? Who would pay for other services?
You then need to understand key trending topics by region and map pieces of content for those locations.
Understand the demographics of the audience you're producing content for: male/female, what age group?
Don't publish content when the organisation can, needs or wants to. Only publish when your audience is active, otherwise your missing a key window of opportunity.
Explore different channels and understand what types on content works for which platform.
Understand the intensity of how people look at certain pieces of content. Are there any repeat patterns by user or clusters of users, rather than just the amount of clicks?
What do you measure to understand the things that you're not doing? With this it's good practice to experiment, use A/B testing for creative, formats and topics.
The report says that "globally oriented US and UK-based news organisations remain ahead of most others in their development and use of analytics". We've got examples of two key newspaper publications that have invested in audience insights and are reaping the benefits.
Ophan: the Guardian's internal data culture
The Guardian launched their own analytics platform, Ophan, in 2012. Ophan delivers real-time analytics on individual articles, offering a sturdy amount of detail. The analytics tool shows not just traditional metrics like page views, but social shares and time spent by readers on each article.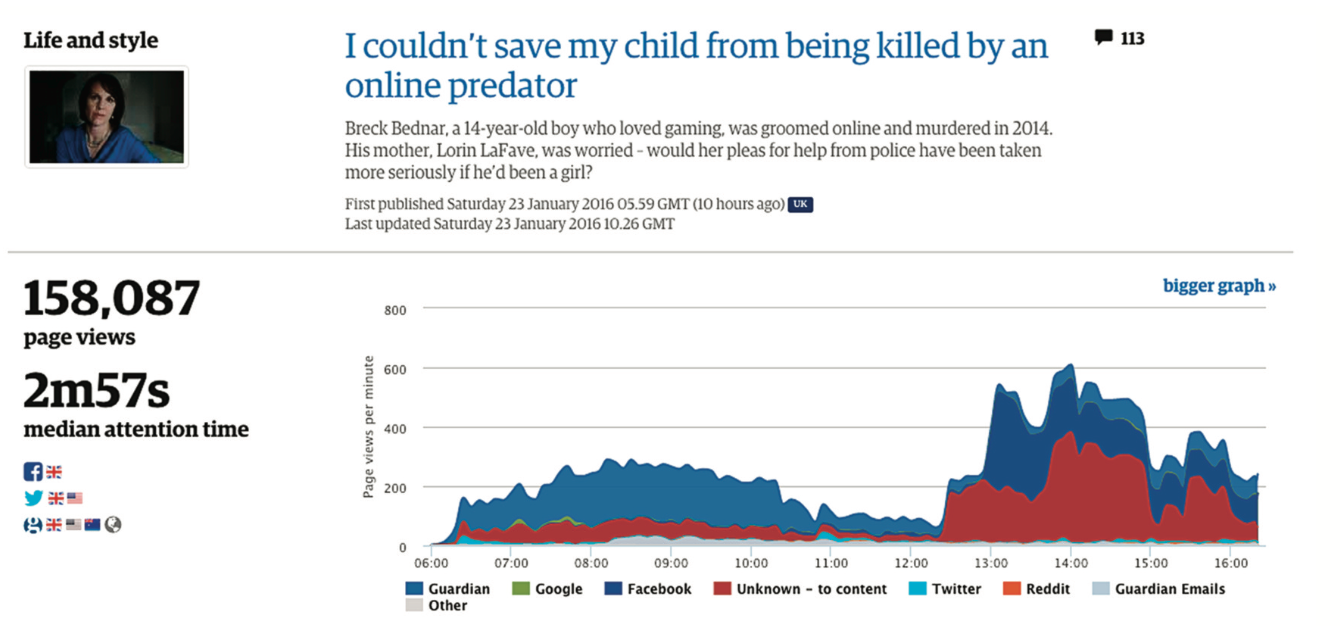 Guardian's data analytics platform, Ophan
Ophan can also reveal what platform (and device) readers are looking at the article on, how they found the content and what country they're viewing from. The Guardian promotes an internal culture of data, which helps employees beyond the audience team understand data analytics.
Although this is crucial to track your own content, it doesn't quite follow the journey of an article when it is copied and shared, re-posted or backlinked from elsewhere. Depending on your needs, tracking how an audience is reaching content,  where that content is going once reached and what kind of conversations sprout up around it can give you a better rounded understanding of your audience and their behaviours.
Ophan definitely shows that the Guardian has a progressive attitude towards understanding their audiences – and they're not alone.
Audience engagement at the BBC
The world's largest broadcasting company set up its own audience development team last year – which now plays a heavy role within the online newsroom. The main priority for this team of five is to put data-driven decision making at the heart of the editorial culture, by informing editorial personnel on how to mould their content based on third party data and analytic platforms, like Chartbeat. The end goal? Journalists using data to create more successful programming, rather than being surprised by hit or miss shows after they've aired.
For example, the data team might discover that there is a sudden surge in interest for nature documentaries, with the ocean-specific content performing best. They'll also be able to tell that the audience is between the ages of 16-24, primarily watching through the iPlayer app. Not only can this inform programming (more nature programming, and pulling re-runs out of the archive to tie into the current programming), but also inform the wider organisation to make it available for longer on iPlayer, and to specifically promote the content to reach its target audience.
The actions taken by the BBC to focus more on audience intelligence are promising. Next to the centralised audience development team, they're also building their own in-house analytics platform. Like the Guardian's Ophan, this new platform will help serve journalists so they can see real-time data of published articles – meaning they will have even better abilities to analyse data and use the insights to inform their content strategies.
Data-driven strategies & teams are critical for any content-led organisation. Having these resources give companies the ability to make sense of audience trends, with actionable insights becoming available for both the company's research realm and throughout the rest of the business and into its culture.
Data analysis is key for a 360 degree view of your audience, and it's exciting to see leading publications build specialist in-house platforms and teams to inform them.
If you want to know more about audience insights for news media then you can read the full report here.
If you want to explore how audience intelligence can take your marketing strategy to the next level & you're yet to experience the power of Pulsar, we'd love to hear from you. Just email [email protected] or call us on 020 7874 6577.