#Dieselgate: The impact of corporate deception on social perception
We teamed up with Sophus3 and reviewed the Volkswagen's #Dieselgate crisis on social media in their latest quarterly AMI publication on brand reputation management. Read on below for the full analysis: 
The growing importance of social media has expanded our horizons in terms of content we consume and share whilst also affording us a much broader audience.
News and opinions can now spread like wildfire online, particular negative info about brands, and VW was no exception. We have utilised various social media metrics and visualisations to illustrates the impact of #dieselgate.
From this we can also identify certain key learnings for brands in monitoring and reacting to conversation on the web, with the aim of limiting damage and averting a crisis becoming a disaster.
Word-of-mouth in the digital age
Digital-driven globalisation means something occurring in one part of the world takes mere minutes to reach the eyes and ears of a person in a far-flung land – particularly given today's penchant for 24/7 rolling news. Our opinions are no longer confined to family, friends and colleagues but extend to a wider online community of hundreds or even thousands thanks to social media.
Bad news hits hardest and spreads fastest
Whilst there have been several conflicting research studies devoted to ascertaining whether humans have a greater appetite for consuming and relaying good news or bad, when it comes to large corporations there's only one winner.
Given that these business have grown on the back of years of profit and rising stocks, it's no surprise that the odd decrease in sales or plummeting share price stands out more. However, when you add a whiff of conspiracy as a key cause, this escalates things to a whole new level.
Cast your mind back to the early part of the century and recall how newsworthy the case of Enron was: dubbed the world's most infamous accounting scandal. Now teleport yourself back to the modern era: it's not difficult to envisage #Enrongate trending on Twitter throughout the saga. The scandal du jour is, of course, Volkswagen cheating its emission tests: not only has this damaged the atmosphere with additional tonnes of air pollution, but also done severe, perhaps irreparable, damage to perceptions of VW.
As in traditional media, good news tends to be of less interest whereas bad news attracts the column inches. What's different about the web and, in particular, the social web, is the speed of its spread.
Impact of emissions scandal in social media
Smart social media listening enables organisations to stay continually in the loop about how much, what and where people talk about them online – thereby enabling more flexible action when situations arise. Accordingly, we have uncovered findings about how VW was discussed on the web in the immediate aftermath of #dieselgate.
During the first two days of the scandal, the number of new users following Volkswagen on Twitter increased by 225% – three times higher than the industry average. Furthermore, inbound traffic for Volkswagen increased rapidly – exhibiting a four-fold increase in the same timeframe – as people turned to social media to voice their discontent.
TOTAL NUMBER OF ENGAGED USERS @UKVolkswagen

Volkswagen's brand reputation, which is based on trust and reliability, is now in serious jeopardy. Consumer trust was its calling card prior to the scandal, with the German automaker the market-leader for this specific attribute.
Trust is one of five pre-set brand attributes assessed using Pulsar's automotive tracker, and the matrices below indicate how this key point-of-difference for VW was affected by the scandal, falling by 57% (N.B. size of bubble indicates brand equity within the given dimension):
BRAND ATTRIBUTES SOCIAL INDEX [TRUST DIMENSION]
Based on automated tagging on Twitter, Tumblr, Instagram, News, Forums, Blogs and YouTube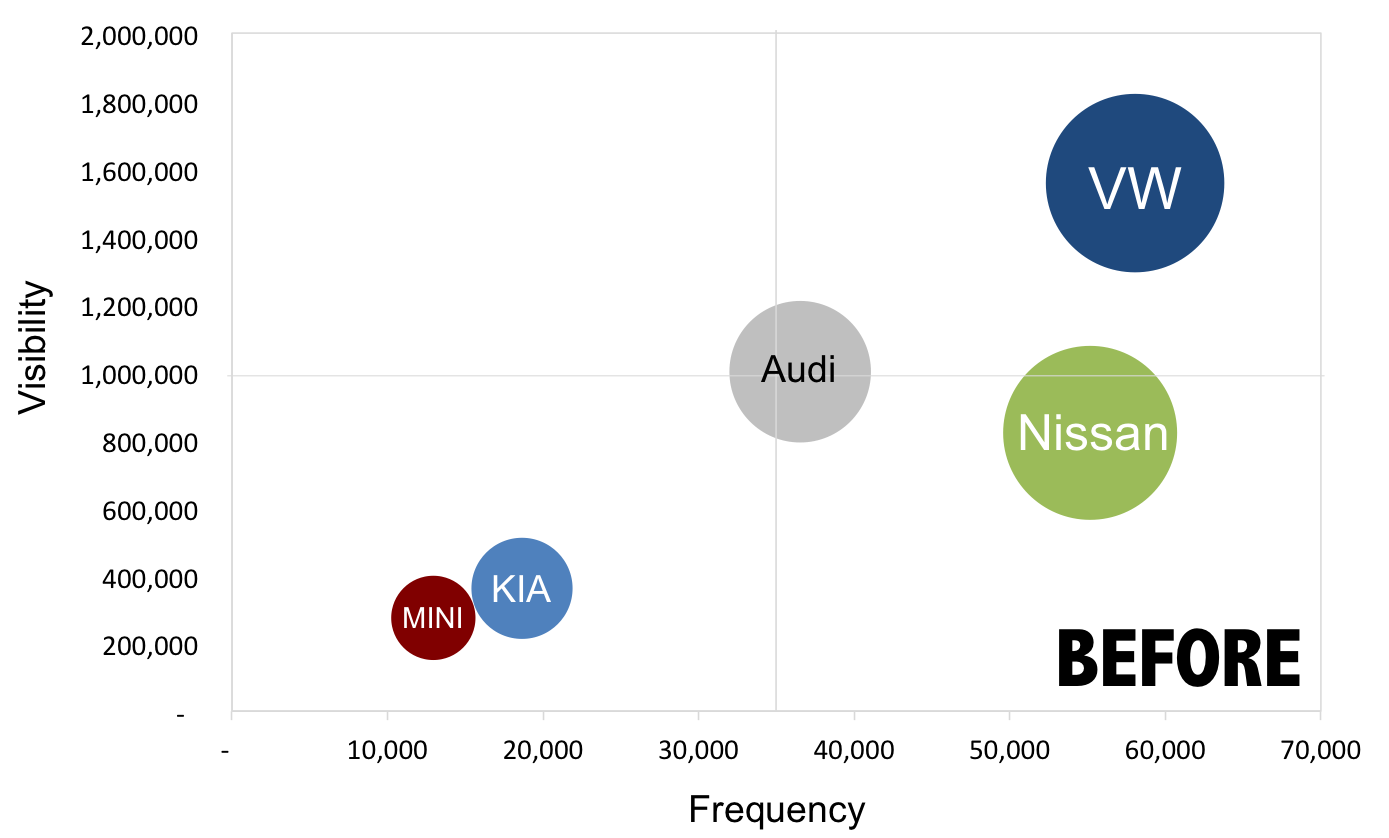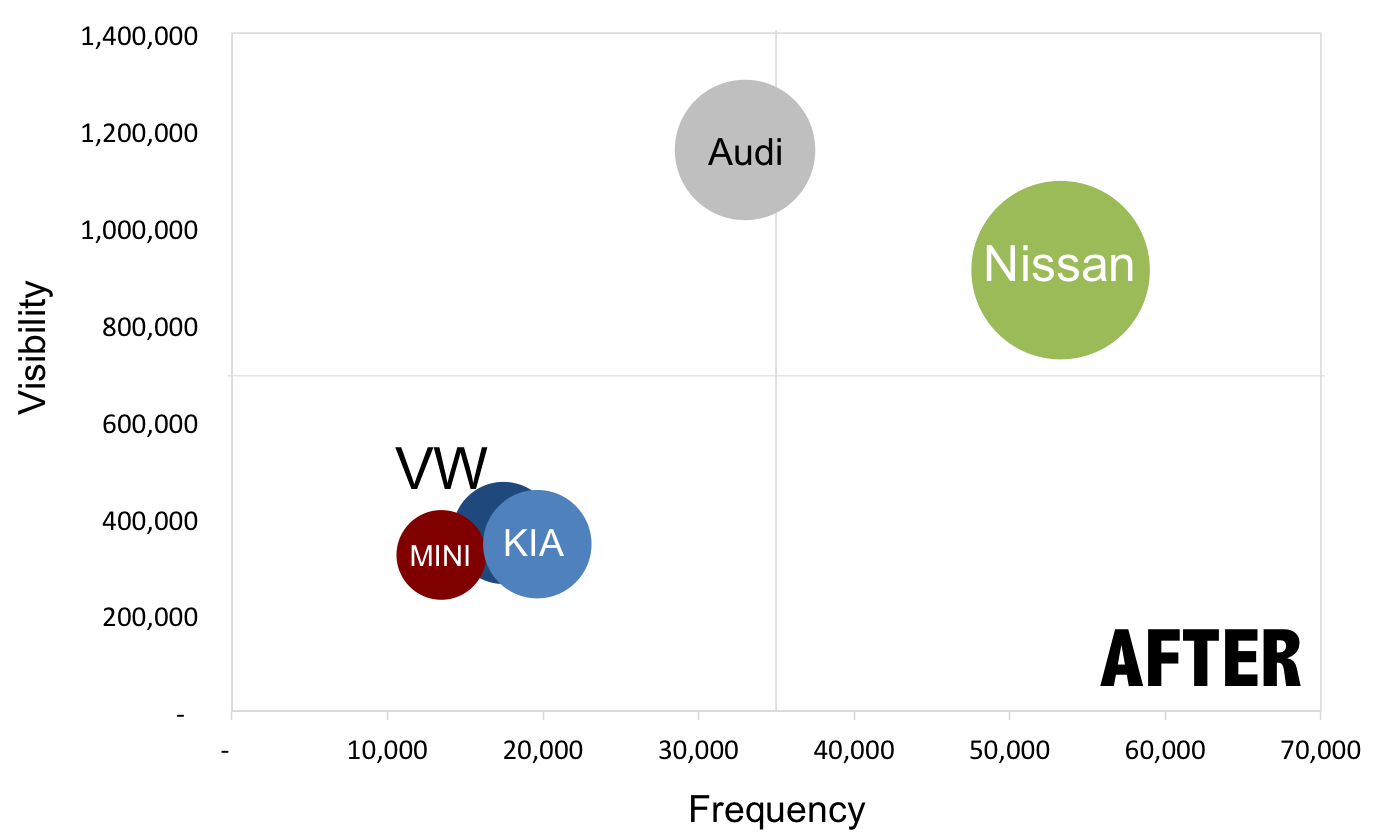 Twitter activity shows how even loyalists have lost their faith to the point of desertion:


Mud sticks
When a company reports negative financial results, there tends to be an observable, single spike in conversation but nothing longer-lasting. This is emphatically not the case for VW post-scandal, as the chart below illustrates:
VOLKSWAGEN SOCIAL VOLUMES [1st September – 31st October, 2015]
Based on total VW mentions on Twitter, Tumblr, Instagram, News, Forums, Blogs and YouTube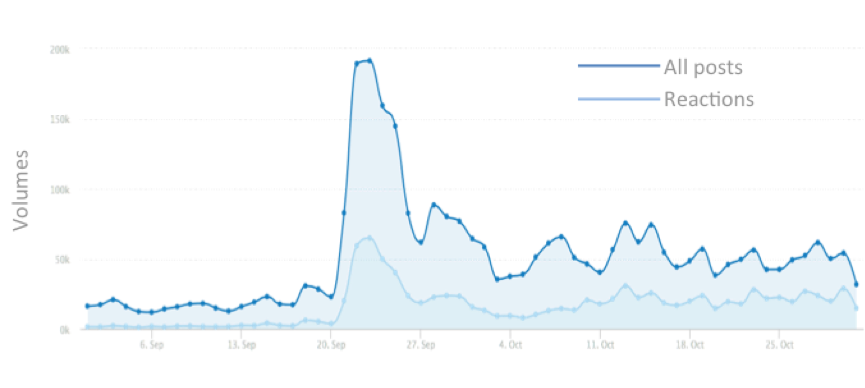 Prior to the scandal, daily volumes rarely exceeded 30k. Since then however, they've barely dipped below 30k.
VOLKSWAGEN SOCIAL SENTIMENT [1st September – 31st October, 2015]
Based on total VW mentions on Twitter, Tumblr, Instagram, News, Forums, Blogs and YouTube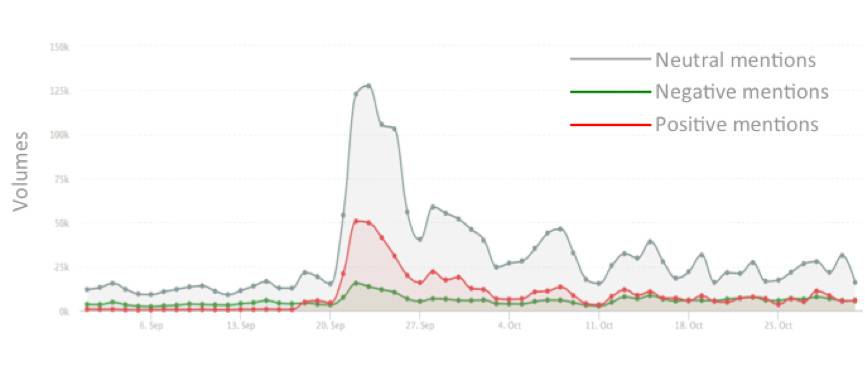 Furthermore, sentiment has swung 24 percentage points from a balance of +17% to -7%. Positivity has almost halved as advocates dissociate themselves from disgraced brand, whilst negativity is up nearly five times.
That conversation shows no signs of abating is the most worrying aspect of all for VW, as the initial severity and harm to their image plus losing custom is compounded by the brand continuing to be inextricably linked with the scandal.  One month after the scandal, "emissions", "scandal", "epa" and "CO2" still have strong associations with the brand – as illustrated below:
WORD BUNDLE BY VISIBILITY [15th September – 31st OCTOBER, 2015]
Based on total VW mentions on Twitter, Tumblr, Instagram, News, Forums, Blogs and YouTube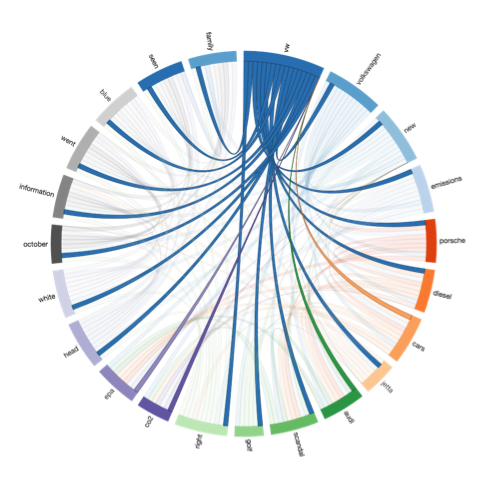 The word stream below confirms how the topic dominates visibility for Volkswagen. This essentially means that whoever logs into social media looking for information regarding the brand will inevitably be exposed to the story.
WORD STREAM BY VISIBILITY [15th September – 29th September, 2015]
Based on total VW mentions on Twitter, Tumblr, Instagram, News, Forums, Blogs and YouTube
Tesco, the UK supermarket chain, gives an unfortunate example of 'mud sticking'. In 2013 it was found to be selling horsemeat labelled as beef. That association has remained and people often reply to Tesco social media posts with horse-related jokes and puns, or more serious calls to boycott the brand and its stores.

However, supermarkets are a vastly different industry to automobiles. If people are in desperate need of groceries and Tesco is the most convenient destination, the horsemeat scandal is unlikely to be at the forefront of their minds. For a high-ticket item such as cars, much more thought is given to the purchase decision, and there is larger field of competitors too. It isn't inconceivable that those who feel let down by the emissions scandal may never buy a VW model again. Indeed, VW's year-on-year sales for October were down by almost 10%.
It's too late to apologise



While more recent utterances by the new bosses have been better received – including Mathias Mueller saying they would "stop at nothing" to find the truth – the die was cast earlier on, illustrating the adage that first impressions are the most lasting.
On social media in particular, official VW accounts have started using and encouraging the use of the #wirsindVW hashtag to mobilise support from those who remain brand aficionados. However, this seems to trivialise the matter in return for a few retweets, whilst also attracting the ire of disgruntled consumers.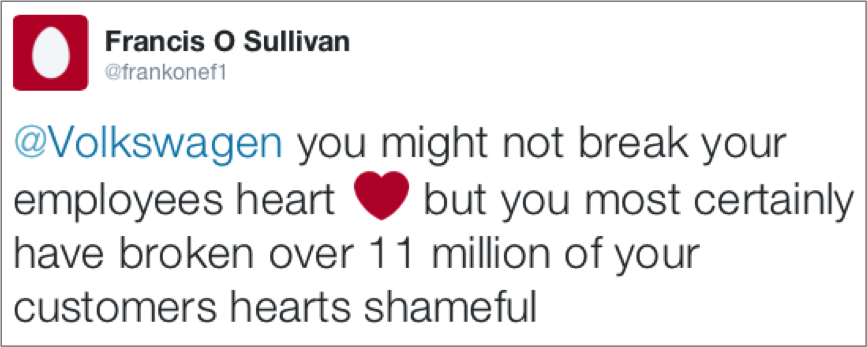 Best practice: one size doesn't fit all, but be prepared
There is clearly a balance to be struck in how to respond online to crises, and the specific scenario largely dictates this. Numerous examples exist of brands reacting in a humorous tone which has won over 'the masses': O2 in the summer of 2012 being a widely-praised instance.
Having experienced a substantial outage in their network that left 10 million customers unable to use their phones for two days, O2 took to social media to reply to every individual complaint (of which there were hundreds of thousands) with a wit and light-hearted demeanour that turned out to be award-winning.
Of note is that O2 remained within the remits of its brand positioning, having already gained a reputation on social for its oft-humorous and tongue-in-approach to CRM.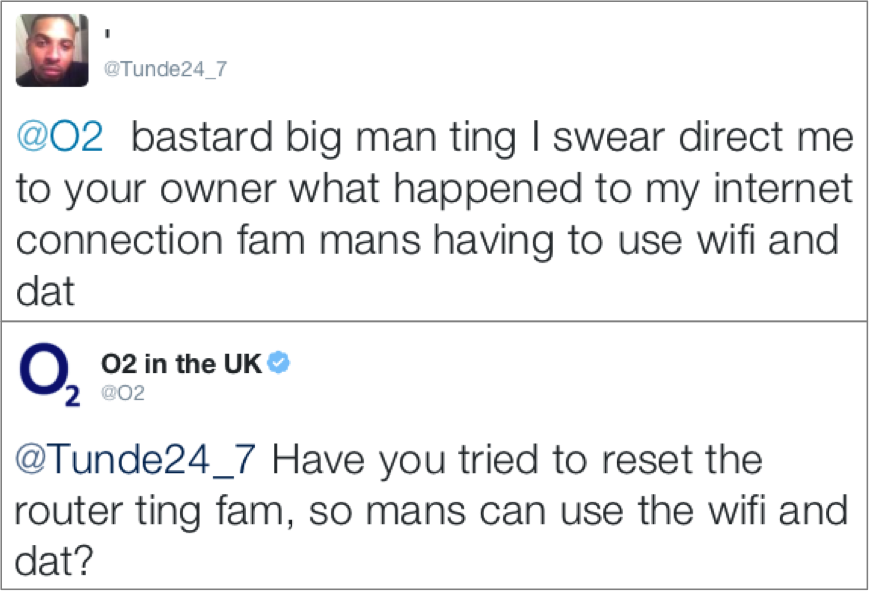 Mimicking this would clearly not be appropriate for VW, but it is clear is that O2 had a pre-planned strategy. Their actions highlighted the importance of not just existing on social media for the sake of it, but using it to push a message and control brand reputation.
Whilst every crisis situation is unique and therefore all-encompassing do's and don'ts are not necessarily appropriate, utilising social media monitoring in the ways listed below can help make the best decisions for limiting damage:
Track volumes to see the uplift in conversation compared to brand benchmarks, thereby assessing the gravity of what's unfolding.
Sentiment analysis not only quantifies the extent of detraction, but can also be used as a platform to dive deeper and shows the true value of social data. Recognising consumer language and pain-points in a qualitative, insightful manner but on a quantitative "big data" scale provides brands with a vast source of customer thoughts and perceptions to inform PR and comms.
Measuring inbound traffic across owned channels shows whether the crisis has caused the public to interacting directly with the brand in order to elicit a response, or whether they are merely making passing comments about the story.
Identifying most-shared and visible content plus domains provide an idea of what the public is seeing and where; which informs where and how the brand can also participate.
Identifying key influencers and channels similarly helps guide the type of content to publish and who to target.
The broadcast era where brands could operate on a command-and-control model is over. Simply put, brands don't control communications any more.  The digital era and social media has accelerated consumers' abilities to get their voices heard. Brand meaning is more about what consumers think, feel and share – rather than what brands tell them to. While a crisis will naturally result in consumer uproar, the minimum response of sincerity and honesty will at least earn some grace – or rather, avoid further denigration, as VW received.
Social media monitoring: practical actions
The ability to identify, at a glance, key consumer behaviours, puts brands in a stronger position to defend their reputation online by acting as a guide for where to focus PR effort.  The channel breakdown below shows a top-down distribution of information when it comes to #dieselgate:
VOLKSWAGEN CHANNEL BREAKDOWN [13th SEP – 2nd OCT 2015]
Based on total mentions of the emissions scandal on Twitter, Tumblr, Facebook, Instagram, News, Forums, Blogs and YouTube
BY VISIBILITY

This shows that news stories drive discussion – being the most visible source of information by far. Blogs also cover the topic but these are mostly professional blogs rather than consumer-written ones which is, anyway, a shrinking segment.
BY VOLUME

If news articles are the communication vehicle, then sharing on Twitter drives reach and is the main way consumers interact with the topic. Consequentially, a press release or a blog post by Volkswagen are the best options to broadcast and control the conversations around the scandal.
Smart social media listening also allows a brand to easily identify the most effective domains in which to deliver the brand message in the event of a crisis. The most-shared domains, links and websites (as visualised below) provide the opportunity to investigate the online viewer's streams for more incisive PR planning. In this particular case, mainstream media such as the BBC, Reuters, The Guardian and New York Times would be the most effective sources to deliver the brand message.
MOST-SHARED WEBSITES [13th SEP – 2nd OCT 2015]
Based on total English language mentions within Europe of the emissions scandal on Twitter, Tumblr, Instagram, News, Forums, Blogs and YouTube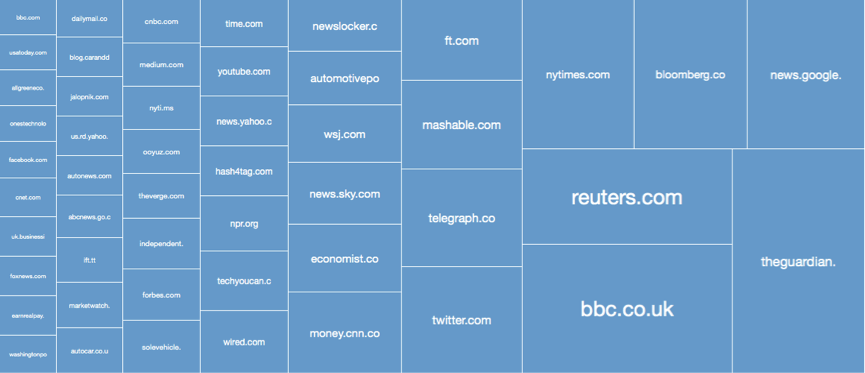 To conclude, one thing is key: brands must attempt to own the conversation early on to limit the damage by influencers pushing their own agenda. This does not have to be grandiose, but also cannot be similar to Winterkorn's first statement. Rather, a carefully-considered, honest and sincere admission of guilt that humanises a faceless corporation and strikes the right tone of contrition and remorse. Thereafter, any communications should remain terse so as to not downplay the gravity of the situation.
If you're yet to experience the power of Pulsar and this report has got you wanting to know more, then set up a demo by emailing [email protected] or call us on 020 7874 6577.