We listened to 2000 CIOs on social media: here's what they say
CIOs like to talk about blockchain, cybersecurity and CIOs
CIOs – Chief Information Officers – are a hybrid species: their role sits at the intersection of IT, data, business intelligence, customer experience, marketing, sales, and many other business functions.
Compared to other roles like CEO, CFO, and CMO, the CIO is a relatively new role, and one on the front line of the continuous technological and data disruptions the business world is experiencing, and whose priorities are subject to sudden change and acceleration.
For those reasons, being able to track CIO sentiment around certain topics, what they talk about organically, and the network and communities they are influenced by becomes particularly important for companies and marketers trying to connect with them.
That's why we mapped out the CIO audience, a small community of just around 2,000, as well as the broader conversation mentioning CIOs, which helped us understand that:
the CIO community is still evolving, and like to engage with events and networking discussion
CIOs are not where you'd think they are – New York and San Francisco are not in their top 5 locations
blockchain, cybersecurity and IoT are three of the biggest topics amongst them
and one of their top influencers is the CIO of a concrete company
Scroll down to read about:
our audience breakdown of the CIO community
a look at some of the top influencers in this community
an overview of the main topics discussed in the CIO conversation
… and an illustration of how we managed to isolate and analyze both this community and the broader conversation
The CIO community on social media
To start, here is what this community looks like: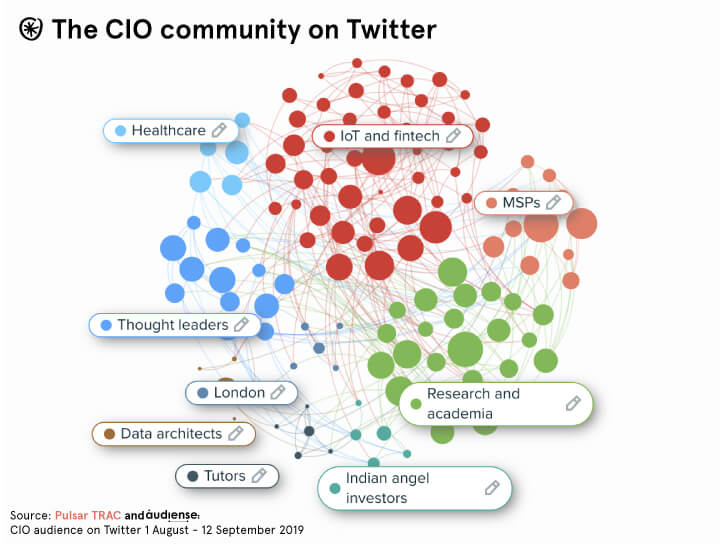 And here are the topics CIOs are talking about: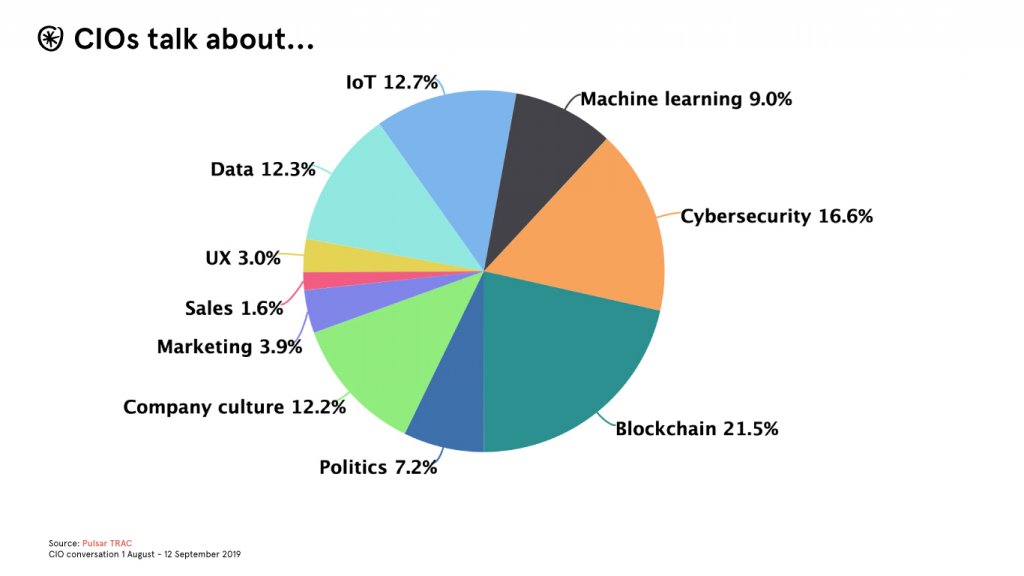 The CIOs community on Twitter is made up of nine sub-communities (or segments): the two largest segments make up almost half of the total:
The largest segment, IoT and fintech, is a community whose concerns revolve around the Internet of things and fintech-centric startups, comprise 23% of the audience. They are mostly based in London, Washington DC, Toronto, and Boston – with New York City coming in only 7th, and San Francisco not even in the top 10. These people tend to follow accounts who tweet about trends in digital transformation.
The second largest, the research and academia community, is 14% of the audience, and made up of CIOs based at universities, or academics in the area of business, largely based in London, Atlanta and Boston. They tend to follow 'influencer' CIOs.
Besides the demographic and conversation topic differences, one of the main differences between these two communities is that the IoT and fintech community is a lot more influencer led: a few big accounts prompt conversation that doesn't spread, but within the research and academia community, accounts are more interconnected, although still centralised through a few influencer accounts.
Other communities include…
The thought leaders segment – 7.5% – have a more business-focussed slant, following accounts like Global Mutual co-founded Jonathan Feldman, and discussing business strategy and how that aligns with tech decisions. This is the youngest group out of them all, mostly made up by 25-34 years olds – all the other groups tend to skew 45-55.
MSPs is a smaller segment (just 6% of the community) who discuss Managed Service Providers, or remote IT teams – something vital to the CIO conversation. One of the biggest influencers in this group is ReframeYourClients, a large MSP SaaS company.
The Indian angel investors were the only group bound by nationality, with 2.5% of the total audience. They are based mainly in Mumbai and follow a tight-knit group of Indian CIOs. The only other localized community showing up in in our audience map was that of London CIOs (1.8% of the total).
The Healthcare segment discuss technology's role in healthcare policy on the other hand are mostly based in the US, and make up 2.2% of the audience.
Their influencers
The CIO community is quite fragmented – sub-communities do not overlap with one another but are centralized by interacting with content from the three largest communities, as well as publications like CIO.com.
One such influencer to the larger communities is @jayferro, CIO for the cement company Quikrete. He participates in the CIO culture, attending and organising events, which draws mentions from members of the IoT and fintech, and research and academia communities:
Mark your calendars! #CIOchat Live (#CIOchatLive) will take place at Georgia State University's Atlanta campus on the April 16-17, 2020. Thanks to @MylesSuer and @JayFerro for putting this together.https://t.co/A89qsiqlkn #CIO

— Stephen Landry (@landryst) September 4, 2019
He also links to educational and explanatory posts about the world of CIOs, something the research and academics segment like to share and @mention him in:
For those of you who love a good sports analogy to explain tech (looking at you @jayferro), check out the NASCAR analogy @ChrisShort uses for explaining DevOps: https://t.co/cHooRl3zfB #devops pic.twitter.com/0LGUGV9qlO

— Ginny Hamilton (@GinnyHam) August 23, 2019
Other top influencers across the board tend to include CIO elders like Stephen Landry, Bruce Maas, Dr Sally Eaves and Jonathan Feldman.
The top CIO priorities
CIOs like to talk about what they're doing. This ranges from networking to cybersecurity, to data quality and analytics, and let's not forget customer experience and IT upgrades.
Because their work is based around change and building new ways of working, they need to talk to basically everybody in their business, about basically everything they do. They also like to talk about their priorities, and find out if they're shared by other CIOs and thought leaders.
Here are again the main topics of conversation: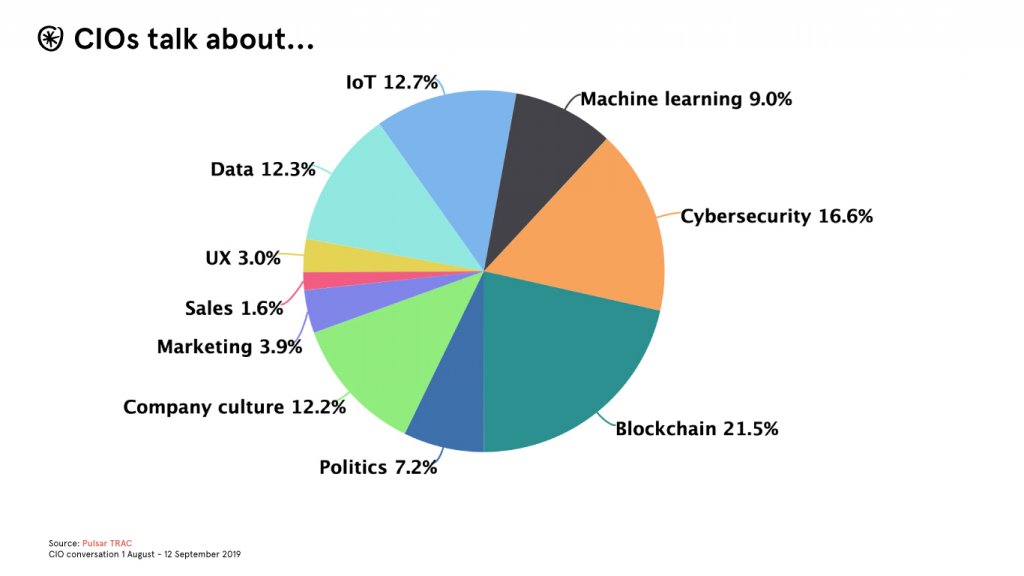 Within the largest community segment – the IoT & fintech community one we isolated earlier, we start to see a slightly different focus, with priorities leaning even more to cybersecurity and blockchain.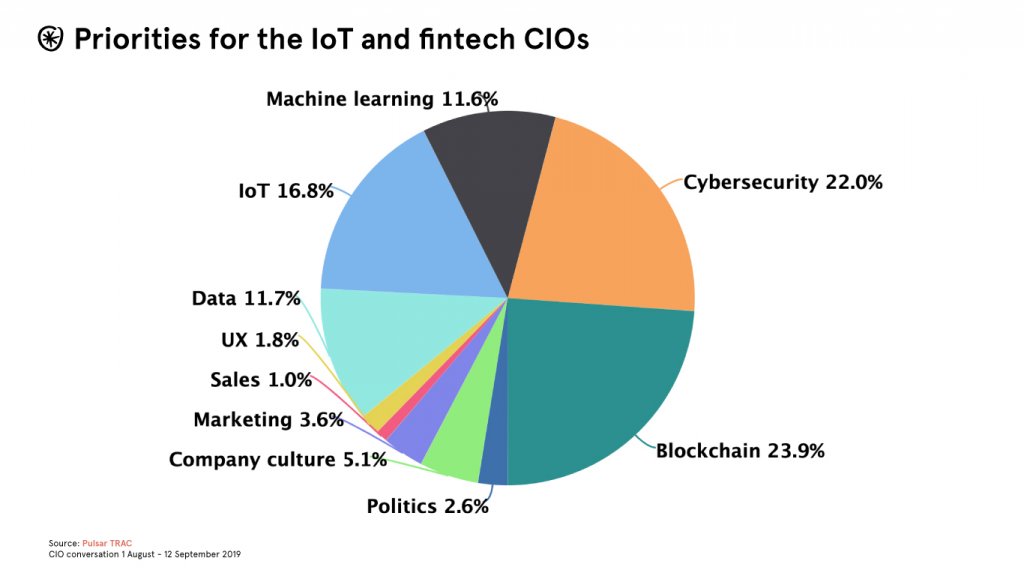 Within these posts, we can get a more granular view of priorities. For instance, looking at posts mentioning tech shows us conversation like this:
A3. No new skills. Better relationships with stakeholders (#Board/#Media/#WallStreet)/etc.; appreciation of emerging, transformative tech (#lowcode, #PaaS+#SaaS platforms (Lightning, PowerApps), serverless/containers, etc.) & its biz applications#CIOChat

— Wayne Sadin (@waynesadin) September 5, 2019
The other large segment, the research and academia community, has a wider spread of concerns within tech, with less focus on IoT, cybersecurity and blockchain, but more conversation around culture, politics and UX:
What's more, if we look at the posts mentioning tech within the research and academia community, we can see that some of the focus on the development of tech is about culture rather than the tech itself:
Women belong in tech. Learned today that a 10th Century woman developed calculus—this is 7 centuries before Isaac Newton. @jcycio @mdennedy @meswift @sppitt @StoddardCA @mzyw @PragnyaParamita @AnnCavoukian @kinsleysuer pic.twitter.com/SRYLXGs7g7

— Myles Suer (@MylesSuer) September 8, 2019
By understanding a small community of stakeholders, we can see their real concerns. Somebody trying to access the CIOs of educators can see from this popular tweet in the research and academic community that widening access is a priority for these CIOs, and will be able to speak to them in their language.
How did we do it?
Using Pulsar TRAC we searched for terms around CIOs to understand the conversation about the role.
This was a matter of narrowing down the data to ensure it was about what we wanted. 'CIO' stands for a number of things, from Zimbabwe's Central Intelligence Office, to the labor union AFL-CIO and the parenting method of 'cry it out', as well as the word 'cio' existing in different languages from English, so we had to filter these uses out to find relevant posts and understand the conversation.
Using what we had learned and excluding terms from the 'wrong' mentions of CIO, we created a streamlined search of Twitter users who self-identify as a CIO in their bio – a small community of just under 2000 – and studied their conversation for a month.
Once we had pulled in some organic CIO conversation, we segmented this community using our Communities feature, so that we could examine the communities within this CIO conversation.
This gave us the communities map we saw above, and the ability to analyse communities' conversation on Pulsar TRAC.
From there we could then also find out what the general conversation looks like, and crucially see, what drives which segments and who influences it, an invaluable way to understand stakeholder groups for b2b marketers.
(Lead image by Taylor Vick on Unsplash)