Why YouTube's 2018 Rewind bombed so badly
Is a focus on ads causing the platform to lose touch with its audience?
Every December, YouTube wraps up the year with a mash-up bringing together some of YouTube's most recognizable faces and stand-out events from the previous 12 months.
Traditionally, Rewind is eagerly anticipated by viewers – keen to spot their favorite creator, as well as cultural references they "get."
Over the past few years however, the number of discontents had been growing. In 2017, about half as many users disliked the video than liked it.
And this year, Rewind annoyed the YouTube audience so much that it became the site's most disliked video ever, with 13.643 million dislikes and counting at the time of writing, leaving the previous champion of several years –Justin Bieber's 'Baby' music video– in the dust, stuck at 9.9m dislikes.
But why did people hate it?
Using Pulsar TRAC, we chose key topics and names associated with Rewind 2018 – and analyzed how popular they were with those talking negatively about the video: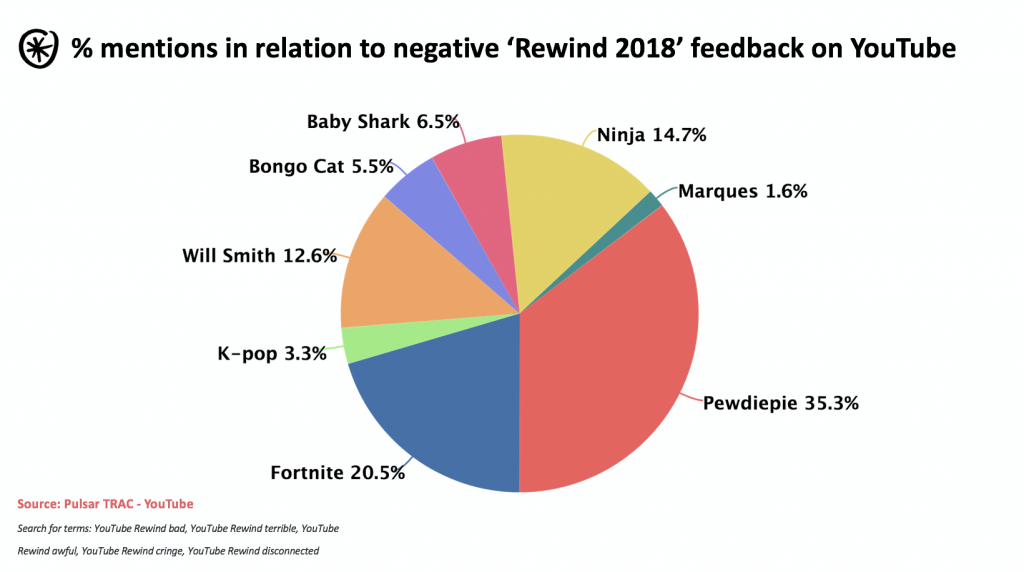 If you have seen the video, and know your way around Youtube, you'll notice it right away: the leading topic among those disliking the video was the one Youtuber who conspicuously is not in the video: Pewdiepie, YouTube's biggest star, with 77.6 million followers.
It's nearly impossible to find any positive comments beneath the video, and the video's most liked comment so far can help us unpack the reason why Rewind 2018 tanked so badly.
'YouTube is so disconnected with their viewers now it's not even funny'
This comment is most likely in relation to the absence of so many significant events presented on YouTube that took place during 2018.
This includes KSI vs Logan Paul (a boxing match between YouTubers which was one of the most successful events in amateur sporting history) which was ignored, as was Shane Dawson's eight-part series following YouTube sensation Jake Paul (7 million views in under 10 hours) and of course, Pewdiepie.
Why have these events and creators been left out?
Advertising.
Last year, when Pewdiepie's channel was tied to anti-Semitism and racism, sponsors severed ties entirely. Logan Paul and KSI have both been criticised severely for previous behaviors on YouTube – although the nature of the build-up to their boxing match, which created an unsavoury publicised relationship between the two – is the likely cause of its exclusion.
"The lack of these moments reiterates the divide between how the platform wants to be seen and the actual culture that creators participate in," wrote Julian Alexander at the Verge.
Marques Brownlee, a major technology YouTuber who features prominently in this and past Rewind videos, released a video explaining why YouTube Rewind failed to appeal to the community:
"Creators tend to think of YouTube rewind as a celebration of the biggest YouTube events of the past year – and that's how it started out. At a certain point YouTube started seeing it differently. If we fast forward to this era of brand safety and post ad-pocalypse – it's become more important for YouTube and advertisers to have a relationship that stays strong. So YouTube rewind, in a way, just turned into a giant ad for YouTube – that's the truth."
To understand some of the reason behind the vitriol, we singled out a few keywords (among many others) that were most popular among the commenters. Dislike ranks very high of course, but so does "cringe" which gives a more specific insight into how people felt while watching the video.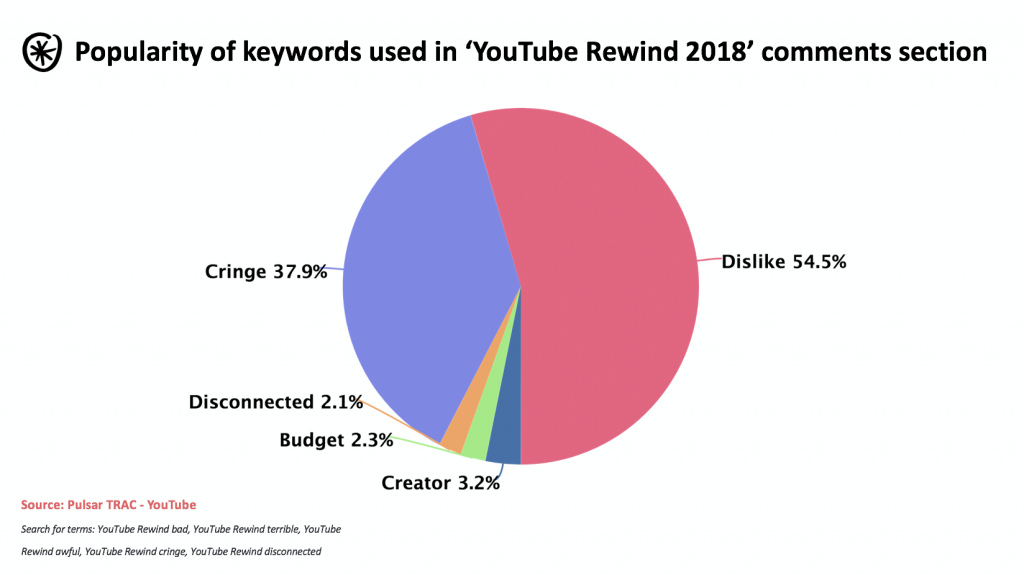 We also found that this audience disliking the video correlated highly with primary interests like games such as CSGO (Counter Strike: Global Offensive – a popular online shooter game). This suggests the gaming audience are avid fans of YouTube content (many of those likely are fans of Pewdiepie as well).
Many of the comments criticized the video's reliance on Fortnite, a hit shooter video game which has lost its appeal in the second half of 2018. It's not all gaming though. Cultural references have a shelf-life and YouTube seems to have fallen behind, condemning Rewind to the so called "normie" pile.
Yet sometimes, in these unpredictable, algorithmic times, negative engagement is not that negative after all: we'll see what 2019 brings and whether YouTube's weirdness and originality will shine through in how the platform thinks about itself, and its audience.