What time is 'gin o'clock' in the UK? Social media research reveals all
How Pulsar got gin-spired by audience intelligence
It's gin o'clock! A lot of gin was served last year in the UK, enough to make 1.3 billion gin & tonics.
And along with heavier pours, over the past 3 years, the number of hashtags and posts about #ginoclock has also skyrocketed, our social media analysis shows.
This year alone, there have been as many as 2 million conversations about gin on blogs and social media sites like Facebook, Twitter and Instagram.
Over 3000 pictures of gin drinks were shared every day over the past month, snapped alongside everything from food (around 1,400 gin and food posts per day) to wine (250 gin and wine posts per day). We also spotted the colours currently most associated with these images: yellow, olive and reddish orange – very fitting as we move into autumn.
But what time actually is gin o'clock? Thanks to our consumer insights research, we know the answer.
What time is gin o'clock?
Using social data, we can reveal that with an average of 874 posts, gin o clock is 7PM on a Friday night, conveniently synching up with the end of the working week.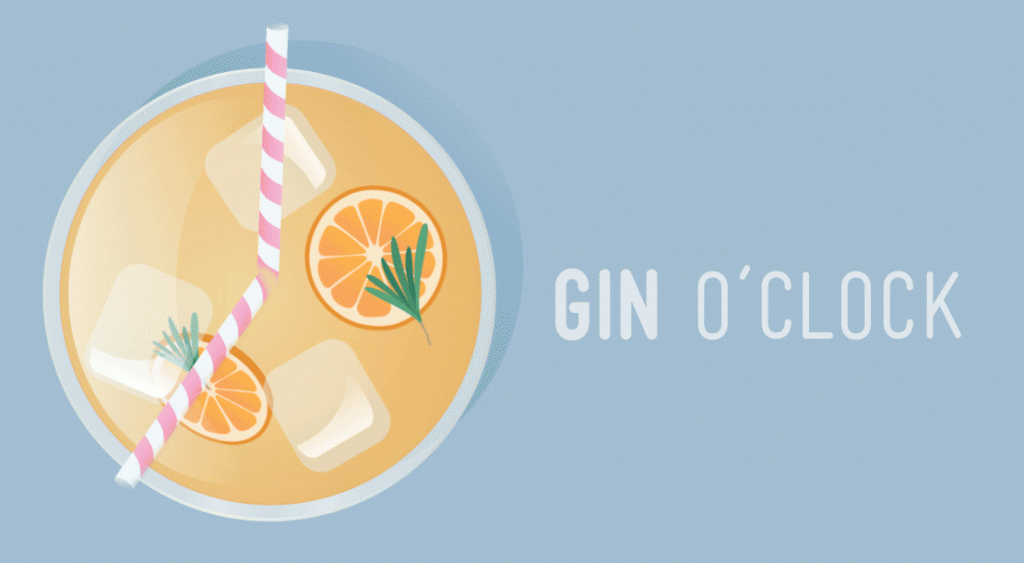 What can we say? It's the perfect antidote to the end of the week lull, and the ideal way to toast to a long weekend. Cheers to that!
While that insight might not be news to your local bartender, our consumer insights also reveal that there's a spike in gin-ning as early as 3.30PM on Fridays. And while most people hold out until 5.30PM to start discussing gin on Saturdays, it's not until 7.45PM that we see peak gin chatter on Sundays, seeing out the weekend with a toast.
Local gin o'clocks
And while the clock chimes 'gin' across the globe, it's the UK who come out on top as the gin hub of the world, with more gin conversations per capita than any other countries.
Now, can you guess which UK city is the overall biggest fan? Our audience intelligence tells us it's London. According to our social data, 46.4% of online conversations about gin begin in London. Which is more than the cumulative total of all the other UK cities combined.
As for the rest of the UK, the cities with the highest volume of social media conversations around gin were:
2. Manchester – 10%
3. Leeds – 8%
4. Glasgow – 6%
5. Dublin – 5%
6. Liverpool – 5%
7. Birmingham – 4%
8. Edinburgh – 4%
In the North, Manchester proved themselves to be the biggest gin-aholics, with the second highest volume of conversations in the country, beating Leeds, Birmingham and Liverpool.
As for Scotland? The Weegies seem quite gin-spired, and Glasgow overtakes Edinburgh as Scotland's gin capital.
In Ireland, Dublin is the only Irish city to be vocalising its gin-ing online. Whereas Wales seem to be somewhat mute on the subject altogether. What's their favourite dram, we wonder?
Of course, it's not just gin o'clock people are marking on social media. #beeroclock has over 417K posts on Instagram alone. As for #wineoclock, the number goes further, up and beyond 1 million mentions.
But when do wine and beer o'clock strike? Sign up for your free demo of Pulsar to find out.
If you liked this article, you might be interested in more of this kind of research here.