Twitter Passion Report: how the Hard Rock Cafe could take some music lessons from Jeremy Corbyn
What has the Labour Party got in common with Tanqueray? From #Grime4Corbyn to Gin and Juice, their messages are creating the right notes with music fans.
We've been running a series based on our work with Twitter, uncovering a set of passion communities on the platform using analysis of 800,000 randomly selected users. 
The research found that those who identified with these passions do not make up monolithic audiences, but gather into a series of sub-communities, each with a very specific cultural footprint clustered around geographic, ethnic or interest affinities. This week, we're taking a closer look at the community whose main passion is identified as music: the Twitter music community.
[Zoom in to take a close look: Here's a visual representation of the music passion network, representing each of the subgroups using a unique colour. We can see a great amount of overlap within the subgroups, showing diversity within the network and overlap of affinities.]
Making music
Music fans on Twitter are a demographic that cannot be summarised. It is possible to draw some broad conclusions about music fans from the research. While they are, on average, male and under 30, their communities are so disparate, that it's almost pointless trying to appeal to them as a group.
The four biggest sub-communities of music interest identified were Hip-Hop, EDM, Mainstream Indies and Live Rock. These interests hardly overlap and are often connected to where fans live.
Music fans are made up of several small communities clustered almost exclusively around genres and countries, and they rarely follow one another, instead concentrating on their musical idols. In fact, the communities are so disparate that uniting them under a broad umbrella term is almost inaccurate as fans of one genre of music are so different to fans of another, but the granular nature of the communities means that it is easy to draw them into personas.
So how to make the most of music fans using this research? As we can see from the #Grime4Corbyn movement before the UK's election this June, appealing to a music-based community taps into a niche, creating influence based on culture and values. The Grime4Corbyn website states that they got over 72% of young people registered to vote. London, where many grime fans live, overwhelmingly voted for Corbyn's Labour Party.
So what can brands learn from Corbyn? We looked back through some recent music-based campaigns…
Find the right note
The report shows that as part of the Twitter music community, the EDM and Live Rockers sub-communities show brand affinity with the Hard Rock Cafe. But looking at the Hard Rock Cafe's Twitter accounts, the brand is not making the most of this. Its main Twitter account is littered with shoutouts to the biggest pop stars: Beyonce, Kesha Rose, Miley Cyrus. This could be alienating for hardcore EDM or rock fans.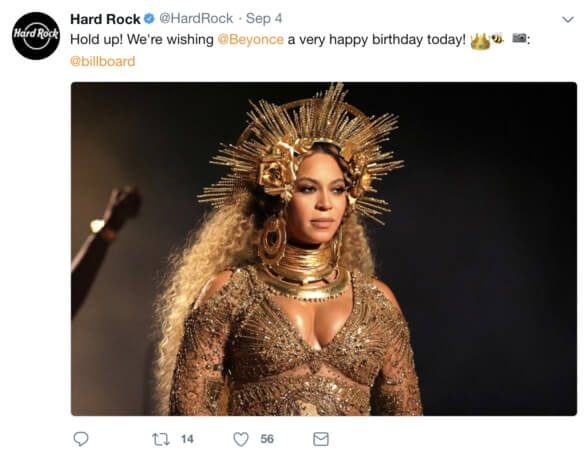 Budweiser, however, another brand favoured by both the EDM community, has tapped into the interests of its audience well. Its UK arm recently partnered with underground music community Boilerroom, who originally focussed on techno and EDM music, for a local gig. These are being repeated worldwide, featuring artists from the cities where the gigs are taking place, making use of the fact that these communities are often tied to where fans live.
Mind on the money, money on the mind
Another drinks brand to raise a glass to: London-based gin Tanqueray is branching out to the US. And what better way to target young men from California than teaming up with California hip-hop legend Snoop Dogg? He mentions the brand in his famous song Gin and Juice. So Tanqueray took notice – teaming up with Snoop Dogg, the brand recently launched a definitive list of ten young influencers across a mix of verticals including hip-hop, and creating a series of 'updated' gin and juice cocktails – giving hip-hop fans new communities to tap into, and direct action to take.
The takeaway
Clearly, there's a lot to learn from tuning in to the world of music. Marketeers, strategists and planners should take note of these cultural affinities while trying to target these self-defined audiences. Some key takeaways on how to speak to the music-loving audience:
Find local passions: music scenes are often based around where people live, as Budweiser learnt with its local gigs
Identify micro-influencers: pop musicians are often too big to have any meaningful impact outside their own fans, something the Hard Rock Cafe could pick up on
Tell true stories: the Snoop Dogg and Tanqueray partnership appeals because it is based on the artist's history: music is based on authenticity
Download the full Twitter Passion Networks report here. Keep checking back for more in this series about Twitter passion networks, and how brands are connecting with them