How an Instagram account hit 1M followers by cleaning the sink
The audience for watching people scrub their homes clean is much bigger than you think.
Life on Instagram tends to be pretty clean-cut: it's just the Instagram aesthetic. But one account just hit a million followers for literally never missing a spot.
Mrs Hinch – aka Sophie Hinchliffe, a hairdresser from Essex, England – posts pictures of the various corners of her cozy grayscale home.
But while Mrs Hinch only posts one or two pics per week to her main feed, her Instagram cleaning stories are where her account truly comes to life: you see her cleaning techniques in action, as she narrates her hacks for getting a smudge off a door (fabric softener!), or a stain from a mattress (baking soda!), as well as ample stocks of cleaning products, and "cute" organizers she purchases.
Her favorite spot to "Hinch" (or, clean) is the kitchen sink: "my thing is the kitchen sink. The Hinch Army loves a shiny sink."
She says she doesn't "bombard cleaning on my grid page. It's mainly on my stories and my page then shows the results of fun cleaning, aka Hinching."
The account opened in March, when (the now) Mr and Mrs Hinch bought a new home, which Sophie wanted to show off. But her obsession with keeping it clean and tidy, as well as her cleaning hacks quickly caught on, with bloggers and YouTubers getting inspired by her "Hinch hauls".
Suddenly, other popular Instagram cleaning accounts re-sharing various "Hinch hacks" meant @MrsHinchHome account quickly started picking up followers, quintupling in size over the month of August, from 6,000 followers to just under 30,000 by the end of the month.
And then came the big time. Since being invited on the UK talk show This Morning in September, Mrs Hinch is adding an average of 26,000 followers a day, according to Social Blade.

The woman literally has her own army. We tracked mentions of her hashtag #HinchArmy – the name fans of Mrs Hinch give themselves – on Pulsar TRAC and found there were nearly 1,000 uses of the hashtag per day, half of which also mentioned her username.
Her Instagram followers use the hashtag #HinchArmy to show their imitations of her interior and home cleaning style: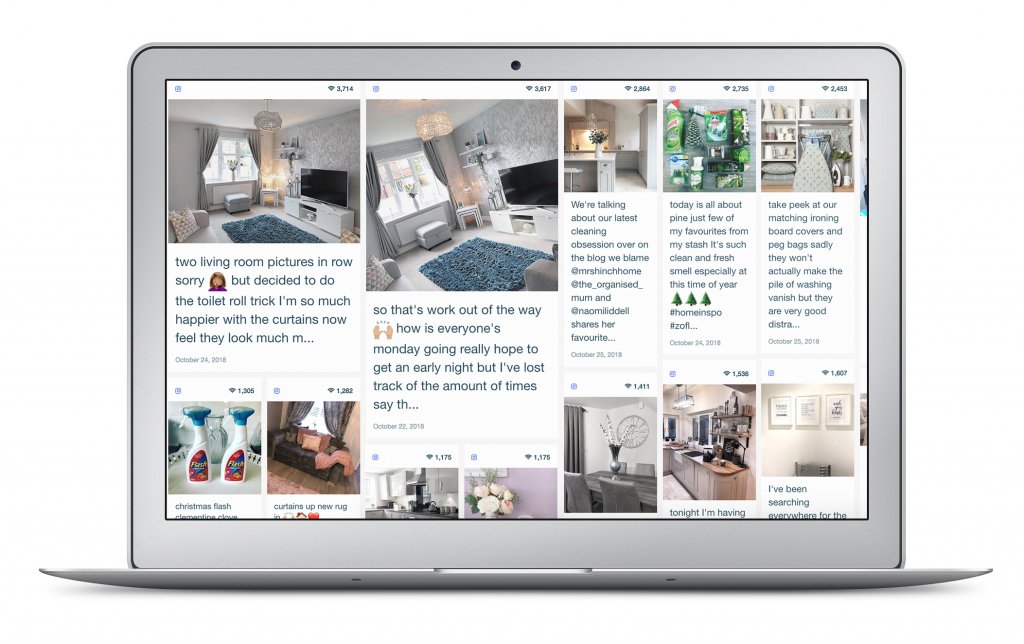 And according to the Mirror, her account is now one of the most influential home interior accounts on Instagram in the UK: so much that personalized cleaning products by the likes of Procter & Gamble are starting to roll in:
So why are people so hooked on her account? We know that the ephemeral Stories format –giving a glimpse into supposedly private lives– is innately addicting, but there is more to the 'oddly satisfying' nature of certain activities: take for instance the now huge phenomenon of ASMR.
It's plausible that watching a gloved hand scrub a sink might offer some similar psychological relief – and that's how Mrs Hinch explains her success:  
"I'm a worrier and I struggle with anxiety. For me, to keep my mind off of what was worrying me would be to clean and organise something and love the end result," she told The Mirror.
"It took my mind off worrying. It helps me control my panic attacks too. Since I've started the account others have messaged me saying I've changed their lives and helped them with their mental health which to me is simply amazing."
The Instagram cleaning audience has turned Mrs Hinch into more than an influencer: she has just been taken on by a management company who work with some of the UK's biggest vlogging stars like Zoella, Tanya Burr and Jim Chapman.
As she's gained followers, Mrs Hinch has also encountered backlash, such as this piece in the UK daily Metro saying that the account glorifies the unpaid labor of household cleaning: "putting a pretty floral label on the washing up liquid doesn't make the fact that women are washing up rather than working on their careers or enjoying downtime any less oppressive. It just wraps the oppression up in a pretty bow."
That doesn't seem to be a problem for the #HinchArmy: in true influencer style, Mrs Hinch's favourite cleaning sponge (the Minky M-cloth) is selling out in droves: