How "stories" took over social networks
After 10 years, the feed finally has serious competition
In just a few years, stories have taken over social networks and messaging apps.
TechCrunch reported in January 2019 that "roughly half of Instagram's 1 billion users now use Instagram Stories every day. That 500 million daily user count is up from 400 million in June 2018."
We researched behaviors, theories, usage stats, and conversations around various story formats. Here are some key takeaways we came away with:
Stories are changing the grammar of key social networking features: they are well on their way to outpace feeds as the main way to share content on social networks;
People seem to like stories because they are a true native mobile format, showing "your view" of the world, and don't show performance metrics;
In turn, stories are causing users to select much more carefully what they post to their "main feed";
WhatsApp Status, surprisingly, is the most used story format out there, with 450 million daily users, many of whom are in India and Nigeria (where some clever marketing usages have developed);
Facebook is aggressively pushing the story format across all of its products;
Let's dive in.
First off, why do we say stories are replacing the feed? Well, it's not us:
"The increase in the stories format is on a path to surpass feeds as the primary way people share things with their friends sometime next year," said Facebook's product chief Chris Cox earlier this year.
And the company is going all in on the format: across Facebook-owned products, stories are being pushed very aggressively.
Of course there's Instagram, which in 2016 adopted the format invented by Snapchat in 2011, and easily surpassed it in terms of usage: but Instagram users are now being encouraged to recycle their IG stories on Facebook, and each time you share a picture with a friend on Messenger, you're prompted to share it to your Story.
But the real star in the story game appears to be WhatsApp's humble Status function: while often mocked on social media, the feature turns out to be the most used stories format globally, with 450 million daily active users, according to a WSJ reportage published earlier this month.
Outside of the Facebook universe, similar alternatives to the feed (although non-ephemeral): Twitter has rolled out Moments, and so has WeChat (China's largest messaging app) and Kakao (Korea's). It does seem like after a full decade of service, feeds might be on their way out.
But why?
According to Ian Bogost –an academic and game designer– stories are the first format that is truly native to mobile phones. Part of it has to do with the full-screen nature of the information consumed (and produced).
"A Story is the illusion of what your smartphone saw. Or better, of what the hybrid you-and-your-smartphone saw—as if there was a you without a smartphone, anymore," says Bogost.
Stories also don't show the number of engagements it received, relieving users from the pressure of creating posts that won't "flop."
In turn, that means that people are selecting much more carefully what they post to their main feed and profile: while the more unfiltered, experimental content ends up in stories, your profile becomes a clear expression of how you want to be perceived by others. 
I love the ephemeral nature of posting things to my story, but it has made me super careful to post to my main feed. I feel that every photo I post to it has to be a fucking gem.

— booticon (@booticon) April 27, 2018
My #Instagram feed is all influencers, brands, mags, and ads. My stories are all my friends. At least I think they are my friends.

— Kimberely Cheng (@kimberbop) May 26, 2018
Or to digests/roundups/stories, which provide a clearer means of focus, more immersion, increased creative potential, often lack open commentary, "likes", and are ephemeral. IE they elevate one's perspective while counteracting the negative associations with feed format.

— Neil Voss (@neilvoss) March 22, 2018
New behaviors
As always is the case with digital products, new behaviors quickly begin to grow around the design and its affordances.
Stories have quickly become the opening to private conversations, since most stories have a quick reply feature allowing users to slide into each other's DMs.
On Instagram, this facilitated the growth in usage of Instagram's inbox feature, Direct, which has merged with the 'reply to Story' functionality (and has also helped Instagram move into the sexting realm) as social networks and messaging slowly meld into one another.
Here's a quick rundown of some of the current stories available:
Instagram
Name: Instagram Stories
Born: Nov 2016
Current usage: 500m+ 
WhatsApp
Name: WhatApp Status
Born: February 2017
Current usage: 450m 
Snap
Name: Snapchat
Born: July 2011
Current usage: 191m daily use Snapchat, and we can assume the vast majority uses the story format  
Facebook
Name: Stories
Born: February 2017
Current usage: 150m 
Messenger
Name: Stories (formerly Messenger Day) 
Born: March 2017
Current usage: 70m 
Instagram Stories feeds on the addictive quality to continually telling people what's happening: it makes it feel important. The feature is not only making the main timeline a desert, but is having effects on our 'stalking' habits too.
Users have spent enormous amounts of time refreshing their story view count, and trying to understand the nuances of the format: what people's position on your view list means about how much they visit your profile and how you, as a watcher, can avoid getting put onto that list. People even make fake Instagram accounts just to look at stories without being noticed.
In the Stories world, merely looking at someone's update is a validation – users get the impression that they have watched because they are interested in the person, not in what they've got to say, because the content is hidden. rather than in the content itself, which is invisible until you tap.
The direct feedback upgrades your humblebragging: "it's the vague competitive element – the need to… occasionally get a private message saying "where are you?? looks lush" – that keeps everyone playing."
Yet despite getting the least press, WhatsApp's Status functionality is quietly the most used Stories format globally. We scoured two weeks of conversations on Twitter in English on Pulsar TRAC, and India turned out to have the highest share of discussion of WhatsApp Status, followed by Nigeria, just edging out the US.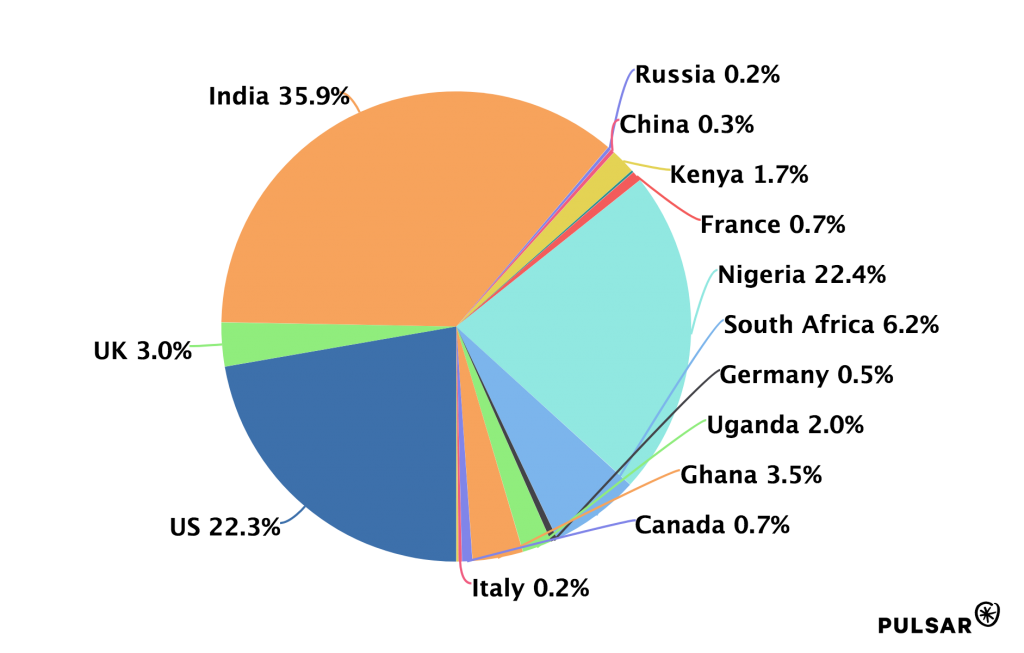 The actual content of the discussions of WhatsApp Status shows although not at the level of Instagram Stories, it is being used for marketing. The Bollywood movie Thalapathy 62 saw a teaser poster take over fans' WhatsApp statuses for the 21st June.
My Whatsapp status. Adapaavingala. Mind boggling craze for #Thalapathy62FirstLookon21st !! pic.twitter.com/Y1XVnvWRL5

— Prashanth Rangaswamy (@itisprashanth) June 18, 2018
But mainly it seems to be used for daily updates – and a lot of conversation we saw revolved around what's appropriate to share with your contact list, which of course includes family – something your followers on Instagram or friends on Facebook might not cross over with, as the below word cloud shows.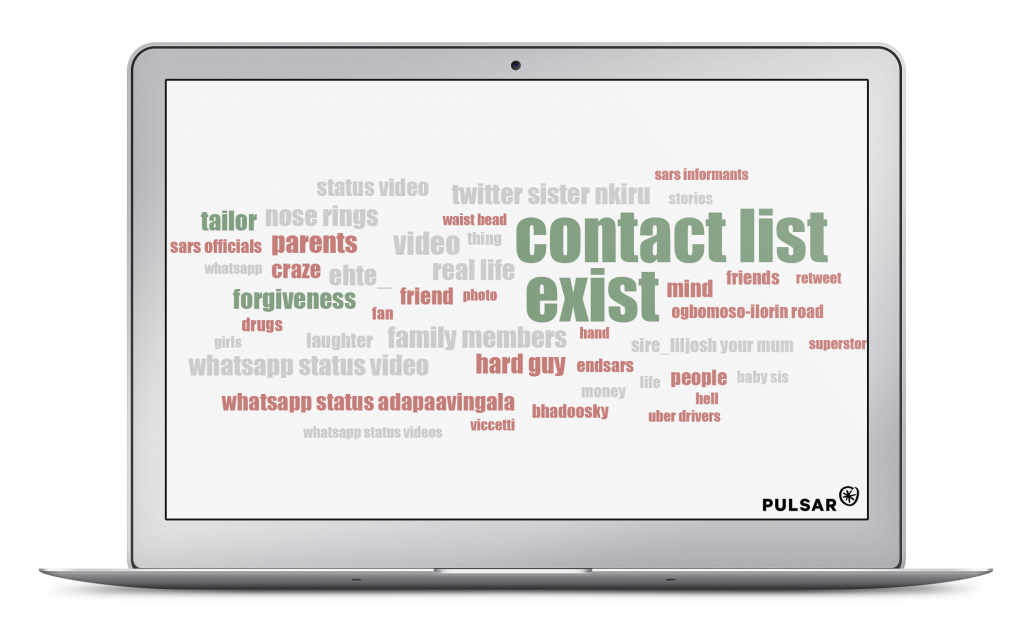 Where are stories going?
Of course, no successful social media can last long before becoming an ad platform too. With both a combination of sponsored content and between-Stories ads, there seems to be plenty of space for ads.
Even WhatsApp, whose founders have long made clear their disdain for ads – and both have left parent company Facebook amongst heightening discussions about ads in the app – have potentially conceded to allowing them within the story area, as the WSJ story reports: "if ads were to happen, placing them in Status would be the least intrusive way of doing so".
It is unclear when ads will begin to be ubiquitous within Stories in the way we are now used to within a News Feed, but users are already uneasy with the overload of content the two content streams is prompting, and it's only increasing.
Instagram this week launched IGTV – essentially a long-format version of stories "built for how you actually use your phone" according the press release – meaning that Instagram is suddenly very busy:
Instagram's UI now feels like standing in Times Square. Flashing neon signs all vying for your attention. Ads everywhere. Story billboards mid-feed. Probably pickpockets too. 😳🤢 pic.twitter.com/DsLzDfXVNq

— Tim Lucas (@toolmantim) June 25, 2018
Katie Notopoulos on Buzzfeed points out that the introduction of Stories has changed Instagram from the least cluttered network to "a firehose" of content: "With Stories, Instagram is no longer an oasis away from the internet; it's a full blast of it right into your face."
The explosion of stories is a direct result of a mobile-first lifestyle, and will shape forthcoming platform updates, as well as user behavior. In the way a feed asked for curation of our lives, a story creates a narrative by being synonymous with the device we're always with – the smartphone – even though the "story" told is still curated by the user telling it.
Bogost disagrees with the name itself: "a Story is not about the things sequenced in the story. It is about how those things look through the sensors and software of a smartphone."