The Evolution of Fandom through Social Media
One of the pleasures of being a researcher is that studying specific business problems tends to reveal a wealth of behavioural human insights, revelatory outside of a business context. These can be related in different cultural spaces, media types or interest areas. For example, a project about banking behaviours may morph into a study about digital security; or working on a communications strategy for a music technology platform may reveal larger truths about "fandom".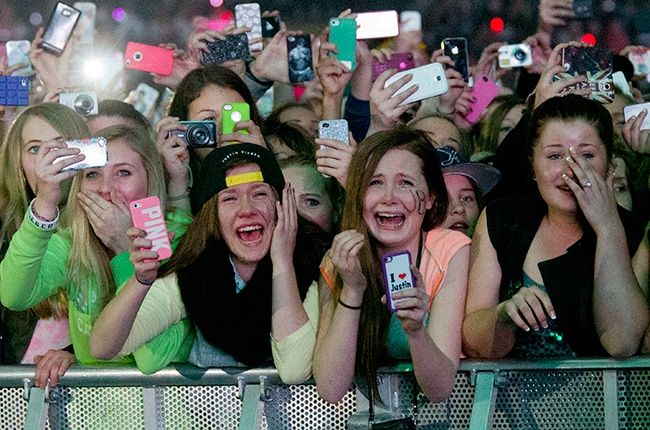 This qualitative project focused on "modern fandom", and how that is expressed via media consumption. The trends we observed in this project and countless others reflect an increased appetite for participation, context, and education amongst the majority of music fans – not just music geeks. The masses have access to a wealth of music-related information and enjoy consuming every fact, no matter how big or small. This education-first attitude extends outside of music, and as such has wider reaching implications.
It used to be that music geeks were a select few, a rare breed easily identifiable with worn band tees, pins, you get the picture. The type of person who had a very strong opinion on everything musical, from their favorite Wilco album to the deft lyricism of Wu Tang Clan. In recent years, they would have been avid readers of Pitchfork and Stereogum and even guiltily, Rolling Stone.
The defining character of this "music geek", aside from an ubiquitous pretence, was a thirst for contextualizing music inside the larger music world. As we all know, information moves quickly and relentlessly on the Internet. However, it's worth noting that a new layer of information is being added to this music world, which peeks into the personal lives of musicians. At one point your typical "music geek" would have shied from this "celebrity" Voyeurism, not wanting to muddy up the art and the artist. This would have been superfluous information, not relevant to the art itself.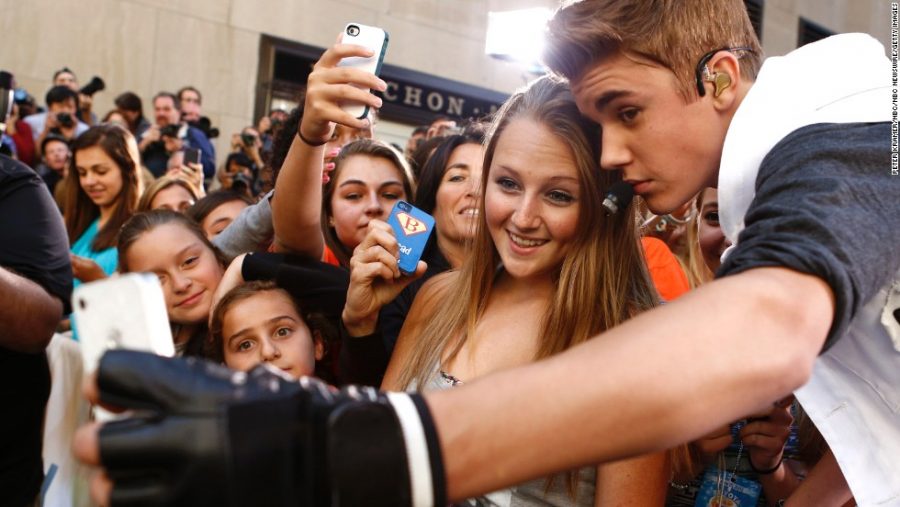 But music geekdom is no longer some unreachable apex of true understanding, accessed by the few; nor is Celebrity Voyeurism an embarrassing nadir for the masses. As with everything, some do gravitate one way or another but exceptions prove the rule. Generally, music "geeking out" is now out of the hands of geeks and a common practice.
In speaking to music fans of various genres, we started to notice patterns in their interactions with different media outlets, or "touchpoints". There was seemingly little rhyme or reason, everyone seemed to consume a dizzying multitude of media. In order to better wrap our minds around it, we worked up a framework to categorize content and experience touchpoints.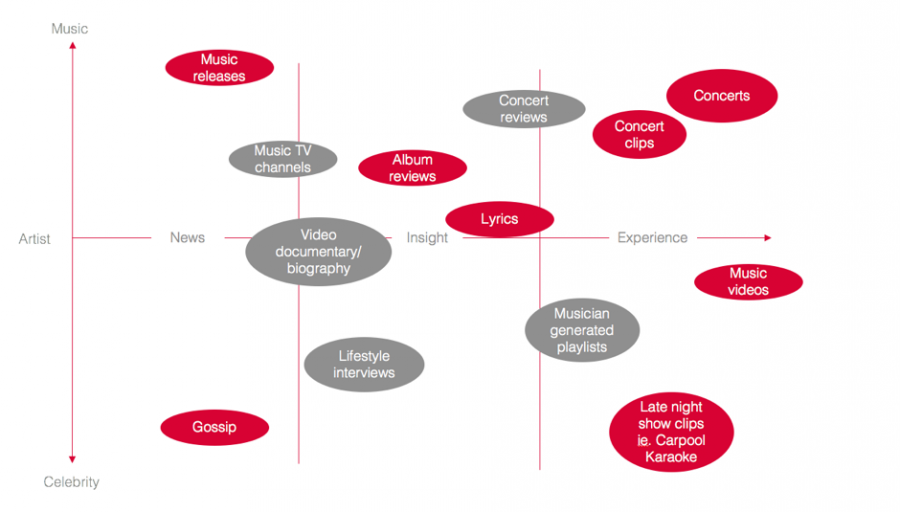 The chart above helped us think about how the music media world maps out in present day. What we've observed is a trend toward media that is insightful and experiential – and runs the gamut from reporting on celebrity, to an artist, to their music. A typical music fan will be consuming at least the media indicated in red, if not grey.
In order to get some quantitative confirmation, we tracked a number of music media entities' shares on social media from July 25 to August 2nd using our audience intelligence platform Pulsar. As you can see below, people are running the gamut from music news, to celebrity gossip, to reviews and rankings.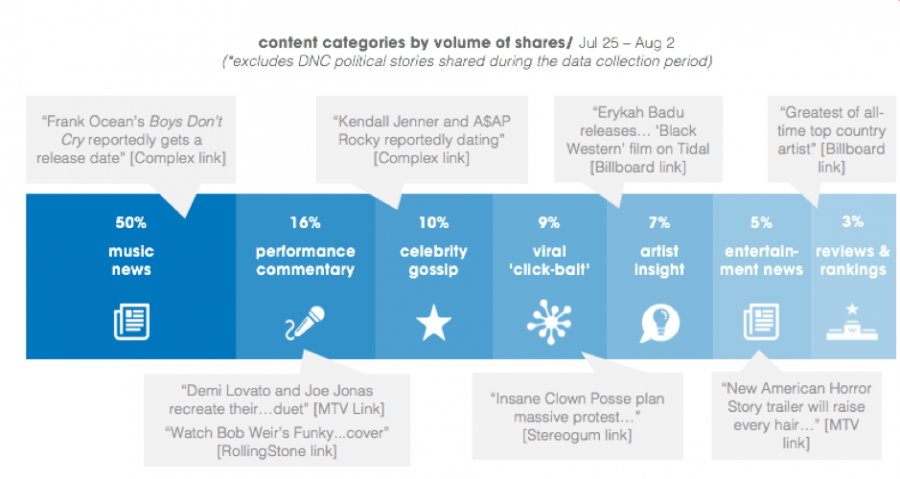 Fans are now going beyond our 'traditional' forms of engagement; at one point this was limited to concert attendance and merch. Now they have a number of ways to tap into music and become more involved – social media being the most important. Here, the line between musician and celebrity is muddled. Many musicians push out information about their music/touring/etc on their own private social media pages, becoming a brand they can be accessed 24/7. Because fans are directly tapped into this line of information, and can respond to it freely and visibly, we have "conversations" at hand.
This paradigm shift of narrative to conversation is not confined to the world of music only. The same thing has happened with makeup, for example. Makeup techniques used to be elevated and kept with our Kat Von Ds etc… meanwhile today among a casual survey of friends, everyone has tried contouring, an impossibly difficult (and arguably pointless) makeup routine. We could even say the same about coding, thanks to platforms like Codeacademy, this list goes on.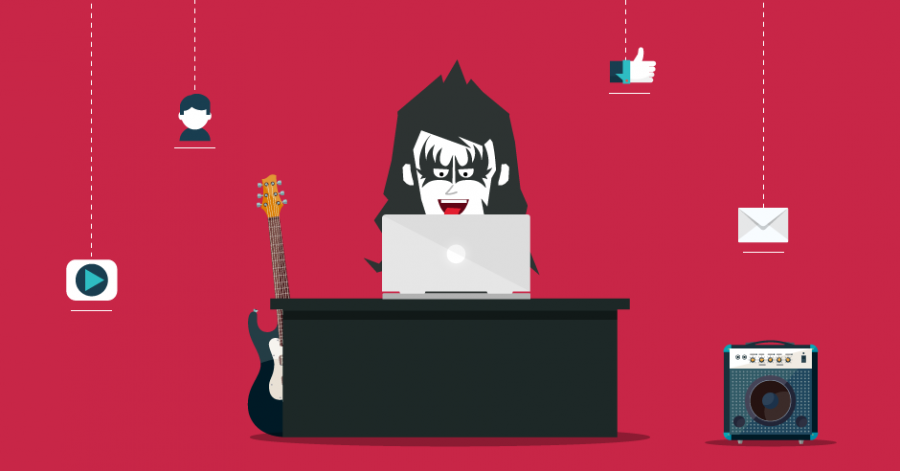 Take a cue from music, makeup, coding, etc and remember the power and joy of education when talking to your fans/users/consumers. This can be something simple such as releasing a tutorial for using your product in a new clever way – leveraging education for advocacy. They want to be spoken with, not spoken to. Learning is not avoided but embraced with a meaningful experience.
Dori is just one of our many brilliant researchers at Pulsar. Need help navigating the social seas in order to derive insights that will help you improve your business? Give us a shout on (+1) 646 902 93 49 or email us on [email protected]