Use Case Guide: leveraging Social Listening & Audience Intelligence for Superior CX
Customer experience is everywhere across social channels, from specialized forums and review sites, to Twitter threads and local Facebook community pages. 

But understanding the innumerable touchpoints each of your customers have with your brand – and whether you're successfully solving the solution you set out to – is clearly more challenging than waiting for brand mentions to filter through into social media alerts.
As we often say: brand-watching lags, while understanding behaviors helps you anticipate.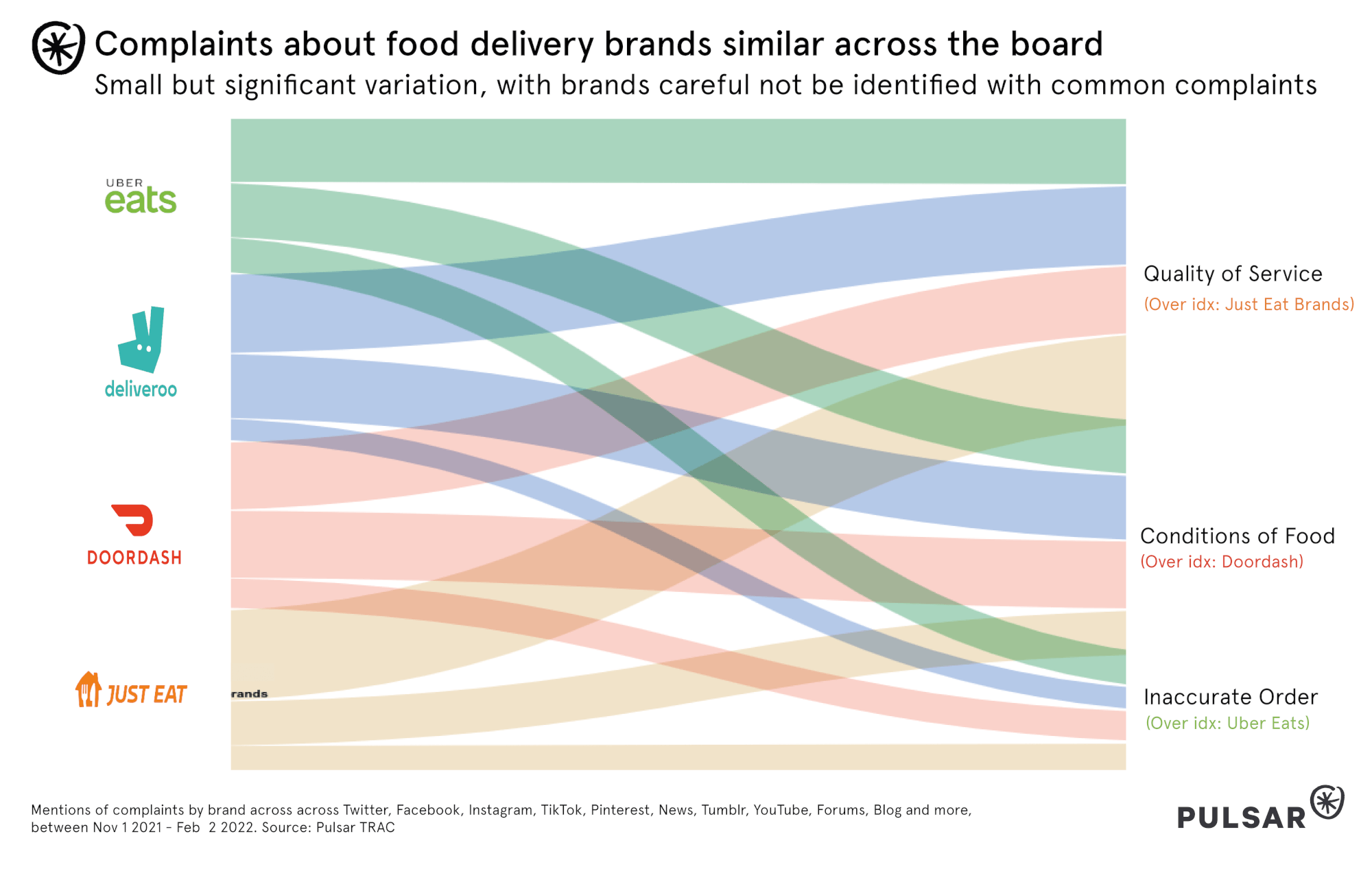 In this guide, we'll illustrate how some top CX professionals use audience intelligence to attain a deeper understanding of their customers' needs, priorities and pain points.
We'll be looking at:
Pulsar clients Thinx, leaders in both cultural change and e-commerce innovation 
US Airlines, and how consumer complaints have evolved pre- and post-pandemic
Uber, and the different ways of mapping rider behaviour 
A vast landscape of social media insights enables businesses to tap into customer mood, gather valuable feedback, and understand the behavior & preferences of target audiences. This guide examines how marketers can apply social data and audience intelligence to boost their CX strategy and deliver outstanding customer experiences.  
Beyond brand monitoring to customer insight and audience intelligence 
Marketers must understand the difference between monitoring and active social listening. Brand monitoring enables companies to understand customer sentiment when customers and key advocates interact directly with the company and mention its brand assets, products, and services. Customer service teams can use brand monitoring to respond to queries and resolve customer issues. 
Social listening goes a step beyond mentions to pull in richer insight from consumer conversations. The insights from active social listening travel beyond customer service as they are relevant for every department and team. Social listening allows brands to use audience insight to inform their broader strategy. Beyond existing customers, marketers can sharpen focus on social media users with the potential to become future customers and influential brand advocates.  
Leading marketers can use these insights to inform content, seek innovation opportunities, and devise a checklist for effective product design. Layers of rich context enable brands to adopt a data-driven approach to qualitative customer feedback. 
Observing pain and passion points is the key to delivering an outstanding customer experience at every single touchpoint. Moreover, creating successful customer experiences leads to higher financial performance and increased profitability. Marketers can gauge the success of delivering a superior customer experience through tangible KPIs, including higher purchase volume, increased customer retention, lower churn, and a boost to long-term customer loyalty.
How Social Insights can inform CX Strategy 
Pulsar's social intelligence data empowers brands with the insights needed to formulate an exceptional CX strategy, allowing them to beat the competition and deliver excellence across the breadth of the customer journey. 
Customer engagement. Pulsar TRAC users can draw holistic insights from audiences across all their channels, including social, search, and media. Brands can identify how audiences are discussing products, experiences, and competitors online. These insights enable brands to understand how to engage with audiences and deliver relevant and consistent messages online. 
Consumer intelligence. Businesses can leverage the real-time social media insights for strategic decision-making in finance, sales, marketing, and content production. Moreover, companies have access to a rich repository of verbatim customer feedback layered with additional data. Companies can use feedback as a measure of customer satisfaction and utilize insights for product and service improvements. 
Survey audience segments. Pulsar TRAC users can spot trends, understand how content is being received and see shifts in customer mood and audience sentiment. Continuous monitoring allows businesses to make use of feedback loops to remain agile and respond in real-time. Marketers can utilize social data to improve and optimize content and understand how different audiences contribute to the viral spread.  
Understand the drivers of influence. Mapping different audiences to distinct communities can enable brands to create data-driven personas and understand the content with the highest affinity with influencers. Brands can tailor their content to strengthen the relationship with key influencers. 
Map the customer journey. Analyzing customer conversations can help marketers understand the steps along the customer journey and understand the drivers of purchase intent. 
Social media is a hotbed of readily available, real-time, always-on feedback that provides value in addition to more traditional data collection methods, such as customer surveys, ratings and reviews, and NPS scores. The following section looks at real examples and use-cases of how brands have leveraged social intelligence data to improve products and services and build long-lasting customer relationships.
Case study: How Thinx use Pulsar for CX Insights 
Thinx design and sell period-proof underwear. More than that, they have become the defining brand in a rapidly expanding market. But their success is also due to the direct commercial relationship they have formed with their customers. 
The year 2020 changed the entire e-commerce landscape. And as supply systems were placed under enormous strain, customers became increasingly concerned about deliveries, which became one of the few tangible links between atomised individuals, households and businesses. 
Thinx were driven to understand the prevailing customer attitudes and behaviours towards delays and potential delays. "Obviously, all the issues related to the pandemic are so important now, for instance to see the behavior of customers towards delays" says Alice Warren, who is Director of CX at Thinx and the main user in the organization.
As the US national delivery and infrastructure network began to show cracks in the Spring of 2020, there was a rise in items going out of stock, and a corresponding increase in customer anxiety. At the same time, fears increased around package theft, while more and more items being returned meant traffic wasn't just heavier, but two way.
"I think people are more understanding now than they were initially when the pandemic started: they actually say that, 'oh, I understand with COVID there probably be delays' but they're getting a little less understanding now as time has gone on!" says Warren.
Through monitoring the broader conversation around these issues, Thinx are able to proactively address any issues. That means using Pulsar TRAC to stay on top of customer issues –from order delays, to stocking issues, and customer concern about stolen packages– and also to factor this information into longer-term strategy. 
Case Study: Visualizing the Customer Experience of Food Delivery App Users 
Following huge infusions of new customers, and corresponding injections of capital, food delivery brands appeared to usher in a new dynamic in the food & drink, retail and restaurant spaces. As societies began to return to urban spaces, however, the various competing brands have found themselves drawn into competition over a finite customer base. 
This has increased the focus on CX. As each brand offers comparatively minor variations on the same service, and the act of ordering food is largely conditional on established customer habits, it becomes important to avoid any kind of repetitional damage that can result from consistently poor customer experiences. 
In the chart that opened this guide, we have already visualized the associations that customers have drawn between leading brands and common complaints, such as poor service, poor quality food and inaccurate orders. As might be expected from brands with limited control over partner restaurants, many of these even out to create relative parity. But that also renders any variation significant. Can a brand over-indexing for poor quality service, for instance, signify issues with recruitment, a value clash between customer and driver, or else technological issues that constrain the rider, and create unrealistic expectations for the customer?
We can also turn this on its head, and visualize how each brand has developed a positive reputation with its customers for certain elements of service. The below visualization is interactive. 
This allows us to reaffirm the non-negotiable values that all delivery apps must share, such as speed of service, while also highlight the brand-by-brand disparities in secondary attributes like ease and price.
Case Study: How Airlines Used Advanced Social Listening To Track Customer Mood During the Pandemic 
As expected, the hospitality and tourism industries took a nose-dive amid the pandemic. With heavy restrictions on foreign travel, airlines paid a heavy price for the impact of global lockdown. 
Pulsar's research team uses the platform to analyze customer complaints in 2020 compared to the same period in 2019. Unsurprisingly, there was an accompanying shift in customer attitudes towards the major carriers. Key issues, such as hygiene, became much more critical in 2020. Comparatively, the impact of hygiene in 2019 was minimal.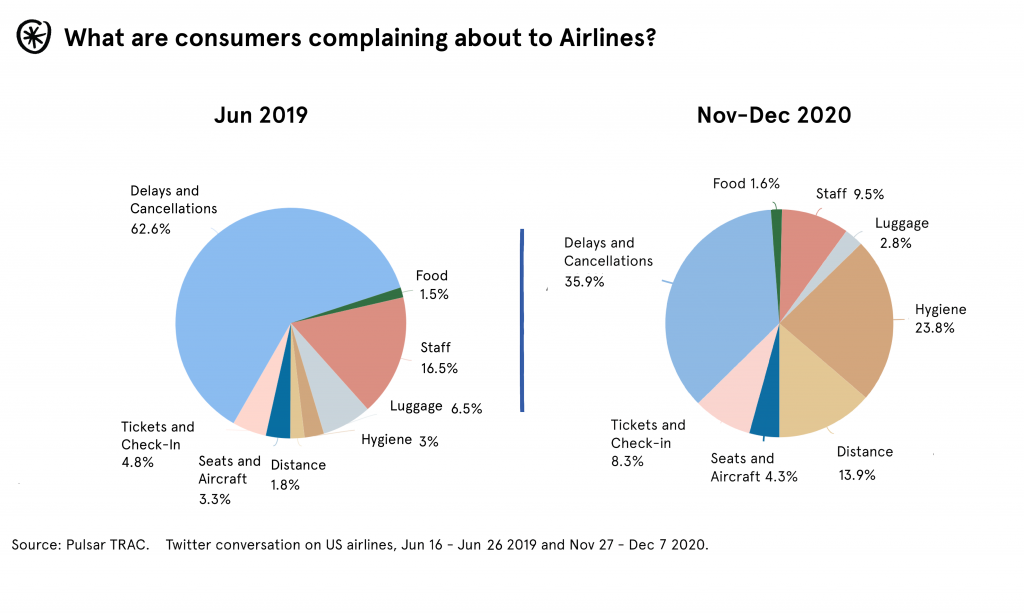 The research also revealed falling complaints, dropping significantly from more than 80% in 2019 to 68% in 2020.  Deep uncertainty meant that customers were hungry for news and updates, prioritizing information over customer service. The proportion of news-related social media updates increased by 10% between 2019 and 2020. 
This insight can empower social media marketing teams to change tact. In the pandemic, pushing out news and regular updates is a higher priority than utilizing social as a customer service channel. 
Further analysis into complaints shows a shift in routine consumer priorities. With the severe impact of the pandemic, customers tend to expect disruption to business as usual and less likely to complain about delays, for example. The proportion of complaints relating to delays has fallen dramatically, from 63% in 2019 to 36% in 2020. 
In contrast, while hygiene only made up 3% of mentions in 2019, in 2020, almost a quarter (24%) of Twitter conversations about airlines relate to hygiene. 
In 2020, all businesses were under pressure to adapt. The select companies with insight into the consumer mood are equipped with the agility to be highly responsive to consumer attitudes. Before 2020, competition between different airline brands was relatively balanced between the key industry players. In 2020, Southwest and Delta significantly grew their share of social media mentions.  
In the case of Delta, the airline stood out from competitors by enacting a policy of blocking out the middle seat in a row of seats. The strategy gained favor from key influencers and brand advocates to amplify positive customer sentiment. Customer service intelligence empowers brands to react to the zeitgeist and shape customer service strategies around the customer pain points and most pressing top-of-mind concerns. 
Analyzing First-Party Data on Pulsar
Unlock insights across your entire business by importing your own data onto Pulsar. You can now upload your text first-party data into the platform, process it through our vertical AI, and then view, analyze, segment and visualize it to unlock deeper customer insights – just like any other data source you are tracking on Pulsar.
Discover More
Case Study: Contacting Uber Support 
In a research piece for Uber, Pulsar's research team explored online support conversations. Support comments relate to a range of issues, including issues with the driver, the experience of using the app, payment issues, and driver cancellations. Pulsar users can take qualitative, verbatim feedback and translate it into quantitative data to observe macro trends and shifts in consumer attitudes. 
The research examined the motivators for selecting Uber over the alternatives modes of transport, such as taxi or the subway. Frictionless payment is a factor mentioned in more than 50% of consumer feedback. Another factor is allowing pets in the car, a key driver for choosing Uber over cabs, for example. The insights enable brands to fully take on board customer motivations, preferences, and needs. Armed with this data, brand marketing teams can adopt a customer-centric approach to design superior customer experiences. They have a comprehensive understanding of how to optimize customer service delivery.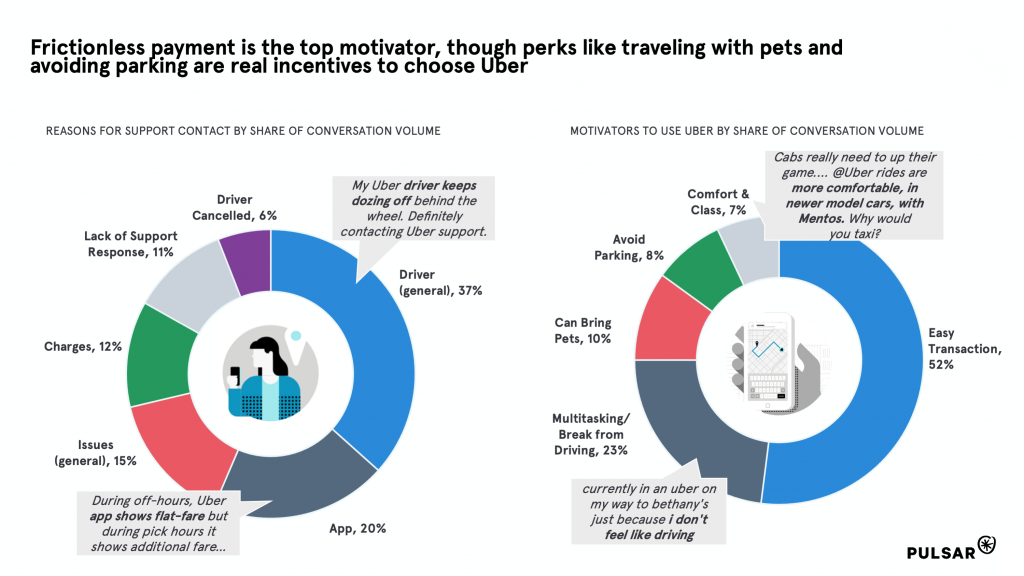 Pulsar users can drill down further to understand what motivates first-time users versus long-term loyalists. Taking a deep dive helps explain why both first-time rejectors and detractors might switch to a competitor. CX teams can use these observations to design better customer experiences. Mapping the conversation to audience segments provides a route to enlightenment, empowering brands to transform first-time users into long-term brand advocates.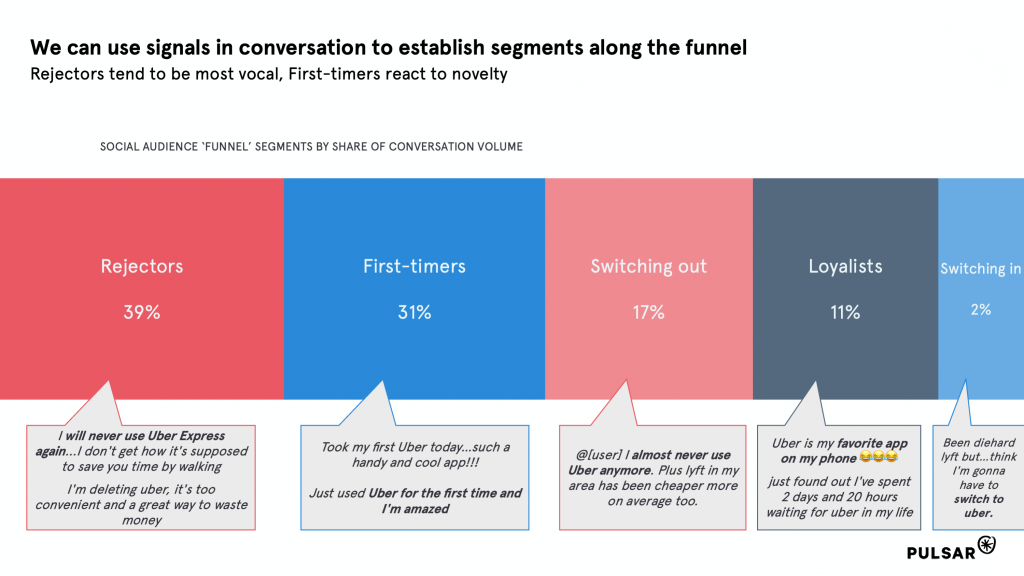 As well as audience segments, Pulsar users can add layers of powerful insight by mapping audiences along the funnel. Exercising a holistic approach shows how pain points originate. Brands can use these insights to resolve issues along the customer journey at individual touchpoints. 
Companies can see moments in the customer journey where the customer is more likely to switch to a competitor. CX teams can use these insights to optimize customer experiences at every moment in the funnel to minimize the impact of detractors and rejectors. As well as the quantitative data, CX teams can access the real-time, verbatim feedback to understand trends in the customer sentiment.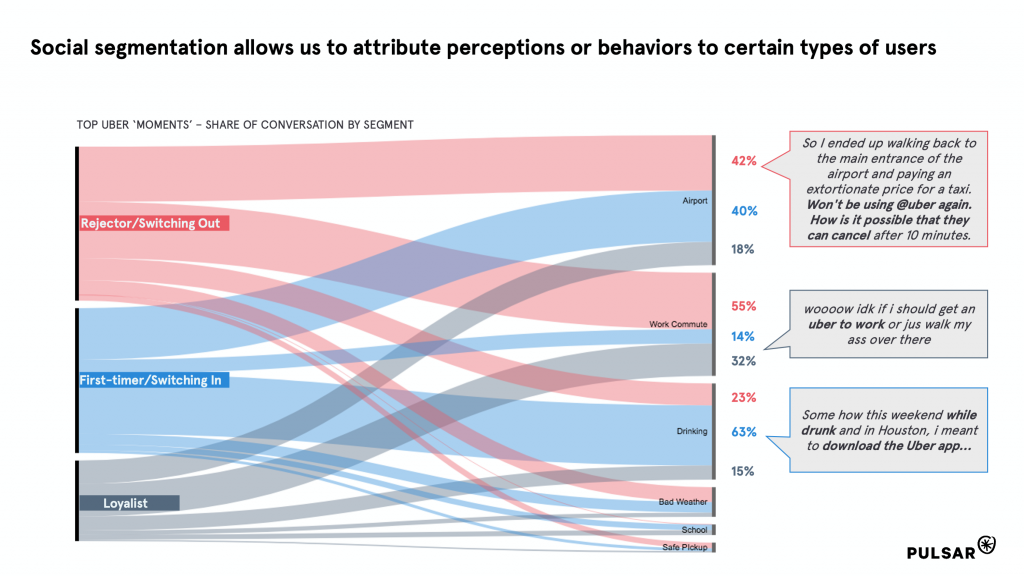 Understanding the cross-over between different data sets is where the magic happens. Pulsar's research teams mapped different audience segments, genders, and ages to specific use-cases. The team mapped demographics to data looking at using Uber within a distinct context, such as for work commutes, business trips, or traveling to the airport. Furthermore, content teams can also view the publications that have a high affinity with different audiences. PR and content marketing teams can target these websites with highly specialized content to target specific audience segments.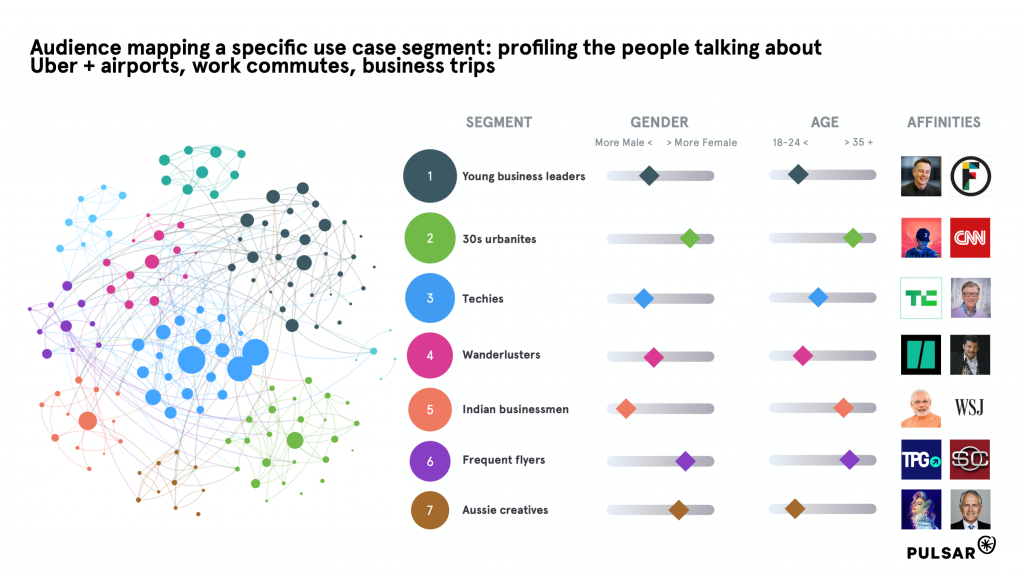 In Summary 
Social media provides an untapped resource for marketers to mine a vast volume of granular, actionable insights. Social data provides the fuel for every department in the organization to shape data-driven marketing strategies around the customer. 
The granularity of audience intelligence data enables CX and product design teams to formulate engaging content and exciting customer experiences. The increase in customer loyalty, stronger customer relationships, and higher customer lifetime value tangibly impact the bottom line, enabling brands to stand out from their competitors and boost long-term profitability. 
---
If you'd like to discover more about our data sources, vertical AI, or the many different ways Pulsar can unlock CX insight, you can book a demo with one of our specialist using the form below.