Introducing Pulsar First: upload your first party data into Pulsar
Import your owned data into Pulsar (via API or .CSV) to unlock deeper customer insights
A deep understanding of customers is at the heart of most great businesses: but with so many customer interactions and touchpoints across platforms, embedding the "voice of the customer" into your analysis can be a challenge, and true customer insights can be elusive.
That's why we built Pulsar First, Pulsar's first party data upload functionality, which is now live for all our customers in a free beta. 
Whether you're a researcher, marketer, CX or commercial professional, your can now upload your text first-party data into Pulsar, process it through our vertical AI, and then view, analyze, segment and visualize it to unlock deeper customer insights – just like any other data source you are tracking on Pulsar. You can upload data via .CSV or through our API.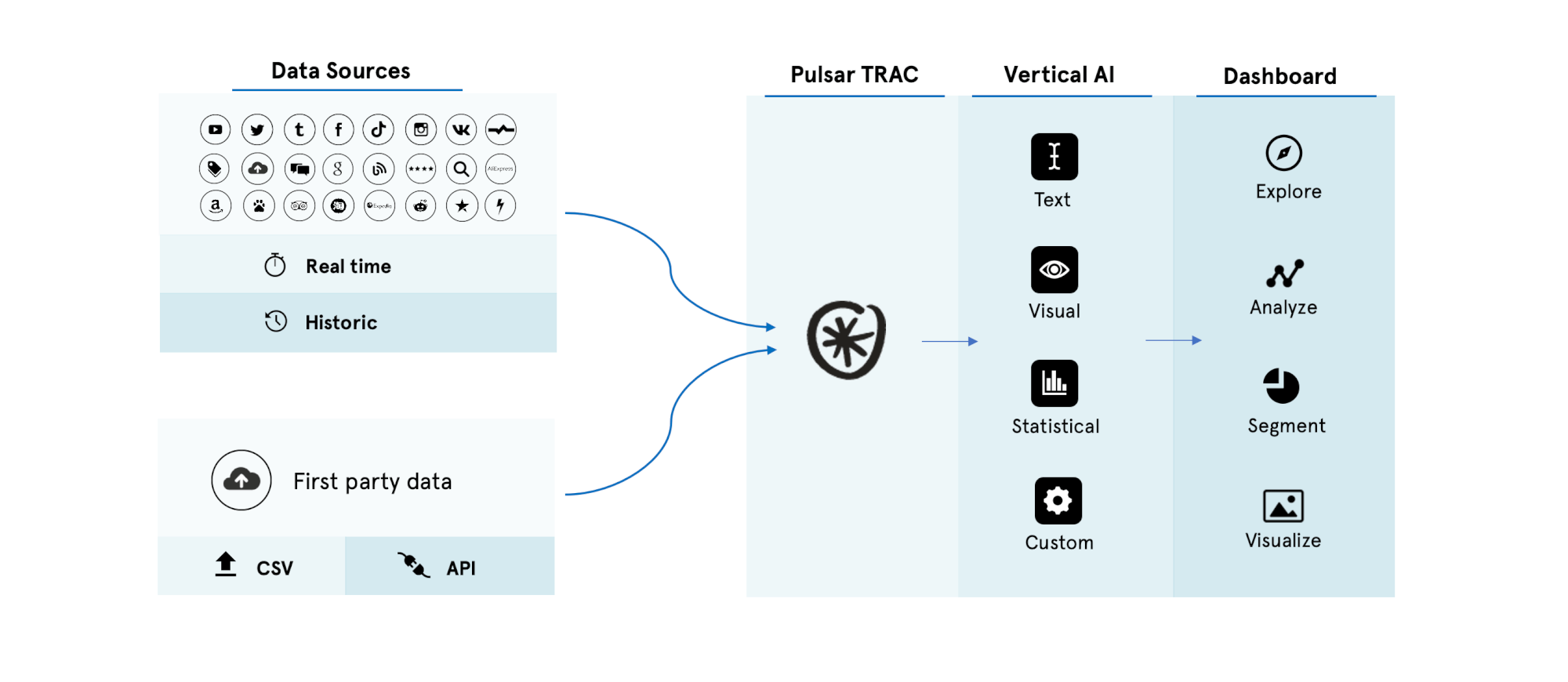 * please note that in order to upload first party data, you will need to be complying with data legislation and  Pulsar's acceptable use policy
What can I use Pulsar First for?
Depending on the dataset you own and the business challenge you're facing, Pulsar First allows you to glean better customer insights across your organization's departments and business functions, and across use cases. 
Here are a few ideas to get you started:
Make your products, activations & experiences more customer-centric: for example, you can bring together social, news and customer support data to gather insights about the success of a new launch or campaign, leveraging Pulsar's language detection, topic, keyword, sentiment and emotion models.
Let our Vertical AI spot patterns in your dataset: as an example you can use our vertical text AI to spot domain-specific patterns in Sentiment, Emotion, Intensity, Trust/Distrust, CSR, Customer Experience.
Correlate breaking news, campaigns or viral moments with customers interactions: map a spike in sentiment in your customer support tickets with a broad industry trend which is unfolding across news media and social networks. 
Those are just a few examples – Pulsar First can help you glean different kinds of customer insights based on which kind of data you have. Which brings us to… 
What Kind of Data can I upload?
Once you have verified your data is compliant with data legislation and our acceptable use policy, you can import any datasets with a body of text, a date, and a unique identifier for each datapoint. 
Here's again just a few ideas to get you started:
Chat transcripts from Intercom or other app messenger applications.
Comments left on any of your websites
Customer support tickets from Zendesk or SalesForce
Survey responses from SurveyMonkey, Google Forms, TypeForm or elsewhere
Transcripts from podcasts, videos, other media
Want to learn more? Get in touch to get a tour of the platform and see how Pulsar First can help you unlock customer insights for your organization by filling in the form below 👇