Airline complaints in 2020: fewer, and quite different (CX)
As one would expect, airline customer concerns have changed radically in 2020
Few industries have seen their fortunes reverse quite like airlines this year. The events of a seismic year have deeply affected travel as a sector, how airline brands are perceived, but also what it means to be a passenger. 
One part that hasn't changed? Customers taking to Twitter to engage with their airline carriers on Twitter. 
In 2019, we had explored how passengers would take to Twitter to vent (or rave) about their customer experience with top US airlines about their customer experience during "normal" times. Given that 2020 was everything but a normal year, we decided to compare our previous period of analysis (mid-June 2019) with a more recent period where significant travel was taking place, end of November/early December 2020. 
We learned a few obvious things, and some more surprising ones:
Complaints about hygiene and distance, minimal in '19, grew to almost 40% of total in 2020 
Airline customers in 2020 are complaining less than in 2019 
Southwest and Delta grow in mentions, while Alaska Air and Jetblue fade out
Fewer complaints, more praise, and much more news

Of course, fewer people (and aircrafts) are flying these days, but those who take to Twitter to reach out to their airlines have warmed up a bit to the carriers. Complaints to airlines as a percentage of total mentions dropped from more than 80% in mid 2019, to around 68% in late 2020, Talk of good service grew by about 2%, to 13% of the conversation analyzed over the same period.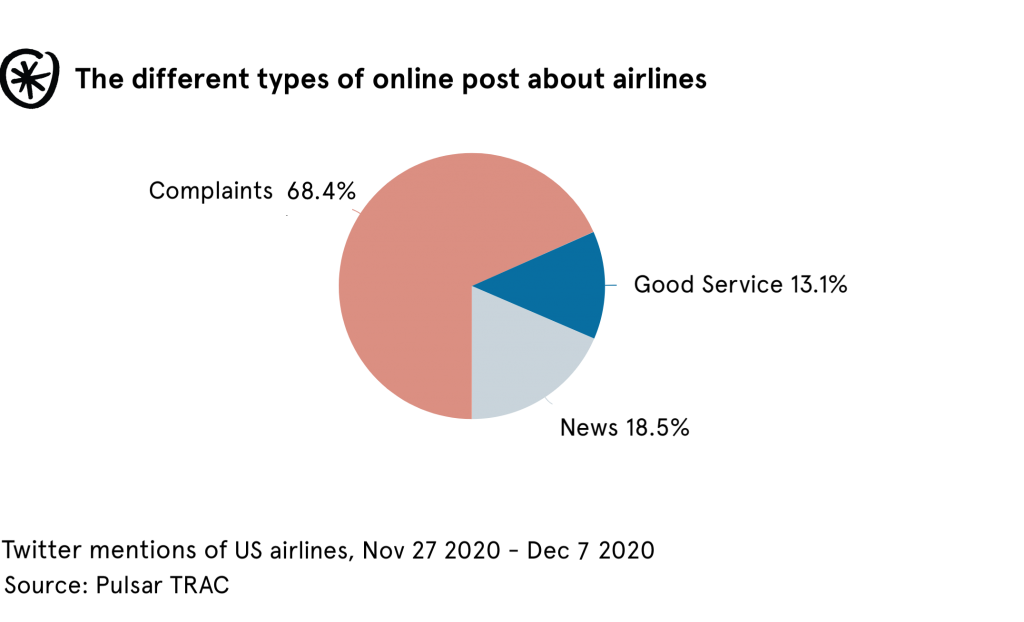 The largest increase however pertains to news related to airlines –from financial news, to company announcements– with this segment growing by over 10%, as the sector as a whole entered months of turbulence and frequent announcements of new rounds of Covid policies, widely covered by media.
What are people complaining about in 2020?

Let's take a look at the complaint section, which can tell us a bit about the customer experience (CX) of flying in 2020.
The largest shift –of course– came in relation to the two most important factors in limiting the spread of Covid: hygiene and distance. Those two topics ballooned from less than 5% of complaints in 2019, to over 37% of all mentions of top US carriers in 2020.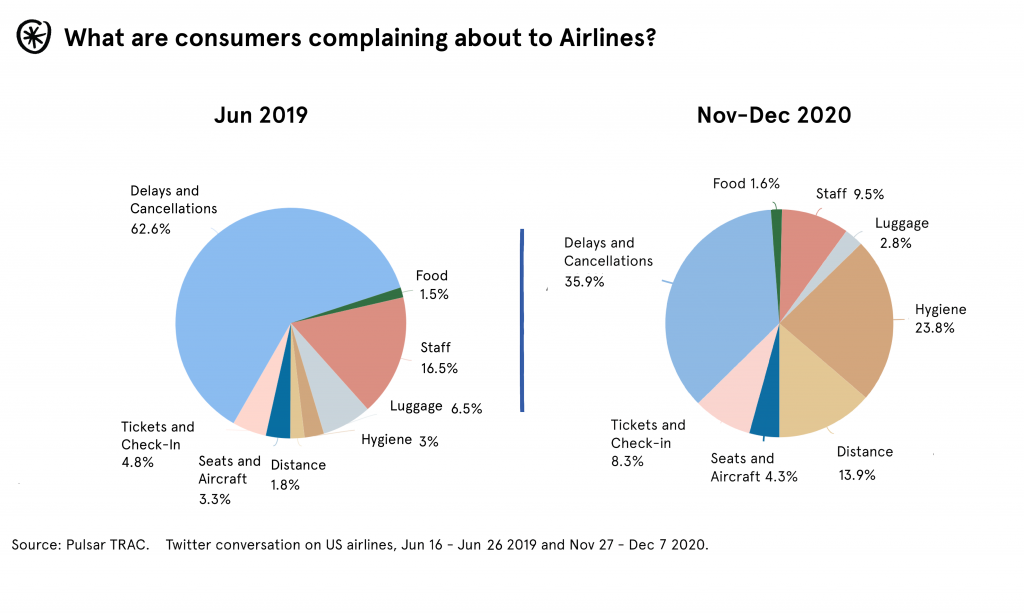 While no one (ever) loved spending hours in a packed plane, the safety concerns around the pandemic have raised expectations about what is roomy and what is cramped
Why am I on this @SouthwestAir flight and it's packed ! WTF HAPPENED TO WINDOW AND AISLE SEATS !!
#pandemic

— AlainaSimone_ (@SimoneAlaina) December 5, 2020
Similarly, for cleanliness, concerns with germs are sky-high:
@SouthwestAir looks like the plane needs to be clean properly. So much for cleaning thoroughly to protect passengers DURING A PANDEMIC. #feelingsosafe pic.twitter.com/LwBiYMd07x

— Wilson Tsui (@wilgod224) December 4, 2020
And while delays and cancellations almost halved from 63% in 2019 to over just over 36% in 2020, this key frustration for passengers remains, and the complaints are steady and aimed at refunds. 
@Delta Our 12/7 flight DL 2020 from TPA to JFK with a connection in Atlanta was delayed to the point where Delta finally canceled and rebooked us to 12/9. We incurred a $73 cab ride back to his parents' house! Is there a reimbursement for this?

— Patricia (@trishayyy) December 8, 2020
The Airlines 
Compared to the period we analyzed in 2019, mentions of US airlines are less balanced, with passengers talking about (or to) Jetblue & Alaska Air much less, while mentions of Delta grew by 6% and those of Southwest almost tripled to 32.9% compared to mid-2019.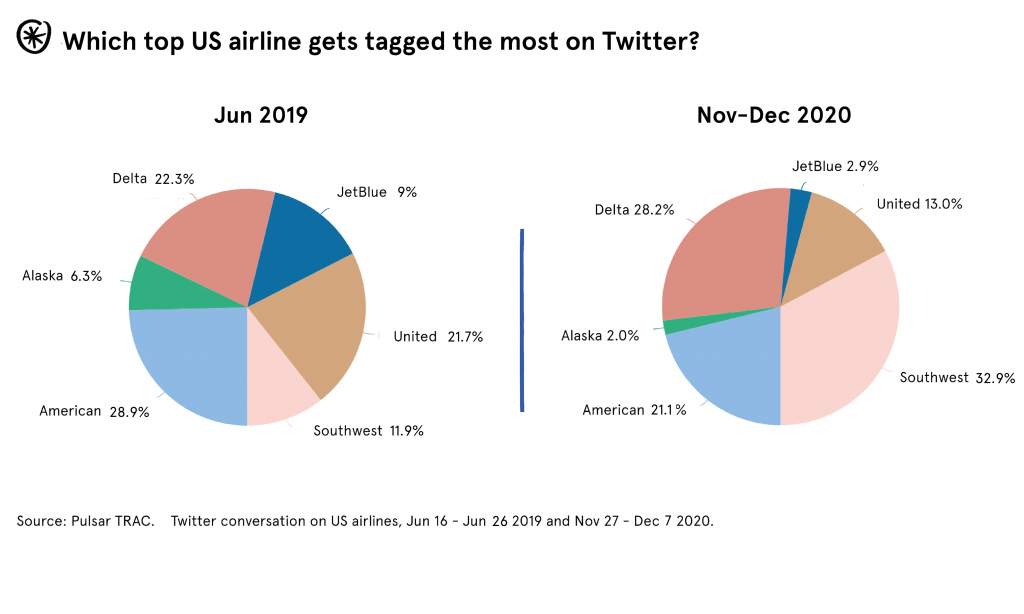 Why that huge jump? 
For Southwest, while quite a few tweets were undoubtedly complaints (see above), but over the week analyzed a viral story on Twitter (and associated PR win) shifted the tone, with a thread about a retiring captain and his mentee making way for warm feelings, a viral tweet, and articles in top publications, almost as if we were in 2010. 
Close friend Captain Ted Orris departing on his final flight. I drove up to RDU to surprise him in the helicopter on departure. If you look closely, you can see his first officer waiving! #SouthwestAirlines #swapic #boeinglover #boeing737 #retirement #aviation #aerialphotography pic.twitter.com/sUkZX8K9de

— Ryan Patterson (@diecastryan) November 30, 2020
Delta gain some positive share of voice, also thanks to its policy of keeping middle seats blocked (unlike American, Southwest, United and Jetblue, which recently began selling all seats in each flight): this certainly costly decision allowed for some brand advocates to come out and say they find the experience of flying (with Delta, at least) these days almost a better than ever before, with clean planes, more space, and great service.  
Usually only see criticism of airlines on here and I'm sure I've been guilty of that at times as well but just wanted to give @Delta a shout-out.

Planes are clean, nobody in middle seat, almost always operate on time, flight attendants are excellent, etc.

Big fan. 👍

— Ross Tucker (@RossTuckerNFL) December 4, 2020
Beyond Twitter  
The consumer habit of tagging airlines while flying is very much a "native" Twitter behavior which turns Twitter (for airlines and many other large brands) into a customer support hub. It just doesn't happen as much on other platforms. 
But that doesn't mean people don't mention airlines, or complain about them on other platforms like Tumblr, TikTok, or of course, Reddit. 
Why is Southwest opening middle seats? from SouthwestAirlines