Audience intelligence + keyword intelligence = Audience-first SEO
Pulsar's Guide to developing a sure-fire Audience-first SEO and Content Strategy
An effective SEO strategy is fundamentally about producing high-quality content that people will read and link back to on their sites. As competition for high-relevancy keyphrases heats up, savvy SEO professionals are increasingly taking an integrated outlook, baking an audience-first approach into their content strategy. Armed with a deep understanding of their audience and communities, they write content focused around a particular keyword to serve specific audience segments.
We call it audience-first SEO. 
By definition, SEO is audience-centric. A better understanding of your core audience enables your content to deliver high-value targeted content that engages the reader, increases dwell-time, targets relevant keywords, and boosts organic search results. Good quality content cannot be divorced from SEO. Not only is high-value content rewarded by good positioning on the SERPs, but it also resonates with the people that matter to your business. 

That's why audience intelligence tools are already becoming a critical part of the SEO stack. Content marketing teams are becoming increasingly strategic, capitalizing on a deep, nuanced understanding of their audiences, keyword insights, and search intelligence to produce audience-centric search-optimized content. 
This guide will take you through how to embed audience intelligence at the heart of your SEO and content strategy. These tips will facilitate coordination between your search, analyst, and content teams, allowing them to unlock insights that power your content for sustainable long-term success and optimal SEO performance. 
The Benefits of an Audience-first SEO strategy
An audience-first SEO strategy enables search professionals to:
Use social data to gather the behavioral insights that can enable a deep understanding of keyword-level search audiences, which analysts can then map to audience segments.
Use audience intelligence to enhance keyword-level content strategy, and zoom in on how each target audience community talks about the same topic differently. 
Target hyper-relevant influencers within a given keyword segment by forming a deeper understanding of their behaviors and search patterns. 
Understand which backlinks are going to be more valuable for different communities to prioritize your link-building campaigns. 
Keyword and Audience Intelligence Go Hand-in-Hand
A recent survey of SEOs (conducted by Semetrical and Audiense in partnership with Pulsar) highlights that only 16% of search professionals use social media and audience data to enhance their SEO strategy. Yet, 63% of SEOs report that traditional keyword research in isolation does not provide insights about their target audience's behavior and interests. 

Using audience intelligence to plug the gap provides opportunities to outsmart your competitors and rank higher, by creating content strategies that resonate with your target communities. 
As Pulsar power-user Rory Hope, Head of Marketing at Semetrical, notes: 
"To succeed at modern marketing, your brand needs to adopt an audience-centric digital strategy that aims to be as relevant as possible to your audience's shifting interests, conversations, and behaviors. When brands prioritize this, they will achieve much higher engagement from relevant audiences, including current and potential customers."
Keyword research tools like SEMRush and Google Keyword Planner are essential for marketers to understand search behavior. However, keywords are also the building blocks of social media conversations. On search, keywords link to specific queries, where searchers are looking for the answer to questions or are looking to fulfil an unmet need. On social media, users engage in active and organic conversations, interact with others, and share ideas. 
Online, different communities emerge that will talk about the same topic differently, and conversation evolves at breakneck speed. Social media intelligence tools offer SEOs another perspective in addition to the intelligence garnered from keyword research. Social enables marketing teams to have a vast volume of granular audience data at their fingertips, with immediate access to an expanded set of customer traits and behavior patterns.  
Audience intelligence enables SEO and content teams to see how various social media communities contribute to the topic du jour. With a platform like Pulsar, users can view keywords in context and understand how conversations match different audiences and communities. 
By researching and identifying social media keywords, SEOs and content marketers can gain insight into audience engagement. They can utilize social media keywords to optimize comms and construct targeted marketing campaigns. 
Take the recent conversation around the Netflix documentary, Seaspiracy, for example. Using the Communities integration, Pulsar users can see the audience communities contributing to the topic. More specifically, we can see different segments engage with the topic differently, although they are talking about the same issue.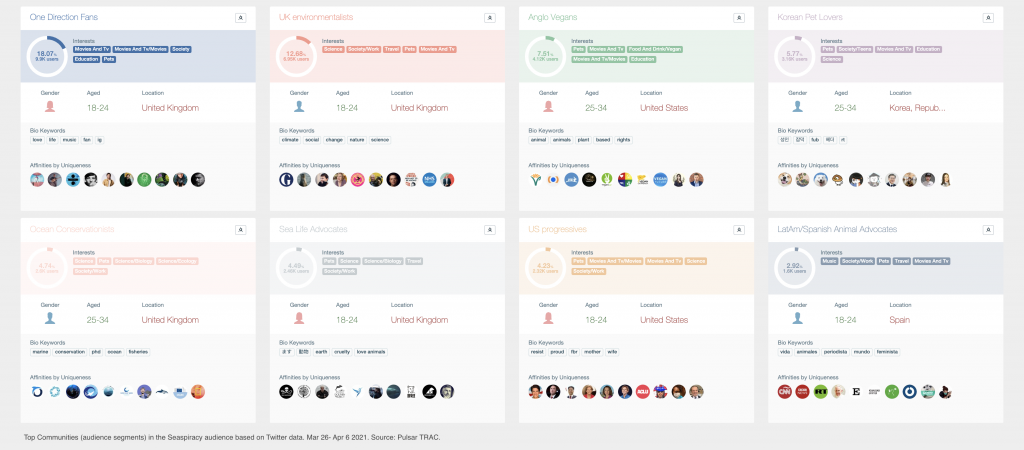 At the same time, Search Data Insights, a Pulsar feature powered by Google search data, enables you to examine both search and social data in the same tool. Pulsar users benefit from a 360-degree view of how audiences engage with particular topics. The holistic view enables advertisers to target prospective audiences based on behavioral patterns, preferences, and broader interests.   
These insights can help SEOs build a comprehensive keyword list based on real-time social conversations. Furthermore, SEOs can prioritize keywords based on the audiences they are targeting. Understanding how different communities navigate the same topic powers targeted content creation for each of these audience segments. This additional insight results in highly effective, design-focused campaigns that deliver high-performance SEO results.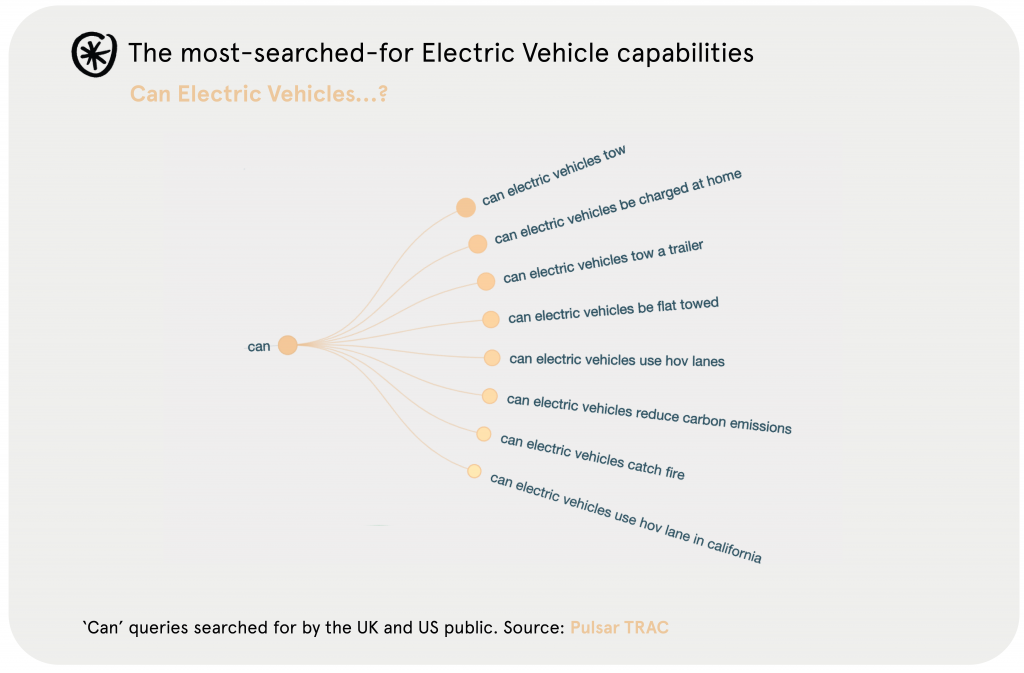 Pulsar users can also see trends and understand how conversations evolve. The advanced segmentation provided by Communities, a feature of Pulsar TRAC, empowers marketers to stay hyper-relevant by creating content and campaigns that reflect the zeitgeist. We know, for example, that the conversation around gaming shifted throughout lockdown, with significant changes in the makeup of the gaming audience over time. 
Advanced audience intelligence enables content teams to be in tune with different audience segments to craft better content strategies, super-powering backlink campaigns, and optimizing long-term search performance. Armed with richer insights, content and link-building, teams can create contextually relevant content for specific communities or tribes.
Take an annual event like Giving Tuesday. With in-person fundraising taking a dip due to lockdown, raising money through online campaigning was more critical than ever. Pulsar's platform enables managers to zoom in to understand which communities are contributing to the conversation. With these granular insights, charities could formulate targeted content with the potential to rouse these communities into action.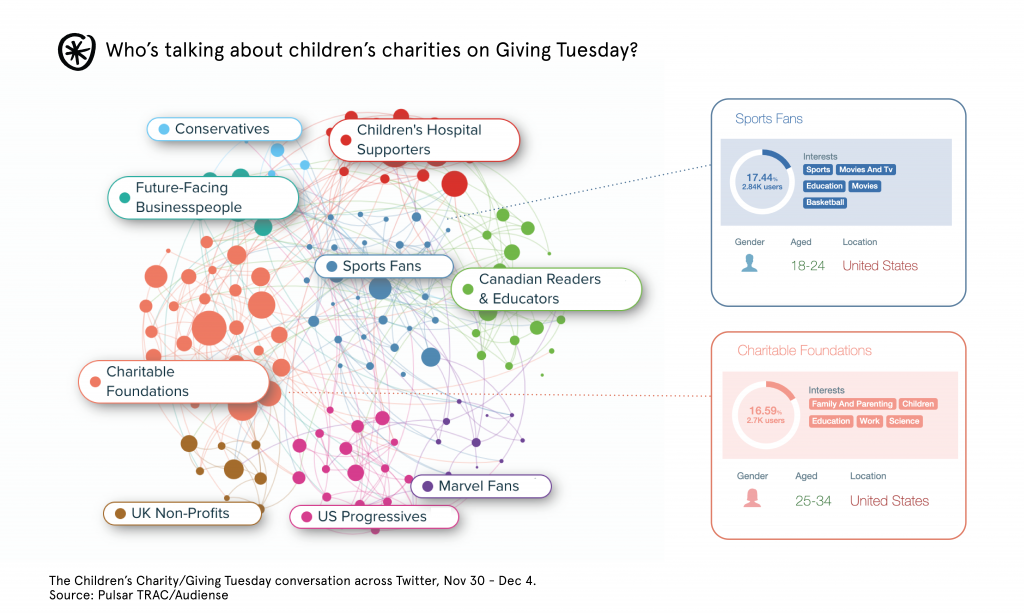 For example, when targeting young US sports fans, Pulsar users can create specific content by matching popular keyword terms to this audience segment. The process enables content marketers to create highly focused content targeting sports fans, such as an article on "How to Throw a Sports Fundraiser for your Local Children's Charity." 
Pulsar users can also see the difference between different audience segments. Charitable foundations which are much more family-focused would have a higher affinity to articles with keywords related to parenting and education. 
So how does this actually work?
Keyword Intelligence and Audience Intelligence – aligned in the Same Platform
Pulsar's platform uses social, news, and forum conversations and audience data to help marketers understand the most relevant keywords for a particular topic. But the platform also shows Google search data for those same queries. By integrating search and social signals, Pulsar users can cluster keywords and filter them through the lens of audience intelligence.
Keyword visualizations and clusters enable SEOs to see high-priority keywords with the added dimension of contextual social insight to navigate the conversation. Pulsar users can see the segments or audiences contributing to a particular keyword segment. 
Rory Hope, Marketing Director at Semetrical, uses Pulsar's TRAC function to gather real-time social insight that enables him to see the most influential publications for distinct audience segments: 
"Social listening allows you to gather real-time tweet data for the most influential entities based on affinity scores for the audiences that are most active within your priority keyword topics. This intelligence ultimately means you can plan content and digital PR campaigns with a much greater chance of success while remaining hyper-relevant and delivering more SEO value with each link obtained.
"With Pulsar's TRAC search function, you'll be setting up an insights feed that can help you generate a stream of content and digital PR campaign ideas."
Search behavior differs from social behavior, and to optimize content, marketers must use both types of intelligence in collaboration. As a marketer, you want to see how distinct audiences interact with a particular topic on search and on social, and with Pulsar's platform, you can see both in the same interface. 
Observing search keywords and audience intelligence in a single platform enables SEOs and content marketers to make critical connections between search and social to gain a 360-degree view of the customer. 
Search data records customer queries, intent, and needs, and social intelligence is a window into customer motivations, one-to-one interactions, and real-time conversations. The image below shows common search queries related to Macbooks. As well as the most influential search queries, Pulsar users can see how different audience segments talk about Macbooks and drill down further to compare how Reddit users talk about Macbooks versus Twitter users.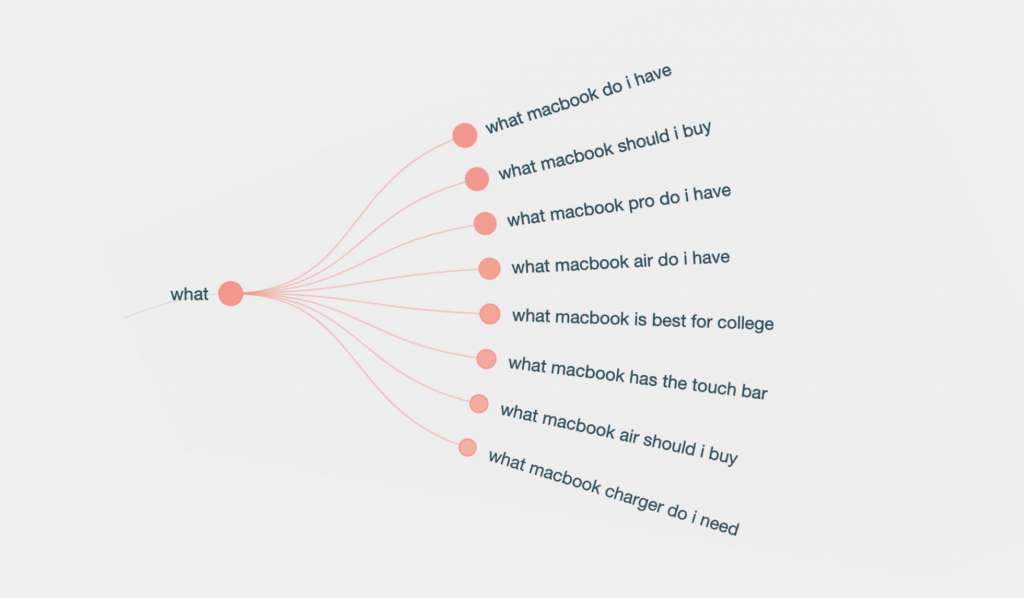 Content creators could use the insight from different audience segments to create tailored content for Apple advocates versus more casual Macbook users. Pulsar users can also see high-affinity publications for particular audience segments. They can see the keywords most relevant to a Mac enthusiast site, such as MacRumours, versus the keywords needed to create content related to troubleshooting or issue resolution. 
And it's not just about best practice, of course, but also gaining competitive advantage.
Competitor Analysis Enables Brands to See Valuable Influencers for Individual Audience Segments 
Competitor analysis enables marketers to understand which publications rank well for high-priority keywords. Content marketers can prioritize the news sites, blogs, and websites that resonate most deeply with particular audience segments. PR teams can pitch these publications with highly relevant content and reach out to them for link-building campaigns.  
The chart below shows an example of research carried out by Pulsar power-users, Semetrical. Pulsar's real-time audience intelligence platform enabled Semetrical's analysts to see the best-performing websites for the "luxury property" keyword segment. 
With Pulsar Communities, marketers can slice and dice the data to understand the top influencer entities with a high affinity with specific audiences within a particular conversation (and keyword). Pulsar is unique in that audience intelligence is seamlessly integrated into search intelligence and keyword research at every step. Pulsar users can see a visual representation of which audiences contribute to the conversation and are responsible for generating distinct keyword segments.
Using Audience Intelligence for Content Ideation 
With Pulsar TRAC, users can observe real-time conversations for a specific consumer segment within a keyword-level search audience. These insights give content teams the upper hand for PR campaign ideation, as marketers can create relevant content for each niche audience. 
For the luxury property keyword segment, social media communities talking about letting agents will require separate articles (with distinct keywords) from audiences who are more interested in commercial property. 
After segmenting different audiences, Pulsar users can go back into the platform to see the keywords used by each group. Content marketers can incorporate the most relevant bio keywords into articles targeted at different audience segments to create highly specific and niche content.  
Affinity scores enable marketers to see which publications and websites content marketers should be targeting to gain the most traction from specific communities. As well as keywords, Pulsar users can also track audience sentiment for each of these publications, which provides insight for additional optimization. Tracking sentiment enables analysts to view how news articles impact audience opinion around a particular topic. 
By identifying key publications and understanding how various communities engage with different websites, marketers are primed and ready to create highly targeted campaigns and generate content that resonates with the intended audience. 
Continuous social listening enables marketers to be agile and highly reactive to changing consumer sentiment as the conversation evolves. We have seen this most recently by tracking attitudes around the coronavirus vaccine. Ongoing social listening efforts allow analysts to spot trends and understand how audience sentiment varies according to the current news cycle. 

Final Thoughts
Search and social data used in combination give marketers a robust data-driven perspective. SEO professionals and content marketing teams can use combined keyword and audience intelligence data to target hyper-relevant influencers and create specialized content for individual audience segments.
A holistic approach where keyword research aligns with audience intelligence boosts long-term SEO performance, optimizes PR campaigns, and increases the likelihood of content marketers and link-building teams meeting their KPIs.  
---
If you'd like to discover more about Pulsar's extensive datasets, including Google Search, or any other way in which Pulsar can support SEO and Marketing strategy, you can request a demo with one of our specialists today.