Twitter Passion Report: how brands need to keep moving the goalposts to appeal to sports fans
An analysis of the sports sub-community on Twitter
We've been running a series based on our research work with Twitter, during which we examined users on the network who identified with eight key passion areas – music, food, politics, technology, sport, fashion, fitness and the TV & film passion network – and found these interest groups do not make up monolithic audiences, but gather into sets of sub-communities with their own cultural footprints – clustering around geographic, ethnic or interest affinities.
This month, we're taking a closer look at the community whose passion is identified as sport.
The sports passion audience
The observation that audiences with a uniting passion interest are not monolithic rings especially true for the sports network. As we can see below, there are several unique and prominent communities (each denoted by a separate colour).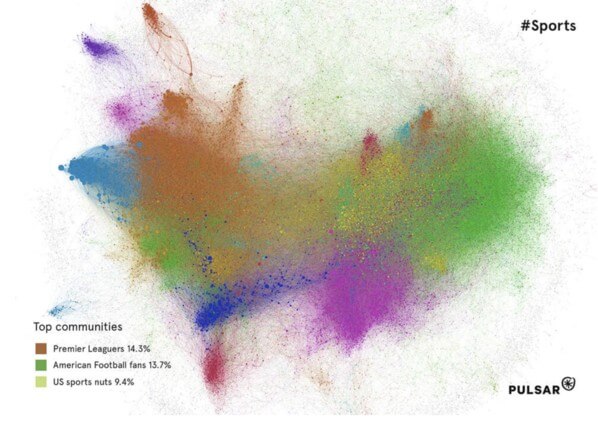 The key point of difference between these communities is the specific sport they are centred on. This gives rise to a very insular set of large communities, with little substantial crossover.
That's not to say there are no overlaps whatsoever – because, as human beings, we all have multiple interests. However, the individual sports act as the anchor for the audience – the common theme that brings the community together – and from here various sub-groups splinter off into different areas of additional interests.
The macro and micro role of location 
Location plays both a macro and micro role for this audience. On a macro-scale, given that certain sports have heightened popularity in certain countries, it is inevitable that an element of geography is present in segmenting the broader sports audience.
For instance, whilst sports fandom is becoming increasingly global, there is no denying that fans of North American sports such as baseball and basketball will predominantly reside in the USA and Canada. Yet amongst sports with a more global fanbase, these geographic variances feed into creating distinguished sub-groups on a micro-level.
Our resident football aficionado Sameer provides an insight about what it's like to be part of one of these passionate communities:
"As a real-world example, I can offer my own social media community. The underlying reason why we all follow each other is our support of Arsenal Football Club: but from that starting point, I engage with and see others interacting based on different passions ranging from cricket to rugby and music to movies.
I've also witnessed the rise of regional sub-groups, such as supporters who are drawn to each other via the experiences they share (e.g. those in India and Pakistan who stay up until inhospitable hours to watch an evening match).
It is this existence of various sub-groups that amplifies the need for targeted messaging. Not only can marketers ill-afford to put a one-size-fits-all blanket over the entire sports audience, but even within the specific sports they need to ensure content is niche enough to have a strong resonance.
This also impacts influencer outreach programmes, as marketers will very rarely find a single individual who speaks to all members of a community. Instead, it is vital to mobilize numerous people who have a deep influence rather than a handful with broad (but shallow) reach."
So what does this mean for brands?
The passion for the Gunners Sameer describes was no more apparent than when Arsenal manager Arsene Wenger retired, and the former #WengerOut hashtag was superseded by the #MerciArsene celebratory hashtag. Brands need to understand these passions on a granular level, otherwise messaging to these audiences will not be taken seriously.
This year's World Cup has provided a wealth of examples of both good and bad targeting of sports fans.
For instance, the Nigeria team's kit was launched by Nike with a great deal of build up and hype. The eye-catching and modernized kit was previewed in February by Nigerian Arsenal player Alex Iwobi, followed by an official sales launch in Europe just before the kit debuted at an England-Nigeria friendly match on June 1:
This is the queue at Nike Town for the Nigeria kit launch, literally round the corner… pic.twitter.com/K3vzfL6psR

— Carl Craigslist (@conroy_bumpus) June 1, 2018
Over 3m shirts were pre-ordered, thanks to both the striking design of the kit itself, and the excitement created on social media by fans. This was particularly effective in London, where the England-Nigeria friendly match was being played and where many Nigerian fans live. Using the London-based player Iwobi in promotions helped to build this local hype. Nike understood the appeal of this kit to its fan communities and tuned their marketing around it to huge success.
Burger King Russia however, managed to inspire an opposite reaction with its campaign offering female fans free burgers and a cash prize 'if they got pregnant by a football player' during the Russia-hosted tournament. This campaign went viral on social media, not only because it was offensive, but of course a gross misunderstanding of an audience, assuming that the way of targeting a female audience was not through the sport itself. Burger King Russia were forced to pull the ad and apologize.
More hearteningly, Icelandair tapped into the country's passionate support for its team by showcasing it in its World Cup ad.
For 80 years this has been our dream, the dream has now come true – we made it to the World Cup! Never give up and never stop dreaming. #TeamIceland pic.twitter.com/z6Stz37rY8

— Icelandair (@Icelandair) June 16, 2018
The campaign offered customers who stop off in Iceland a 90-minute experience with the a member of the men's or women's national football teams, from golfing to learning the Icelandic national chant, through May and June. This raises awareness of the fact Icelandair offers stopovers in the country, using the near-universal language of the passion for sport which people with similar passions can relate to, and learn from. 
The takeaway
Sports audiences can give fantastic live success to campaigns – as the rising cost of spots during the Superbowl shows. However, it is crucial for sports fans need to know that brands are speaking their language – they'll be instantly turned off if they can tell a brand doesn't have got the same passion for the sport and its stars as they do, which can often get quite granular.
Marketeers, strategists and planners need to also understand the wider cultural picture of being a sports fan while trying to target these self-defined audiences. Some key takeaways on how to speak to a sports audience:
Know where your fans are: tapping into hyper-local passions can result in stadiums full of fans enthusing about your campaign or brand
Identify true influence: fans will listen to their sporting idols, but only if there's a genuine connection
Tap into stories: knowing the history of a team or sport and being an expert in their previous successes and pitfalls will resonate
Download the full Twitter Passion Networks report. Keep checking back for more in this series about Twitter passion networks, and how brands are connecting with them