How #MerciArsène replaced #WengerOut, and even exceeded #ThankYouSirAlex
Vitriol turned into gratitude on Twitter
One of the longest-serving coaches in the history English football announced he'd step down after 22 years of service on Friday. Over the past few years, Arsène Wenger had been under siege on social media, as fans turned the hashtag #WengerOut into a meme, which began to pop up at political protests and music concerts – an intriguing example of how memes spread. 
But after this weekend's announcement, vitriol turned into gratitude on Twitter, as the hashtag #MerciArsène eclipsed #WengerOut and even exceeded the goodbye hashtag for Manchester United's Alex Ferguson. Our resident Gooner and researcher Sameer Shah investigates the fanbases' dramatic shift in emotions.
In summary:
Confidence in Wenger had fallen to an all-time low this season
Three consecutive defeats for Arsenal in late February and early March seemed to be the tipping point for fans
After Wenger's exit was announced, gratitude was the overwhelmingly emergent theme as #MerciArsène tweets dwarfed any previous #WengerOut negativity
Indeed, the volume of #MerciArsène tweets far exceeded that of #ThankYouSirAlex after Sir Alex Ferguson departed Manchester United in 2013
Fan confidence in Wenger had sunk to an all-time low in 2018
2018 is the first season since the mid-90s that Arsenal stands little chance of qualifying for lucrative UEFA Champions League via their performance in the English Premier League.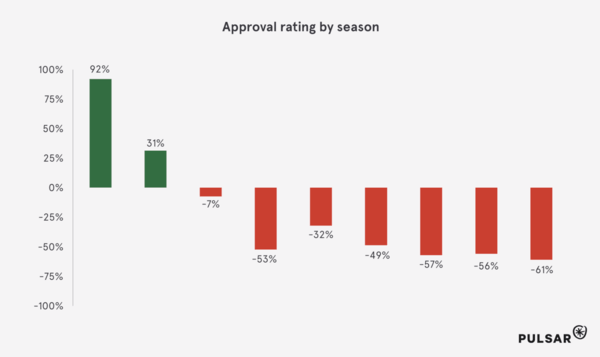 It comes as no surprise then, that the "approval rating" for Wenger's tenure (calculated as the difference between hashtags expressing support and hashtags wanting him to resign) reveals that fan confidence during the current campaign had hit rock bottom.
In terms of sheer volumes, up until the announcement last Friday, anti-Wenger hashtags had been tweeted 231k times this calendar year. Despite not even being four months into 2018, this already almost matches the entirety of 2016.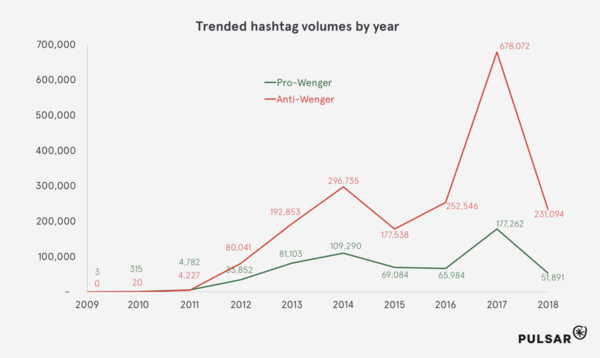 Had Arsenal and Wenger decided for him to remain in place and see out his contract until summer 2019, the increased desperation of Arsenal fans would almost certainly have seen this number overtake last year's total of 678k.
The tipping point?
One week in late February and early March after Man City and Brighton losses. Using our new Pulsar product TRENDS – which has been described as "Google Analytics for social media" we can zero-in quickly on when exactly fan sentiment had turned enough to warrant Arsenal and Wenger into reconsidering his future.
The single biggest spike in anti-Wenger tweets occurs in August last year, following a crushing 4-0 early-season defeat to Liverpool that signalled a lack of year-on-year improvement at Arsenal.
However, the tide turned irrevocably in late February and early March, as two successive 3-0 losses to Manchester City (one of which was in a cup final) were followed by a meek 2-1 surrender to minnow team Brighton.
What's especially interesting during this timeframe is emergence of the red line, which signifies #WengerOutNow tweets. Although dwarfed by #WengerOut tweets, it nonetheless exhibited the growing desperation amongst Arsenal fans for an immediate change in manager.
How Twitter responded to the Wenger announcement
The announcement last Friday took Twitter by storm and spanned the globe. TRENDS enabled us to monitor spikes in discussions on a global scale – as well as its journey from the UK to Europe, America and beyond.
Indeed, Arsenal was the #1 worldwide trend for seven-hours – and was closely followed by related keywords: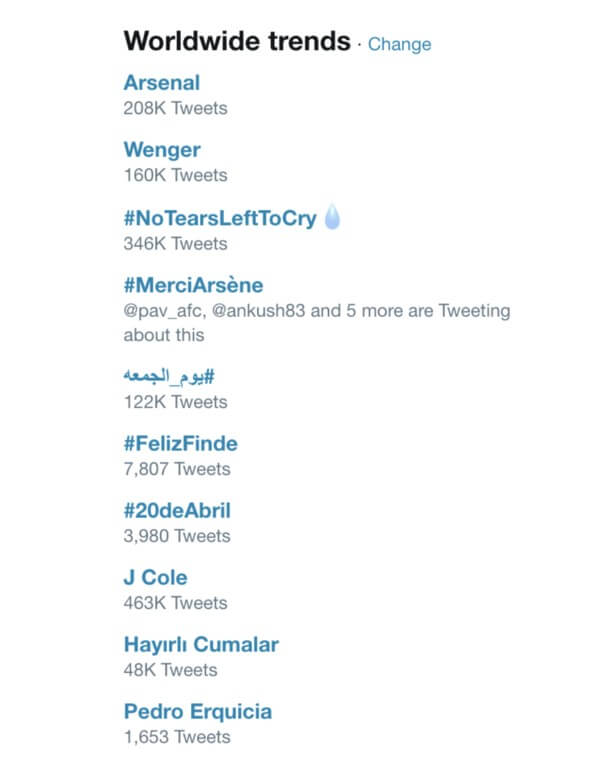 Of particular note amongst this list was the presence of #MerciArsène, as fans of both Arsenal and football in general indulged in an outpouring of gratitude. But how big exactly was this?
TRENDS again gave us a rapid idea of the dramatic shift in fan sentiment after the announcement: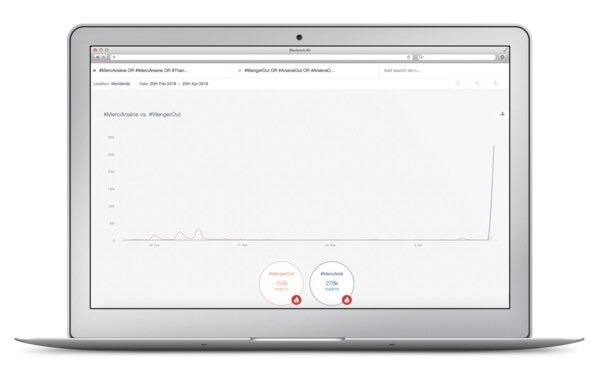 Though some fans hailed his departure with the #WengerOut hashtag, this was considerably replaced by tweets thanking Wenger for his service. This is naturally helped by #MerciArsène being the official hashtag used by @Arsenal to encourage celebrations of the man.
What is especially stark are the sheer numbers: in one day alone, there were a massive 276k tweets with #MerciArsène and similar tributes. In comparison, the #WengerOut movement's most-prolific single day over the past 12-years only saw 39k tweets.
#MerciArsène vs. #ThankYouSirAlex
How does this mass expression of gratitude towards Wenger compare to when Sir Alex Ferguson left Manchester United in 2013 after a trophy-laden 26 years in charge?
Historical TRENDS allow us to investigate Twitter data all the way back to the platform's inception in 2006. A quick look at the official #ThankYouSirAlex hashtag used by Manchester United is revealing: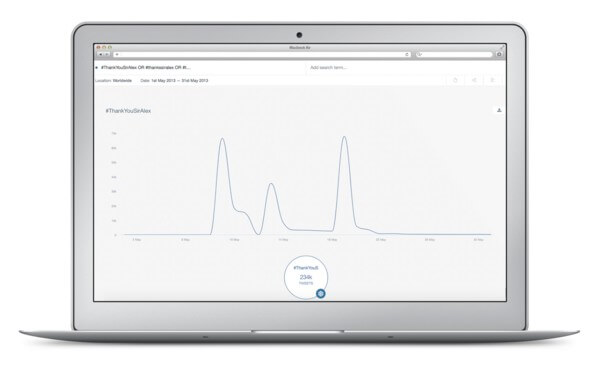 The entire month of May 2013 – encompassing the announcement of his retirement on May 9th to his final game on May 19th – saw a total of 234k tweets with the hashtag and its varieties. Of course, this falls short compared to just 393k #MerciArsène tweets in three days.
This provides an added layer of context, as TRENDS enables us to benchmark the impact of similar events. However, the official @ManUtd club account did only join Twitter in July 2013; although they did have an official @ManUtd_PO press office account at the time of Ferguson's departure which used the #ThankYouSirAlex hashtag. Back in 2013, we tracked the evolution of the hashtag: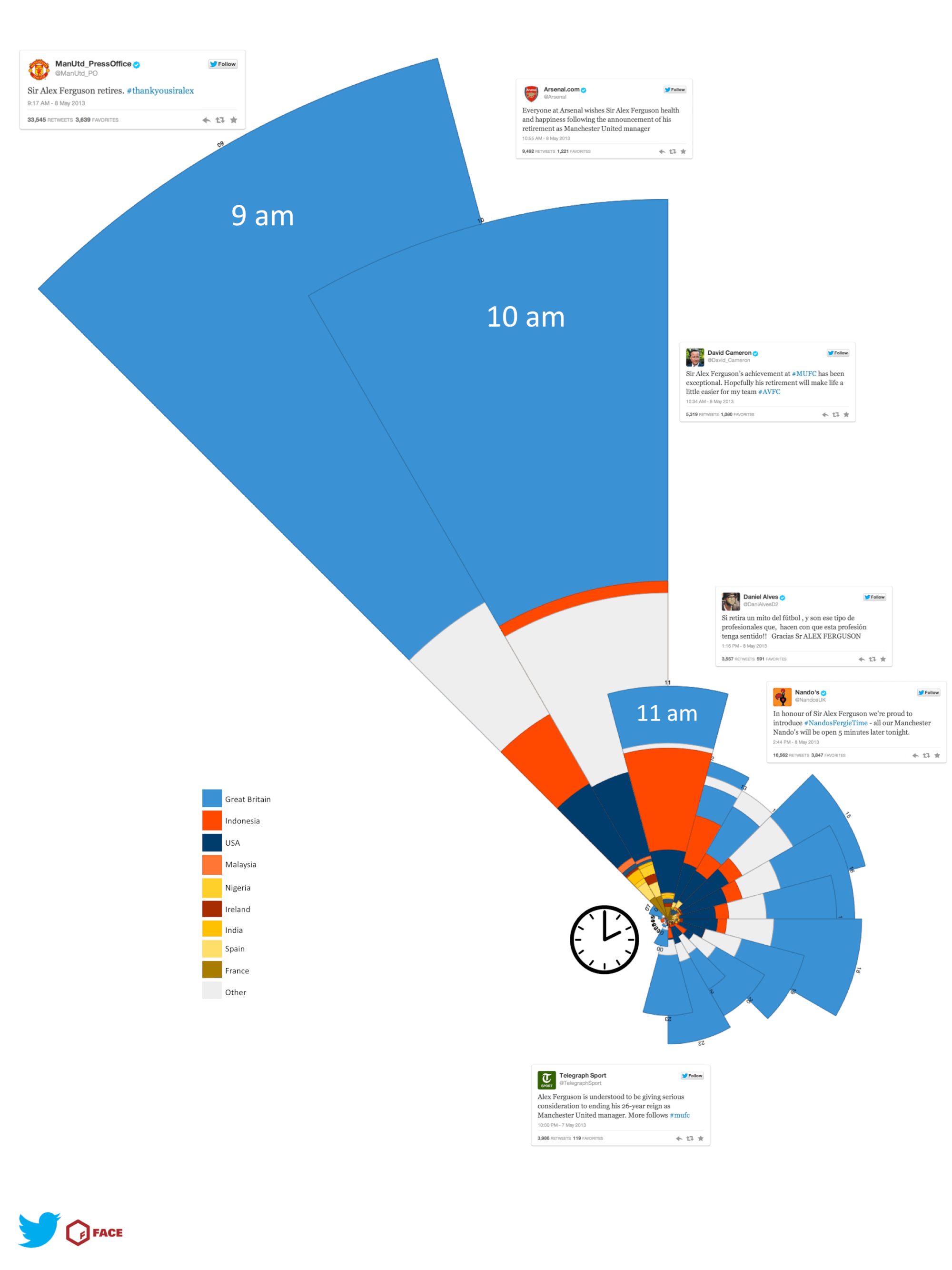 If you're interested to find out more about our solutions here at Pulsar – including Pulsar TRAC – contact us today on +44 (0) 207 874 65 77 or email us at [email protected]