Mourinho is losing the fans after his Pogba feud, according to social media
How a viral video with Pogba got him on the wrong side of the fans
Many football managers get labelled with unfortunate tags that highlight their failings: Pep Guardiola can't win the Champions League without Lionel Messi, while Jürgen Klopp is accused of being a "bottler", losing six finals in a row with Borussia Dortmund and Liverpool.
José Mourinho? He's affected by third season syndrome: after two successful years his third is always tumultuous. He's never managed a fourth season during the same stint at a club, and on two occasions (both of his Chelsea tenures) he's left partway through the third year.
This town ain't big enough for both of them
Mourinho and Man United's star player, Paul Pogba, have not been getting along.
After a trophy-laden first year at Manchester United was followed by a less-successful second season, this season has started off on the wrong foot for both Mourinho and the team and his  ongoing "feud" with Paul Pogba could be the straw that breaks the camel's back.
Conversations revolving around the duo are substantial: in August and September, they attracted an aggregate of 5.2m tweets, and 9% of those mentions referenced each other, i.e. people tweeting about Pogba AND Mourinho.
For context, we checked the same stats for another disgruntled Frenchman under Mourinho's tutelage – Anthony Martial – and found that they were only tweeted about together 3% of the time: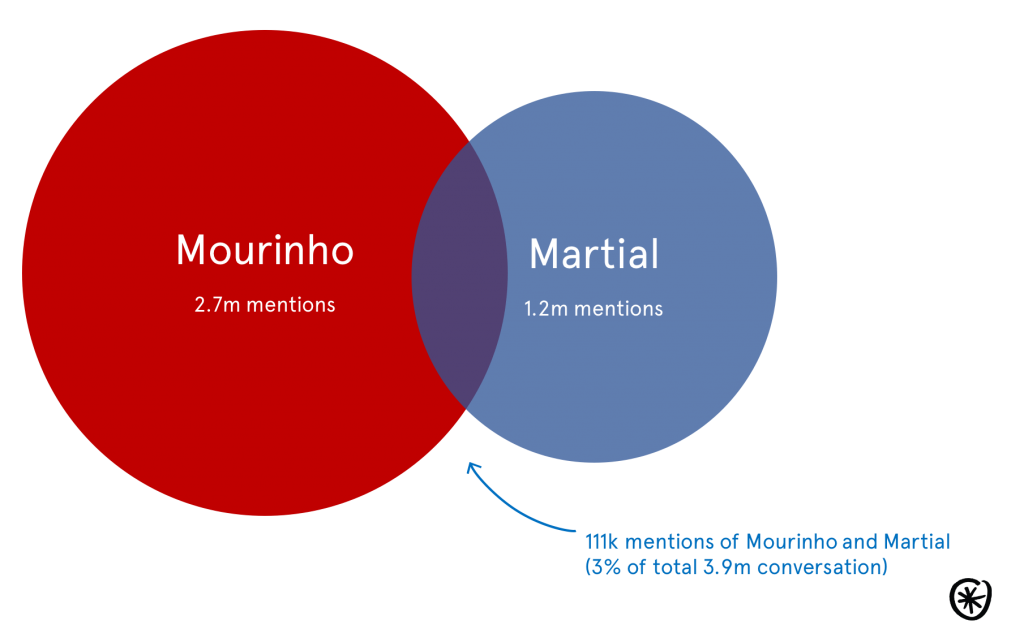 How buzz around their feud has evolved
Out of the many conversations about the two, there is one moment in late September which went viral on Football Twitter: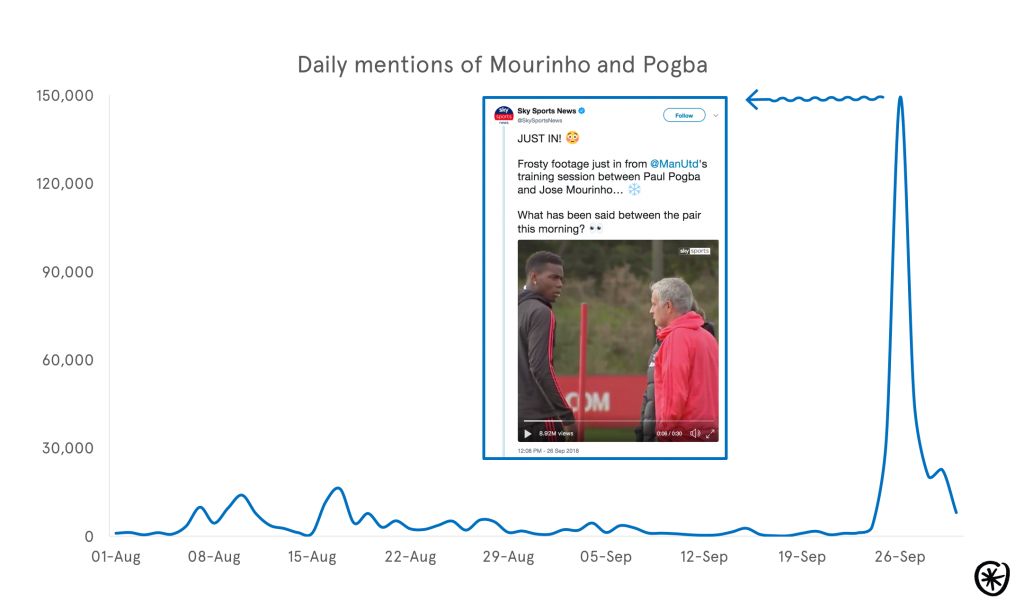 A behind-the-scenes video of a training session  showed the two visibly arguing, allegedly about an Instagram video posted by Pogba the previous night, just as Man Utd crashed out of the Carabao Cup, at home, to Derby County.
The response of Man Utd fans to the fateful video
Filtering Twitter posts by bio keywords, we were able to zero in on the reaction to the video from self-identified Man Utd fans: they weren't happy.
Aside from expected words (e.g. "Mourinho", "@paulpogba" and "#mufc"), a certain four-letter word starting with F is prevalent in the conversation. To put it bluntly, Man Utd fans are fed up of the drama surrounding their previously well-run club, and they blame the coach
But how has support of the manager or player in this feud evolved over time? This could be the most telling change of all: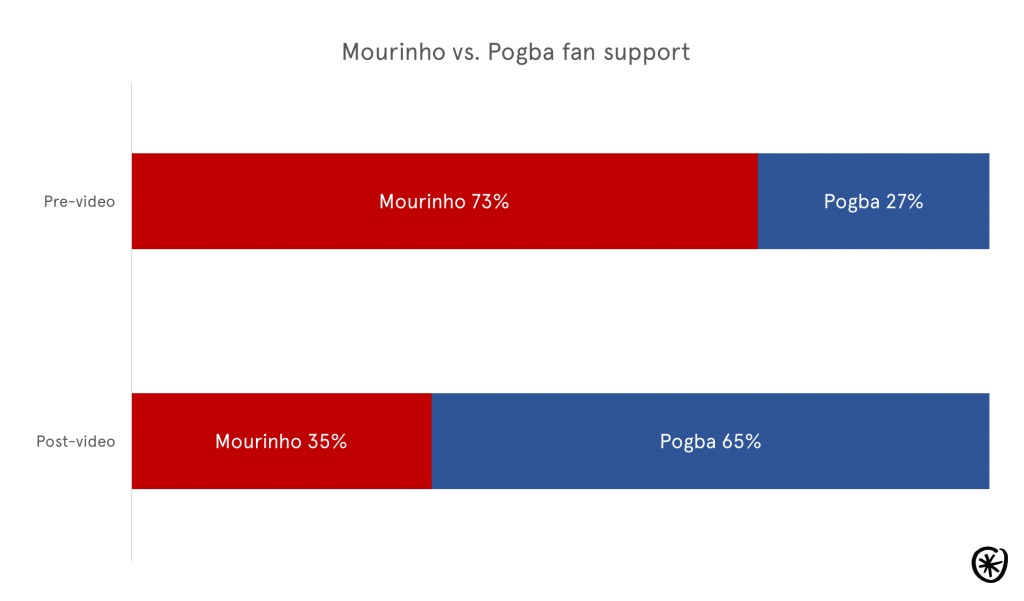 During the previous consternation around Pogba being awarded and subsequently stripped of the Man Utd vice-captaincy, and supposed disagreement around style of play, Mourinho still retained the majority of support in the feud.
But the way Mourinho seemed to treat Pogba in the video seems to have tipped the scales in favour of the midfielder.  
Is social media foreshadowing Mourinho's departure?
Man Utd are currently mired in their worst start to a league campaign since 1989, and have been eliminated from the Carabao Cup at the first stage. This is compounded by some bizarre press conferences and interviews from Mourinho, ranging from him demanding respect for his previous achievements, to claiming that some of his players care more than others do.
A key paradox to this is that Man Utd actually awarded Mourinho with a contract extension in January 2018 – which would take his reign at Old Trafford to the summer of 2020, well past his third year. The financial implication of this? It would reportedly cost Man Utd £12m in compensation to sack him before this date.
While the Pogba feud has split Man Utd's fanbase, it is unlikely to be the ultimate factor in determining Mourinho's future at the club. But the Man Utd board cannot escape the results and performances on the pitch, and fans' ever-increasing calls for Mourinho to leave: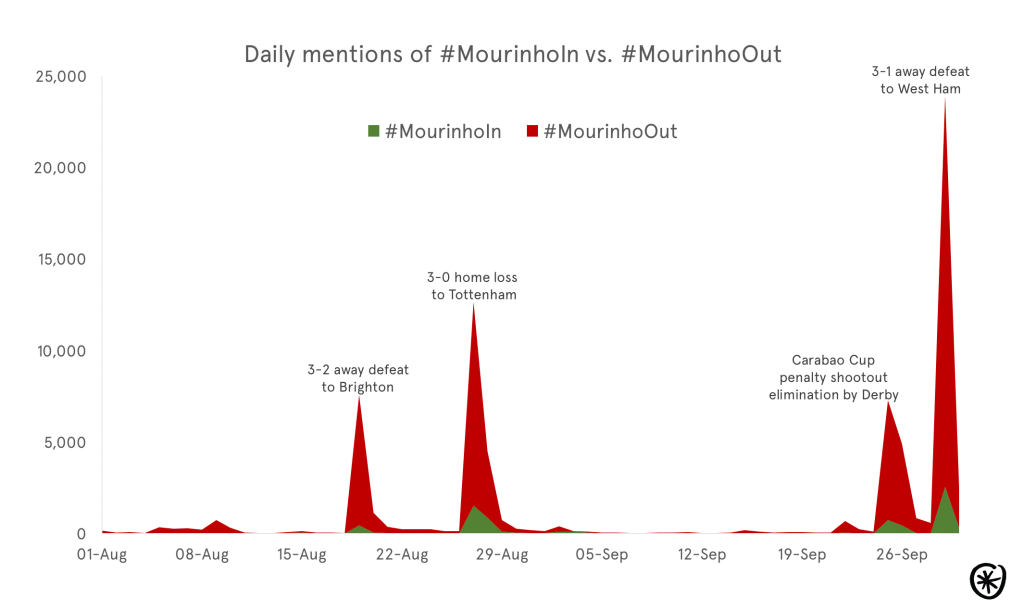 Although the #MourinhoOut hashtag has been met by supporters' call to keep #MourinhoIn (albeit on nowhere near the same scale), the fact that there is a debate at all is very telling. While the Man Utd board won't lean solely on social media to inform their decision on Mourinho's future, there's no denying that social media provides a snapshot of the fanbase's feelings.
As we saw in the case of Arsène Wenger, there's only so much the fans can take before the team's board may have to act decisively in the best interests of Manchester United FC.