Just how big is regramming?
The most popular Instagram feature that is not built in
One of the core ideas behind Instagram is that your feed should be "a place where real people share real moments." In other words, when you log in, you should be seeing original posts and photos only from the people you follow.
Instagram has ensured this integrity throughout the years: Twitter allows users to retweet an interesting tweet to your followers, and Facebook encourages you to share, and both social networks populate your friends/followers feeds' with your "likes."  
On Instagram instead, your feed is reserved to those you follow (and advertisers, of course). Third-party activity is relegated to the "following" tab, which is tucked a full 3 taps away from your home screen.
Unlike Twitter, which incorporated the retweet on the platform as a response to user desires, Instagram never tried to facilitate 'conversations': its product decisions are taken from the top, not crowdsourced.
"That decision is about keeping your feed focused on the people you know rather than the people you know finding other stuff for you to see", said Instagram co-founder Kevin Systrom in 2017. He and his co-founder Mike Krieger have always resisted the idea of re-sharing other people's posts natively on the app.
Yet Instagram users have been long using a workaround to share to their followers cool pictures they find on the app. It's called regramming (or reposting) and it is happening tens of thousands of times per day on the platform.
But just how many? Searching among hashtags on IG shows:
nearly 370M uses of the hashtag #repost
almost 17M uses of #regram (as of December 6)
Over 1 million uses of #repostapp a hashtag automatically added by the Repost app (which has been downloaded more than 10M times on Android phones)
Besides Repost (which is the most successful app of this kind), there are many third-party apps offering this functionality: many add a watermark at the bottom of the picture, citing the account where the picture was originally posted. Others include information about the original source in the caption (along with #repost, #regram or similar hashtags).
It looks like this:
While Instagram has constantly stated it isn't building a 'regram' functionality within the app, both Instagram founders have now left, meaning it's unlikely the Instagram product is going to maintain its so-far very high level of integrity.
And recently, the platform has offered a regram-lite functionality within its stories format  
What do people regram?
The #regram hashtag is mainly used alongside #repost and other generic hashtags that users add to get their posts in front of a lot of people: #picoftheday #photooftheday, and #instagood, as well as keywords like "tag" and "follow".
Coupled with its size – over a week there were 27.3K uses of the hashtag #regram alone, gaining 25.6M impressions – it's clear regramming is a baked-in part of Instagram culture, bordering on many of the behaviors that many users engage in exclusively in their quest to get a higher like count.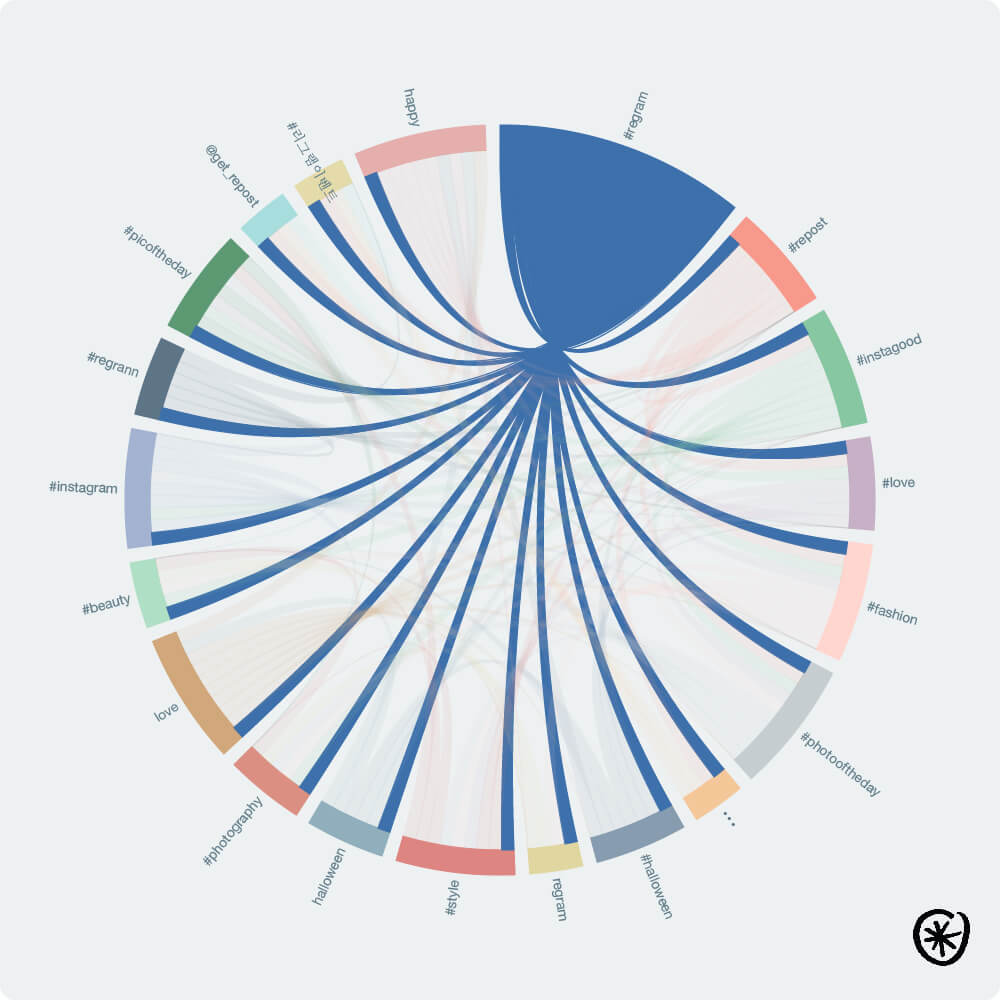 Regramming is most associated with fashion and beauty. Particularly in the beauty industry, regramming is a technique used by brands to surface photos of their products being used by real people, feeding user-generated content back into their social media strategy.
From the brand perspective, "as Instagram becomes more and more saturated, we believe that reposting behavior will only become more common, as most brands realize that creating high quality original content on a daily basis can be very time consuming and costly, and that reposting and content curation are cost effective ways to supplement their posting schedule, keeping their viewers engaged," according to Instasize, an Instagram photo-editing app.
We found that the brand account with the biggest visibility through frequent regramming was Charlotte Tilbury cosmetics, the brand founded by the famous make-up artist of the same name (who invites a lot of its traffic), but there were also accounts from Mac, Benefit, Nyx, Smashbox and Clinique getting their repost on.