Did the retail industry win the holiday season social media brand battle?
Each year, brands spend enormous amounts on Christmas advertising, with many holiday season campaigns being a brand's biggest or only campaign of the year. As the cold light of the new year dawns, most of these campaigns are immediately forgotten. But there's a lot of holiday marketing can teach us to inform our new year's resolutions, particularly in the realm of social campaigns. The battle to have the best Christmas advert among the biggest stores is well-documented every year, but with always-on social coverage, it's a case of maintaining a presence during the festive period.
We decided to compare some of the brands whose business goals revolve around holiday shopping with some non-retail brands, in order to see how taking advantage of the holiday season plays out. For instance, do pharmaceutical companies have any insights to take from high street fashion brands who ride the holiday wave to maintain social media engagement? Can a Burberry learn anything from a bank?
The research: the key players this holiday season
For this search, we used Pulsar CORE to track six brand sets' engagement on Twitter from December 4th to January 4th 2018. The brand sets consisted of the below six groups, a mix of organizations who wouldn't necessarily need to increase their marketing during the festive period in order to impact business goals, and some of the usual suspects who generate considerable portions of their revenue during this time: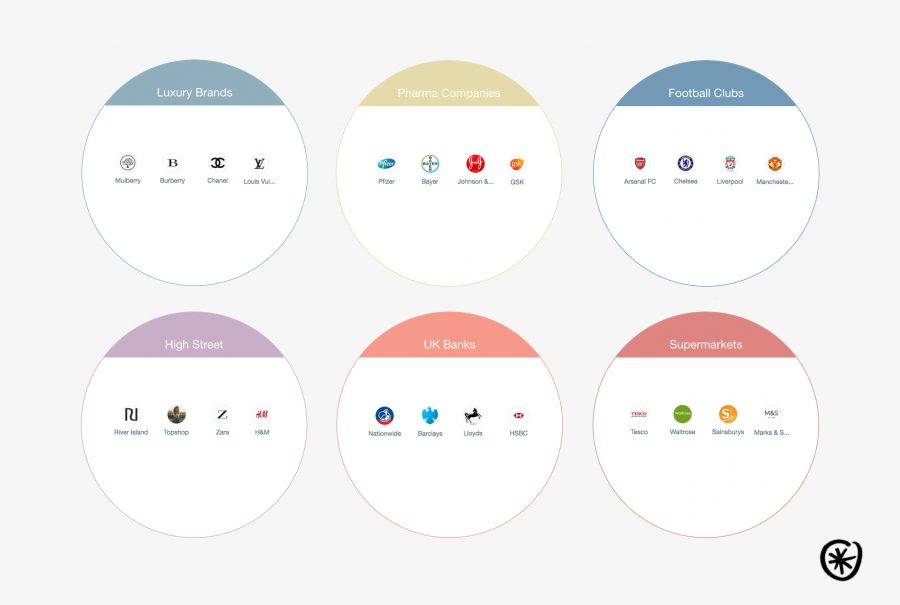 Brand set 1 – UK Banks:

Barclays – @Barclays

Nationwide – @AskNationwide

HSBC – @HSBC_UK

Lloyds Bank – @AskLloydsBank

Brand set 4 – Luxury Fashion:

Mulberry – @MulberryEngland

Burberry – @Burberry

Chanel – @Chanel

Louis Vuitton – @LouisVuitton

Brand set 2 – Pharmaceuticals:

Pfizer – @pfizer

Johnson & Johnson – @JNJNews

GSK – @GSK

Bayer – @Bayer

Brand set 5 – High Street Fashion:

River Island – @riverisland

Topshop – @Topshop

ZARA – @ZARA

H&M – @hm

Brand set 3 – Premier League:

Arsenal – @Arsenal

Chelsea – @ChelseaFC

Manchester United – @ManUtd

Liverpool – @LFC

Brand set 6 – UK Supermarkets:

Waitrose – @Waitrose

M&S – @marksandspencers

Sainsbury's – @sainsburys

Tesco – @tesco
Retail brands overview

A snapshot of brand sets for Luxury Fashion, High Street Fashion and UK Supermarkets, showing peaks and troughs of audience engagement on Twitter over the time period of 4th December 2017 to January 4th 2018. The different colored circles (and their size compared to others) represent Twitter posts which have had the highest engagement.
A top level view reveals that high street brands retained decent engagement throughout the holiday period, with spikes around Christmas Day, and most engagement between December 8th to December 16th. This makes sense, as a lot of us are either frantically looking to buy last-minute presents or looking to jump on post-Christmas sales, so would be looking at the brands' Twitter accounts for shopping inspiration.
No surprise here: with a quick look at the posts which had the highest engagement with users, we can clearly see that the majority are holiday related:
Non-Retail Brands Overview
Looking at the generalist brands who are not necessarily looking to ride the festive wave, it's a different story. We can see an interesting mix of engagement:

UK Banks and Pharmaceutical brands and their engagement over Twitter during this time period show a similar story – there are a couple of dominant social accounts and the engagement with posts don't follow a distinct pattern.
When it comes to our four Premier League football teams, it's business as usual. The text, images and media types in their posts were hardly different than any other time period, and their engagement actually mainly increased during the holiday season. This is likely down to the fact that month of December is a busy period for English football and fans were off work so had more time to concentrate on it.
It's very interesting to see that none of these three brand sets found the need to maintain their engagement through the holiday and festively themed posts, yet haven't suffered at all.
Looking deeper into the content created during this period using Pulsar CORE's creative analysis, the phrases used in posts and how much these posts were dominated by holiday-related content, we found that overall around half of the accounts increased their engagement. This was not just the retail brands, nor was there a direct correlation to discussing the time of year or the holidays.
Breakdown of the phrases used in posts with the highest engagement for @pfizer
In fact, H&M actually had lower engagement, as much as 48.9% less in the holiday season, compared to the engagement in the previous 30 day period! In addition, what's more interesting is that none of their top performing posts in December were holiday-related, whereas about 30% of their worst performing posts were so.
Don't fall down the chimney
The main takeaway from this brief analysis is that there doesn't seem to be a need to jump on the holiday season bandwagon, no matter what industry your brand is in. As a result, it is best to stay true to your social media and content strategy when it comes to maintaining and increasing your engagement during a period where user behavior and the timeframes where they are online, fluctuates.