#SnapChart: How social media activity drives concert ticket sales
All marketers chant about the importance of social media to the sales process, but do more social posts really convert to improved sales? Can you actually measure social data and ROI? And understand which demographics give brands the best chance of social media influencing sales?
We partnered with an events company to explore how well social media works as a key driver in awareness of a concert, and whether it provides a measured way to predict ticket sales. We used Pulsar to analyse the whole online ecosystem of concert tickets, from initial information on the website about an event through to ticket sales, and tracked discussions around three concerts: a festival, UK tour of a global female pop artist, and a 1970's rock band. Below you'll find an example insight from the study, if you want to learn more you can follow this link to the full presentation.
The three concerts studied were very distinct and different, both in terms of type, genre and audience profile. We started the research by comparing a music festival's social media activity against ticket sales and website visits over a considerable length of time to see if there was a correlation between the data points: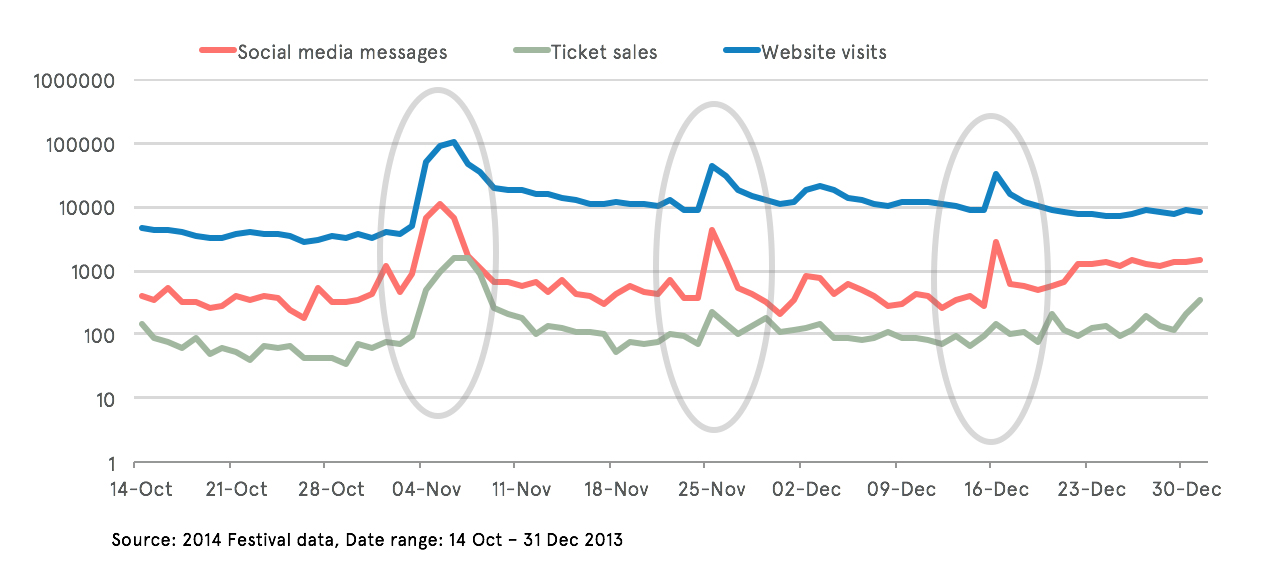 The chart shows three major peaks in activity over a two month period with each measurement correlating to each other. In this case, the peaks in social media messages, ticket sales and website visits relate to the music festival's three line up announcements. So, is there a correlation between social media conversation and ticket sales? Yes, there is – the music festival has a 53% correlation.
To learn more about this study, click here to go to the presentation taken from our webinar.
If you work in the music or entertainment industry and would like to find out more about how using audience intelligence platforms can benefit your audience understanding and social insight, please send us an email on [email protected].