Case study: how the Kuwaiti parliament uses social media to understand public opinion
Social media tracking is not just useful for businesses, it's also useful for governments wanting to keep a finger on the pulse of public opinion. The Kuwaiti Parliament is able to do just that, with the help of Pulsar's TRAC and consulting firm Information Age's self-created analyzer (named Social Intelligence Analyzer), that has been plugged in to work with Pulsar.
Salah Alnajem PhD, Founder and CEO of Information Age Consulting and Associate Professor of Computational Linguistics and Natural Language Processing at Kuwait University, reveals in detail how important the integration of these tools has been to get the job done, and how they've cleverly dealt with particular challenges in order to get the best results.
The job at hand
The Kuwaiti Parliament are currently using Pulsar TRAC in combination with Information Age's Social Intelligence Analyzer to analyze Twitter dialogues and acquire insights about public opinion and public trends in general, as well as indicators about the issues related to the parliament members and how they are performing.
Above: bubble chart from Pulsar TRAC showing the most prolific authors within the researched conversation – in Pulsar you can view influencers by volume, visibility and impressions 
For example: the Kuwaiti Parliament was interested to know the public reaction towards a suggested document about raising the price of fuel that was pending parliament approval, in response to a global decline in oil price. A report was made showing the public reaction and sentiment towards that document, which could help parliament measure the impact of the suggested reforms proactively before approving them. Effectively, this is a type of Proactive Crisis Management which helps in dealing with a potential crisis before it happens.
Pulsar TRAC and the Social Intelligence Analyzer are also being used together by the Ministry of Information in Kuwait to produce social media analytics reports that are broadcasted in the evening news segment of Kuwait TV, which is the national TV station.
Again looking at fuel prices and how the public would respond to a mandate raising these, data retrieved from Pulsar TRAC and the Social Intelligence Analyzer were used to prepare an infographic showing the reaction of Twitter users in Kuwait after announcing the mandate. These insights helped Kuwait TV in highlighting the impact of that mandate, and the report findings were broadcasted on the evening news segment.
Above: sample of Kuwait TV's presentation showing public opinion on recent fuel price increases
So with the responsibility to provide answers for these as well as other private and public institutions, Alnajem always needs to have a robust solution in place. In practice, how do Pulsar TRAC and Information Age's Social Intelligence Analyzer work together?
Integration is key: Pulsar API
Alnajem explains that the integration of their own software and Pulsar TRAC really made the difference in terms of getting the right results. While Pulsar TRAC reads and analyzes Arabic text and can analyze sentiment based on Arabic content, Alnajem mentions that next to standard Arabic, the Kuwaiti dialect is crucial to the work they do – and that's where their own system comes into play to work together with Pulsar TRAC.
Aljanem explains: "We have developed this 'Social Intelligence Analyzer', which works as an add-on to Pulsar TRAC in order to analyze the Arabic posts retrieved by Pulsar. Our system is optimized to understand and analyze posts written in Standard Arabic Language and Kuwaiti Dialect, and it can detect the important insights and indicators from posts after eliminating noisy data through recognizing and distinguishing between noisy Arabic words and relevant or important words."
"Our system also utilizes our sentiment analysis API developed for Modern Standard Arabic and Kuwaiti dialect. Our sentiment analysis API is built using an electronic lexicon containing around 8 million inflected word forms in Modern Standard Arabic and 400,000 inflected word forms in Kuwaiti dialect with their sentiment polarity."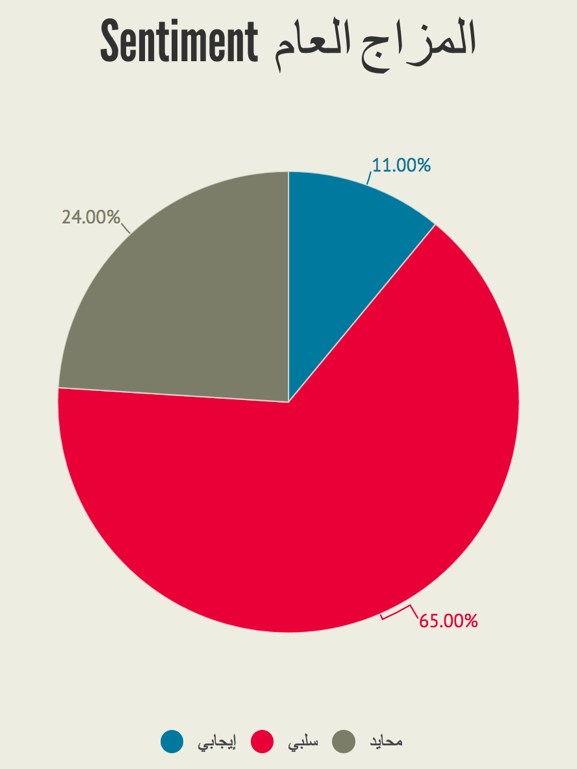 Above: sentiment analysis through the Social Intelligence Analyzer
For Alnajem, the API integration was an essential requirement in choosing a social media research platform. With the Pulsar API, the team are able to integrate the power of Pulsar TRAC with their own system through retrieving Pulsar TRAC's search results and analyzing their Arabic content through their own technique of analyzing Standard Arabic and Kuwaiti dialect.
Plus, the Pulsar API allows for the integration with other third party visualization and dashboard creation systems like Klipfolio. By merging the search and analytics results they retrieve from Pulsar TRAC with other analytics metrics retrieved from, for example, Google Analytics and YouTube Analytics, the team can fold everything into a unified customized Arabic interactive dashboard.
Flexibility, filtering & influencer analysis
The Pulsar API was not the only reason why Pulsar was the platform of choice.
Alnajem says: "When it comes to the features of Pulsar TRAC, we were astonished by the flexibility and capabilities of the system compared to other competitive systems in the market."
"Firstly, the system is a SaaS hosted system connected to GNIP Twitter Firehose, and this was a critical requirement for us since we are focusing on both real-time and historic data analysis. It means Pulsar TRAC allows us to access 9 years of historic data – which is essential for trend analysis."
"Secondly, the system provides us with wide range of interactive data visualizations features that allow us to render the social media analytics insights into meaningful charts and maps to our clients. And thirdly, we heavily depend on TRAC's filtering capabilities which allow us to apply, combine, and customize 30 behavioral, contextual and content filters including filtering by date, keywords (Boolean filtering), domain countries, languages, Klout score, visibility, and reach."
Once the team finish applying the filters, they export the data to Excel file for post processing using their Social Intelligence Analyzer system.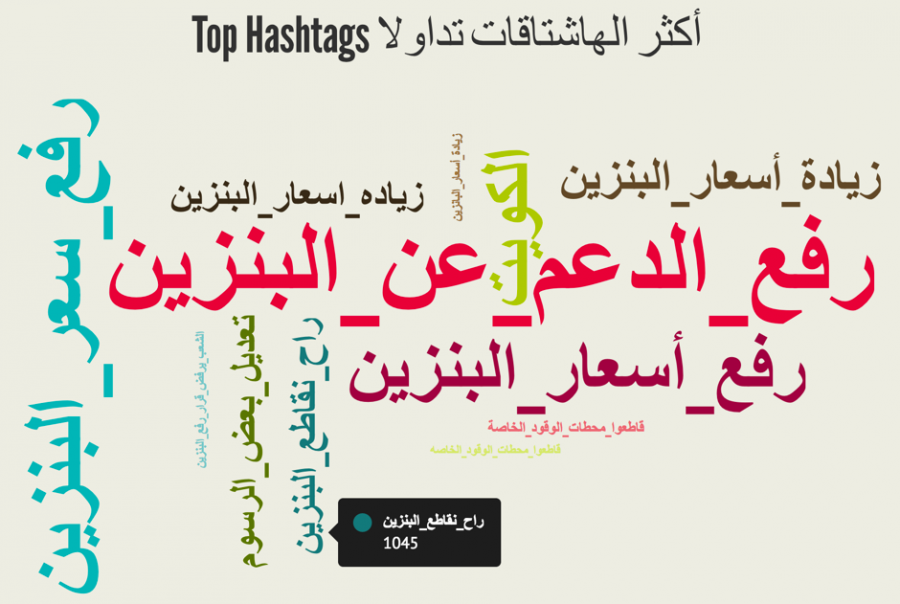 Above: word cloud with top hashtags from Information Age Consulting
Last but not least, Pulsar's influencer analysis and profiling capabilities are a big win for the team in Kuwait:
"This feature allows us to measure influence contextually in real time, by looking at how impactful people are about a specific topic and within specific social networks and categories. TRAC provides us with reliable influencer rankings and influencer relationship analysis which are useful for our client's social media strategies, scorecards, and KPIs. We also heavily utilize the feature of sorting search results which allows us to sort the search results according to date, visibility, reactions, reach, and likes."
"Add to all of the above, Pulsar has very professional and friendly support and management teams which make you feel that you are part of the teams not just an ordinary customer. Pulsar has definitely made our consultation and development daily works easier and more productive."
With great thanks to Salah Alnajem, PhD from Information Age Consulting for giving in-depth insight into the work he does with Pulsar.
Would you like to know how you can use Pulsar to inform your decision making? We're here to help. Just email us on [email protected] and we'll get straight back to you.