London's Heatwave Hotspots: The best rooftop bars & restaurants – and how we used Pulsar to find them
In London, when the summer sun is out there is nothing better than sitting at a rooftop bar. That's why during the heatwave in July, we tracked all mentions of #Rooftop across social media – to discover where the  most talked-about rooftop bars & restaurants are in London.
Using Pulsar's geolocation feature, we filtered all mentions specific to London and visualised them in a heat map – allowing us to see where the greatest volume of posts were coming from.  Think of it as 'Social Data's Summer Guide to London'
Where are the best rooftop spaces in London?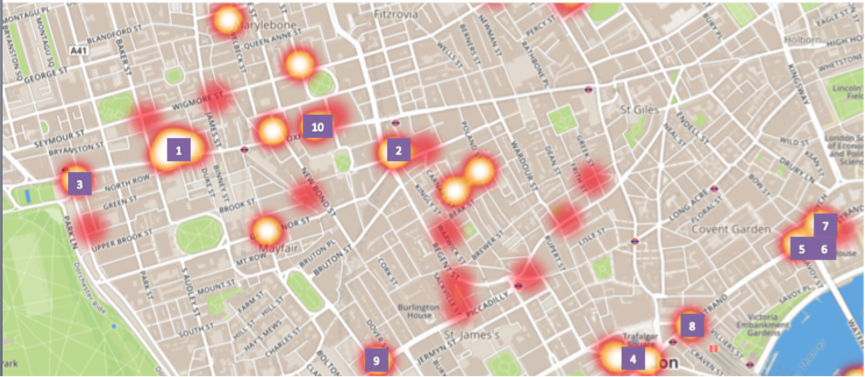 Pulsar's geolocation heat map reveals London's top rooftop bars (above), a breakdown of all rooftops with the most mentions (below) 


After identifying rooftop locations with the most mentions, I thought it'd be interesting to delve deeper into the dataset, to see what drives conversation on this topic.
Does the day of the week and temperature correlate with rooftop bar chatter?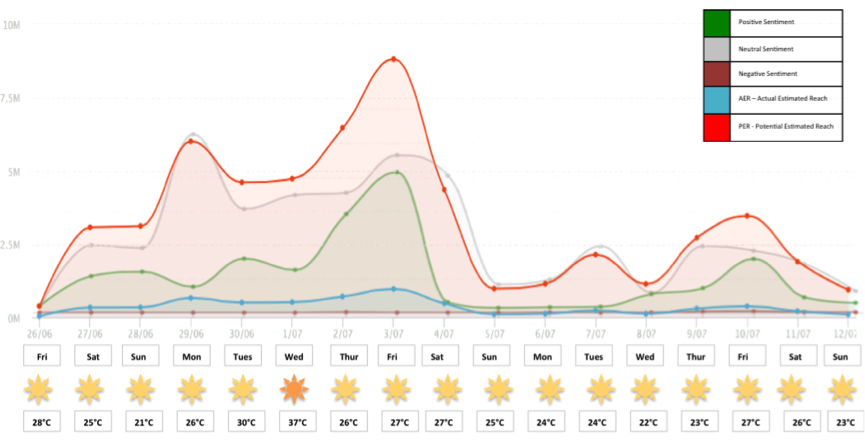 Activity graph; showing reach and sentiment combined with a weather calendar
On Wednesday 1st July 2015, the mercury crept up to a scorching 37C. But looking at the chart, it's only after that record-breaking temperature was reached that the volume of rooftop bar discussion climbed – peaking two days later on the Friday, driving people's anticipation for weekend drinks.
As the weekend drew to a close and the heat eased off , interest in #rooftop topics simmered down.  But again, the week after, conversation picked up on the Thursday – despite the temperature being only 23C. So we reckon that bar buzz is primarily driven by the weekly nightlife cycle – and super-sunny weather only provides the cherry on top.
In order to identify this relationship on Pulsar I combined multiple line graphs as seen above. By looking at Reach alongside Sentiment, we gained a clear indication that the buzz across multiple channels in preparation for the weekend was mostly about sharing around "Best Of" lists, making recommendations of where to go, and exciting events linked to specific bars, pubs, or outdoor venues.
An example of this was the promotion of i-D Magazine's Rooftop Party at the ACE Hotel, which had the highest Reach and a high level of engagement in comparison to the wider dataset.
What is driving rooftop conversation?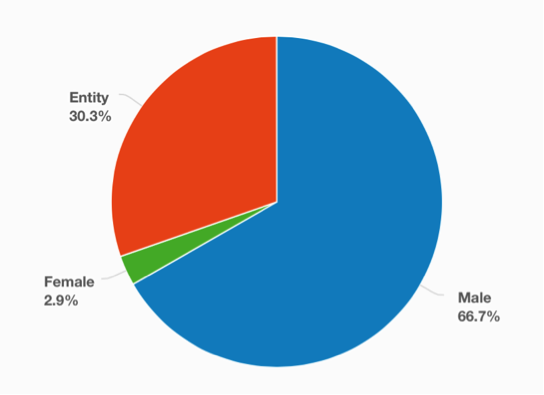 When initially deciding to create this search I thought women would be the key drivers of rooftop conversations alongside entities. My rationale for this was that women are most likely to do more research on such topics and spread discussions organically amongst friends. However, to my surprise, it ended up being men and online magazines companies, many of which were travel industry related, that proved most engaging and active across social.  For example, companies such as Conde Nast Traveler, Bazaar UK, i-D Magazine, and The Londonist received the most traction by using three common elements:
Posting on Twitter
Sharing images or links
One of two keywords sets: Best and Rooftop or Rooftop Party
By having a combination of these features included in one tweet it attracted their audience to react more and increased the spread significantly versus any other content sent out.
Where do men come into the conversation? Despite men being the most prevalent audience with 67% of the discussion, none of them had the reach to be as impactful as the travel and media companies. Hugo Taylor, former Made In Chelsea star, was one of the only male influencers – gaining over 50k reach for his tweet about Madison's Rooftop. This shows that smaller conversations were actually happening both at known locations such as Madison's and peoples own rooftop house parties, which is what drove the share of voice to be so high for men.
Analysing the rooftop dataset is another example of how powerful Pulsar is, and shows the value of insight our users gain. Geolocated data in particular enables us to determine such clear cut locations of discussion, and in this case identify the most popular rooftop bars and restaurants in London.
*
Interested in exploring this kind of dataset and so much more, book yourself a demo with Pulsar by emailing [email protected].