Social Listening, Insight and Strategy, in that order. 9 Key Takeaways
Crafting a social strategy without undertaking social listening first can quickly thrust you into the same predicament as Wile. E. Coyote - legs cycling madly over a yawning chasm, wondering whether a little more planning, a little more insight, could've been invaluable.  
For all that, there's a lot of competing noise in the marketing, advertising and communications spaces over what exactly we mean by social listening, how it differs from social insights or strategy — and how audiences come into this. 
Here's what we know.
1. Navigating the lingo... and the logic 
Social listening is using a tool such as Pulsar TRAC to understand what the wider world is saying about any given particular topic, trend or brand, across platforms as disparate as Twitter, Reddit, Pinterest or TikTok. 
Using the analytics options available, you can draw social insights from this data – revealed behaviors, trends or pieces of information that can give you a competitive advantage when piecing together a social strategy.
This can range from understanding how different people talk about the same topic differently, or comparing how different platforms enable very different types of conversation, all the way to leveraging AI-enabled discovery around popular photo types. 
These can then underpin any social strategy.
What tone and social tactics should I adopt?
What conversations should we look to take part in as a brand or institution?
How your brand should engage with events, based on the communities in your audience
2. How well do you really know your social audience?
How much do you really know about the people who follow you on social?
You might know their age range or what city they call home. You probably have an idea of which of your content is the most popular, but beyond that? 
Using third-party data or analysing your social followers, you can understand the content and the influencers they're engaging with, what they're saying, and other social platforms they are likely to use
This will give you a better basis for creating content that actually resonates with them.

(The audience for Hellofresh shows huge overlap with the audience for the My Favorite Murder podcast, in terms of common interest, shared behaviors and self-description - study here)
3. Think beyond your current customers
Once you've got a clear idea about your current audience, it's time to start thinking about other audiences that might be interested in your wares. This can be as narrow as brand competitor audiences or as broad as topics of interest identified during owned audience analysis. Whichever you choose, using social data to cluster your potential audiences into groups that you can base your social strategy on will give you the best chance of success.
4. Using listening just to monitor your brand  & competitor mentions? You're missing out on the good stuff
Many brands are still using their own mentions and competitor benchmarking as the basis for their social strategies, and although this makes for an excellent KPI, it's a teeny tiny part of the story. Brand watching lags, but staying abreast of attitudes and behaviors helps us anticipate what's next, stay ahead of trends, and be proactive rather than simply reactive. 
Think beyond traditional marketing plans and learn about what matters to your brand, not just what's said about it. 
5. Interests, not demographics!
Marketers love to target by demographics, they're easy to understand, and industry folks are familiar with who an ABC1 is. But how useful are they when it comes to crafting an effective comms strategy? In 2022 it feels archaic to try to define people by what they earn and not what they're into.
Using social listening to understand your audience's interests and focusing on these groupings instead allows for a more cohesive social output.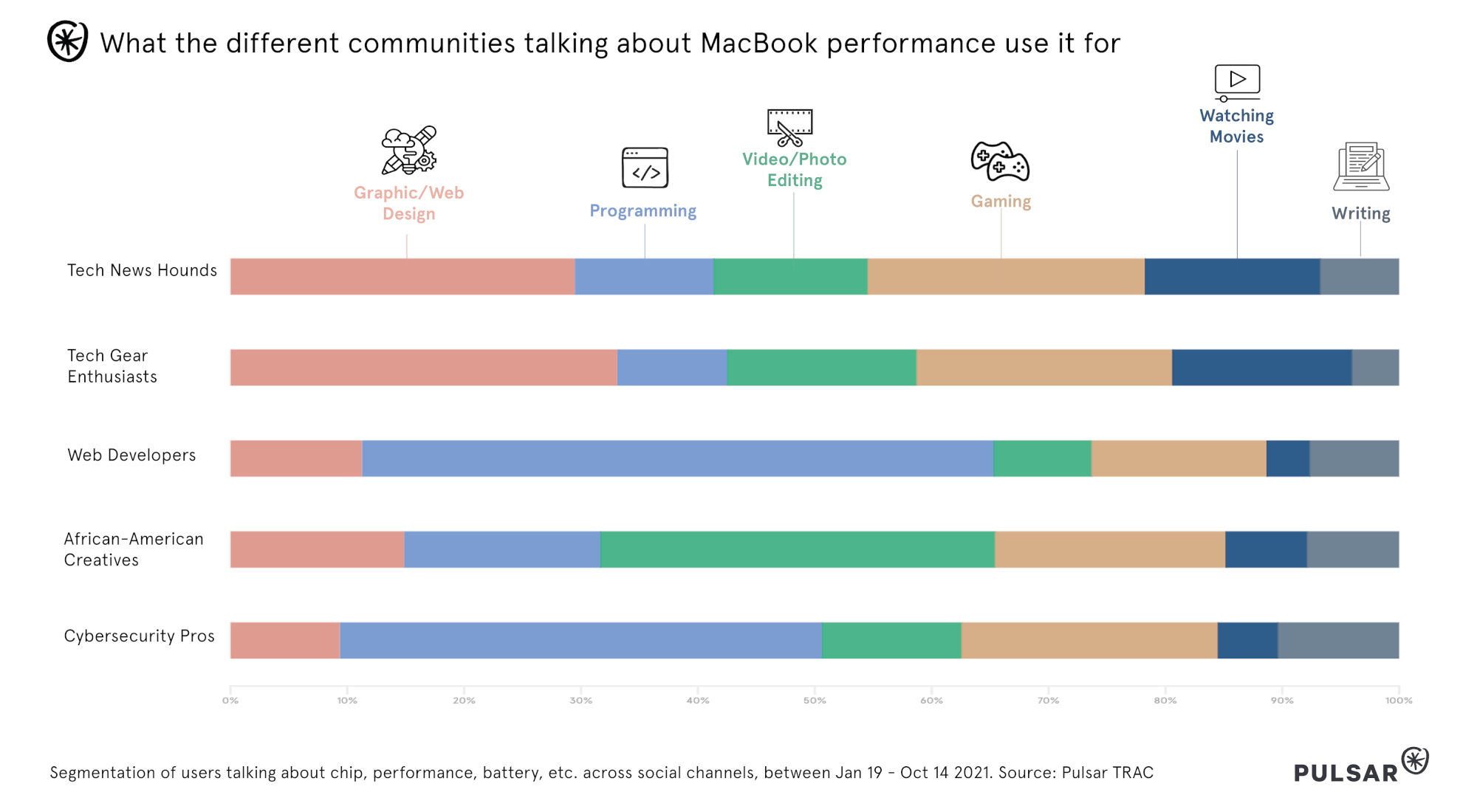 (Visualizing the different hobbies and jobs the communities talking about MacBooks online use their personal laptops for - study here)
6. Your content pillars should sit at the intersection between brand and audience interests
We can learn and understand so much about our potential audience with social listening. 
What do they talk about? Who do they follow?  Which shows do they watch? 
Social listening can turn this data into insights, and using these insights to create a strategy that works for your brand and your customers is a no brainer.  
You want to create content that gets your brand comms to the right audience, and knowing what that audience likes will allow you to do this in the most effective way.
Netflix, for instance, know that their core audience are also engaging with astrology memes: 
https://twitter.com/netflix/status/1331303957860282369
7. Pain points are your friends
The reports your agency provides you monthly will always tend to focus on what people like about your brand, but running a social listening project can also help you identify what people don't like about your brand and other potential areas of friction. This can assist you in multiple work streams (hello FAQs), especially when crafting a social strategy. Knowing the key detractors or what issues may arise before you create content gives you a serious advantage when planning your output.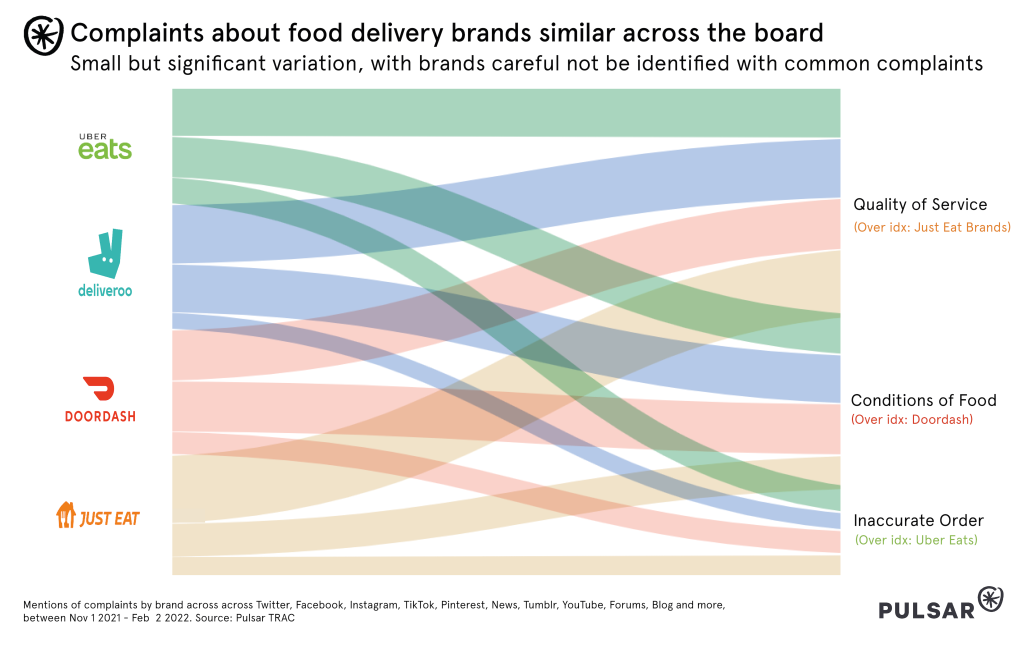 8. Social calendar planning is a two-way street
Oftentimes social marketing calendars are totally led by brand activity. But they will work better if you take what your audience is doing into account. Identifying the natural peaks and troughs in the conversation around the topics you're interested in will allow you to plan with the natural ebb and flow of the conversation. Identifying events that your audience is interested in (hint, they are probably not awareness days) allows you to contextualise your content in a way most won't bother to do. 
9. Different platforms have different audiences and different expectations
Many businesses still plan for just one target audience across all social platforms, when in truth, people use different social in different ways. It's likely that even if someone is following your brand on TikTok and on Twitter, they have different expectations of each.
You can really supercharge your social by understanding which audiences live on which platforms and creating a strategy that takes this and the algorithms into account.


Social Strategist (and Pulsar power-user) Kim Townend has amassed 15 years' experience in managing social departments, delivering masterclasses, and writing strategy for leading brands and agencies. Here, she shares 8 tips for using social listening tools and audience insights to underpin smarter, data-backed strategy.
---
If you're interested in learning more about how Pulsar can help your brand understand audiences and emerging trends, simply fill out the form below.