How Netflix brings niche topics into the mainstream
The impact of The Queen's Gambit, Tiger King & more on search and social data
2020 both emphasised and entrenched the cultural significance of streaming services. 
And Netflix – as the first, the one service to make inroads into Oscar season, and the only member of a crowded field to become a verb – currently boasts the most cultural significance of all. It's why we've elsewhere explored the impact of #CancelNetflix and The Social Dilemma. 
The 'new' mainstream is very different from what came before, with a monoculture that revolved around key channels and platforms usurped by a multiplicity of choice, and therefore culture. Streaming platforms are a vital part of this change, which prompted us to develop this research in partnership with TNW.
So what happens to the public conversation around a topic once it's been featured in a Netflix show? We already know how the service can resurrect cancelled series and launch careers, but can it elevate relatively niche topics into the mainstream? 
Omg love this!! I learned that word from a Netflix documentary, a coaches playbook. Super good 🙏🏾 @Morroneb

— Eboni Jackson M.S (@ebbsmarie_) February 5, 2021
We tracked the volume of social conversation around four of Netflix's most popular shows, as well as the concurrent search volumes, and plotted that against the release date of those shows.
Love on the Spectrum, a reality show that follows its neurodiverse cast on their quest to find lasting love. Unlike the rest of the shows in this article, it is not a Netflix original, but rather one originally broadcast on Australian television, before being introduced to a more global audience via the streaming service. 
Interest in neurodiversity has been trending upwards over the past few years, but the show ignited a whole new conversation around this topic. While audience interest saw a small spike when the show broadcast on Australian television, the release of Love on the Spectrum on US Netflix in July 2020 saw this trend sharply accelerate – both social data mentions and search data volumes point to an explosion of audience interest in the topic, which sustains well into the fall of 2020.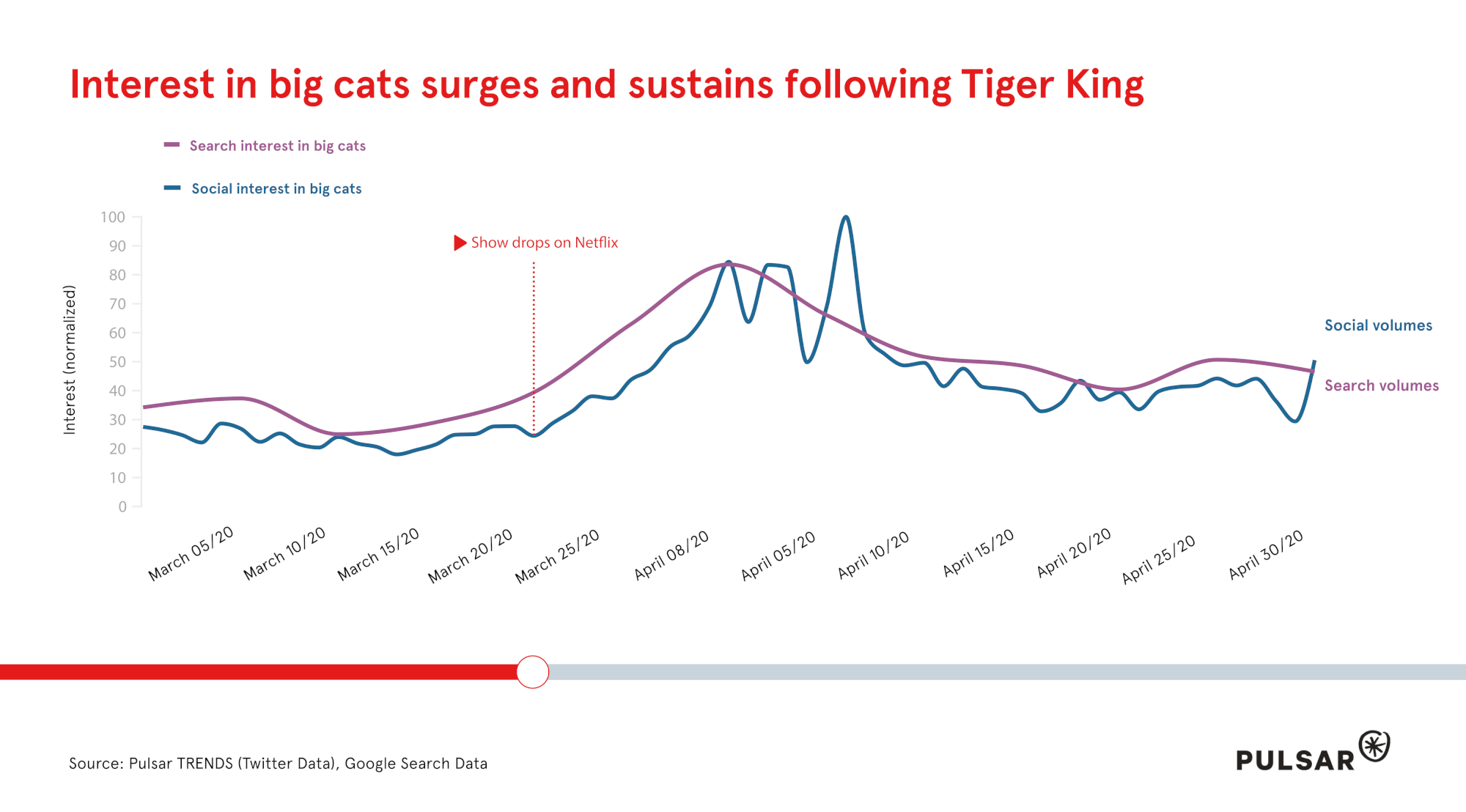 The first show to truly land in the public consciousness during 2020's first wave of lockdowns in the United States and Europe, Tiger King didn't only draw attention towards Joe Exotic, Carole Baskin and others. The show ignited audience interest in big cats as a topic, on both social media and on search engines. Whether out of curiosity, compassion or desire to understand human's fascination with these animals, the topic saw a surge in interest as a topic of public conversation and online exploration.
The lockdowns deprived audiences of cinema trips and the MGM lion's pre-credits roar, and even zoos, the kings of nature made a surprise resurgence within the public imagination.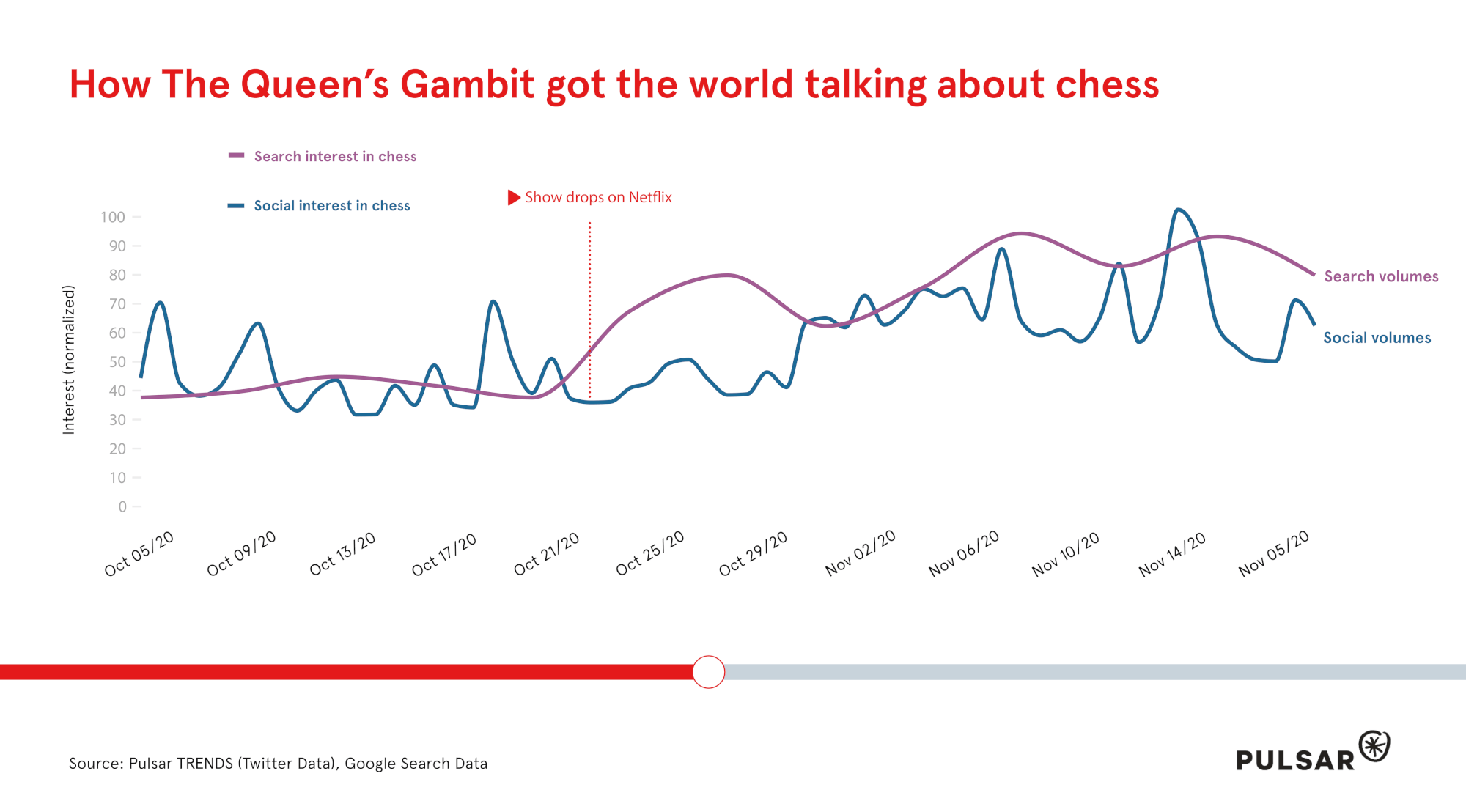 The Queen's Gambit effect on chess-kit purchases, 'how to play' videos or even online platforms like Chess.com is well-documented.
And within a fortnight of the show's release date, interest across both social and search data can be seen to have doubled and to sustain at high levels: in fact, the lack of any one single spike is indicative of a trend with the potential to outlast its initial peak.
While in some cases (like neurodiversity) a show on Netflix seems to accelerate and 'ride' a topic which is already growing in the culture, in this case, Netflix took a niche online topic mostly only popular within its own community and propelled it single-handedly into the mainstream conversation, drawing new audiences and reconfiguring the relationship between audiences and the topic itself.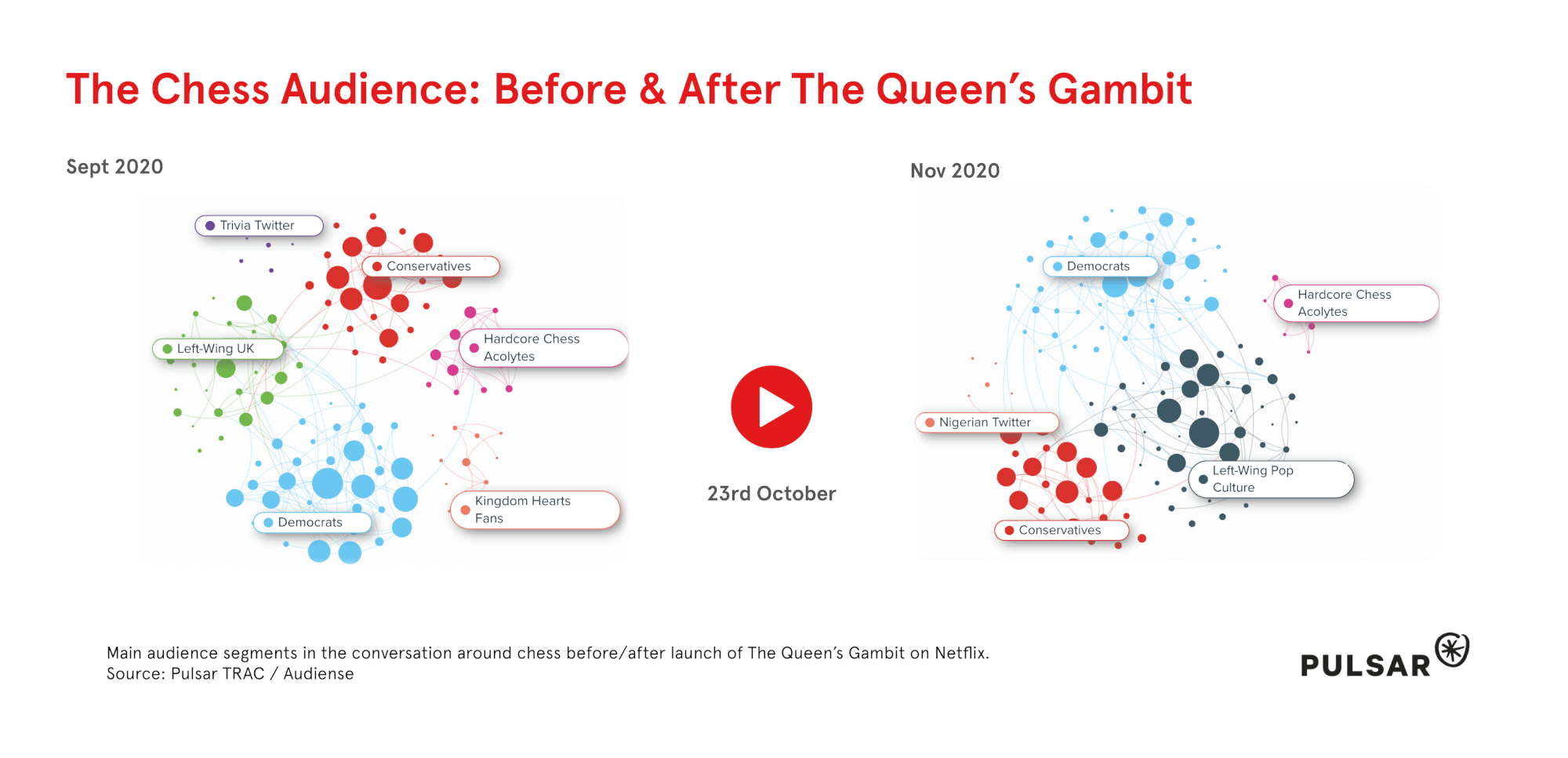 The graphs above illustrate the audience breakdown of the chess conversation (i.e. who is talking about chess) before and after the Netflix show drop: 
One broad trend we see in the expansion of the online chess community following The Queen's Gambit is the increased presence of left-wing individuals.
The show's framing of a deeply traditional game as a vehicle for female empowerment has coincided with the cessation of most social activity. People aware of chess, but without any strong relationship towards it, suddenly viewed themselves as potential players and community members.
This was generated through our Communities integration, which allows you to track any public topic of conversation, break down topics into communities of interest and investigate how each of these communities talks about the same topic differently.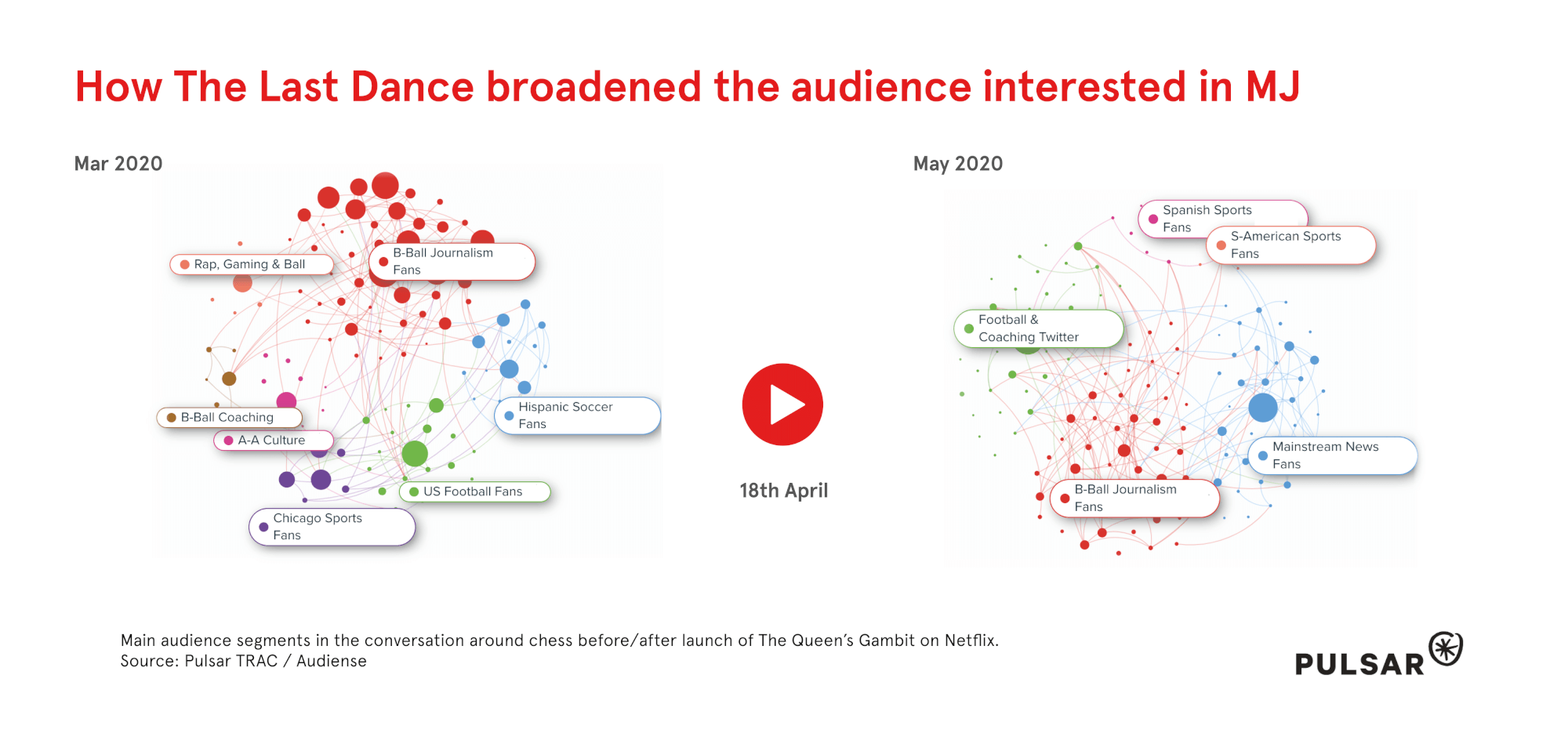 The Last Dance, meanwhile, has also launched its subject matter, in this case Michael Jordan, into new audiences. Rather than crossing political lines, however, the much lauded basketball documentary has introduced MJ to a different demographic — one that skews both younger and beyond the US. 
And it's resonated in particular with Hispanic Gen Z-ers who more typically feel an infinity with football/soccer; interest is concentrated within Spain, Mexico and across South America. While Michael Jordan first attained fame in the 'old mainstream', his resurgence within the 'new mainstream' means a more eclectic audience, with a broader array of viewing habits and influences.
---
Want to see our dataset? Or learn more about how we help brands to understand the impact of their content? Book an appointment with a specialist by filling out the form below