Electric Vehicle Growth: the brands, consumers, and EV public opinion trends in 2021
The electric vehicle revolution is accelerating. 
From the Biden administration turning the US gov't fleet electric, to General Motors committing to an all-electric future, electric vehicles are moving into the mainstream with a mechanical whir. 
Online interest is also skyrocketing. Search interest in electric vehicles (EVs) has more than doubled over the past year, while social chatter has grown by a full 500% between Apr 2020 and Mar 2021.
And, that same March, references to electric vehicles or cars were larger than recycling as a topic, with a general parity punctured by major EV events - in this case, Volvo's commitment to going fully electric by 2030.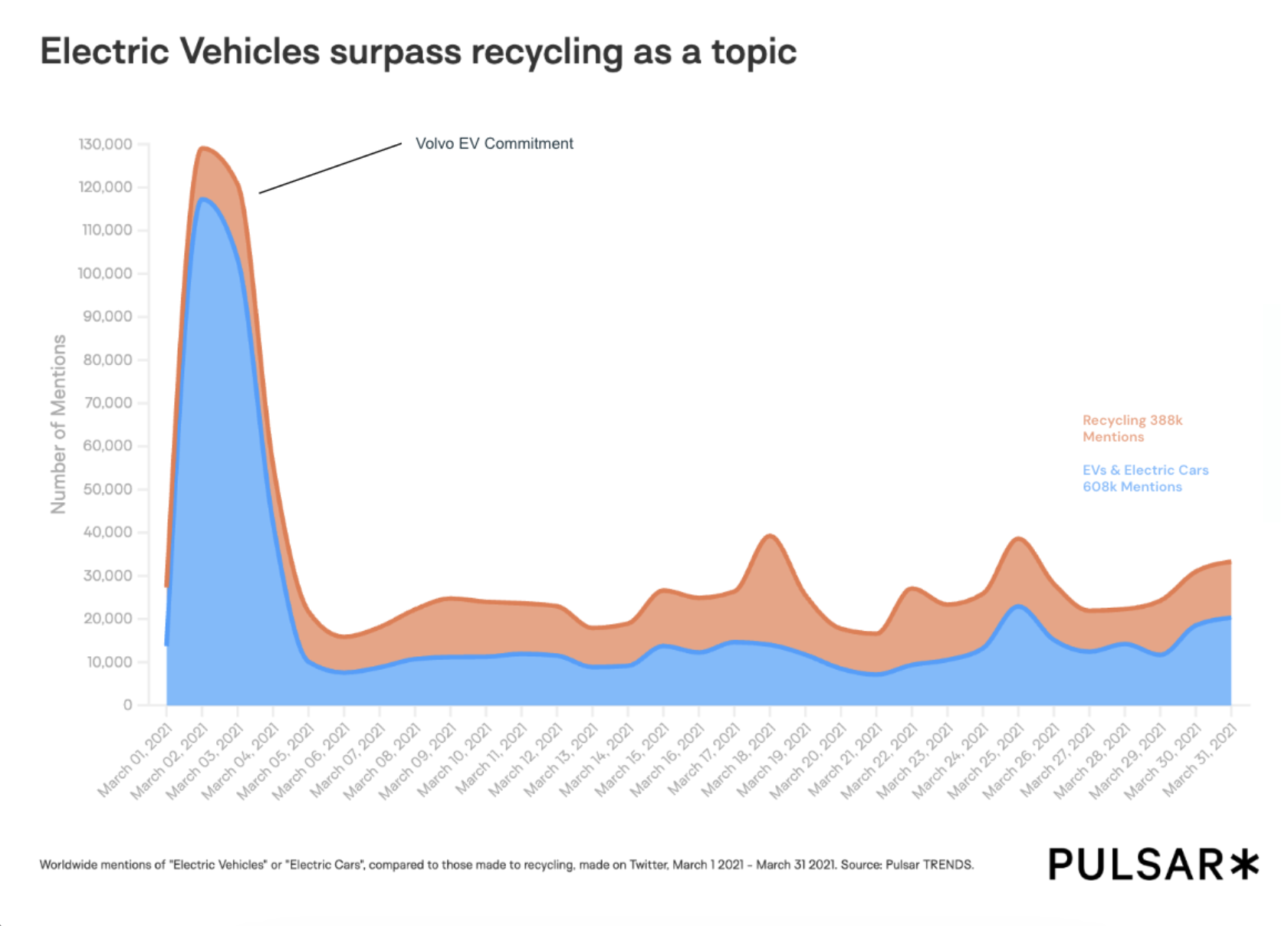 But this growing audience interest is not all alike.

As a new policy and infrastructure environment emerges, many more brands (and auto CEOs) are jumping on the bandwagon, and many different audiences with different priorities are joining in the conversation. Wildly different concerns are emerging –from cost, to safety, to charging to the societal consequences of this revolution– and a polarized political debate is emerging, especially in the US. 
In this analysis, we used Pulsar TRAC to analyze over 300k posts & articles authored in the US and UK between Feb 15 - Apr 5, across social and news platforms including Twitter, Facebook, Reddit, TikTok, Amazon - in addition to news sources and Google search, to answer questions that automotive marketers, analysts, government & nonprofit communication professionals, and other corporate strategists are facing. 
What does the new Electric Vehicle consumer want?

What features do they care about and which doubts do they have?

How is this shift driving excitement and concern at the society level? 

Which brands, CEOs and public figures are most often associated with EVs? 

What's the role and audience of Tesla in all of this? 
What do people talk about when they talk about EVs? Societal Change vs Consumer Preference 
One way to look at this topic and the data behind it is to try and understand the perceived societal impact of electric vehicle growth, from environmental benefit to investments in infrastructure. Another lens is looking at the EV itself as a consumer good –a car– and understand how the public's attention falls on elements like cost and aesthetics. 
In terms of the societal impact of the EV growth, public attention is split between the different implications, as campaigners, critics, politicians and investors jostle to frame and make sense of the direction of change.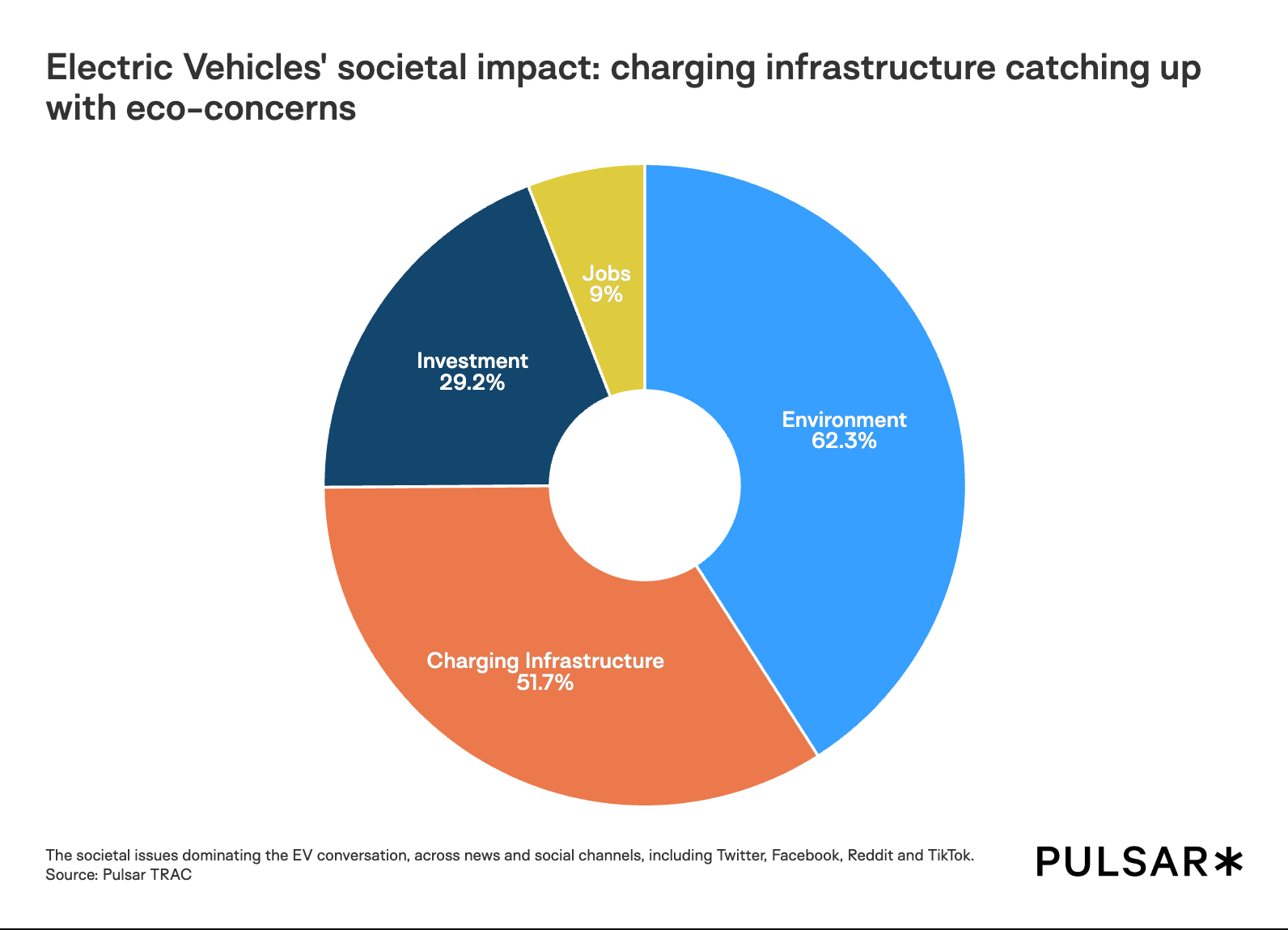 A particularly contentious conversation is playing out on EVs as vehicles of environmental change (or lack thereof) as Joe Biden's ambitious and expensive infrastructure plan and its focus on EVs comes under scrutiny from both the right and the left.  
https://twitter.com/ryanmjohnson/status/1382817951426904066
The economic effects of this shift (in jobs and investments) make up a quarter of total conversation, with attention falling onto the ethical (averting environmental catastrophe), the practical (how are these new fleets of electric vehicles going to get charged?) and the material (how can I make money off of this revolution?).
https://www.reddit.com/r/stocks/comments/mg94yw/which_electric_vehicle_or_charging_station/
As we'll see later, a large portion of the audience in the EV conversation has a high affinity for investments and is looking to position themselves to benefit, and contribute, to this revolution. But many also talk about another kind of investment, that which would come with purchasing an electric car.  
Consumer priorities: how to charge EVs 
The charging question in particular is one which remains top-of-mind when EVs are discussed as consumer goods – something folks are considering buy.  

While much of the EV conversation is looking at the future (many of the automaker plans stretch well into the next decade), with the choice of vehicle available to consumers expected to swing definitively in the way of electric over the coming years, people's concerns are currently focusing on cost, and on how the car is going to get charged – the two topics making up over 90% of consumer concerns over EVs.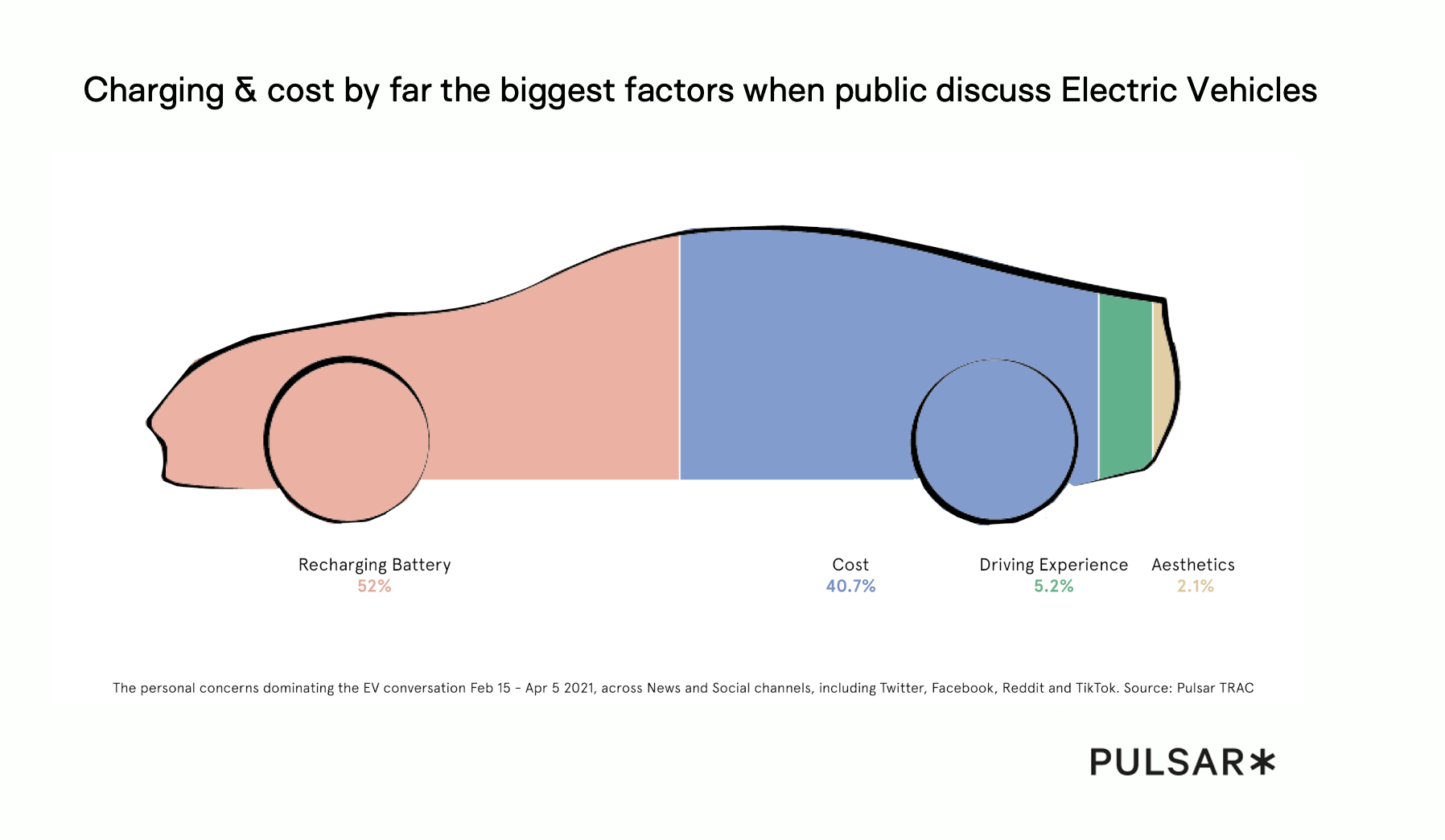 Driving experience and aesthetics, factors that have been at the heart of traditional automobile branding and advertising for years, make up a comparably small percentage of total conversation, at 7.3%.
To dive deeper into consumer intent, we identified some of the sources of doubts among the public by looking at Google search data in Pulsar TRAC. Search queries beginning with 'can…' hint at lingering doubts.
And those doubts are: can they tow? And will they catch fire?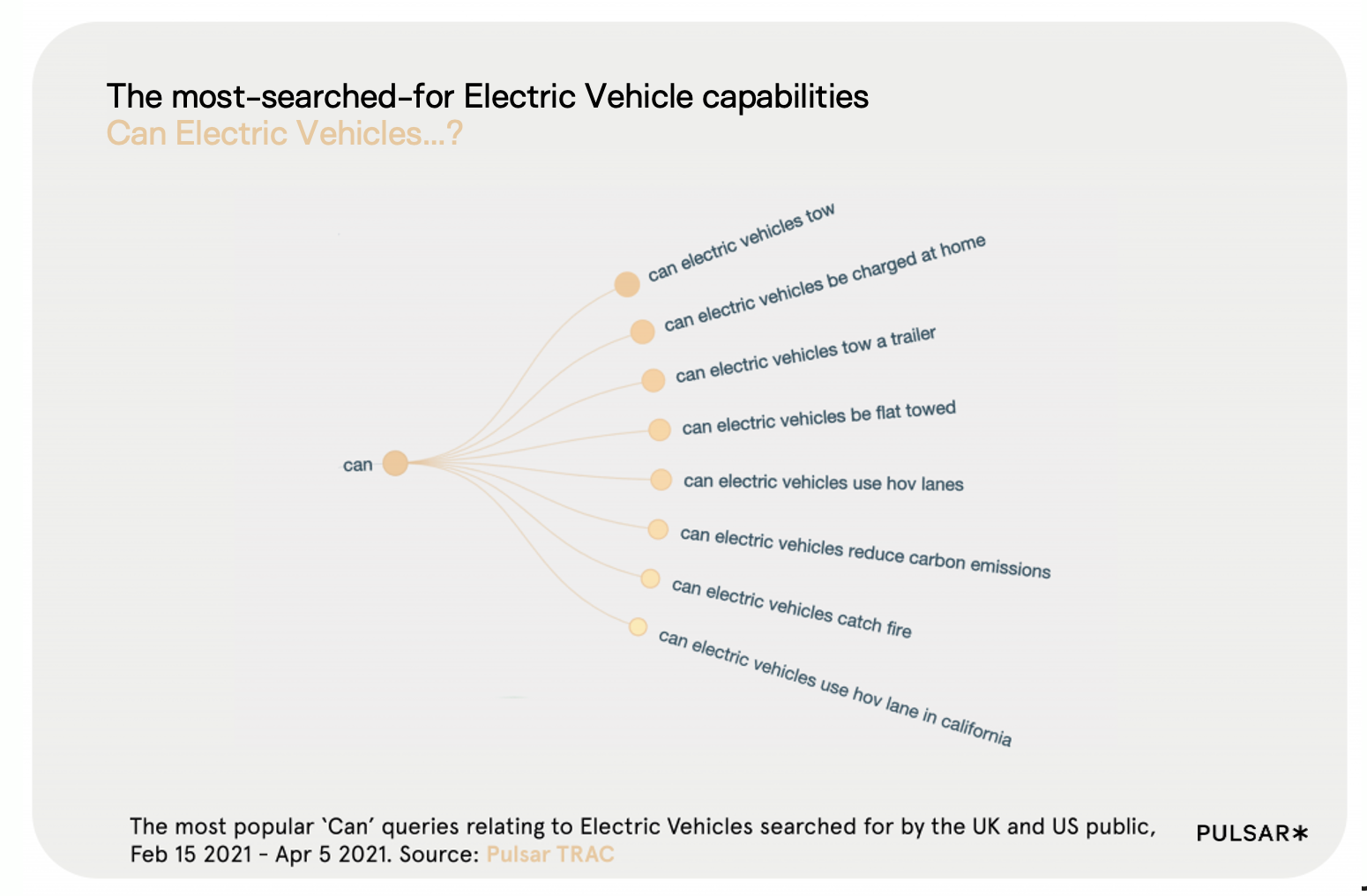 Search data just a tab away from the rest of your analysis can help Pulsar users better understand consumer concerns, integrating questions around the topic one might not be aware of, and help asking better questions of the dataset you've collected.  
In this case, we decided to reflect those top questions from search data back into the social, forum and news dataset. And it turns out that the public's inquisitiveness appears to turn on one key issue: charging logistics.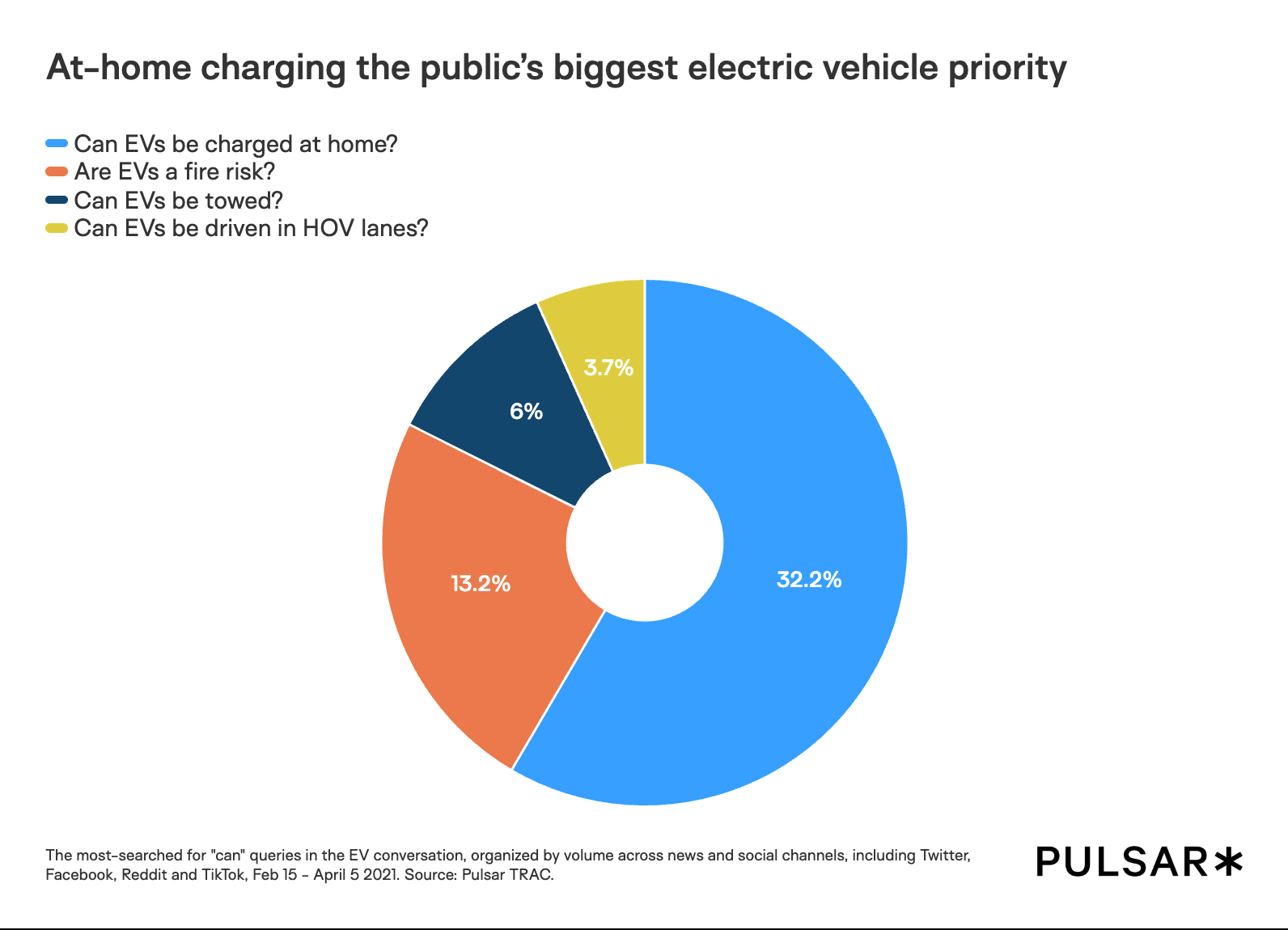 And, within that broader topic, at-home charging stations emerge time after time as a key point of discussion. Here's one wildly popular LPT (life-pro tip) thread on Reddit. 
https://www.reddit.com/r/LifeProTips/comments/me44cu/lpt_if_youre_building_a_house_now_have_the/
The Audience Communities powering the EV conversation: Tesla vs non-Tesla 
But – as we often say – different people talk about the same topic differently, and that's something we can highlight with Pulsar Communities, which helps you zoom in on the different communities behind a given conversation, grouping them by affinities and behavior and see how they engage with a certain topic differently. 
Take for instance the pioneering Tesla audience, which has been caring, talking about, investing and often driving EVs for years now.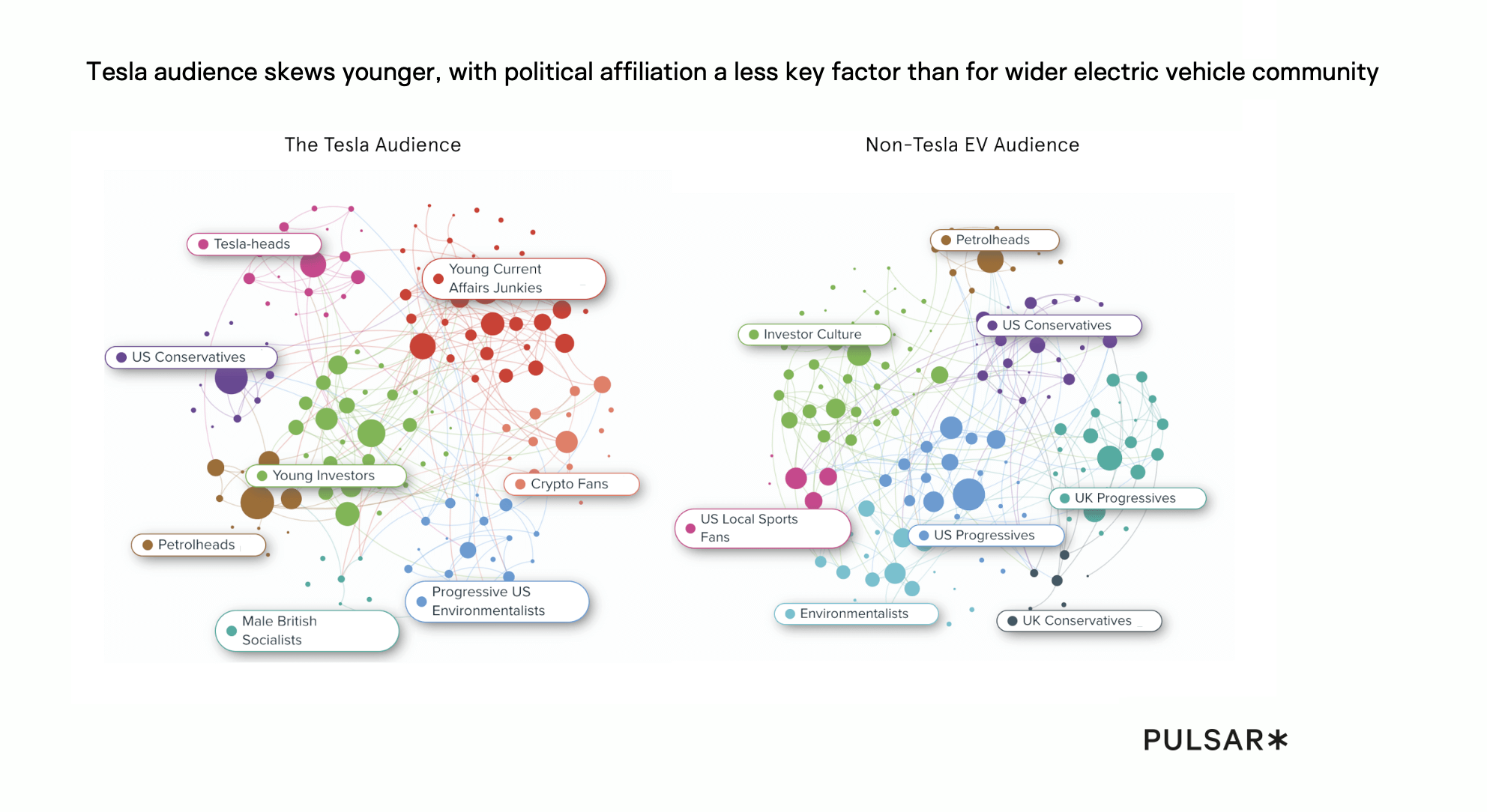 Compared to the non-Tesla EV audience, people talking about Tesla are younger, more male, and American. They are also less politicized than the rest – partly because Tesla's plans are not as tied as the broader EV industry is to the ambitious investment plants of a newly instated administration.
And zooming in the crucial charging conversation shows how the topic is playing out differently amongst different communities.


Communities with a focus on entrepreneurship and finance are more likely to talk about the shifts in public infrastructure that will make widely available charging possible. The more politically conservative communities in the US on the other hand are more focused on the practicalities of fitting charging points to their own properties. 

Where and how to reach different EV audiences

But how can you reach the different communities in this conversation? Based on the top news links each of these communities is sharing (something we can easily visualize in Pulsar TRAC), we start to get a picture of where a media buyer might be best placed to reach them. 

Petrolheads seem to be fans of a site called Taxassist, Reuters, and The Guardian for their news. US Conservatives on the other hand are sharing links from conservative publications Washington Times, BreitBart, The Gateway Pundit and Fox News. Young Investors on the other hand share news links from Apple News (its own distinct behavior tied to iPhones) Investor News, Seeking Alpha and Bloomberg News.
In terms of influencers, Petrolheads show a strong affinity for the Top Gear program, as well as specialist news sources such as Autocar & Car and Driver.
The US Conservatives within this conversation are notable for listening habits that incorporate conservative podcasters like Mark Levin and Dan Bongino, while Young Investors are orientated around market & finance publications, ranging from The Economist to Stocktwits.
The Top Car brands by Share of Voice

For all the mooted changes to infrastructure, however, when it comes to the vehicles themselves this is very much a conversation driven by brands. Here's the share of voice for the largest automaker conglomerates and EV brands (if you don't see your favorite car brand, it's most likely owned by one of these companies).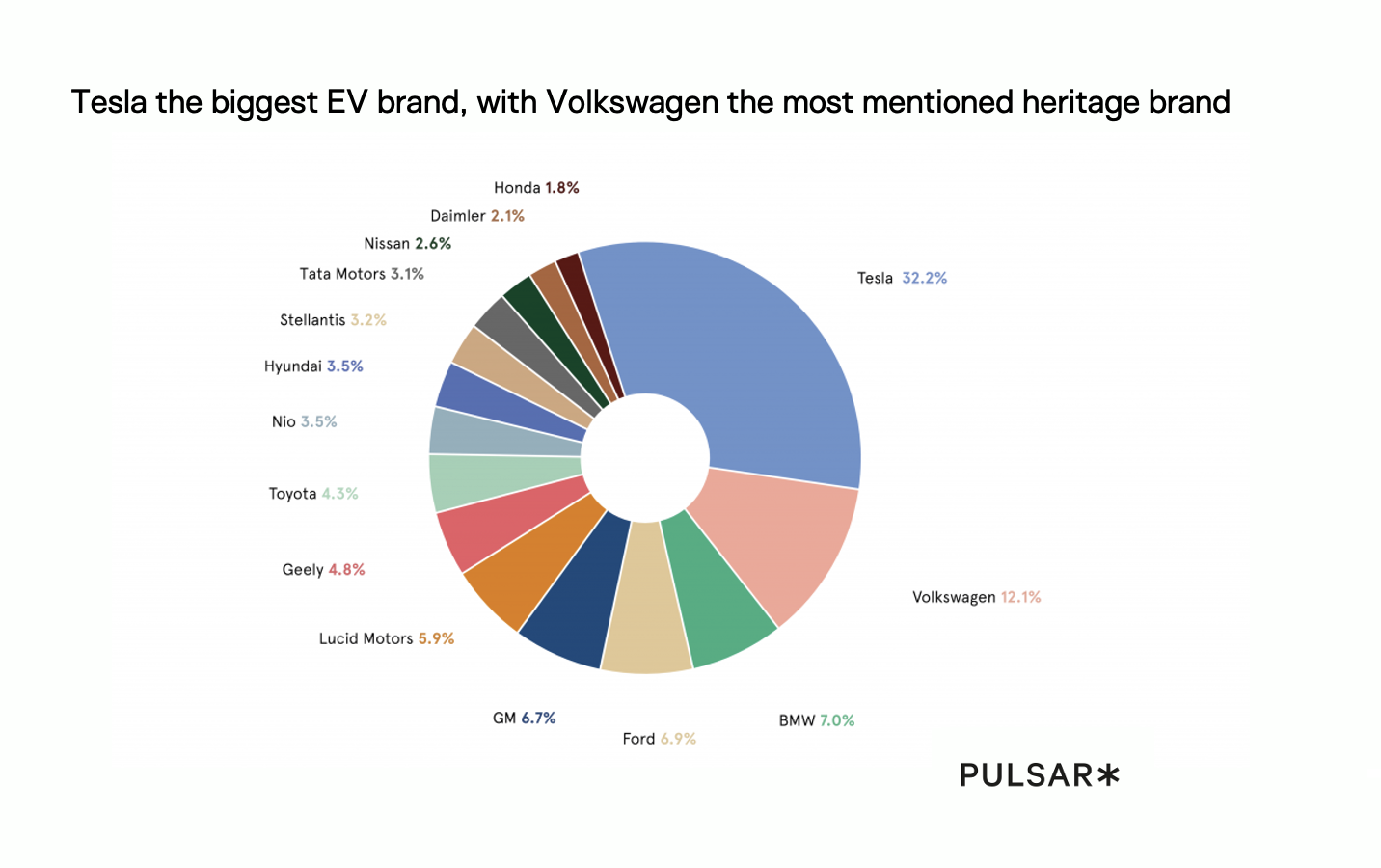 Establishing which brands are front of mind in the EV conversation suggests how much the public is associating each brand with EVs - a hint about what might develop into consumer preference. 
In spite of their small size, "pure" EV makers are still winning on this front. Tesla for instance is on a league of its own, owning around a third of the total brand conversation. Along with other brands like Lucid Motors and NIO, brands only making EVs make up almost 45% of the total brand conversation.
And that percentage would certainly be even higher if it wasn't for Volkswagen's publicity around their April Fools' rebranding as 'Voltswagen', which propelled the German automaker to a second place with around 12%. 
Share of voice did not translate to a positive outcome for the German giant, however, with confusion and irritation at the false rebrand contributing to a swell of ultimately negative emotion toward the wider automotive group. 
Away from Tesla, Volkswagen and BMW (7%), some of the largest US automakers like General Motors and Ford are beginning to solidify their perception as EV makers, with GM's commitment to producing Electric Vehicles having provided the single largest spike in conversation, and GMC launching its EV Hummer. 
Introducing the next all-electric supertruck. The revolutionary #GMCHummerEV. Reserve yours now.https://t.co/JKrnx4rh3f pic.twitter.com/65ePqnYIBn

— GMC (@GMC) April 3, 2021
Hyundai, too, benefited from their affiliation with K-pop group BTS, but have failed to convert that into anything greater than a 3.4% share of total conversation in recent months. 
https://twitter.com/Hyundai_Global/status/1377773017837662214
The top personalities (and Automaker CEOs) in the EV conversation 
Sustaining attention is what Tesla does, thanks to the celebrity status of their CEO, Elon Musk. In fact, Musk is one of the most prominent figures in the total EV conversation. But he is not #1. 
Joe Biden's infrastructure announcements and focus on electrifying the federal vehicle fleet have driven huge interest (and ensuing partisan debate) in the topic. It has elevated Pete Buttigieg, his secretary of transportation, to fifth on the list.
The Biden administration's activity around EVs ensures a preponderance of politically-aligned figures, mostly from the United States. Despite contributing a little under half the conversational volume, the UK offers up few notable people able to drive interest in the topic, with former  Labour Party leader Ed Miliband benefiting from his long-time association with environmental causes to sit top of a relatively insubstantial pile.
As an aside, it's striking just how male conversation in this space is perceived to be, with sole female representative Nancy Pelosi's 1.4% share of voice appearing rather isolated.
Dialing in on the automobile CEOs mentioned within the electric vehicle conversation, on the other hand, we see General Motors CEO Mary Barra buck the trend somewhat. She's the fourth most spoken-about auto-manufacturer CEO not called Elon Musk.
But its Musk who ultimately conditions - and distorts - this entire conversation. Barra and her all-male equivalents all lag behind the Tesla figurehead, who accounts for more than 3x the number of mentions of all the leading CEOs combined.
Herbert Diass, Volkwagen CEO, has been elevated by the media take-up of his comments on the purported 'Voltswagen' rebrand. As with the company he represents, however, an apparent gain on Tesla's share of voice contains within it a large degree of negative comment.
This highlights the issues faced by other brands in closing the gap on Elon Musk and his Tesla. Clearly, it will require more than an April Fools' campaign. This being electric vehicles, and the leader of the pack being a meme-fluent CEO, you can't bet against stunts reconfiguring people's perceptions and expectations. No one wants their car to be the last one out of the (charging) station.
---
This analysis was conducted with Pulsar TRAC and our Communities feature. Understanding how different audiences talk about brands, topics, people and issues over time can bring powerful and unique insights to your marketing research, planning, creative and messaging. 
If you'd like to test drive Pulsar's analytical capabilities, simply fill out the form below.