The very tangible rise of the virtual background
Hiding messy closets, and adding some fun to those hours spent on Zoom #NewNormal
The Internet cannot get enough of virtual backgrounds. Self-isolation has made our priorities very clear, and those include making our homes look tidier than they actually are.
Every husband in the background of a Zoom conference. pic.twitter.com/eMfnRO7q01

— Dude-Bro Dad (@thedadvocate01) April 2, 2020
Just as suits gave way to casualwear within the office, our notion of what constitutes professionalism across video calls is shifting, and virtual backgrounds have arrived to fill the uncertain space between home office perfection and reality.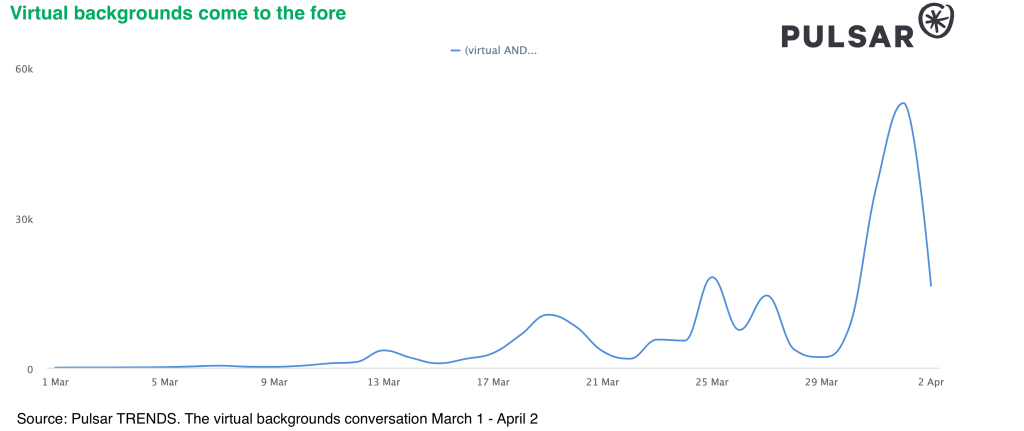 The online conversation about virtual backgrounds began growing in mid-March, rocketing from 183 mentions a day to a peak of 53k on April 1.
This was around the same time that publications like Business Insider and the Huffington Post featured the topic in articles, although the sudden spike might also have stemmed from the unofficial 'cancellation' of April Fools Day, and a redirection of mass playfulness to a more private outlet.
But not all virtual backgrounds are created equal.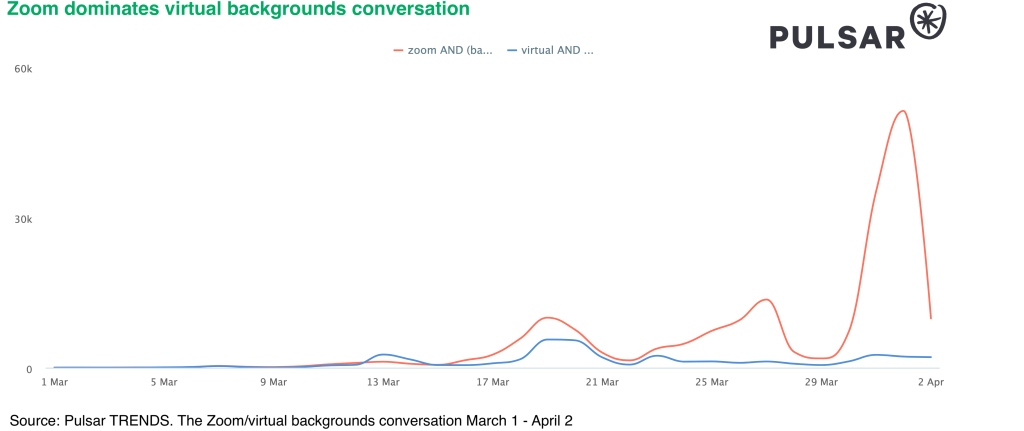 If we split out mentions of Zoom backgrounds from the general trend, we begin to see just how dominant Zoom has become in the videoconferencing space over the past few weeks.   
The poster child for the #newnormal, Zoom has become the go-to option for video calls for everyone from virtual workers to home-educated students, to technophobic grandparents. April 1 saw the 'zoom backgrounds' accumulate 13x more mentions than the term 'virtual backgrounds' itself.  
New Zoom background pic.twitter.com/o84p95uMYN

— Zach Love (@zijital) March 31, 2020
Zoom backgrounds have even found their way onto Late Night television, with Conan O'Brien utilising them across several widely-viewed skits in a sure sign they'd arrived in the mainstream. 
Conan takes viewers on an impromptu tour of his humble home. https://t.co/01pBKeoRti #ConanAtHome pic.twitter.com/H6RdRjsY35

— Team Coco (@TeamCoco) April 1, 2020
Away from evening entertainment, meanwhile, the rise of virtual backgrounds have helped obscure the sometimes awkward differences between living spaces. This is most keenly felt across further education. With democratising dorm rooms no longer part of the picture, students are forced to confront previously hidden differences in wealth. 
When they were all in the same dorms and eating the same dining hall food, the disparities in students' backgrounds weren't as clear as they are over video chat. #coronavirus #economy #inequality https://t.co/nRKpkturyl

— 𝕄𝕖𝕥𝕣𝕠 ℕ𝕐 𝕁𝕖𝕣𝕣𝕪 (@JBucknoff) April 4, 2020
For as long as we continue to provide a snapshot of our inner sanctums to colleagues and complete strangers, Zoom backgrounds appear likely to remain a part of the quarantine conversation. And if they can help cooped-up users continue to exercise their funny bones, all the better. The days of artfully arranging a bookshelf behind you are, if not gone, then on indefinite hiatus.