How petitions go viral
Network cohesiveness + article 50 = 6m signatures in a few weeks
The online petition is having a moment.
Two weeks ago, a petition to stop the UK from leaving the EU ahead of Brexit went viral, picking up over a million signatures in a day, and is still going: we are now at just over 6 million.
Here's how it spread.
Between 8am and 9am on the 21st of March the Revoke Article 50 petition was being shared on Twitter at a rate of 567 tweets and retweets a minute. It reached 1m signatures by just before 3pm that day, crashing the parliamentary petition website.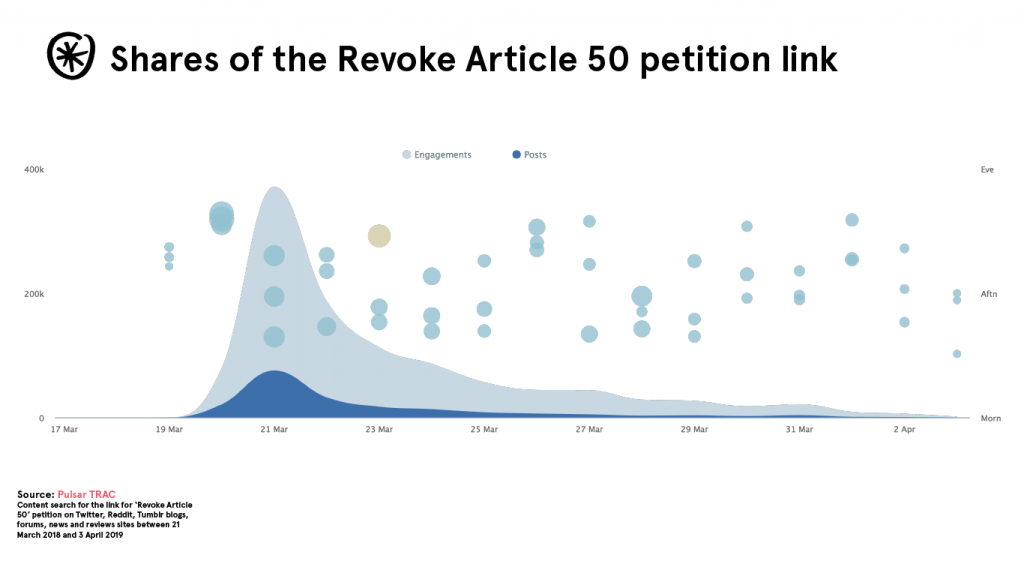 Since then, the petition has continued to be signed, but the rate of shares has decreased on Twitter, forums, blogs, news and review sites.
This is because on Twitter, where a cohesive network of anti-Brexit citizens was sharing the link: once it had passed through them, fewer people were likely to share on that network: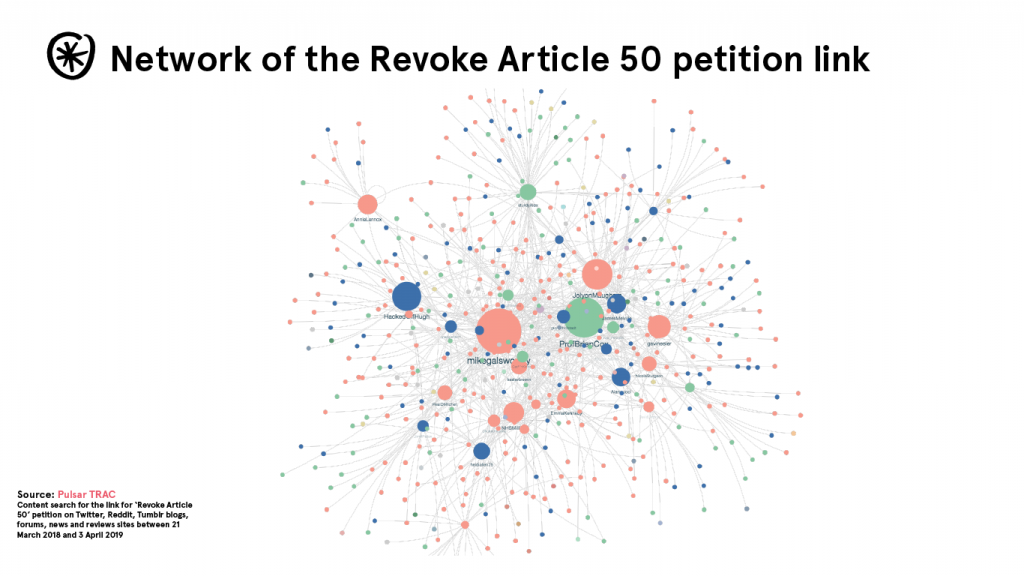 What helped increase the level of signatures on the 21st and beyond was that it reached Facebook.
"Content typically starts to go viral on Twitter, where the retweet button facilitates super-easy sharing," our Research Director Jay Owens explained to Wired.
"Facebook virality is a slower beast, as the feed is algorithmic and people usually won't see a friend's post for hours-to-a-day after it's been posted. However, as many more people use Facebook than Twitter, it ultimately takes the lead and drives the vast majority of signups."
But on the 21st, more people had shared the Brexit petition than signed it, in part due to the friction required to complete it.
The petition had a relatively slow burn, but was bolstered by social media, says Owens. Our data shows that the petition has been shared 212,000 times on Twitter, and 603,000 times on Facebook, from its launch through until 12:00 on the 21st.
A strange kind of online content
"It's quicker to share the petition than to actually sign it," Owens says.
That's because in UX terms, online petitions are a nightmare: they don't live natively in networks –although Facebook is supposedly building a petitions feature– and their "call to action" is remarkably complex to carry out online. 
But in these strange, turbulent, polarized times, people still care about politics. And the petition is the only online vehicle that seems to lead to some sort of politically significant action besides mere awareness. People share with earnest, often personal captions: 
Enough is enough. I voted Leave, but the Government have failed. We were lied to on both sides by special interest groups in 2016. Politics in Britain is broken & this needs to stop. Now. Petition: Revoke Article 50 and remain in the EU. https://t.co/H8PupWKzfu

— Terry Overall (@terryoverall) March 25, 2019
When there is a constituency behind the action the petition is meant to encourage, petitions can spread very easily.
Slacktivism?
Other similarly viral petition have been part of this 'second wave' of online petitions: an attempt to get Donald Trump to release his tax returns at 1.1m signatures, and an appeal against the EU digital copyright laws (including the infamous 'link tax') on Change.org that got over 5.1m signatures.
Online petitions originally became quite popular in the 2000s, when sites like change.org, avaaz and care2 allowed anyone to easily start and share. Change.org says it has had 33,920 petitions achieve their goals in 196 countries since it launched in 2007. The US government even launched a petition site We The People in 2011. Originally the number of signatures necessary to get policy officials to discuss and issue a response through the site was 5,000 but this quickly rose to 25,000 because of an underestimation of how popular it would be.
But they quickly gained a reputation of ineffectiveness, precisely because they often amount to nothing – although governments in some countries are mandated to debate petitions with a certain threshold of signatures, these debates do not always result in change.
For instance, the UK. On April 1st, the Revoke Article 50 petition was debated in Parliament – as any petition with over 100,000 signatures are legally required to be – but because the government had already reached a verdict on the subject matter of the petition, the debate did not set the roof on fire:
This was not a surprise. Many people – including some of the most engaged-with shares of the petition – had expressed skepticism about how effective it might be:
I've signed this petition to revoke A50 and deal with the consequences afterwards – referendum, election, whatever. I have no idea whether these things do any good but after May's astonishingly irresponsible speech this evening I'll give anything a go. https://t.co/1XuQW3vuve

— Brian Cox (@ProfBrianCox) March 20, 2019
"Signing an online petition can be argued to be 'clicktivism' and largely symbolic," Owens says. "The parliamentary debate it generated was unlikely to be the deciding vote, let's be honest. However, there could be some interesting consequences nonetheless."
But this is a key part of why petitions go viral: people may be cynical about petitions, but they really want to preserve that sense of agency, and signing is a way of expressing hope. And they provide great viral value if nothing else.