Along with the market, the erectile dysfunction conversation is growing up
From a metaphor to an honest conversation
The erectile dysfunction (ED) conversation – which historically has been mostly made up of not very original jokes and insults, is slowly morphing into a health-focused one. And it's becoming less male-skewed than you would think. 
Part of it has to do with choice. Five years ago, the ED drug market only had one participant – Viagra – which became the synonym for all ED-related conversation, from slurs to cures.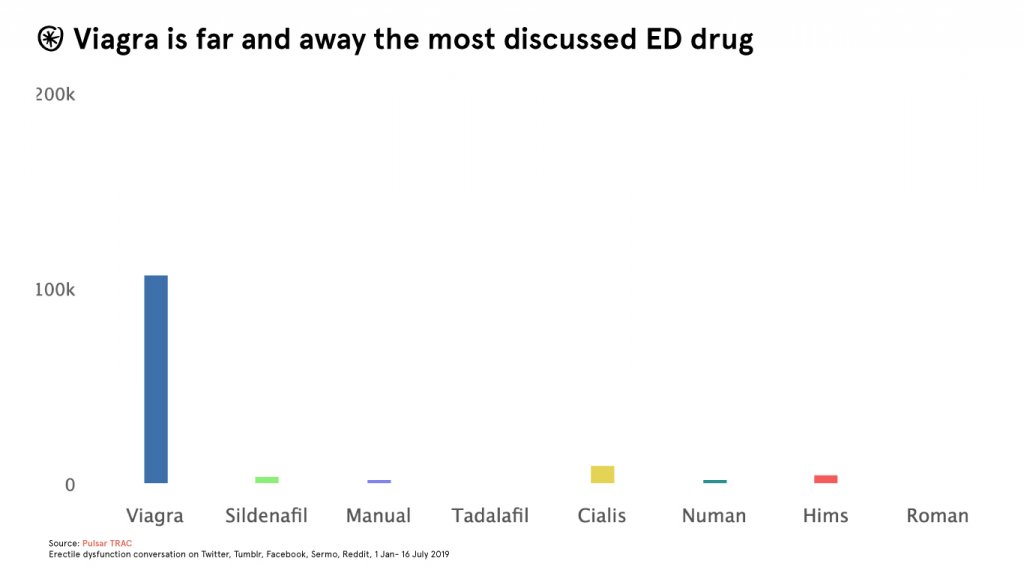 But after 20 years of market domination, Pfizer's final US patent on the drug in Viagra – sildenafil –  will expire in 2020. As the patents have expired, drug companies have started creating generic versions, so recently a flood of new Direct-to-Consumer (DTC) companies have gained funding to enter the ED market: hims ($197M in funding), manual ($6M), numan and roman, to name but a few.
As well as funding, they're gaining ground in online conversation, although the mentions of these new drugs and brands is nowhere near the level of discussion of Viagra: 
With their pastel-colored marketing, the newer companies seem to have helped this conversation move forward – from one that rooted in insecurity and braggadocio, to one that is more sensitive to the causes and effects of ED in young men, tied to the male wellness-style approach.
But outside of the business world, who is talking about ED, and how?
The ED conversation
Five years ago, the conversation was a straightforward one. Discussions of being an ED patient and fear about the condition were low, as was political conversation and comparison – making up just 16% of the total conversation. 
Instead, jokes like this dominated:
You know what is hilarious? Dropping Viagra in the food at work potlucks.

— darkwise (@darkwise) July 1, 2014
as well as cheap sellers:
Purchase Generic Viagra: Purchase Generic Viagra. Online Drug Shop, Big Discounts. WorldWide Shipping. Cheapes… http://t.co/ohSvLUPELN

— joohnnyf (@joohnnyff) June 22, 2014
But in 2019, the conversation – across Twitter, Facebook, Reddit and Tumblr – looks like this: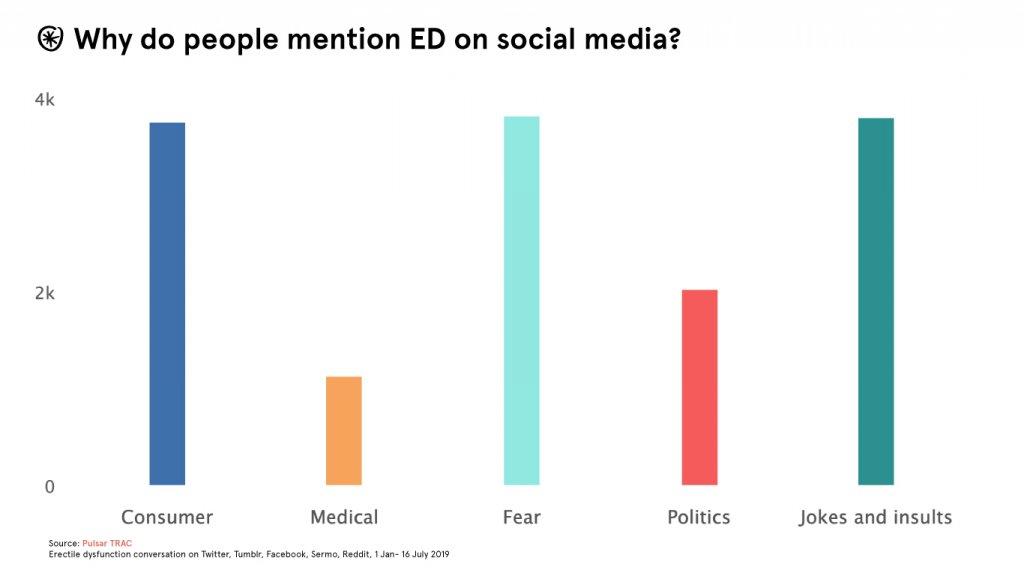 Political metaphors and jokes and insults take up just over half of this conversation, but the rest are posts sharing fears and experiences of being treated for ED, and buying drugs for it.
On Reddit, there are discussion of advice, worries about sex, and treatments:
Posts are detailed and often long, asking for advice on potential causes of ED: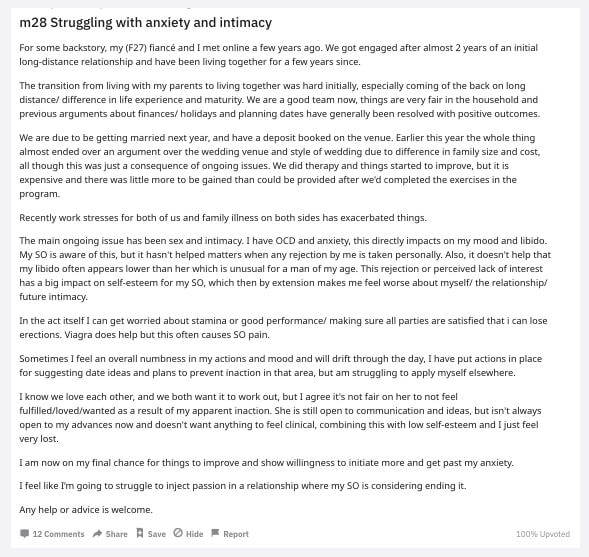 …and drugs…

…and other issues that could be linked: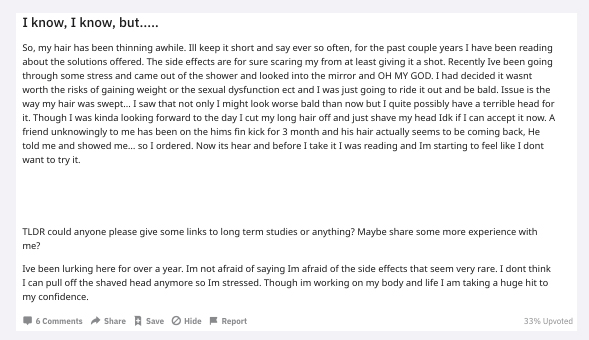 The jokes and the political analogies don't seem to be going anywhere fast (we even found some on the doctors' network Sermo), but as the market widens, the conversation has evolved too.
The audience for ED brands
We found that only 68% of the audience in 2019 discussing ED are male, so clearly it's not a problem that crosses the minds of just men. The main social networks for ED conversation – positive or negative – are Reddit and Twitter. 
On Twitter, the conversation is divided mostly between countries, each with their own slant on how they discuss, or joke about, the problem: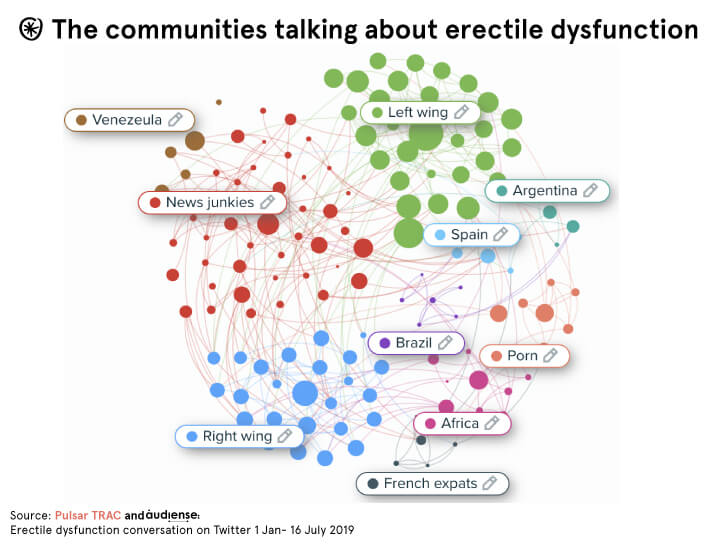 The franker, more problem/solutions-oriented conversation however, lives on Reddit – where the actual words "erectile dysfunction" are used 4% more than on other networks.
Our sentiment analysis detected a high level of sadness in the conversation, an indication that conversation is becoming more about the problem, compared to the jokes and political slurs that previously dominated.