How Stuff Spreads: "the most successful people" meme
Mutating from earnest, to ironic, to critical
How did the "most successful" meme go viral? Lessons for viral marketing:
‪Our analysis shows that the virality tipping point for this meme (now at 32 million impressions and counting) was @sarah_edo's clever spin on @APompliano's tweet‬.
‪Here's a play-by-play of how it spread:
@APompliano's list of the nine traits of successful people did well early on in its "earnest" version, also thanks to Pomp's large following in the crypto community.
In blue: original tweets replicating his format   
In yellow: retweets of the original tweets
The size of the bubbles is determined by Pulsar's proprietary Visibility algorithm, which takes into account a mix of reach and engagement to make sure that we surface the most impactful content.
After Pomp's initial hit, @sarah_edo "forked" that list, unleashing the ironic potential in this format with this tweet and opening the floodgates:
The most successful people I've met:

1. Study daily
2. Eat well
3. Thrive on others
4. Are literal sharks in the ocean
5. Are one of 7 horcruxes
6. Replace their DNA w/ blockchain
7. Have eagles take them to Middle Earth
8. Own 2 dragons, 1 undead
9. Eat only the middle of Oreos https://t.co/QKCcnzzxua

— Sarah Drasner (@sarah_edo) June 12, 2018
Others pushed the meme further into funny territory.
@KellyCates scored the most successful tweet of this bunch by leveraging the timeless words of Chumbawamba.
The most successful people I've met
1. Drink a whisky drink
2. Drink a vodka drink
3. Drink a lager drink
4. Drink a cider drink
5. Sing some songs that remind them of the good times
6. Sing some songs that remind them of the better times
7. Get knocked down
8. Get back up again https://t.co/J0RoVaPYgX

— Kelly Cates (@KellyCates) June 14, 2018
This was also the tweet that propelled the 'successful' meme to its 'half-life' point.
Pulsar VP, Product and Research Francesco D'Orazio explains: "A meme spreads more slowly when it appeals to a more generalist audience, one that is more fragmented than a niche, cohesive audience, so it takes longer for the content to travel from one group of the audience to another.
To understand this, we measure the speed at which a meme gets to 50% of its posts (the half-life of a meme) and in this case, that point was on Friday June 15th, four days after the original tweet on June 10th, telling us that this is a slow meme.
Using our proprietary virality model, we can distinguish between Spiker memes (memes that explore and die in hours) and Growers (memes that go viral in days if not weeks). This is clearly a Grower."
Here's a pretty view of how this meme, once it had spread through the network, visualized thanks to Gephi, building on Pulsar TRAC's graph structure:
And after @KellyCates's tweet was when the brands jumped in.
Props to Rihanna's @FentyBeauty for scoring this uber-successful interpretation of the meme – without even as much as a like from Rihanna herself (who has over 88M followers).
The most successful people I've met:
1. Wear Fenty Beauty
2. Are Rihanna https://t.co/Z2yh9Mygfh

— Fenty Beauty (@fentybeauty) June 16, 2018
Honorable mention: Burger King UK – Great example of how brands sometimes ride the wave and introduce their own varial marketing elements into an existing topic
The most successful people I've met:

1. Buy Whoppers
2. Eat Whoppers (daily)
3. Are innately curious (about Whoppers)
4. Laser focus (on Whoppers)
5. Believe in Whoppers
6. Eat incredible Whoppers
7. Admit they love Whoppers
8. Constantly work to buy Whoppers
9. Demand Whoppers https://t.co/Toidtb25AJ

— Burger King UK (@BurgerKingUK) June 15, 2018
The meme quickly took a more serious turn, evolving into a criticism of capitalism, inherited wealth and our collective definition of success.
@Beneltham and @DavidKlion's tweets were among the best performing in this category:
The most successful people I've met:

1. Were rich
2. That's pretty much it
3. A lot of them were really mediocre
4. Some were actually stupid
5. Most were boring
6. It didn't matter, they were 'succesful'
7. In a capitalist society, wealth determines success
8. $
9. It's money. https://t.co/4TaxWsXIeG

— Ben Eltham (@beneltham) June 13, 2018
The most successful people I've met:

1. Were born between 1945-1960
2. Are white
3. Received debt-free higher educations
4. Have always counted on having publicly/lavishly subsidized retirements and health care
5. Own homes worth 10x what they paid for them
6. Have had "careers" https://t.co/OSGBOCIHhf

— David Klion 🔥 (@DavidKlion) June 16, 2018
And here's how each tweet we mention fits within the total lifespan of the meme: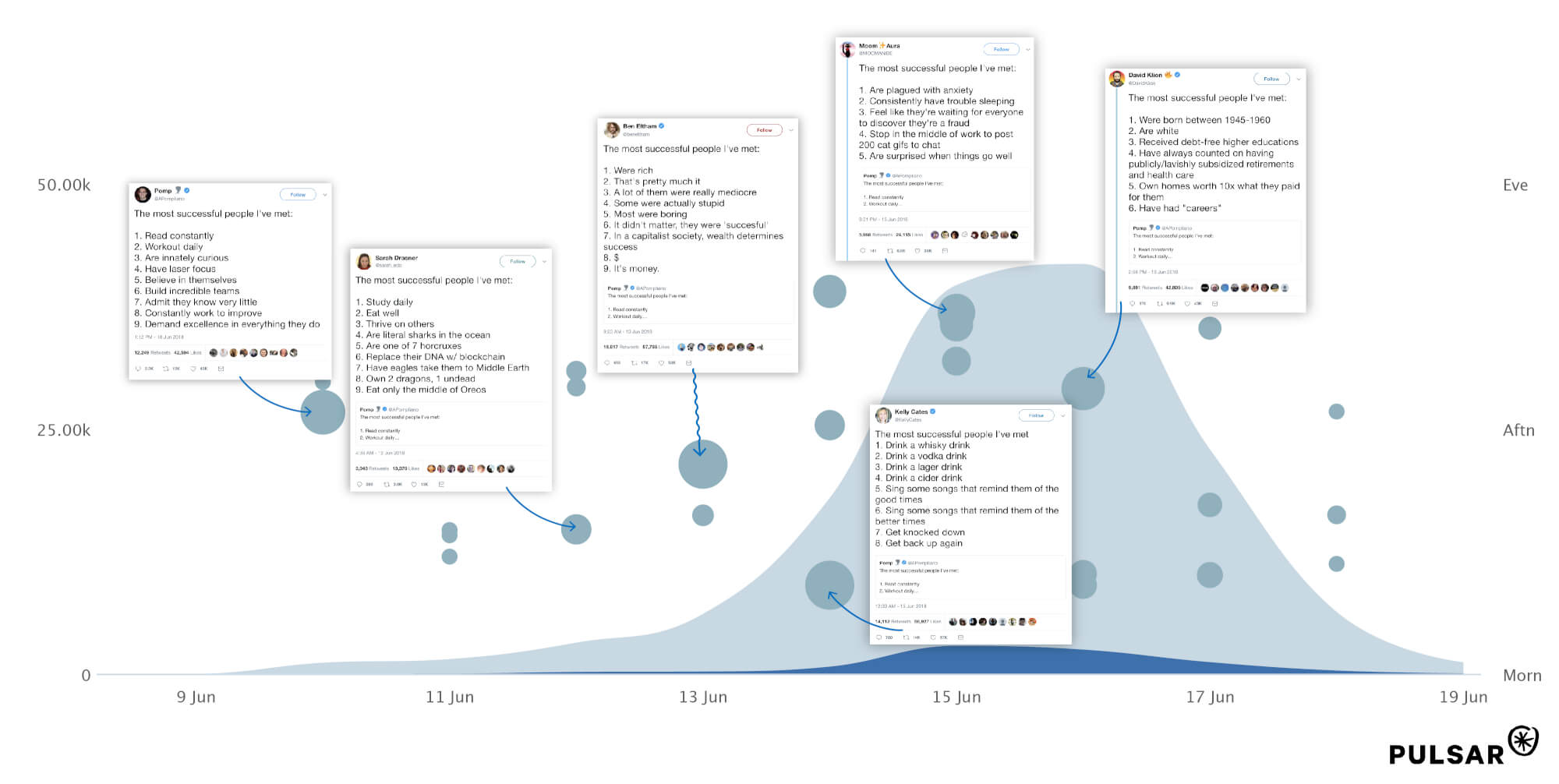 By the way, if you're looking for official terminology, this meme is a "snowclone" meme: "a cliché and phrasal template that can be used and recognized in multiple variants." Learn more on Wikipedia or Know Your Meme.
This wild ride was a bit too much for the Pomp though. He reports having received threats, and has decided to take a break from Twitter for a while.
I am leaving Twitter for a while.

The constant negativity, the ad hominem attacks, the intolerance of others' opinion, the ETH giveaways and finally, the personal threats today. Just not fun right now.

I'll be writing daily here – it's been real ✌🏽 https://t.co/FWGNNJu0ry

— Pomp 🌪 (@APompliano) June 18, 2018
Which incidentally, is a habit of several successful people we've met.