How universities use social media listening to manage the application process
Universities have taken to Pulsar like ducks to water. Not only for academic research (see the work we're doing with the Visual Social Media Lab). It turns out that their communications and admission teams are just as interested in what they can do with social.
And for good reason. Using Pulsar historics, we can see that there were a massive 1 million tweets about universities in the UK on the day A-level results were released.
So we can see the data's there. In this blog post, I'll show how universities can hone in on these conversations to help them better understand the application process by exploring conversations around university applications and clearing.
Let's start at the big day itself: A-level Results, in August.
As you can see from the visualisation below, there was a massive spike in conversations on 13th  August, which is when A-level results were released this year:
This visualisation shows the volume of social media discussion about one particular university and Clearing – showing how interest spiked to over 2,000 posts and retweets in just one day.
Naturally, universities across the country are keen to listen to these posts to understand the excitement and trepidations of their current and future students. As shown in the 'Bundle' visualisation below, not everyone got the results they hoped for.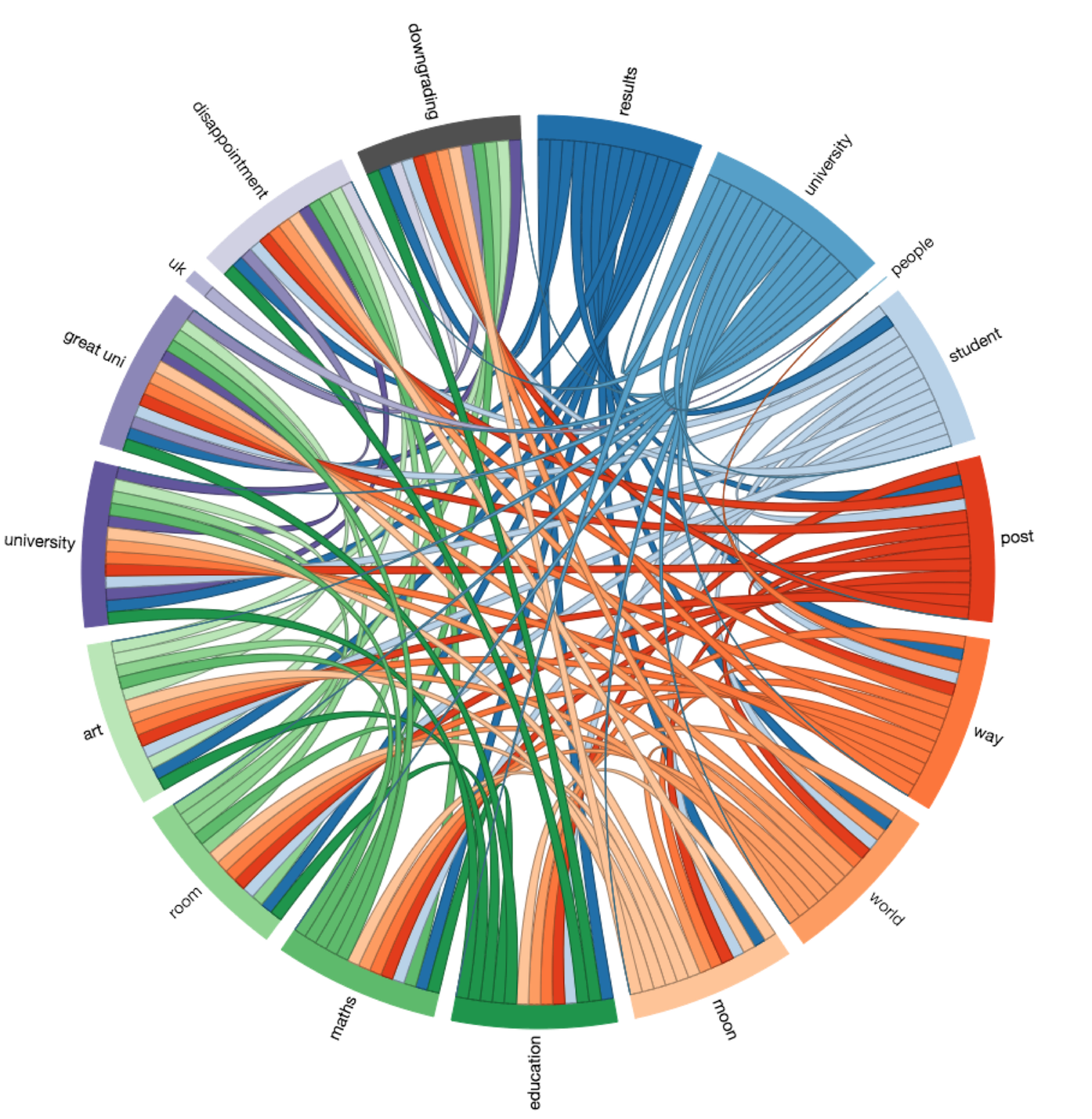 The bundle shows us how 'university' and 'results' were discussed across the country. As we can see, some found results day a 'disappointment' not to have received the necessary results to get into their top choice, whereas others were elated to have gotten into a 'great uni'. Admissions teams using Pulsar would then be able to filter on these phrases to learn more about each group.
For those who are "disappointed", this is where Clearing comes in. As we saw in the bundle visualisation, students shared their results on online platforms like Twitter:

Social media has opened up the channels of communications between students and the universities, allowing universities to reach out to students with advice, and even to let them know if they have places available for Clearing, as seen below.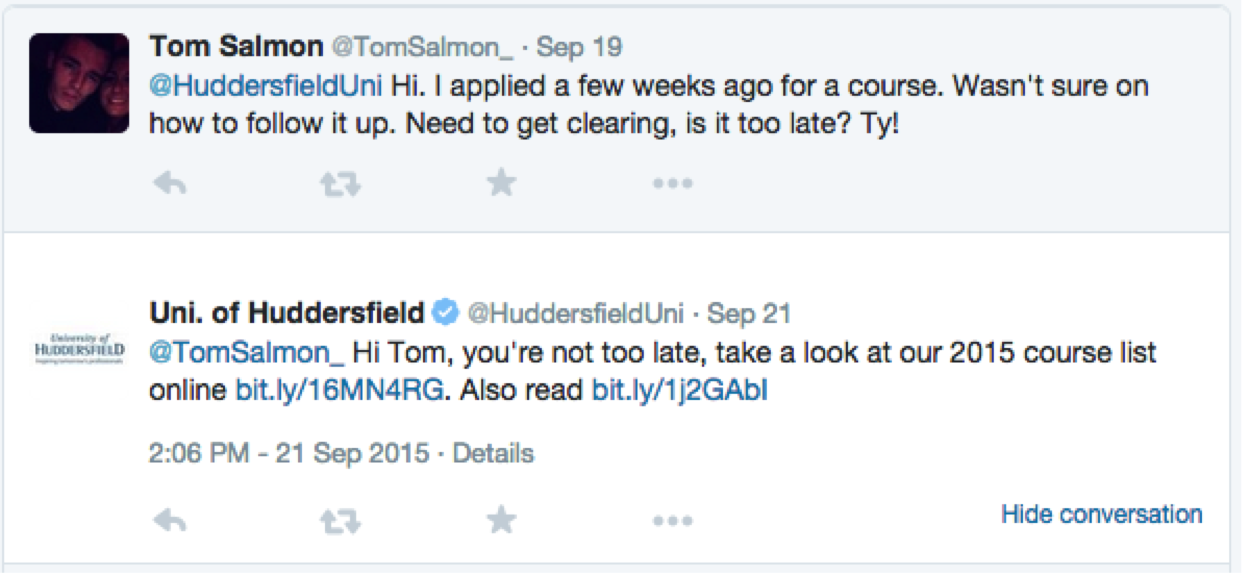 Queen Mary University even changed their Twitter handle to make this process as smooth as possible:
Universities can therefore use Pulsar to ensure they see all of these conversations and respond to them, increasing their chance of filling their places, meaning they continue to receive governmental funding.
Once students are on the course, social listening still remains useful. Pulsar enables universities to understand how current students talk about each different aspect of the university online, such as facilities, quality of courses, accommodation and so on. With this information they can understand the student experience better and work on that – but that's not the only benefit.
Monitoring social isn't just about your current applicant and student group, but also about the much bigger question of public reputation. As social media discussion is public, it opens up questions around how friends and family think about your university too, through word-of-mouth advocacy (or detraction). What universities can afford not to be keeping an eye on how this perception is being shaped and influenced? Identify rumours to be corrected – or unknown strengths to be capitalised on and shouted about in official communications. The opportunities are wide.
This is also where Facebook Topic Data gets really interesting. For the first time ever, we have access to a massively representative and robust data set (rivalled only in size by that of the Census!) giving universities access to organic information. Our 'Audience' tab breaks down this data for you by Gender, Age, Location and Language, as some universities are keen to explore how discussion splits out between UK and international students.
So to recap, social media listening can be very valuable to universities across the admissions cycle, from applications to clearing to welcome week!
Sound interesting? To find out more about how you can get the most out of social listening get in touch with me at [email protected] or connect on LinkedIn.