Facebook launches 'Hot Topics' using their new topic data
Facebook has started a monthly blog series called Hot Topics on the Facebook Insights page. The blog uses anonymised & aggregated Facebook Topic Data to delve into the most talked-about topics on Facebook in Australia, Canada, the UK and the US. Hot Topics shows how events, news and public figures have the power to unite people.
The dataset taken from Hot Topics: June 2015 UK, is broken down into 5 categories:
Brands & Products
Entertainment
Holiday & Events
People
Sports
Each topic is then visualised through a volume graph showing when the topics peaked in each demographic (age and gender). Facebook topic data also shows who drove the conversation in a graph of 'nodes' – circles depicting the size of mentions around that topic.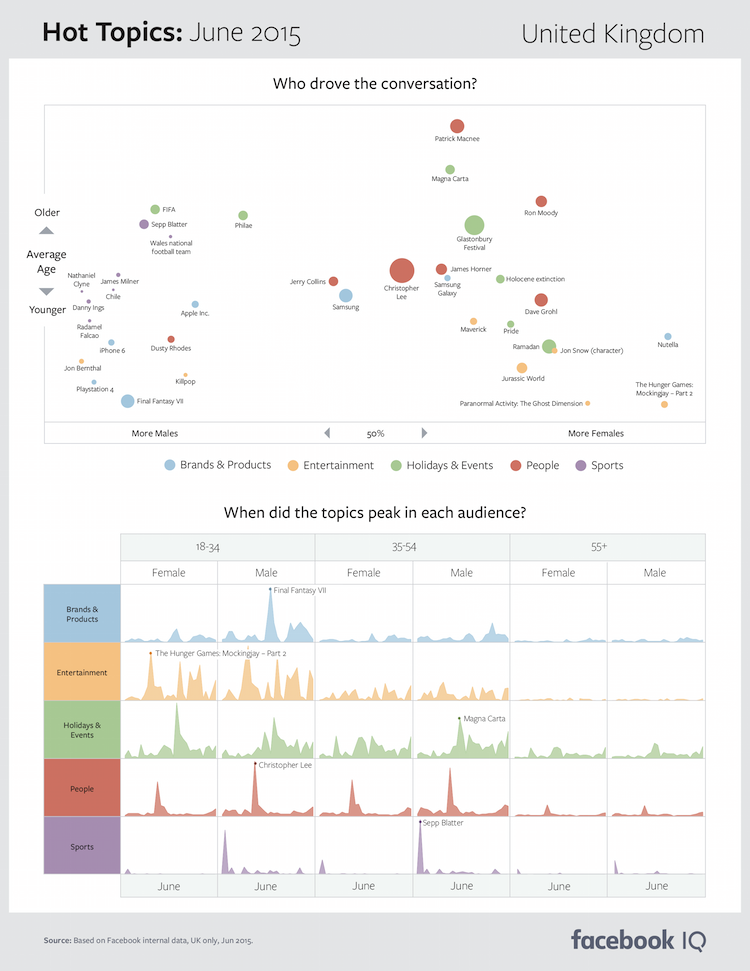 Image by Facebook IQ
The data in this graph shows how Glastonbury Festival dominated conversations amongst both men and women in June, and how the health of the Foo Fighters singer, Dave Grohl was a bigger concern to women than to men. Men continued with conversations around football, gaming and Apple and Samsung. It's also worth noting that younger Facebook users posted about the reboot of Jurassic Park, whereas older users discussed the 800th anniversary of the Magna Carta.
One advantage of the Hot Topics series is that you can compare country datasets and see each country's main areas of conversation.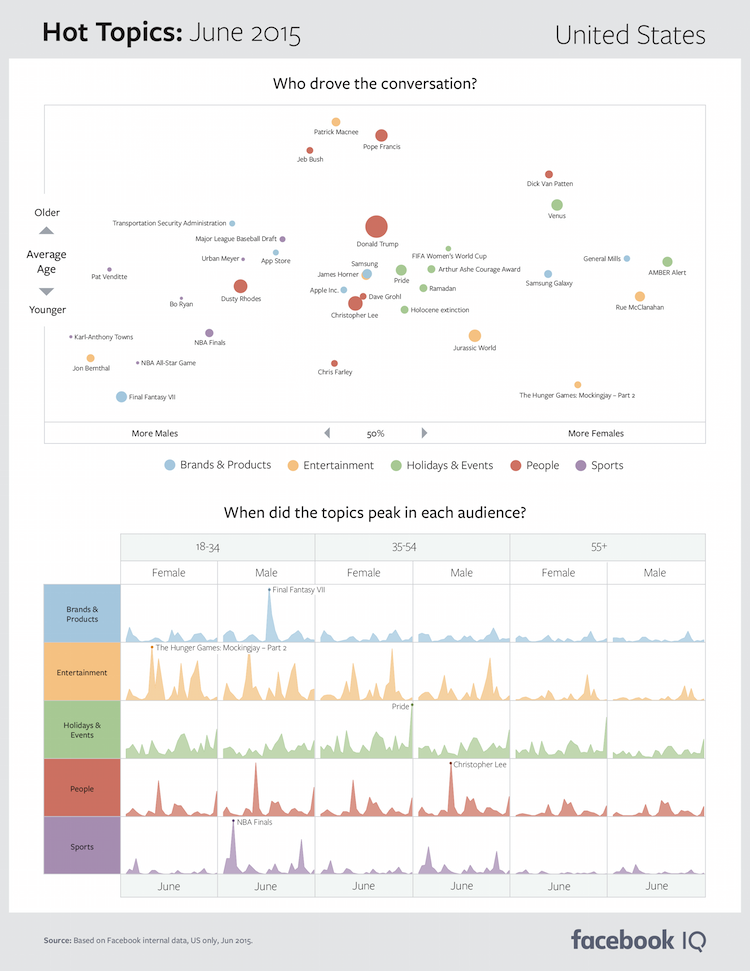 Image by Facebook IQ
Facebook report that during June in the US, Donald Trump was a key topic of conversation, whilst in the UK discussion was focused on the death of Christopher Lee. By looking at the two graphs you can see the differences from the node sizes – Donald Trump didn't even appear in the UK.
In the US alone, the Women's Football World Cup was main topic in driving women's conversations. General Mills was also one of the most discussed brands in June with many Americans turning to Facebook to express their thoughts after the company announced it would remove artificial ingredients from its foods.
What's the value of this information? As Facebook note:
"Marketers who keep a pulse on current events can develop activations and content that strengthen their connections to the people who matter to their brand. After all, the topics that unite people around the world often present opportunities for people to unite with brands"
Read the full Facebook blog post here
If you'd like to request a Facebook Topic Data demo and see its full capabilities in our platform, please send an email to: [email protected]