The Webinar is here to stay
The most dominant B2B marketing trend from the #NewNormal will continue to thrive in 2021
The global pandemic has turned the humble webinar into a star. 
When many countries entered lockdown in March, organizations realized that, without events, their options to connect with their customers, constituencies and stakeholders at scale had shrunk dramatically.
The alternative?
Webinars. Lots of 'em.  

Over the course of 2020, people mentioned webinars more than 16M times on Twitter, compared to just 4M throughout 2019. And that's not even counting mentions of "online events" or "digital experiences" which these days aren't too different after all: a person in their living room, presenting a few slides and answering questions to an audience, also in their living room. 
In B2B marketing, webinars have always worked. But just like the New Normal massively accelerated consumer trends behaviors, over the course of 2020, organizations of all kinds have built up their ability to host, promote, and encourage their audience to attend webinars on Zoom (more on platforms later). 
Things you think are a little stupid:

Webinars
Trade shows
Whitepapers
Analyst reports

Things that help enterprise customers find the right vendor:

Webinars
Trade shows
Whitepapers
Analyst reports

— Jason ✨BeKind✨ Lemkin ⚫️ (@jasonlk) February 20, 2020
And while we have come down from the May peaks of over 100k posts per day, the trend is a resilient one: throughout 2020 and into 2021, the webinar conversation has been at least 4x that of before the pandemic, and is starting to pick up again as marketers in many countries don't see a return to face-to-face events until the end of the year.    
We sampled the webinar conversation for a few days at three different points in time: in May and August 2020, and in late Jan 2021, to see what we could learn about platforms, communities, and promotion.  
The top Webinar Software? Zoom, by a mile.  
Unsurprisingly, Zoom is by far the mentioned platform to host and manage webinars.
What might be surprising is:
Just how dominant Zoom seems to be is in this space
How Youtube and Facebook have emerged as webinar platforms
How the rising tide hasn't lifted other video & webinar nearly as much
Zoom –we all know it– has become a mainstream fixture of our digital life, and encompasses many other personal use cases beyond the webinar. It is, in fact, a much bigger conversation topic than webinars themselves:

And if we break down the webinar conversation by platform, we see Zoom emerge the uncontested winner amongst webinar platforms.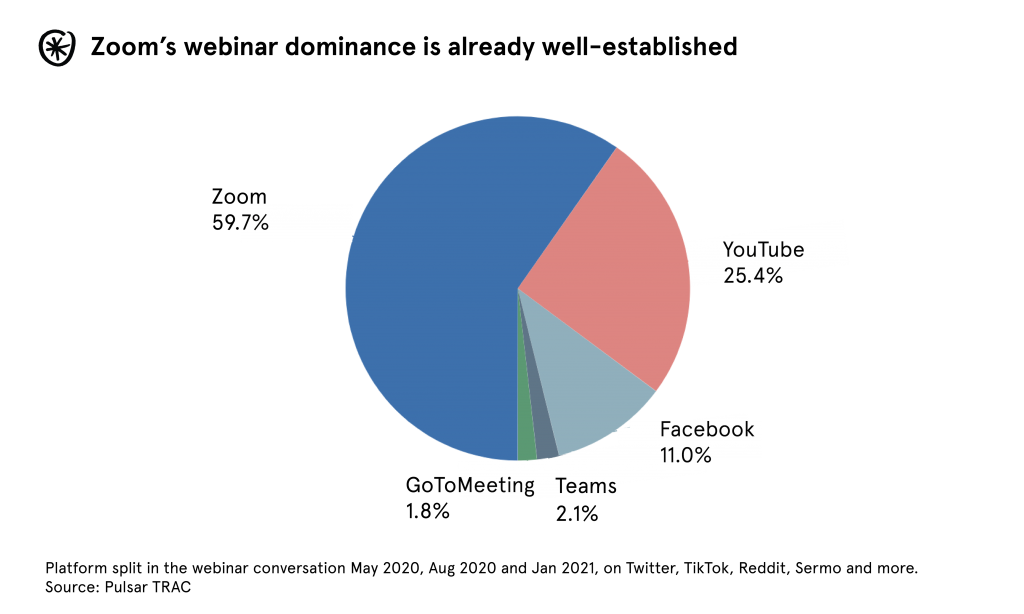 Youtube and Facebook, meanwhile, take second and third spot. Their relative prominence of these consumer tech giants in a typically B2B marketing conversation is not simply due to ease of access, but also the fact that both can be used to livestream and host a public recording of the conversation, guaranteeing a longer shelf life, along with the networked potential and SEO benefits of these platforms (more on this later).  
Other options like Google Meet/Hangouts, WebEx, BlueJeans, On24, Livestorm all fell well below the 2% mark, except for Microsoft Teams and GoToMeeting/GoToWebinar, which grazed the 2% mark at different times during the period analyzed. 
Zoom is also showing continued growth in terms of share of voice. Throughout the periods analyzed, Zoom grew by a few percentage points, while Facebook & Youtube have declined. A few other players like GoToWebinar seem to be growing, but barely break through 2% of the conversation.  
The Communities behind the Webinar Boom
So who's driving the webinar conversation?
First and foremost, it should be noted this is a promotion-led conversation (more on that later), so those talking about webinars are most likely to be involved in it as a host, guest or prospective attendee. 
But different people are promoting very different webinars: looking at the period in late January through Communities allows us to immediately see how many different communities, not just in B2B, have gravitated towards the medium. 
What's more, we don't simply see disparity in geography and profession, but also in political leaning and age; while almost 68% of K-Pop fans are 13-24, over half B2B Pros are above 35. 
Similarly, webinar has become both as an additional channel for Call Of Duty streamers, and as a source of government-produced health information — and everything in-between. 
Out of interest, how many science journalists in Ireland watched and reported on/analysed the NPHET/DES webinar that was produced by the Govt to convince teachers and school staff to return to classrooms and schools at the height of the pandemic?

— Liam Hogan (@Limerick1914) January 22, 2021
This breakdown corresponds to differences in behavior. Amongst B2B Pros, Zoom's dominance is less marked, with YouTube and more specialized webinar platforms picking up a greater share. Young US Liberals, meanwhile, are the next most likely group, after doctors, to mention COVID alongside webinars.
Top Webinar Topics
While health has remained the single biggest topic, explicit mentions of COVID have steadily shrunk over the course of the year, as fatigue sets in and the novelty of lockdown fades.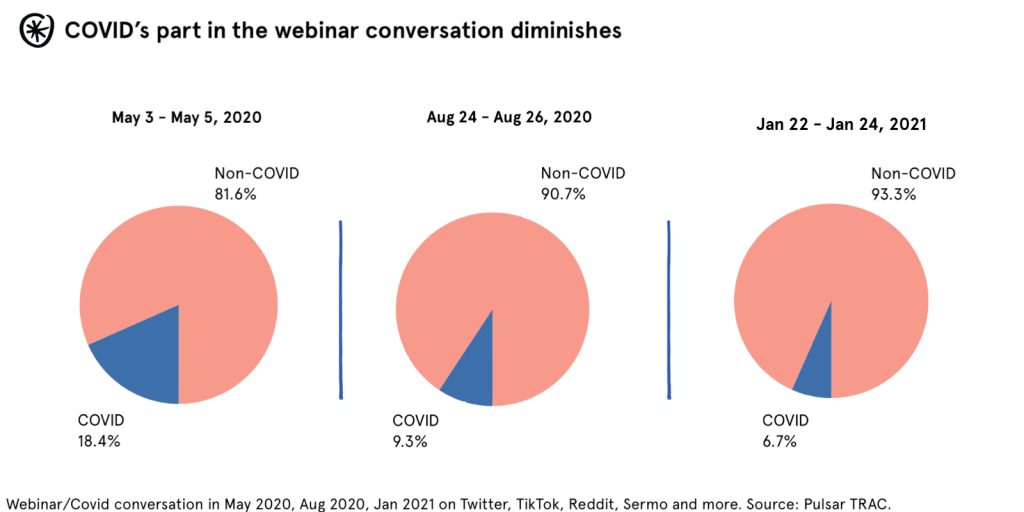 However, broadening our gaze over the course of the 3 sampled periods (May, Aug, Jan) we saw a remarkable consistency in the breakdown of topics covered by webinars. 
Health, unsurprising, emerges as the predominant topic, meeting the desire for information felt across the world.
In close second, however, we find marketing & communications. Among the reasons for this is the fact the sector leant heavily on events pre-pandemic while also, being heavily digitised, was well-placed to make the leap from physical to virtual events. 
There's a sense of self-perpetuation, as marketers utilise digital tools to understand how to better use those same tools to better engage audiences.
2/ Differentiate from podcasts. I don't attend most webinars I register for because I can always download them later and listen at my convenience. So if you want people to show up, you've got to offer something different.

— Alex Su (@heyitsalexsu) January 27, 2021
A promotion-led conversation
If someone's launching a Substack newsletter, you're going to hear all about it. Similarly, if an organization is hosting a webinar, they will work hard to drive signups, attendees and awareness, promoting its content across social platforms.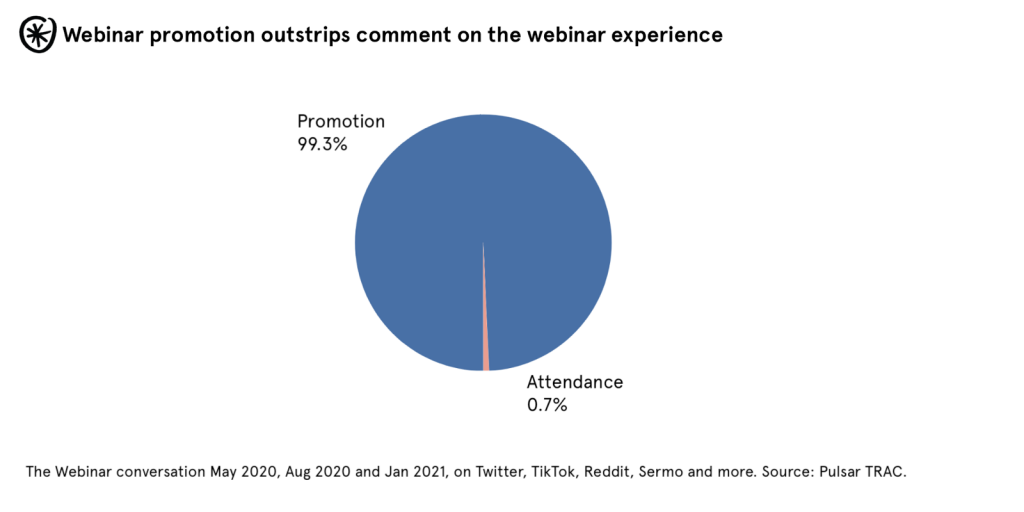 As a result, almost all of the conversation on Twitter was promotional, either from organizers, guests, or hosts. In fact, if you're on the receiving end of that flood of webinar promotion and webinar bells & whistles, you're starting to take notice. 
Dear webinar organizers. You are over doing it.

— David Ndii (@DavidNdii) August 26, 2020
What works with Webinar marketing and Promotion? 
It's hard to get engagements in an increasingly crowded space. So which types of posts were most likely generate interest? 
Our analysis showed only about half a percent of webinar marketing posts contained a video, implying that very few webinar organizers give their audience a preview of its content. But that can work with certain post – and points to an under-explored tactic to market your webinar.  
The war in #Yemen is a global issue! Join us tomorrow for the Global #DayofAction4Yemen-where over 300 groups from over 20 countries protest & call for an END to Western support for the war on #Yemen REGISTER: https://t.co/7DOAOKJVxX pic.twitter.com/AVk1GwTfbU

— JehanHakimجيهان حكيم-Yemeni Alliance Committee (@Jehan_Hakim) January 24, 2021
That is true across platforms. While over 90% of posts in the period analyzed were on Twitter, Facebook seems to be an under-utilized option not just for hosting and streaming, but also for webinar marketing, since the main promotion post doubles up as a live and permanent recording of the full content. We saw very successful posts especially in the category of education, generating thousands of engagements and tens of thousands of views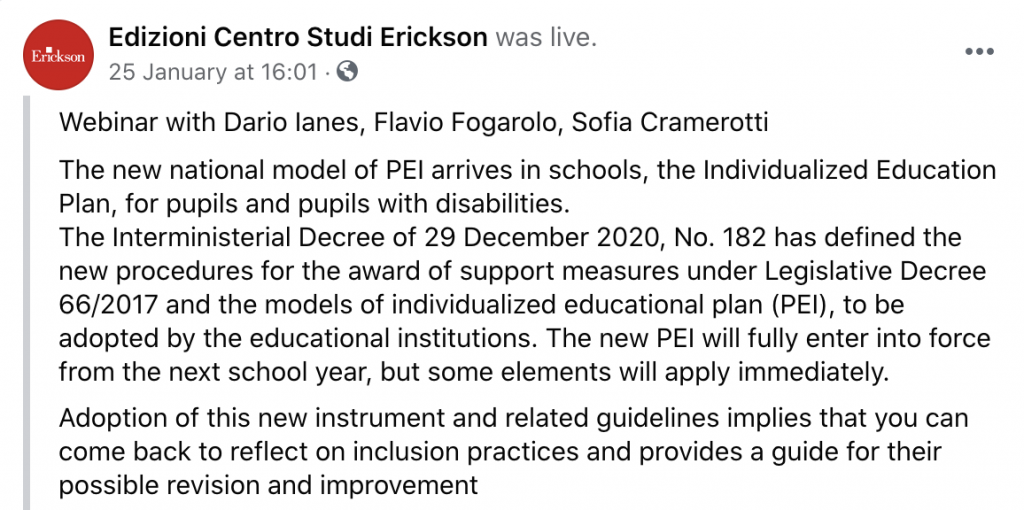 A look at the most engaged webinar marketing posts also showed a high appetite for political content, especially if promoted from accounts with a large following in the political space, for instance, this one by the Lincoln Project. 
Want to know how #LincolnWomen will defeat Donald Trump? @NHJennifer, @bethfukumoto, and @DelPercioS will answer your questions live at 6:30 PM ET tomorrow, along with special guest @JRubinBlogger.
RSVP here: https://t.co/Bdkb1zKkX7 pic.twitter.com/igkWiHGlZ1

— The Lincoln Project (@ProjectLincoln) August 25, 2020
Or this online event by Jeremy Corbyn. 
TODAY:#WorldSaysNo to War on #Yemen Global Online Rally

Monday 25 January | 11:00 PST / 14:00EST / 19:00 GMT / 22:00 Sana'a

Register: https://t.co/4uFn43Xnkn#YemenCantWait #DayofAction4Yemen pic.twitter.com/esgQ4IkHsC

— Jeremy Corbyn (@jeremycorbyn) January 25, 2021
While it's not surprising that well-known personalities with large followings drive high engagement for these posts, it points to the fact that with its rise, the webinar category might have turned a corner and is now very ready to accommodate larger audiences, personalities, and media properties, such as Vogue. 
Tomorrow and Thursday, we'll be hosting a new round of #VogueGlobalConversations! Sign up for the Zoom panels and get all details here: https://t.co/dOtDUfayjf

— Vogue Magazine (@voguemagazine) May 5, 2020
The French exception 🇫🇷
Around the world, people call a webinar a webinar. That makes it easy to track and analyze such a conversation. 
Except for France, of course. Just like with Internet and Les French speakers have come up with their word for the concept: the much classier  "webinaire" which is seeing even stronger growth, but with one important difference from the global webinar conversation: a huge leisurely lull in August. 

---
Want to see this dataset for yourself? We develop programs that help clients to understand the fast-changing tech conversation. To better understand the shifting behaviors in your own space, fill out the form below to speak with one of our specialists.