Virtual Fashion: not one size fits all
Different communities have different ideas on what it means for fashion to turn wholly digital
The fashion industry never fully made the leap to digital. Yes, e-commerce has been an industry focus for decades, Instagram weakened the industry's grip on tastemaking, and some fashion & apparel makers embraced real-time online trends to determine what to create – but the futurist vision of a fashion world selling pure status, distanced from complex supply-chains (and the sustainability and labor practices that come with it), hadn't quite materialized. That is, until recently.
Thanks to the explosion of both NFTs and the Metaverse, a path forward for a much more virtual industry seems to be opening up.   
From the British Fashion Council launching a digital awards category for Roblox designs, to Gucci selling on the same platform, to Adidas partnering up with Bored Ape Yacht Club, we are seeing enough movement in the space to suggest this could be a seismic change in the way we think about goods and ownership.

But the biggest moves so far have come from Nike, who not only teamed up with Roblox to create NIKELAND, a virtual world in which users can deck out their avatars in Nike regalia, but also bought RTFKT Studios, the hottest virtual sneaker brand out there. 
Welcome to NIKELAND on @roblox, where sport has no rules.

Sound on 🔊

Follow the link below to start exploring: https://t.co/5uqh15gZwL pic.twitter.com/MKwoGVZyVV

— Nike (@Nike) November 18, 2021


This has led to Nike becoming the traditional, non-digitally-native brand most associated with the idea of virtual fashion by the wider public.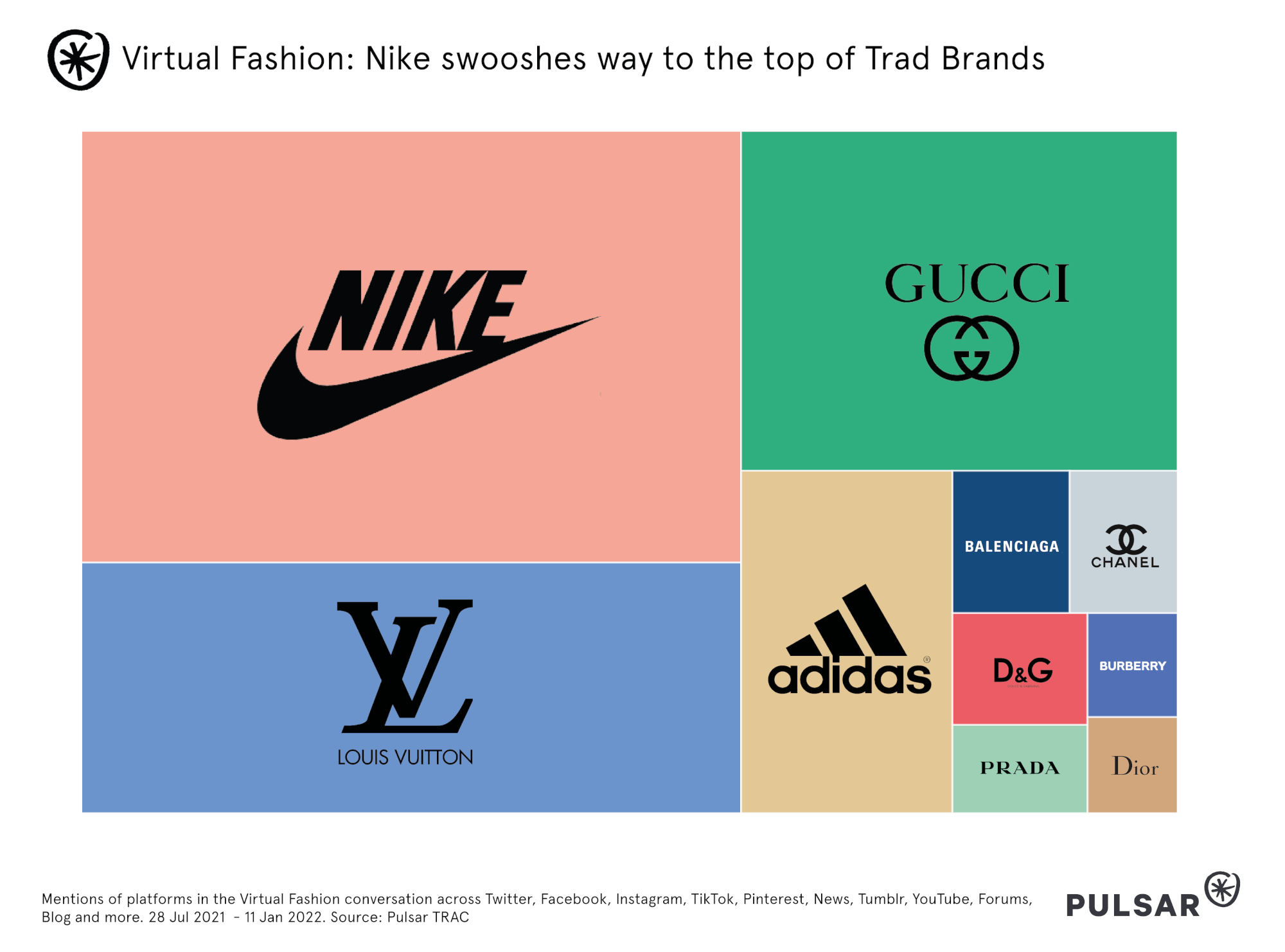 Nike also attracted attention for the filling of trademarks that indicate intent to create virtual-first fashion, as well as a collaboration between MMA fighter Jorge Masvidal with Beyond Protocol, in which he minted his Air Jordans.
Louis Vuitton comes in second thanks to their own branded game, as well as a former LV designer who is now heavily involved in the NFT space. 
This is my favorite NFT. C01 was created by Gilberto Zaragoza, the chief 3D designer of Warner Bros., and has collaborated with Louis Vuitton fashion designer Luis Monteiro. It has more than 250K members. Welcome to join us@C_01_Project
discord https://t.co/RD7dO0YeZu#NFT #C01 pic.twitter.com/etHxagI8HZ

— Boo ( 👾 , 🎮 ) (@liuivan) January 5, 2022
Nike's arch-rival Adidas, meanwhile, saw its conversational share of voice increase thanks to a company-wide decision to develop its presence within the metaverse and NFT markets. Most notably, this manifested in a collaboration with the Bored Ape Yacht Club and – an announcement which attracted excitement…
I got an adidas NFT. There are many @adidasoriginals sneakers in my room and I love them. And this time it will open a new door to the Metaverse or web3 community, including @BoredApeYC @punkscomic @gmoneyNFT and more. I look forward to interacting with the holders! https://t.co/3cNT1sG6HR

— omi (@cram_box) December 21, 2021
… as well a healthy amount of trolling. 
Balenciaga's partnership with Fortnite, meanwhile, together with rampant speculation and optimism around when brands like Gucci or Chanel might more fully enter the market, ensured that all the world's largest fashion brands by revenue were represented within this conversation.
I notice you've not announce any partnership with fashion and lux brand. Any plans for that? Can your NFT be exchange for a wear in a brand like Gucci or Prada? Would that be possible in future of metaverse?

— Freeya Ophelia (@ladynunna24) January 11, 2022

Naturally, these different logos belong on different types of apparel – so which, from hats and caps right down to sneakers and shoes, sit front of mind?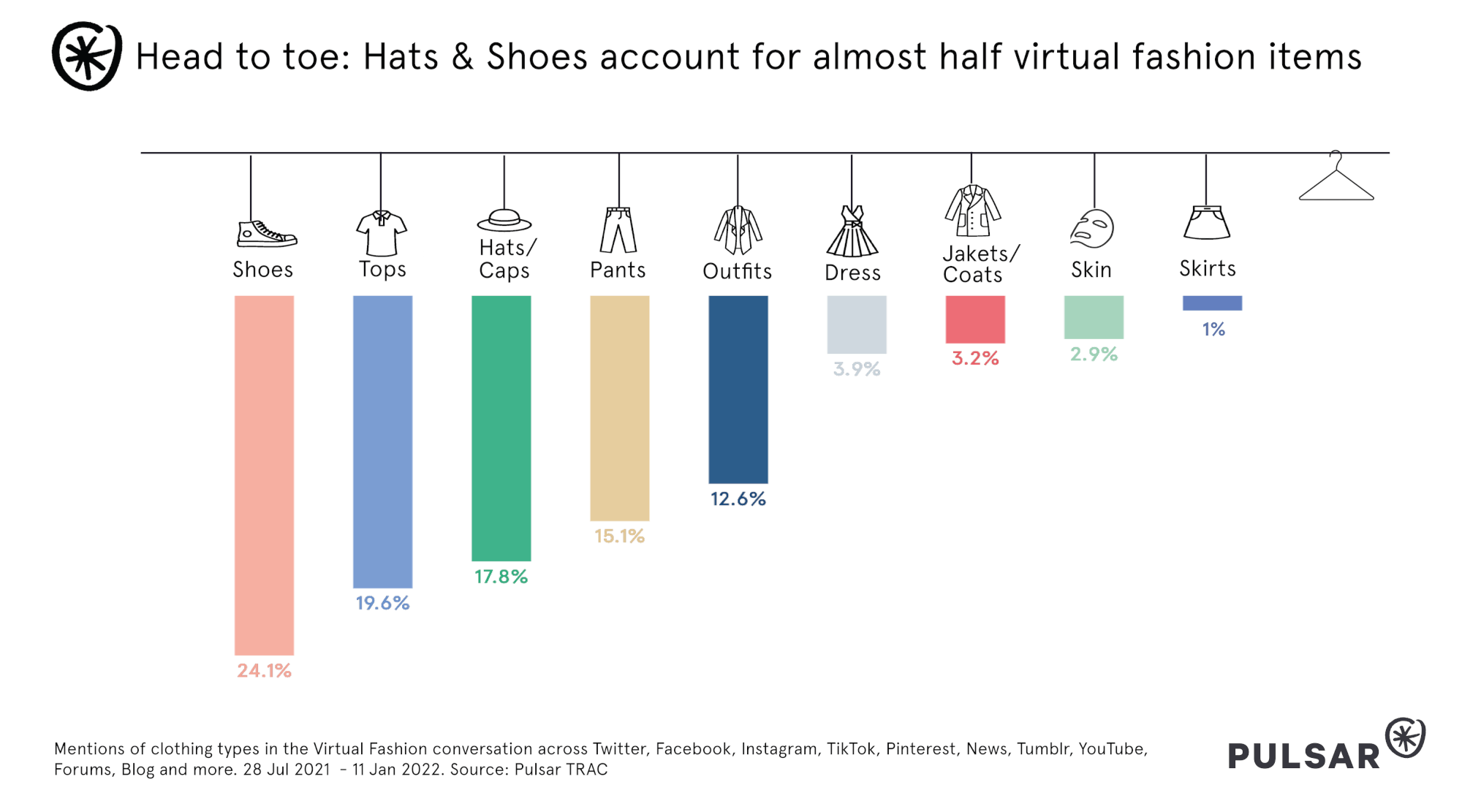 We're used to the idea of dressing for an occasion. In the case of virtual fashion, however, it's often the platform in question that dictates the type of clothing – and behavior – which is being talked about.
By mapping mentions of the various platforms cited within the conversation, we see Discord emerge as the most dominant, outstripping crypto marketplace Opensea, as well as platforms more closely associated with the idea of Metaverse, like Roblox, and virtual world platform Decentraland and The Sandbox.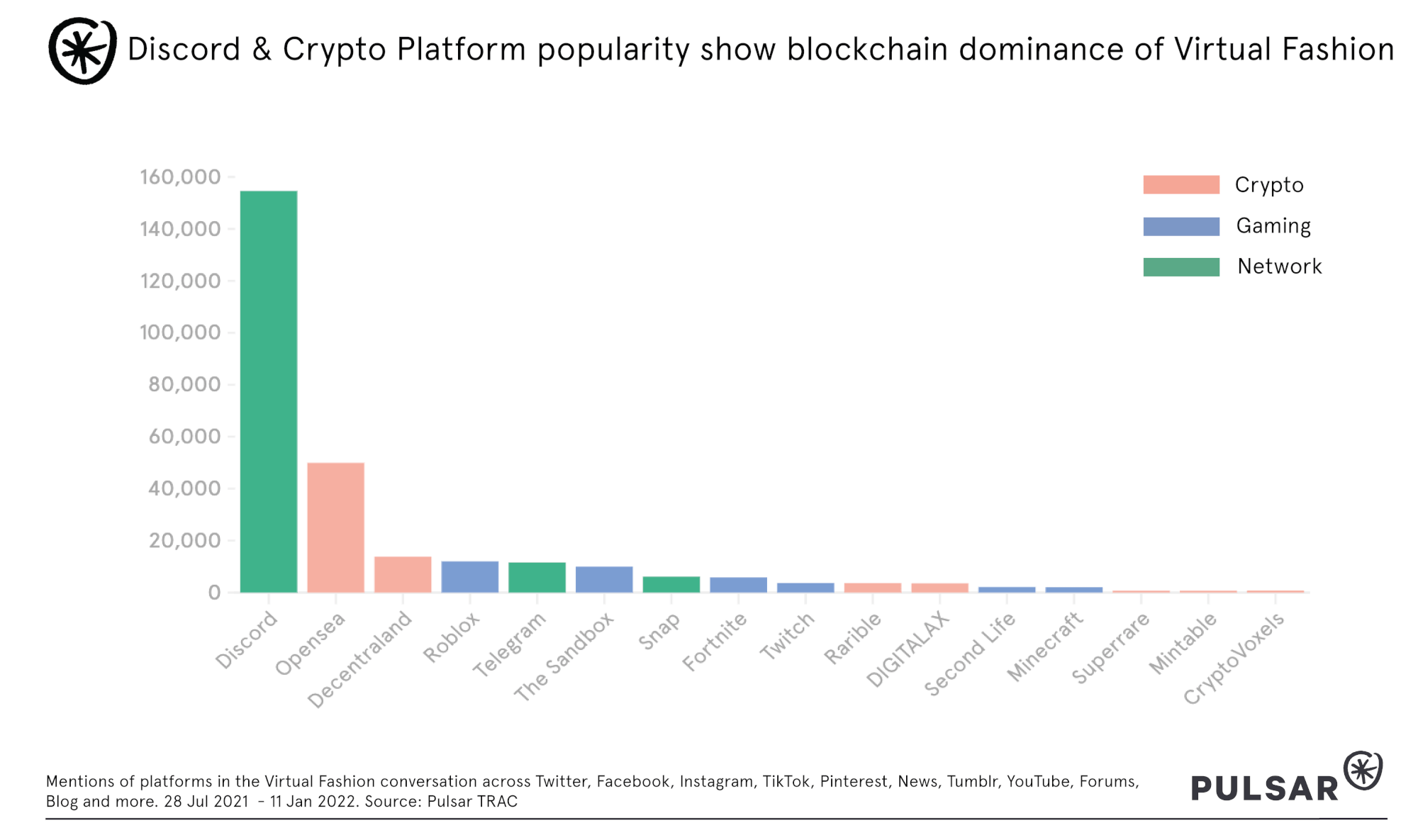 So what role does each platform fulfill with regards to virtual fashion? 
By cross referencing instances in which different clothing items were mentioned in conjunction with Opensea and Twitch, we can discern the difference between how financial speculators and gamers interact with virtual fashion.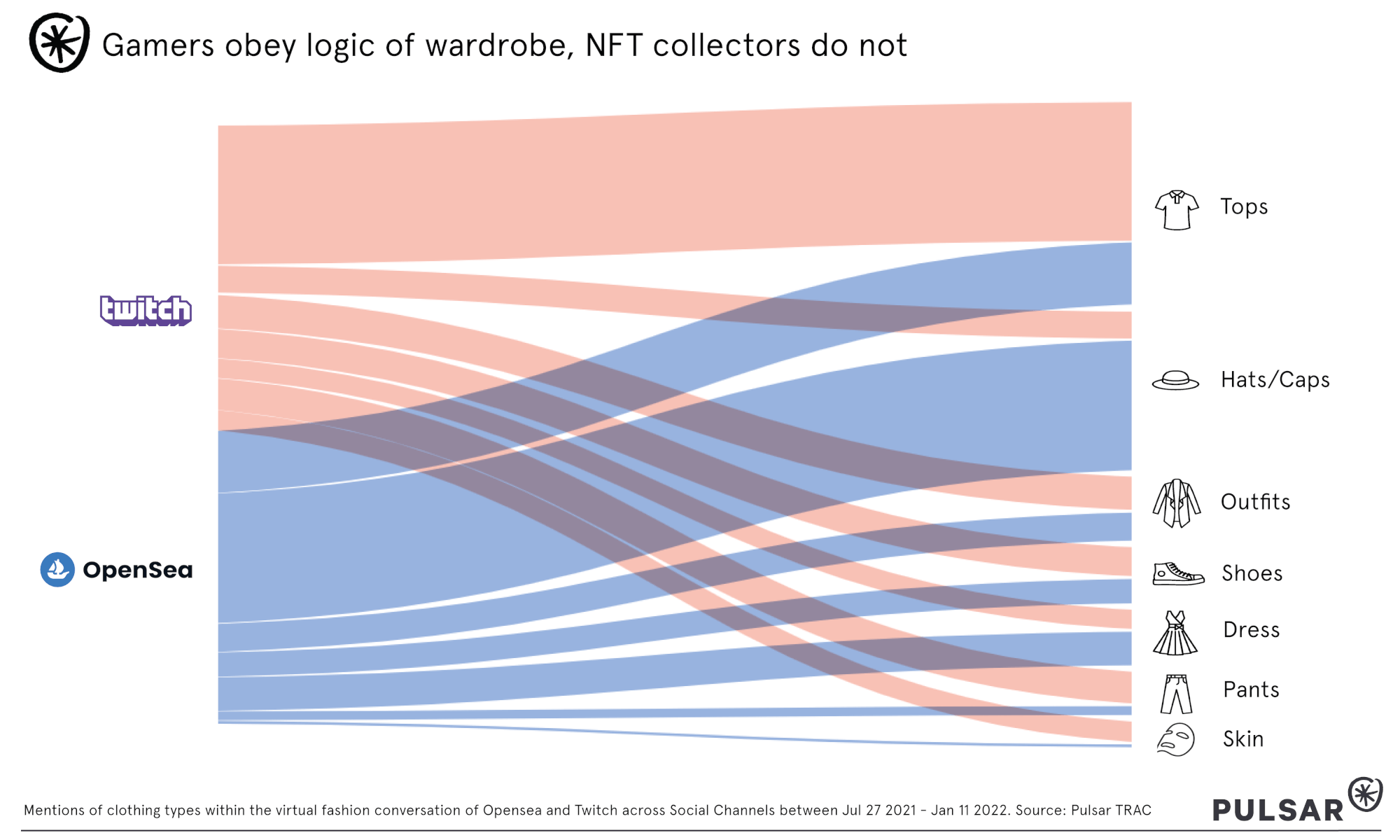 On OpenSea, the conversation coalesces around buzzy, standalone items. Hats and caps emerge as the single largest category, boosted in part by series such as Bored Apes, in which hats are a regular source of differentiation. 
Gamers, meanwhile, approach the topic differently. As they're more likely to be 'dressing' avatars, the split between items better reflects that of an actual wardrobe, with tops the most mentioned item. More prosaic items like trousers get more of a look-in, as too do all-'body' skins. 
This underlines that virtual fashion remains a nebulous topic open to interpretation. To better understand these different outlooks, we've split the conversation between 3 of the main conceptions and behaviors: Metaverse, NFTs and AR/Try-On technology. 
By segmenting the audience for each, it becomes clear where overlaps occur in the audiences engaging with the three ideas: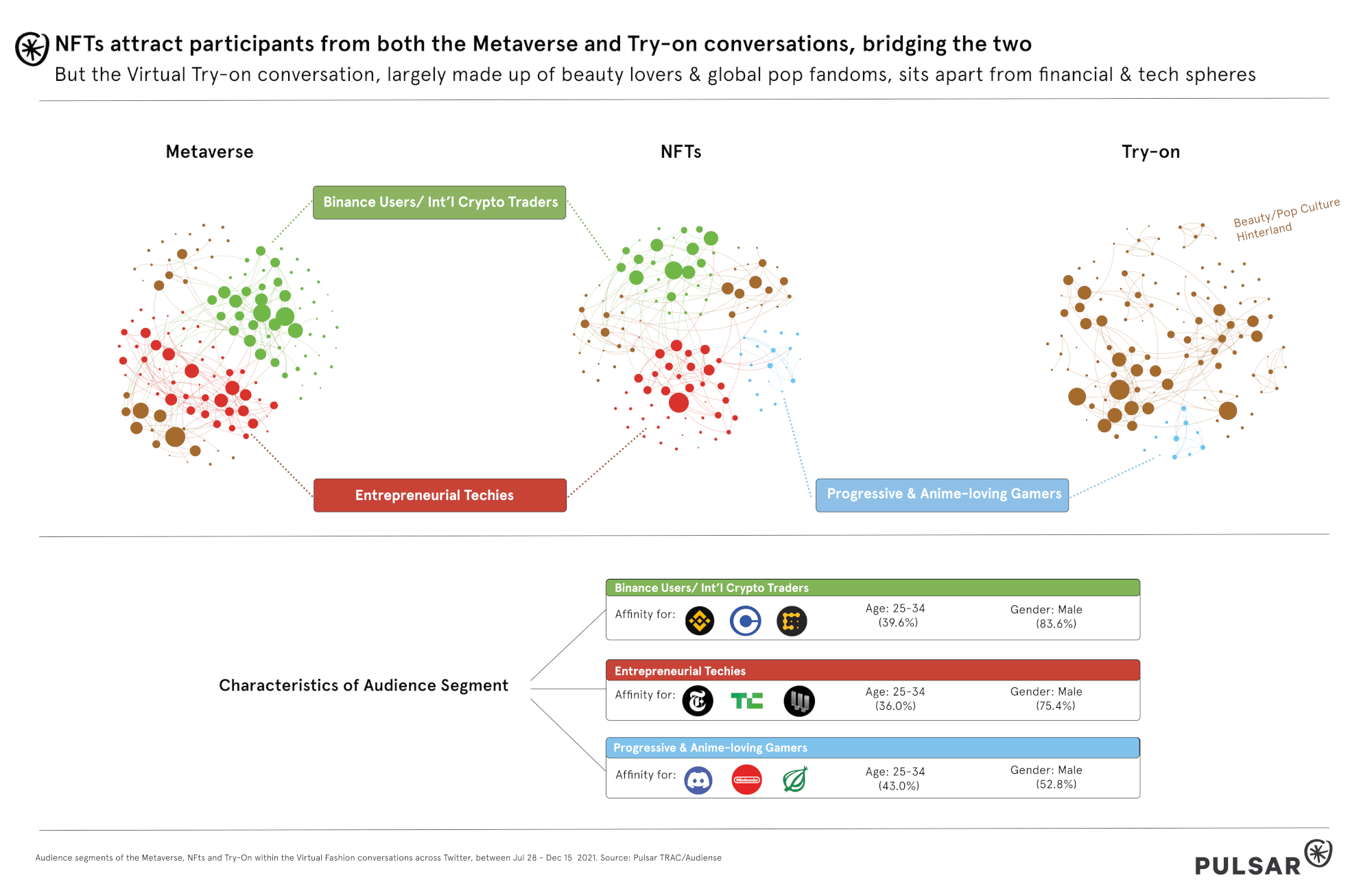 The Metaverse and NFT audiences share the most communities in common, with the near interchangeable Binance Users and Crypto Traders a presence in each. So too are Entrepreneurial Techies, a community united by their interest in start-up and business publications. 
On the other hand, Try-On sits somewhat outside the hype circle, in spite of technological advancements that make it possible to virtually try-on makeup, eyeglasses and more.
Useful VRs are the Warby Parker try-on, Madison Reed hair color, Sephora make-up. Those are things that you want to know – how will this look on me. Pretending to pull things from a virtual shelf (it's not like you can taste the wines) doesn't add anything to the experience

— Lisa Crotty (@HappyFunTime) January 5, 2022
For all that household name have unrolled innovation within the space, only a relatively small Gaming segment links this particular conversation to those surrounding the Metaverse and NFTs.
Why? Well, we can better understand the language, motivation and interests of several audience segments by using Pulsar's Communities feature. 
First, we looked at the two largest segments, and the two with the greatest focus on investment, either longer-term in businesses or else short term in financial assets: Entrepreneurial Techies and Binance Followers. This highlights some unsurprising aspects, such as the financial emphasis on scarcity and the entrepreneur's focus on AR & VR. 
We also see further evidence of how crypto platforms foreground clothes as individual 'pieces' or artworks in the relative smallness of Fashion Shows as a topic, while Entrepreneurial Techies are more alive to investment and opportunities in a new Fashion ecosystem.   
If these users primarily view Virtual Fashion as a vaguely abstract concept and vehicle for their money, then there are also online communities who currently interact with the platforms and technology available, viewing it more as service than investment. These include various Gamer segments and Beauty Lovers.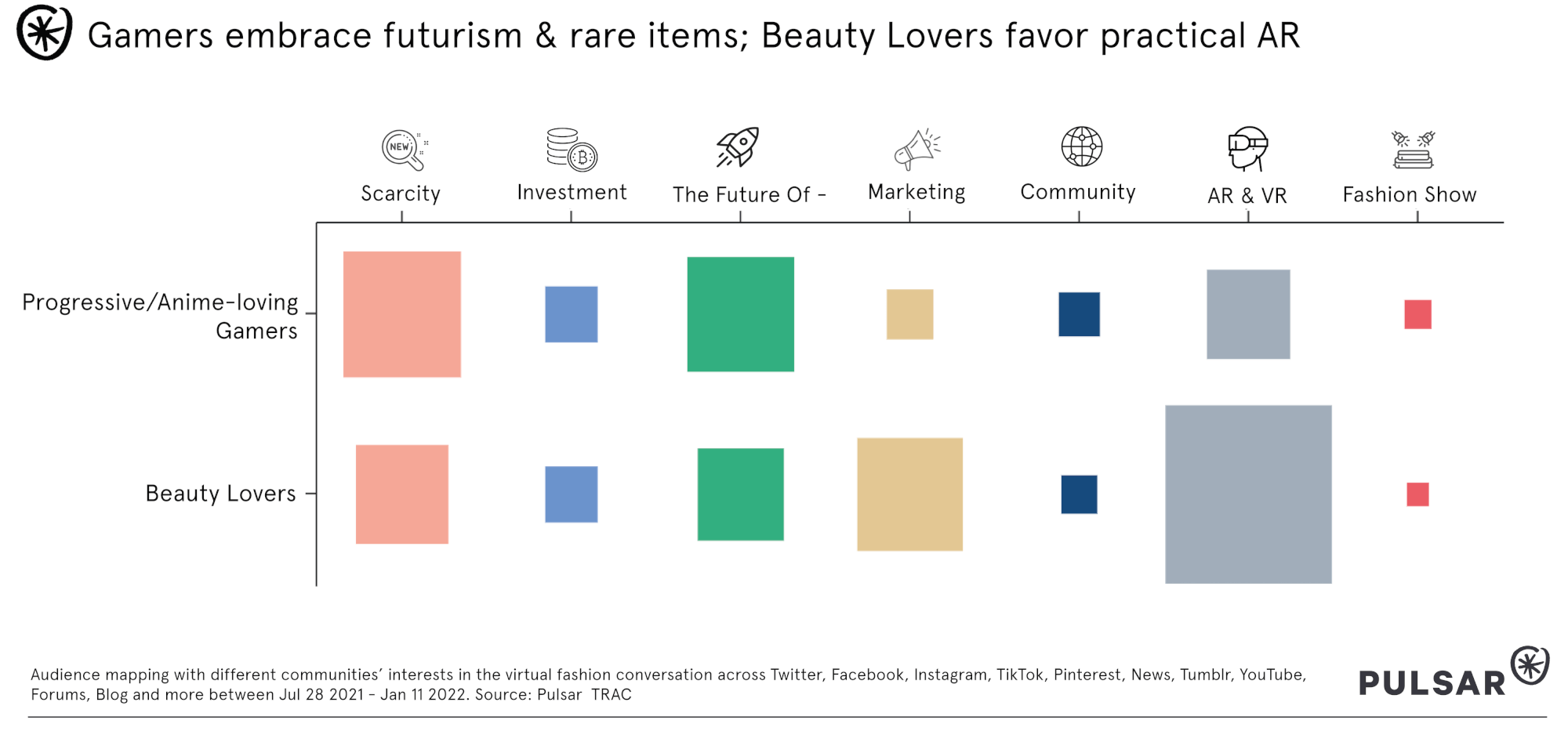 Interestingly, the priorities of these latter segments map broadly onto those of the former. Rare items are an inherent part of many gaming ecosystems, making it unsurprising that Gamers share this focus with Binance users. Similarly Beauty Lovers reflect Entrepreneurs love of AR/VR, the key point of different in being whether it's viewed as service rendered or accessed.
We already own clothes that are less than entirely practical. Communities exchange cult brand pieces for vastly inflated sums online. Many of the common arguments against virtual fashion are also inherent in the world of modern day, corporeal fashion. And so, it becomes increasingly less about whether virtual fashion lasts beyond the trends and fads of the season, and more a matter of understanding which communities will shape the world's understanding of the concept. 
---
If you're interested in diving deeper into this dataset or would like to learn more about how Pulsar can help your brand understand audiences and emerging trends, just fill out the form below.