The audiences bringing NFTs into the Mainstream
NFTs are now a bigger topic than 'crypto': but who's talking about them?
NFT season is in full swing. After attracting a record $2.5B in sales the first half of 2021, NFTs are blowing right past that record and driving enormous amounts of audience attention, hype and investment: they're starting to enter the mainstream. 

But just how big are NFTs right now? Well – they just overtook 'crypto' as a conversation topic in volume.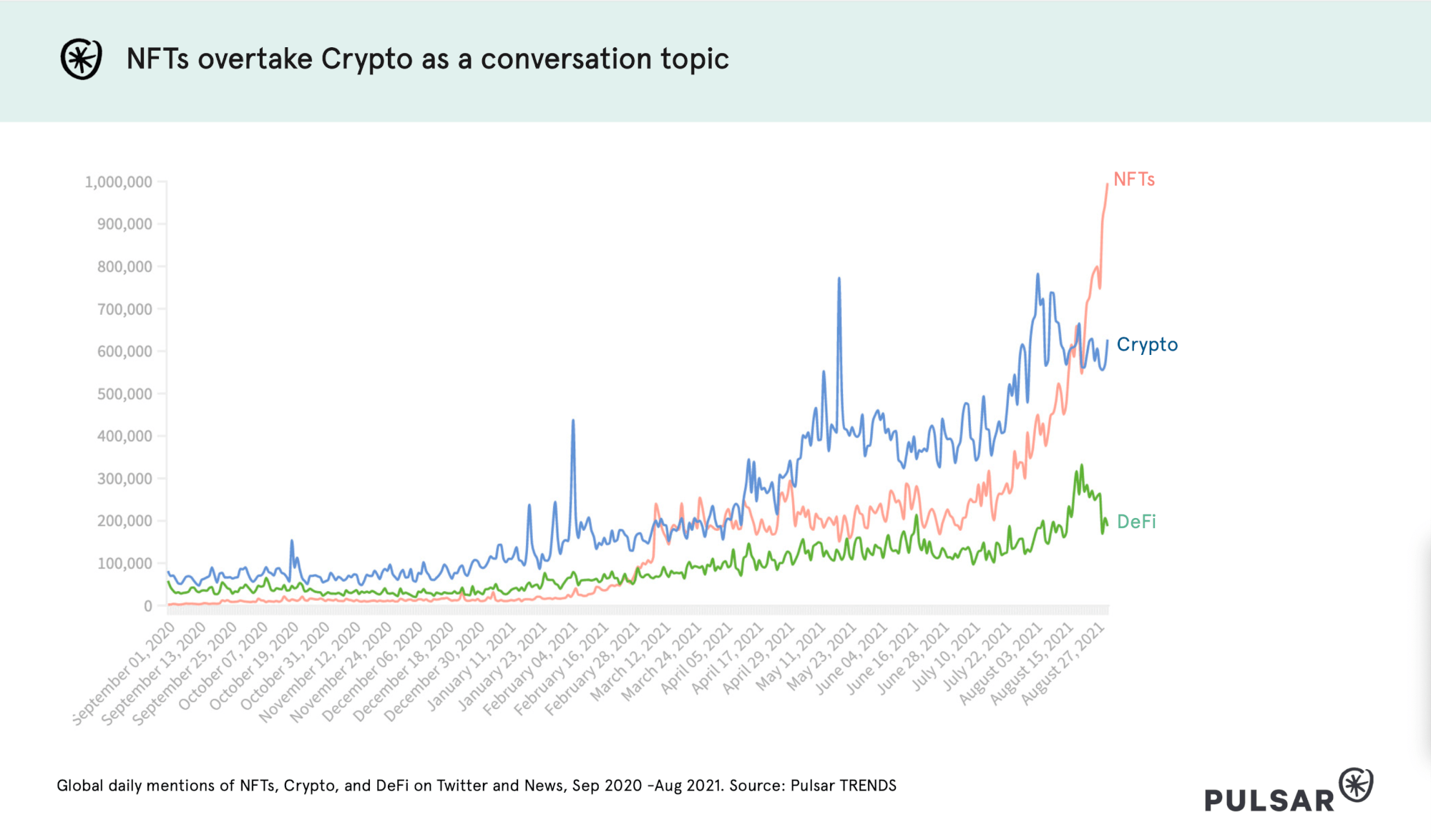 Developed as new way to represent and attribute unique media objects (art, songs, pictures, writing), NFTs have become the second firmly established use case for blockchain technology (the first one being DeFi or decentralized finance, a sector that is now worth around $80B).
Thanks to the plentiful enthusiasm and capital of the crypto community, NFTs have managed to garner widespread attention and crack through public consciousness, easily overtaking DeFi as a topic, and (for now) becoming bigger than the 'crypto' topic as a whole.    
At Pulsar, one way we measure how fast digital platforms are growing is by tracking the daily number of social media shares each different platform gets. Tracking how many links to the top three NFT Marketplaces are being shared on social allows us to gauge the exposure and reach of each NFT, since most of those links are to the page listing the actual NFT (just like the growth of Substack.com links meant articles hosted there were traveling further). 

It's obvious that OpenSea has become the go-to marketplace to list, mint, and sell NFTs, which matches their sales numbers. And while Rarible, which by this measure used to dominate the space in late 2020, has seen more modest growth, Foundation.App has developed a huge reach almost from scratch starting in early 2021. 
But what kind of NFTs are driving this kind of exponential growth? 
One of the main drivers behind this explosion in interest are "play to earn" dynamics in games like Axie Infinity. In this analysis, we will focus on the other driver: the establishment of collectible character series as the main way to organize, brand, and market NFTs.  
After NBA TopShots gained mainstream attention earlier in 2021, NFT creators realized the power of creating and minting serialized, conceptually consistent series of characters, objects or moments and offering them up as collectible series – just like sports or game trading cards decades before.  
In this analysis, we will focus on the Bored Ape Yacht Club (BAYC from now on) and CryptoPunks, two of the "classic" NFT series, and Pudgy Penguins, a relative new entrant to the scene.  
Are Punks, Penguins, & Apes the next blue chip asset class?

An investment thesis for NFTs as a social network.

1 part serious, 1 part humor, and 0 parts investment advice … It's time for a thread👇 pic.twitter.com/3EtLylYkNA

— Coinscribe (@coinscribe_io) August 24, 2021
There's many more collectible NFT series out there of course – from Ether rocks, to generative art, the in-game creatures of Axie Infinity, as well as Van Gogh variations on the Punks. 
Series work because they incentivize owners of an NFT to become active ambassadors of the entire series. Because series allow many different owners to own a Punk, or a BAYC, they benefit from a growing and distributed fanbase direct stake in the asset's appreciation. For a BAYC collector, it makes sense to support and spread the word about the series, as it will most likely lead to their asset appreciating. 
Each series is run like a proper brand that is extendable with the drop of new character. And as with other IP franchises (e.g. Pokemon, Marvel), the opportunities to extend the business are innumerable: Larva Labs, the creators of CryptoPunks, have just signed with a traditional talent agency based in Beverly Hills to spin off the Punks brand into all sorts of entertainment: 
Larva Labs (the makers of Cryptopunks & Meebits) have signed with UTA, who will represent their art project as it expands into games, series, publishing projects & more.

NFTs will birthplace so much new IP that will spin out into broader entertainment.https://t.co/mAFzNOZLIH

— Zoe Scaman (@zoescaman) August 31, 2021
And while interest in the whole NFT market is growing, certain series are doing better than others.
Here's how much social chatter is happening around BAYC, Penguins, and Punks.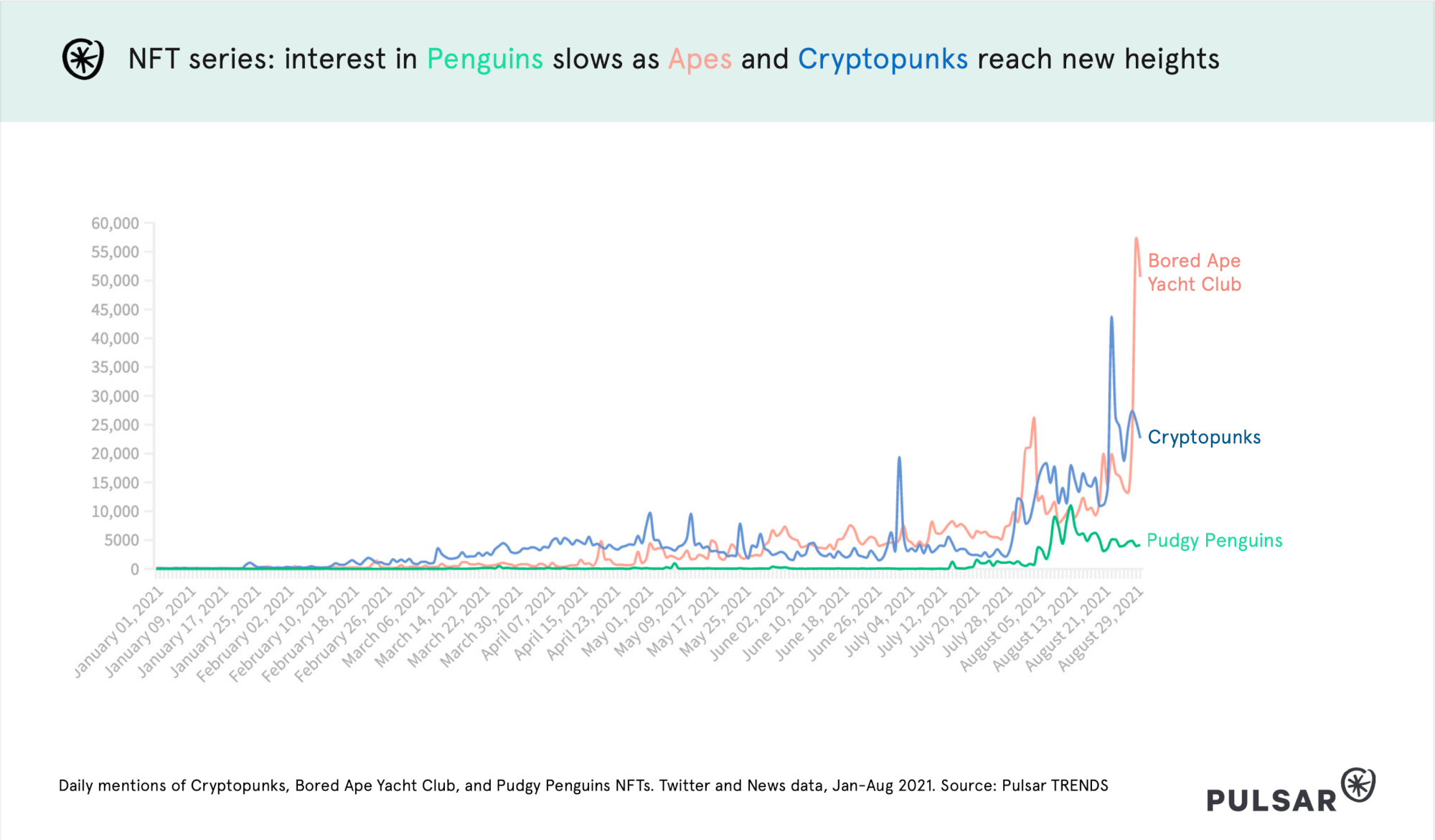 All three are growing at a very fast clip, but Apes and Punks seem to have more wind in their sails, while Penguins are currently looking like they might not have the staying power of the other two brands.  
Many of these spikes in social interest are fueled by news stories – as NFT auctions reach new highs, or new non-crypto actors enter the space with investments or partnerships. When Visa entered the space, they purchased a CryptoPunk for $150k, while Stephen Curry bought one of the Bored Apes for around $180k. 
And here's Sotheby's announcing a BAYC sale:
It's official. For the first time in our 277-year history, apes and kennels are storming Sotheby's. The @BoredApeYC sale starts September 2. Ape In. pic.twitter.com/oMJUKT4xoC

— Sotheby's (@Sothebys) August 28, 2021
These investments are as much about audiences and influence as they are about money and art. The corporates are coming for NFTs, and right now, they're mostly using it for marketing. For brands (whether they are organizations or wealthy individuals' personal brands), the purchase of an NFT is an excellent way to gain mainstream media attention, and earn the respect of the growing crypto community. 

In turn, these purchases and partnerships are also very beneficial to the ecosystem and the NFT brands getting that exposure: each brand or personality purchasing an NFT introduces a whole new audience to the ecosystem.
So which communities are talking about these NFT brands? Here's the audience breakdown of people talking about all 3 series (General), BAYC, and Pudgy Penguins over the course of a short period in August (19-25th).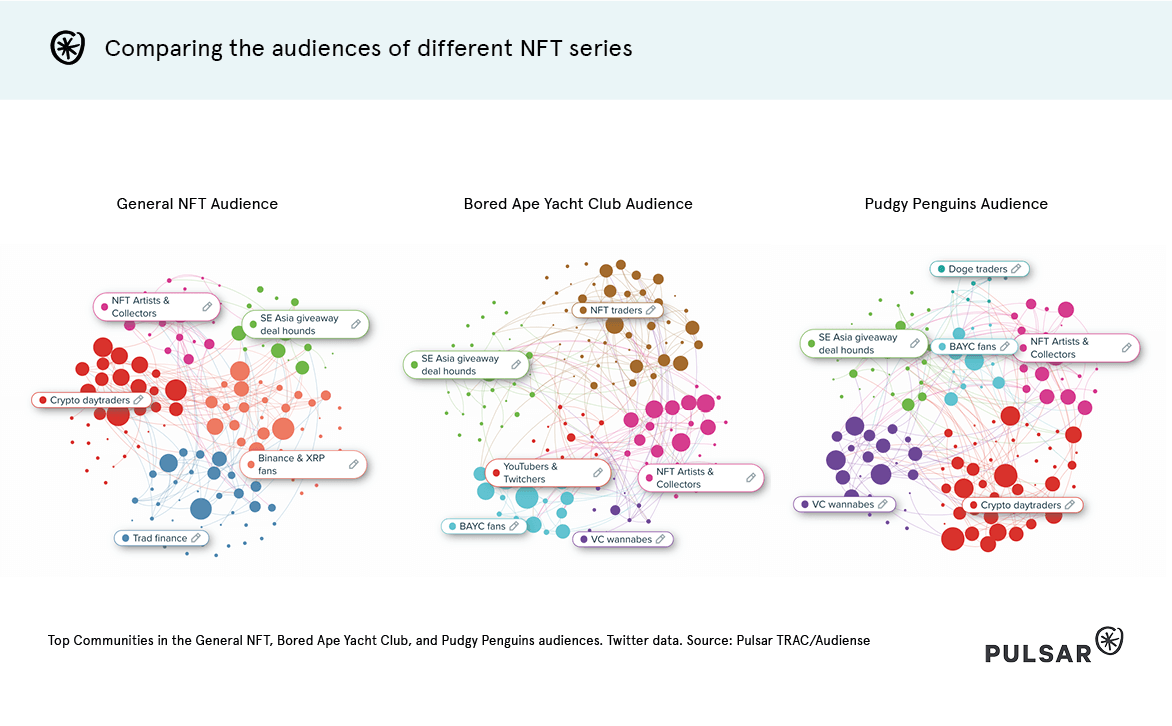 While some of the core groups see consistency throughout the three (with NFT Artists & Collectors, SE Asia Giveaway Deal Hounds and Traders present in each audience), the General NFT Audience sees larger, more generic groups like Trad Finance (accounts following traditional financial news sources like Bloomberg and WSJ), and Binance & XRP fans (Binance is the largest crypto exchange, and XRP is one of the most widely held cryptocurrencies). 
These disappear when zooming into the brand audiences for BAYC and Penguins, making room for a core group of core BAYC fans and Wannabe VCs. The BAYC audience also sees a group of Youtubers & Twitchers emerge, while the Penguins audience contains a small presence of Traders with high interest in Dogecoin. 
Below is a deeper breakdown in Pulsar of the BAYC audience (central one in the graph above). At a glance, you can see how the conversation it's largely male and US-focused. While NFT traders and Artists & Collectors skew younger, VC Wannabes –who have a high affinity with some of the top VCs in Silicon Valley– are a bit older than other segments, in the 25-34 age range.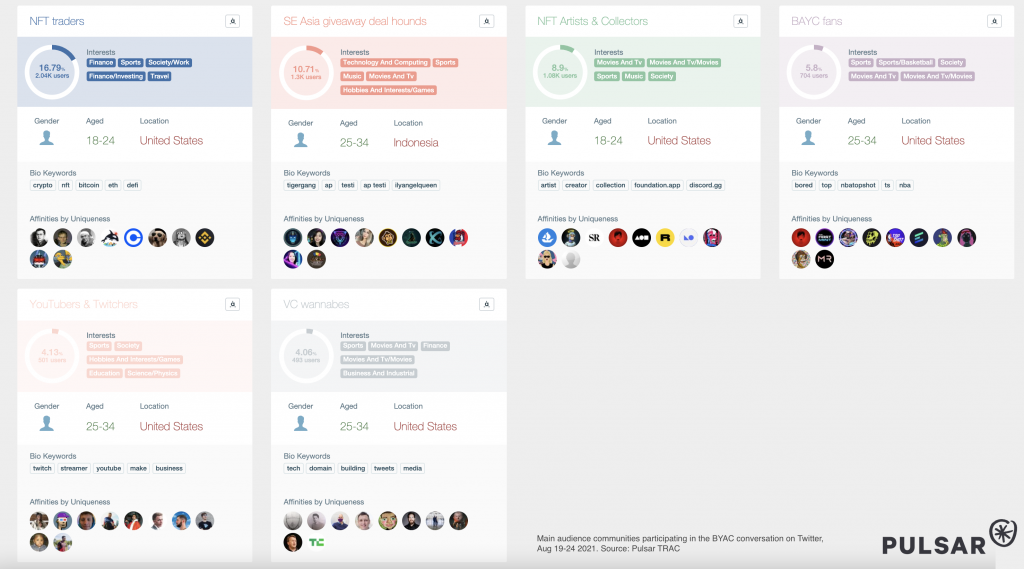 These different communities are talking about NFTs differently. Pulsar's Communities feature allows you to not only segment with one click the audience behind any topic, but also to zoom in on the conversation each of these communities is having about NFTs.  
Simply looking at the most engaged-with posts in each community can begin to illustrate the different priorities, approaches, and tone different groups are displaying.  
For instance – the most engaged-with post in the overall NFT audience was Visa's official  announcing its purchase of an NFT. 
Over the last 60 years, Visa has built a collection of historic commerce artifacts – from early paper credit cards to the zip-zap machine. Today, as we enter a new era of NFT-commerce, Visa welcomes CryptoPunk #7610 to our collection. https://t.co/XoPFfwxUiu

— VisaNews (@VisaNews) August 23, 2021
On the other hand, if we zoom in on how the small group of Twitch & Youtube streamers in the BAYC audience (center) has been talking about NFTs over the period analyzed, we can see that the Visa news did not resonate as much as other news: the most popular post there was by hip-hop artist and YouTuber KSI announcing he bought an Ape (KSI has historically catered to streamers).
I've given in and bought an NFT. A Bored Ape Yacht Club pic.twitter.com/GbeDW1ypnQ

— LORD KSI (@KSI) August 23, 2021
Yet another post –a sarcastic take on Visa skipping years of involvement in Crypto and jumping straight into Cryptopunks– was the most engaged-with post amongst the Wannabe VC community present in both the BAYC and the Pudgy Penguins audience. 
Visa bought a CryptoPunk before a Bitcoin.

😂😂😂

— eric.eth (@econoar) August 23, 2021
---
If you're interested in diving deeper into this dataset or would like to learn more about how Pulsar can help your brand understand audiences and emerging trends, just fill out the form below.