Introducing the Pulsar / 89up Social Election Tracker
How the public is engaging with issues & candidates in the UK general election
Updated on Wed, December 11th
Featured on the Guardian, Euronews, Business Insider, The Independent
Over the month leading up to the UK General Election, we created a social media tracker to assess the public's interest in the parties, issues and candidates – in partnership with impact campaign agency 89up and our sister company Vuelio.
Here's a few things that stood out to us in the lead-up: 
Jeremy Corbyn continued to outperform Boris Johnson on social media
Mentions of 'tactical voting' grew sharply ahead of Election day
Racism was the 4th most discussed topic on social media 
After seeing a spike in week -2, leaders' post engagement has fallen
Here's what we're tracking on social networks, blogs and online news sources: 
the candidate/party picking up the most followers on social media

which candidate/party's content is being engaged with the most 

which issues are most talked about amongst the public 

how the public associates issues with each party 
Let's dive into some of our findings.
Jeremy Corbyn kept way ahead on social 
If not in votes, Labour leader Jeremy Corbyn had pulled firmly ahead of his main rival Boris Johnson on social media, in terms of both engagement with his posts and number of new followers.
Here's a chart from our social media monitoring tool Pulsar CORE, showing Corbyn adding several thousands followers more than Johnson each day over the past month.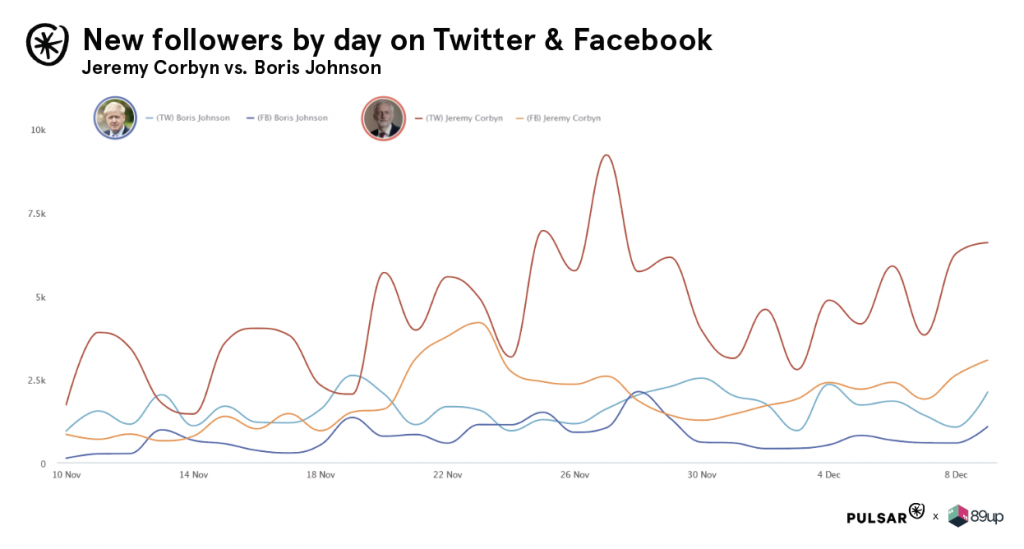 That largest new follower spike (+6k new followers on Twitter for Corbyn, in Magenta) towards the end of November was tied to Corbyn's tweet about taxation and philanthropy, which was by far the most engaged-with piece of content by a leader from the election in the period we tracked.
That's 0.09% of your net worth.

Just pay your taxes. https://t.co/KEke1NUE8E

— Jeremy Corbyn (@jeremycorbyn) November 24, 2019
Total engagements with Corbyn's posts on Twitter were almost four times those racked up by Johnson, while on Facebook, the gap between the two is narrower. However on both platforms and for both leaders, we've seen a sharp drop in engagement over the past 2 weeks leading up to the election.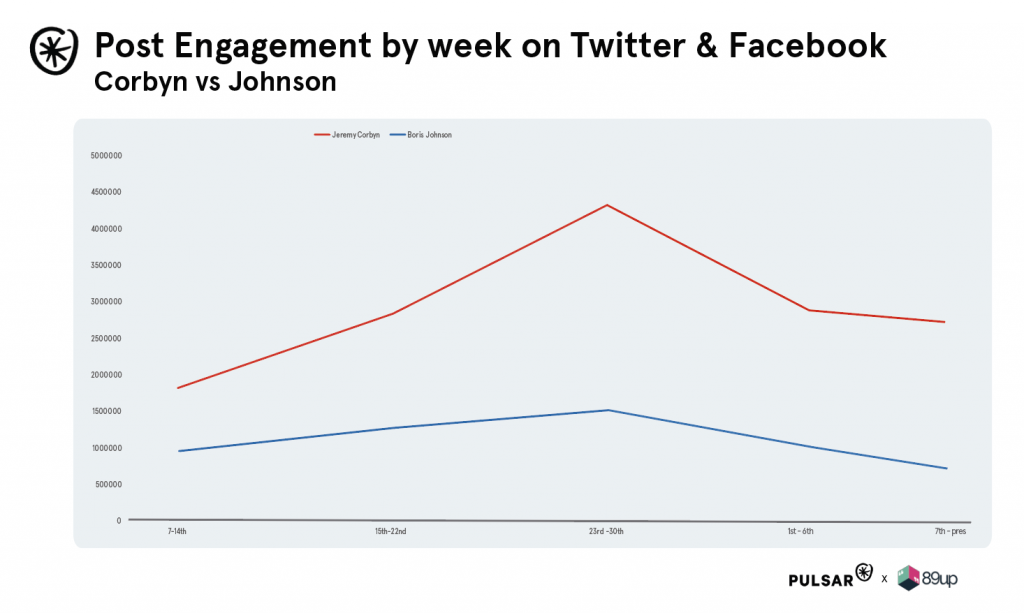 That engagement has seen an ever sharper drop for parties' accounts, with very sharp drops for both Labour and Conservatives over the past week.
The Issues
We also tracked 14 issues, to see which ones were most mentioned, and how each issue was being associated with each political party and leader. 
Overall, the top issues by volume of conversation in this election are Brexit and the NHS, followed by the Economy and Racism (which includes both anti-Semitism and Islamophobia).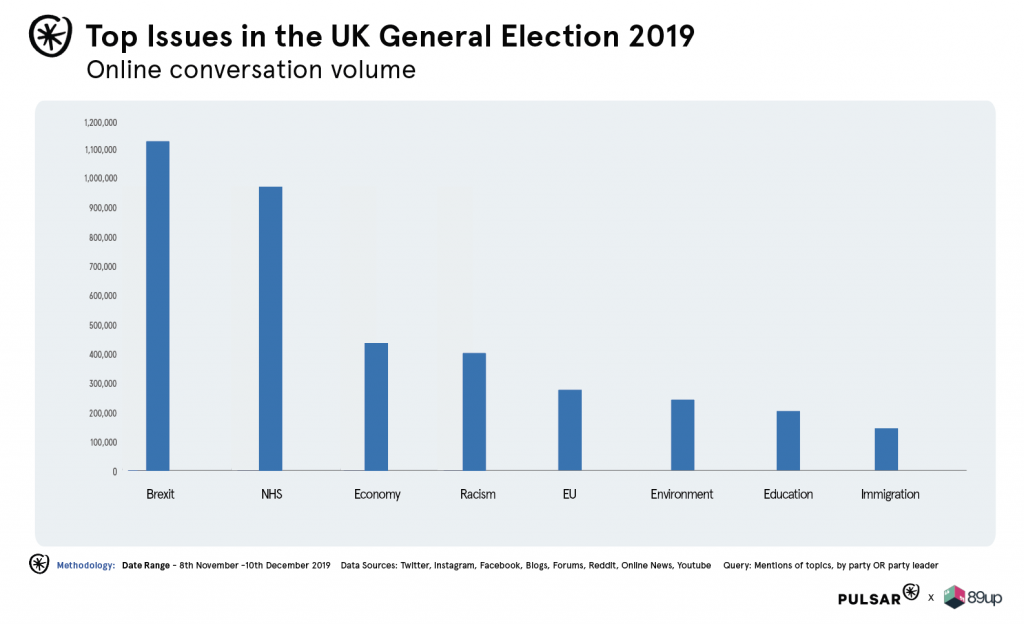 Further down are the EU, the Environment (which includes Climate Change), Education, and Immigration. 
Among the public, these issues are associated differently with different parties. Here's our breakdown of which issues are mentioned more alongside Conservatives and their candidate (Racism, EU, Privatisation, Crime, NHS), and those with Labour (Housing, Nationalisation, Pensions).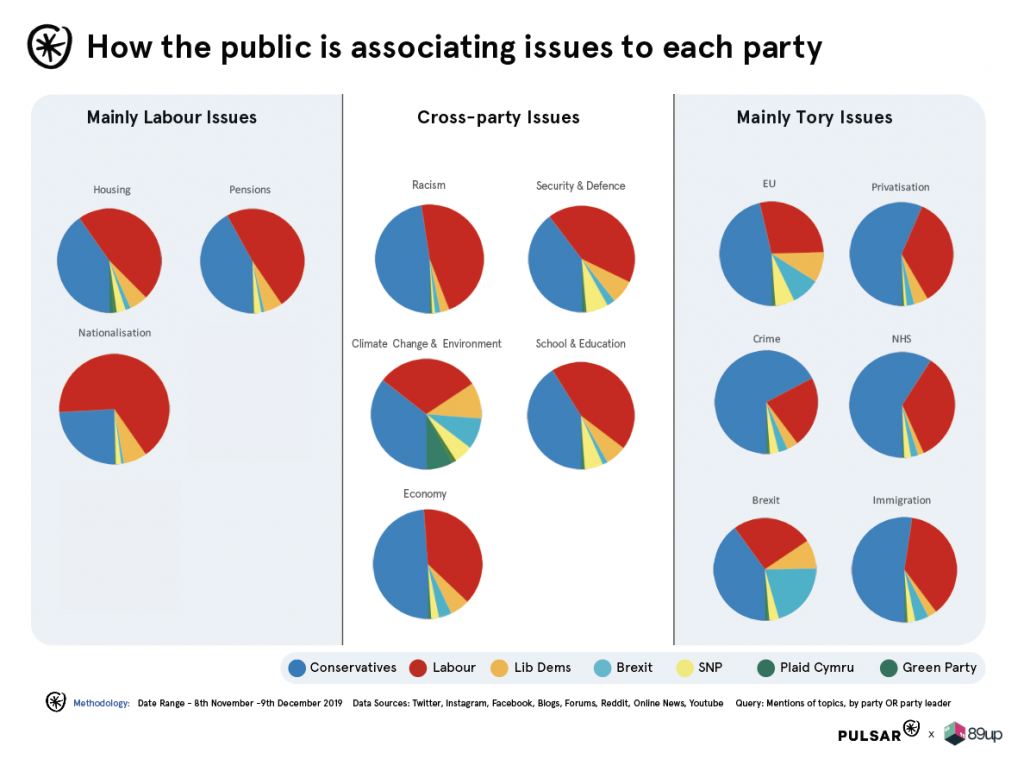 Over the past few days, several of these have swung from being cross-party issues to being primarily Tory issues. 
As election day nears, tactical voting is seeing a surge in mentions.

We will be updating this page with new data in the coming days: please sign up below with your email to be kept in the loop.
If you are an editor or reporter interested in this data or in the methodology behind it, please reach out to us at [email protected]