How Skindie Brands came to define 2021's brow makeup trends
Self-expression and distinctive styles the key priorities for consumers
Brows are back. 
Not that they ever really left, in fact, many of us emerged from lockdowns with bushier, more prominent brows than ever, but throughout long periods of self-isolation, interest in brow styling and make-up seemed to have slowed down.
But over the past 12 months search and social data tell the same story, and it's one of hitherto unprecedented interest levels.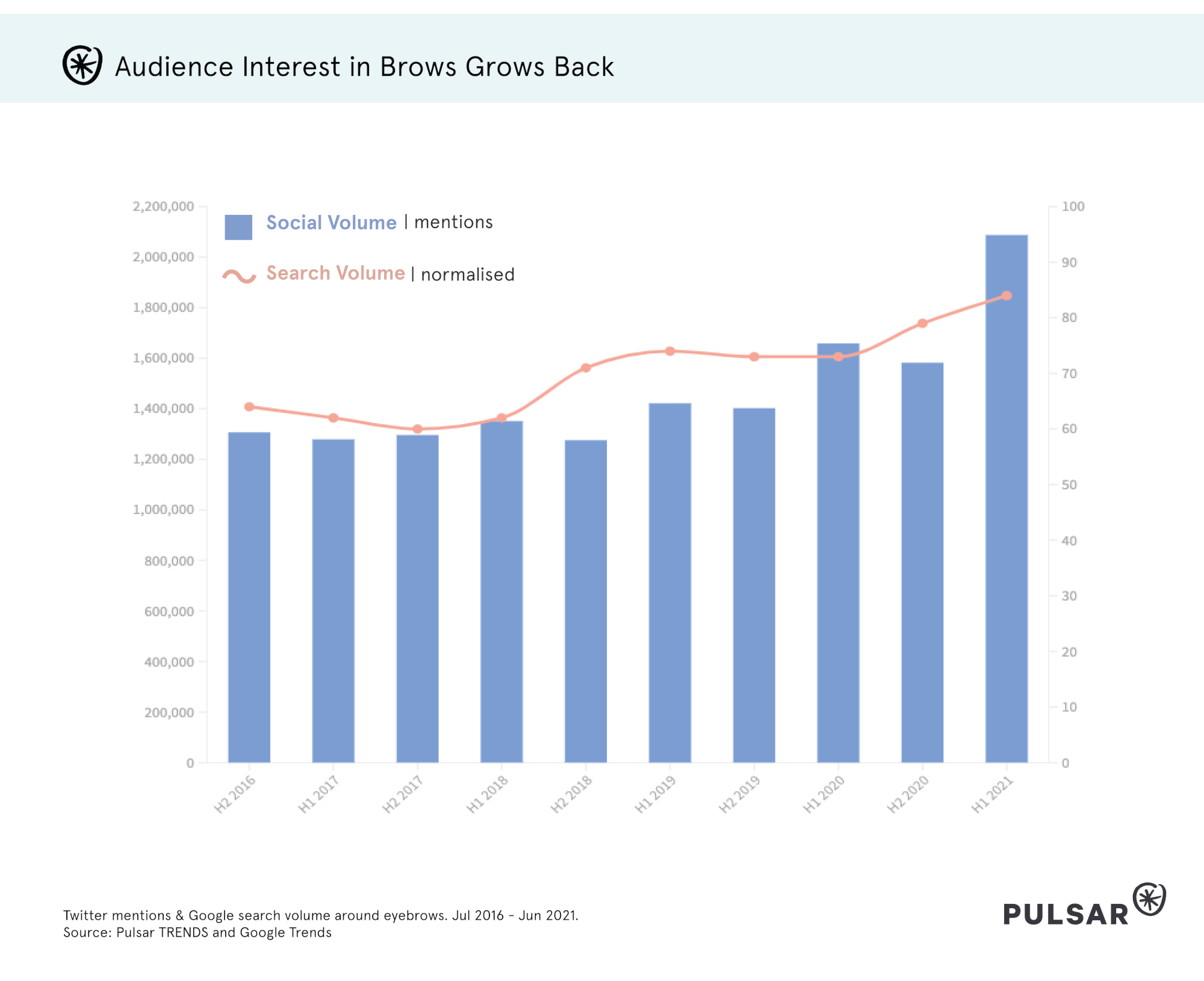 That's matched by what we're seeing on the red carpets – where bold brow looks like those of GoT star Maise Williams at the Met Gala are making headlines. 
Alongside social strategist Kim Townend, we used Pulsar TRAC to take a closer look at mentions of brows across a host of different platforms between July and September 2021, including Instagram, Pinterest, TikTok, Twitter and review sites.
What emerged is a buoyant, expert conversation, that on the brand side is led by the 'Skindies'. These independent beauty brands like Anastasia Beverly Hills (ABH), Lime Crime and Urban Decay are not necessarily household names compared to some of their most-established rivals, but they make up about half of the brand conversation over the period we studied, with ABH squarely in pole position. These brands project a coolness and, in many cases, a specificity that makes them highly appealing to consumers.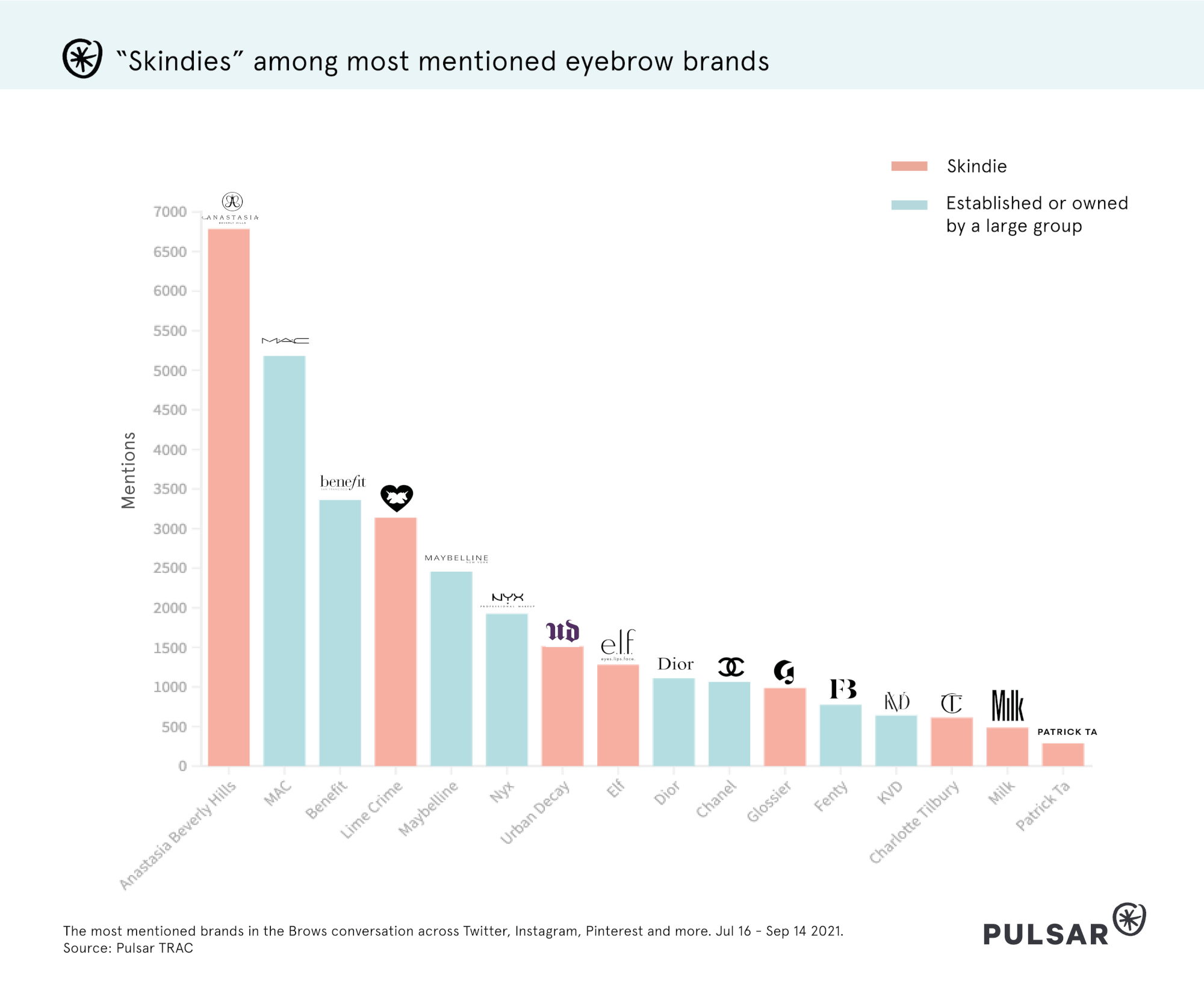 For all the marketing and industry power displayed by more established brands, then, Skindies more than hold their own.
This move away from traditional brand names is further reflected in the most spoken-about styles where self-expression trumps the more established and conservative looks.
Bleached is by some distance the trend of the moment. 
Bleached my eyebrows to match my dog (who has bleached eyebrows) pic.twitter.com/AeSWmnzAL8

— Cait Raft⚠️(they/them)⚠️ (@caitraft) August 15, 2021
Labelled the first post-mask trend, it's about emphasizing the entirety of the face and removing attention from the eyes alone.
Having initially been an 'editorial' trend (referring to high-fashion looks more commonly seen within the pages of the glossies than on everyday faces), it has since exploded in popularity. 
It sits in opposition to fluffy brows, the dominant trend of the past decade – which seems to be showing some staying power. Even when looking at brow shape rather than style, the thicker look is by some distance the most popular.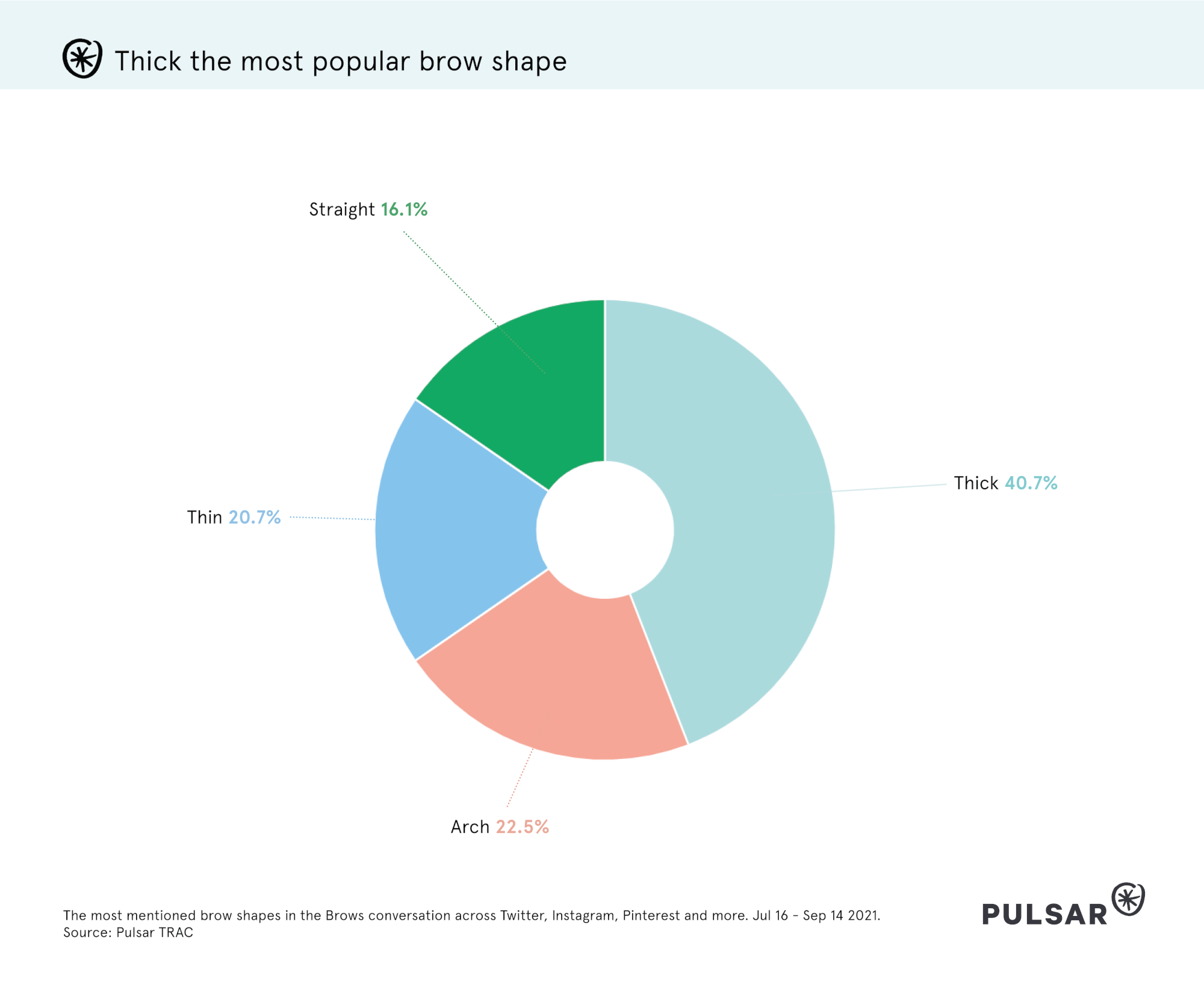 Of course, none of these transformations come about by themselves. And so much of the conversation revolves around various eyebrow tools and processes. 
As was the case when looking at individual styles, and even at the most-discussed brands, this is not a conversation that revolves around quiet conformity but rather it's a vibrant example of self-expression and personalization.
Microblading and waxing, two of the processes with the most significant impact on an eyebrow's composition and look, emerge as the most popular, leaving pens, combs and other tools in the (magic) dust.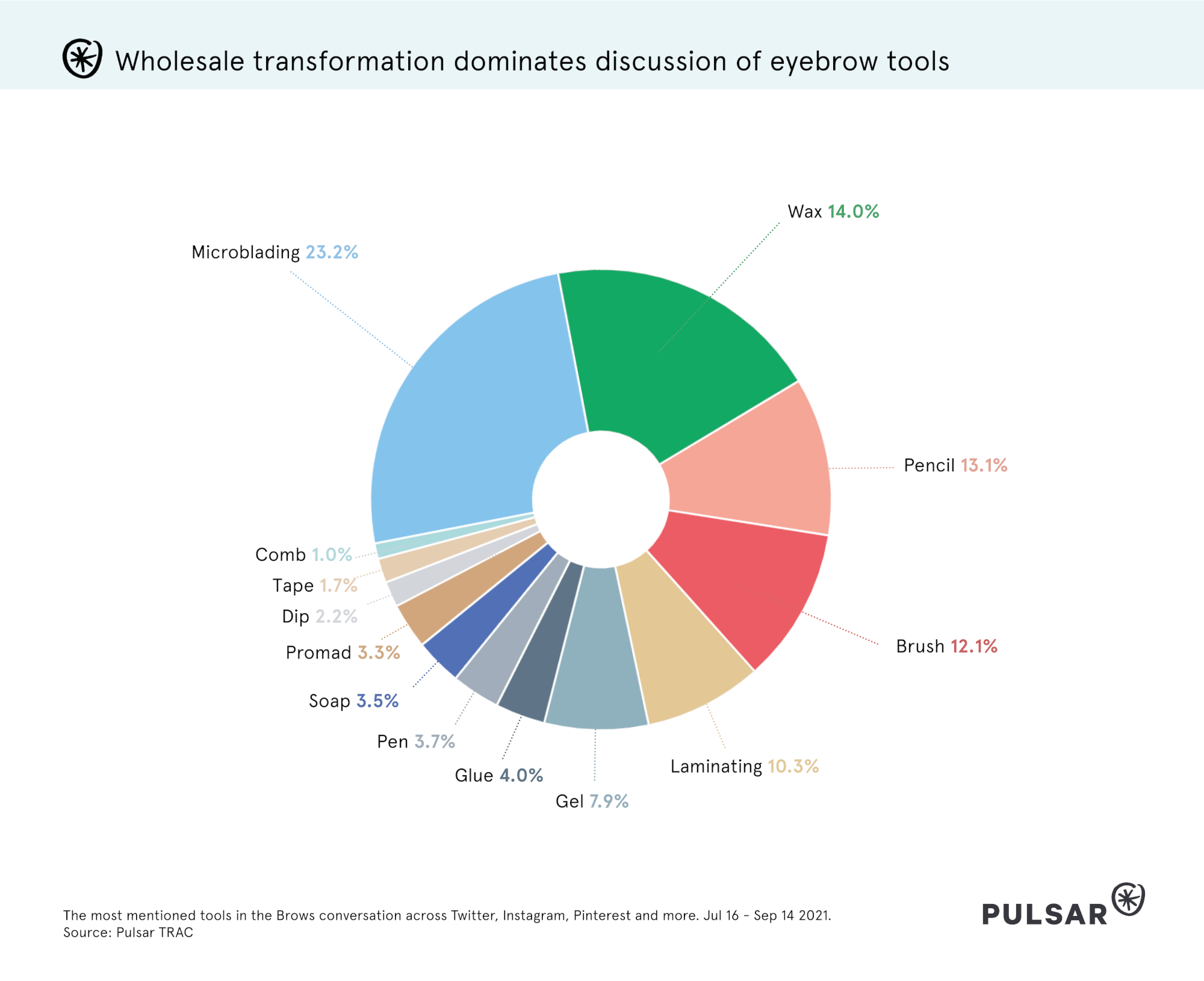 Taking a closer look at these tools suggests that conversation is focused less on tweaks here and there, but rather the kind of transformative treatments offered primarily by salons.
Microblading and Waxing emerge as the two largest.
And, following the same logic, the conversation around hair removal is stacked in favor of more significant transformation, with waxing spoken about far more than both threading and the least intrusive – plucking.
If these are trends, then where are people going for information and materials alike? 
We can get a sense by looking at the most-shared website URLs across the conversation, where Lime Crime and Anastasia Beverly Hills again show up as two of the most linked to websites in this conversation.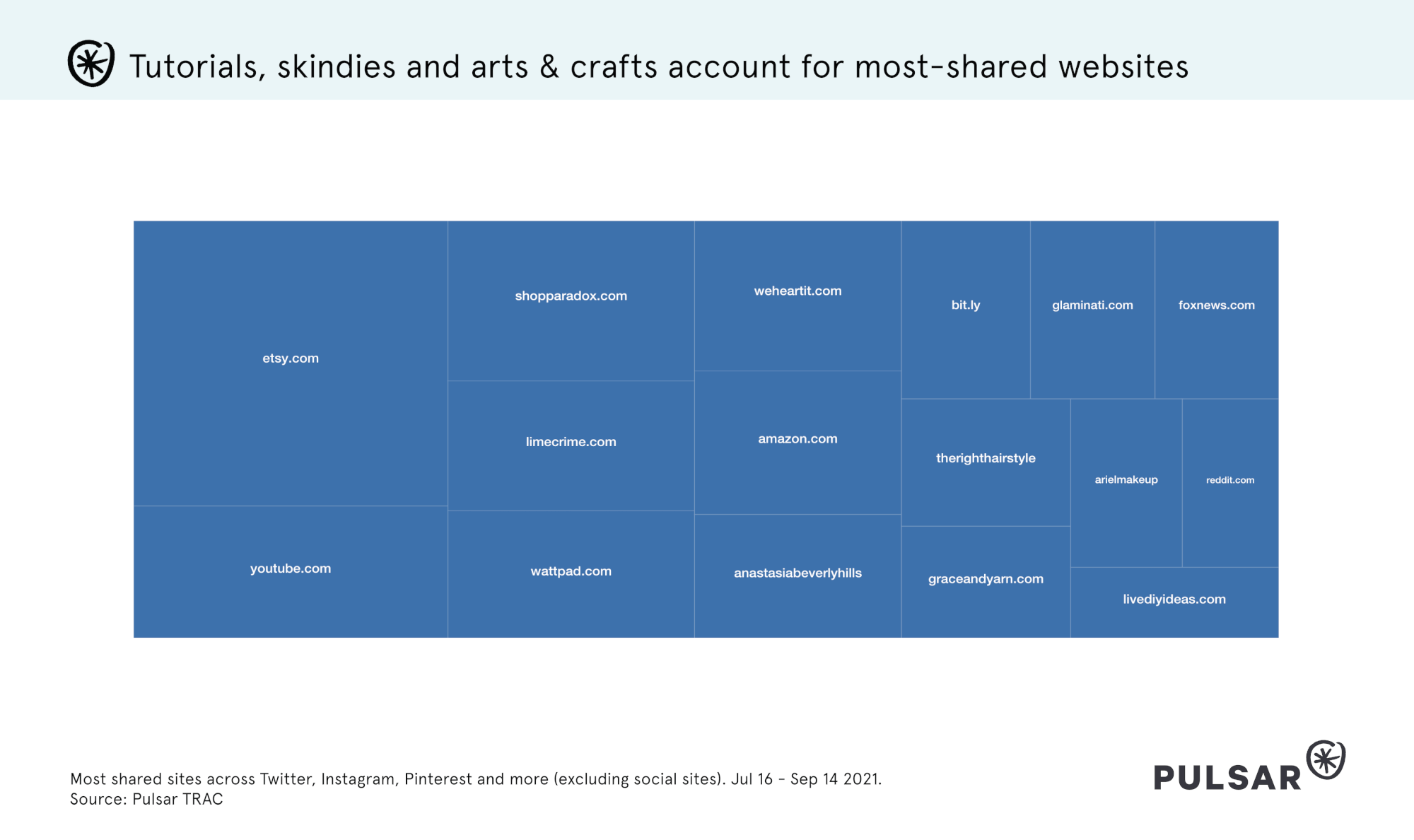 And if there's one that sets the tone of the eyebrow conversation, it's the proliferation of tutorial videos. These aren't 'hacks' either – these are massively outnumbered, with users likely suspicious of cutting too many corners on their own face.
Brow tutorial videos play a big part in popularizing both ambitious styles and the Skindie brands themselves. Beyond driving awareness for both styles and brands, they also make new styles appear attainable to anyone who doesn't have a professional makeup team in tow. We're all familiar with YouTube beauty influencers, and there's a burgeoning scene on TikTok, but social data suggests Pinterest is playing a central role here too.
The fact that so much of this conversation is native to Pinterest has prompted brands to concentrate efforts on the platform. L'Oreal, for instance, produce their own series of tutorials. It's also interesting to see how different brands over-index on certain platforms, and the opportunities this provides to brands lagging behind their Skindie colleagues. Maybelline and Fenty, for instance, are both overrepresented on Reddit. Does this present a possibility for both to increase online engagement?
Pinterest also plays host to TikTok embeds, videos that have been screen recorded on TikTok and posted elsewhere. It's an indicator to social teams and brands that the content you post on one account will end up on different platforms, particularly those organized by interest such as Pinterest and Reddit. It's likely that TikTok content, both elsewhere and on TikTok itself, to play an increasingly important role within this conversation.
---
If you're interested in learning about the insights Pulsar can reveal around nascent trends, or want to learn more about our extensive data sources and analysis, simply fill in the form below.