How the top concerns of CIOs shifted during Covid
Less blockchain and machine learning, more of the 'human side' of tech
The Chief Information Officer — sitting at the intersection of data security, information management, business intelligence, marketing and sales — has become a lynchpin of the modern enterprise company. CIOs combine tech and data strategy with leadership and oversight of day-to-day operations, leading transformation within their companies. 
In September 2019, we analyzed a month's worth of conversations amongst 2,000 Global CIOs to understand what they cared about. We found a community whose top priorities were the technologies driving our current digital revolutions: blockchain, data, machine learning, IOT and digital transformation. 
One year later, and six months into a global pandemic that has upended business and daily life, we're seeing a marked shift in what CIOs talk and care about, from trendy, future-focused topics like blockchain and machine learning to the many ways in which humans in their organizations make decisions — company culture.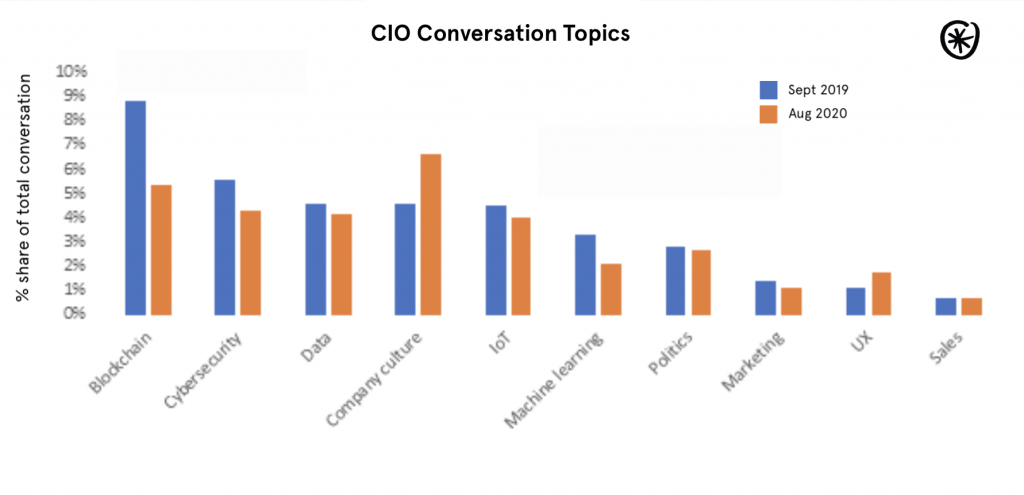 During a crisis that affected every single employee and business process, CIO interest in long-term data, technology and strategy bets faded out in favor of the more human aspects of tech delivery: managing working from home, preparing for its continuation, maintaining morale and productivity, as well as of course the layoffs and management decisions that affect whole companies.  
If you are a software company that emails me "We will make it through this pandemic together" you had better have a better plan for "together" with your employees and community than layoffs.

— Andrew Nebus (@AndrewNebus) March 20, 2020
A common topic amongst CIOs was the observation that COVID has sped up digital transformation — the process they are responsible for driving — by years, if not decades. Here is one of the most engaged tweets in the conversation we analyzed.  
I had a roundtable with 6 other CIOs in various industries. Here are the common COVID-era themes:
1. no loss in productivity as workforce went remote
2. Employees are more adaptive than we realize
3. Work from home seen in more positive light
4. IT department reputation enhanced

— Will Weider (@CandidCIO) May 13, 2020
Others remarked on how beneficial the move to the cloud over the past decade has been. 
Precisely. Those with legacy #datacenters had a lot of work to do as well as continued #ops and issues with #VPNs (keeping them working and secure), while those that have shifted to #cloud/#SaaS moved more quickly and seamlessly. And haven't looked back.#CIOChat #remotework #WFH

— Dion Hinchcliffe (@dhinchcliffe) May 7, 2020
The other topic that saw a significant increase in 2020 was UX – user experience. In a suddenly remote-first environment where all business happens in front of a screen, employees' ability to easily navigate the various software and information systems becomes crucial for the functioning of the company.
CIOs discussed Microsoft Teams and other 'meeting tools' being more or less user-friendly, a shift to wanting to better understand how to work with people away from the office, as well as advocating in general for the importance of UX.  
#UI and #UX are not #interchangeable It's just the most embarrassing thing to hear intelligent people say UI/UX. It makes #BusinessTransformation #BusinessAgility #CX #UX #IoT #AI #Futurist #futureofwork @ubinetus @InteractionsInc #ThingCoin #Blockchain https://t.co/90ekvELmce pic.twitter.com/lGDO7uVLPS

— Karl A Smith (@UserExperienceU) August 23, 2020
COVID-19 conversations  
CIOs globally began to discuss Coronavirus in the beginning of January 2020, but these conversations really began to gather momentum in February, reaching a peak in mid-March as lockdown measures were announced across multiple countries.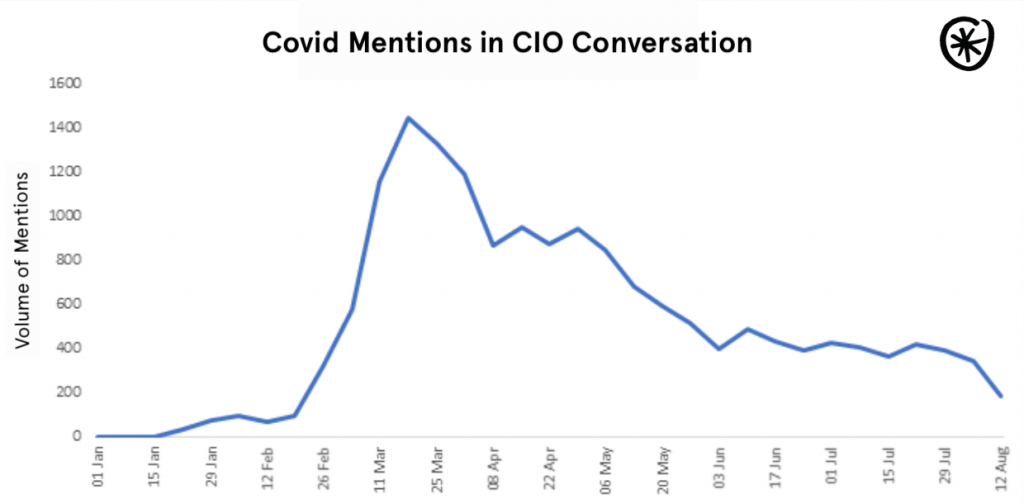 Within the COVID conversation, company culture was the main driver with politics, data and cybersecurity also amongst the top concerns.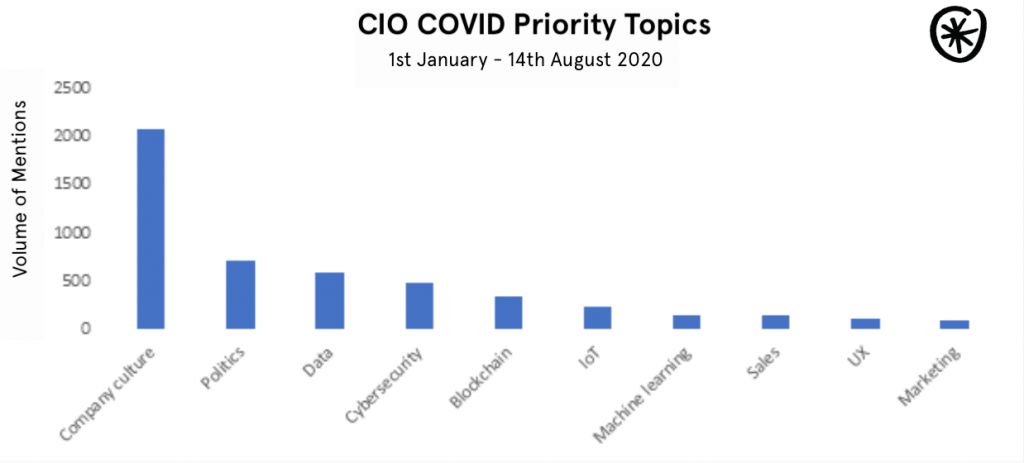 On the specific topic of remote working/working from home, the most important topics were concerns held by CIOs around cybersecurity and data, as employees relied on their home equipment and setup for critical business processes.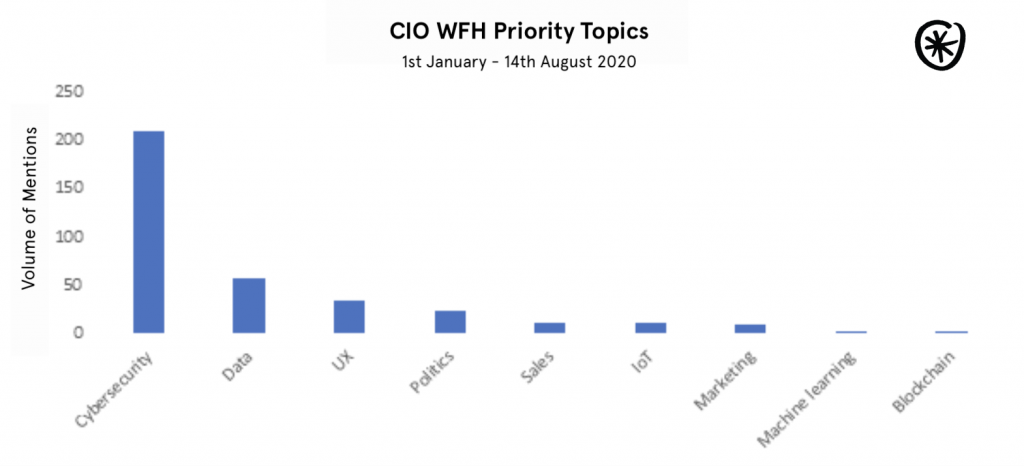 If that's what's being spoken about, then who are the ones doing the speaking?
Aside from geographical shifts, as India, London and, latterly, Canada see upswings in the number of CIOs with online presences, the overall composition remains relatively stable. IT professionals, academics and those with financial associations still comprise the most prevalent groups. Will healthcare, which makes up a relatively small fraction of the total audience, become more dominant as businesses restructure and new companies crop up to address our shared new normal?
Conversely, the connectivity between these groups, as evidenced by the reduced sizes of the 2020 nodes below, is indicative of a more disconnected community. The proliferation of the CIO role across a diverse array of industries appears to have resulted in a community less likely to engage with one other online. 
Our analysis shows that Covid has dominated conversations and changed the priorities held by CIOs. Long-term tech trends have become — temporarily at least — less important to CIOs than the human aspects of delivery: how people work, stay productive and engage with the technology at hand. 
It demonstrates a broadening of responsibilities for CIOs but also renewed focus on the human needs, behaviors and habits that the information systems are designed to serve. Which is just as well, given the sizeable, and very human-centric, challenge waiting round the corner: how to return to the office. 
#CIO have their work cut out for them, "Moving to a 100% remote workforce was a lot easier than it will be to have our employees return to the office" #covid19 https://t.co/VVEgRpV23a

— Isaac Sacolick (@nyike) April 23, 2020