It's the right time for MLB to go after a global audience
Finally putting the 'world' into the World Series
Professional baseball has a few problems, in America at least.  
The first one: an aging fanbase. The average age for baseball fans is 57, up from 53 in 2006. That's the highest age for any major sports league in the US, like the NBA (average age: 42), NHL (49), and NFL (50).
Other problems are about the game itself: an increasing imbalance between the best and worst teams in the league, plus complex data-driven tactics like the infield shift that limit offence and produce fewer hits (alongside a constant year-on-year rise in strikeouts) – that make for a less exciting game.
Baseball games can also be too long and slow to lend themselves to a lively second-screen experience. MLB  –Major League Baseball, the organization that runs baseball in America– has attempted to combat this by streaming a game per week on Facebook Live, but its exclusivity has upset fans who aren't on FB.
These problems are reflected in social conversation data: 2018 saw the first drop (-5%) in Twitter conversations in the US after years of constant year-on-year growth.
In Canada – whose Toronto Blue Jays play in MLB– 2018 was the second year in a row in which conversations has dropped (by 30% and 16% respectively).
Only time will tell whether this is a blip, but the slowdown in growth in MLB's two main markets between 2016 and 2017 is another reason to worry.  
Addressing the problem
So, ahead of the 2019 season beginning in March and Spring Training starting next week, what's MLB going to do about it?
They're looking abroad, searching for new audiences for this all-American sport.
The league seems intent on going after Mexican, Japanese and the British sports fans: in 2018 they ventured into Puerto Rico and Mexico – the latter featuring two west-coast teams (the Los Angeles Dodgers and San Diego Padres) with a nod to California's high Hispanic population.
Coming in 2019 are an upcoming Opening Series taking place in Japan – featuring the Oakland Athletics and Seattle Mariners – plus a European debut in London's Olympic Stadium over the summer.
The games taking place in London aren't with run-of-the-mill teams either. They feature the two most famous franchises – the defending champion Boston Red Sox versus the New York Yankees; a matchup known in baseball circles as The Rivalry.
But why these countries? And is this bet a good idea?
Diving into the audience data
We're glad you asked.
We've taken it upon ourselves to investigate Twitter trends data to understand why Mexico, Japan and the UK are ideal markets for the MLB to enter and expand into.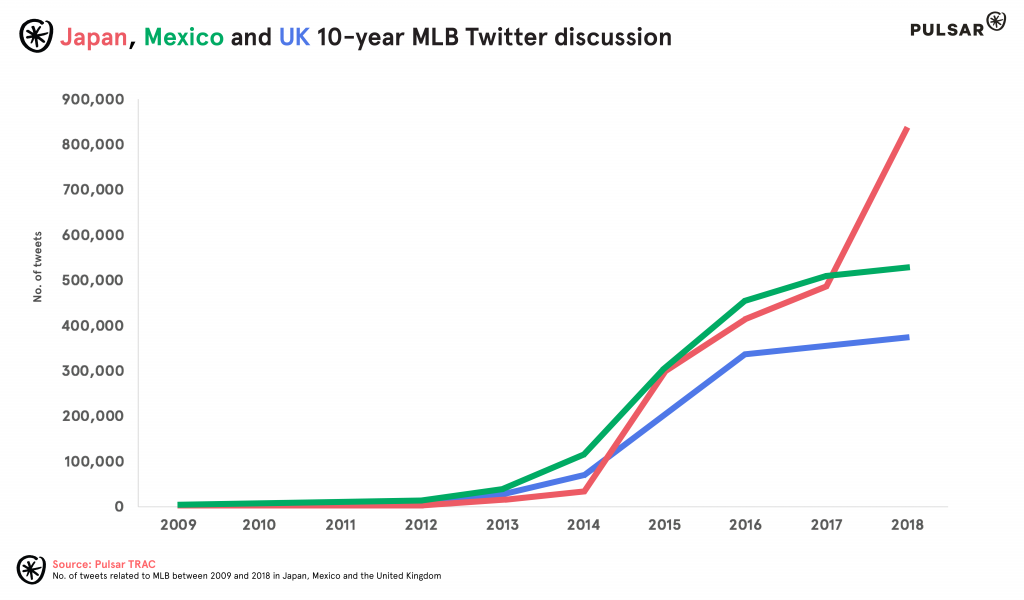 Unlike North America, what these "fresh" baseball markets have in common is growing interest in the game, with conversations growing in all three. Japan (in red) is the stand out.
But remember, MLB is also looking for the right age composition for these audiences. Here's a chart breaking down the age composition of Twitter convos for each country: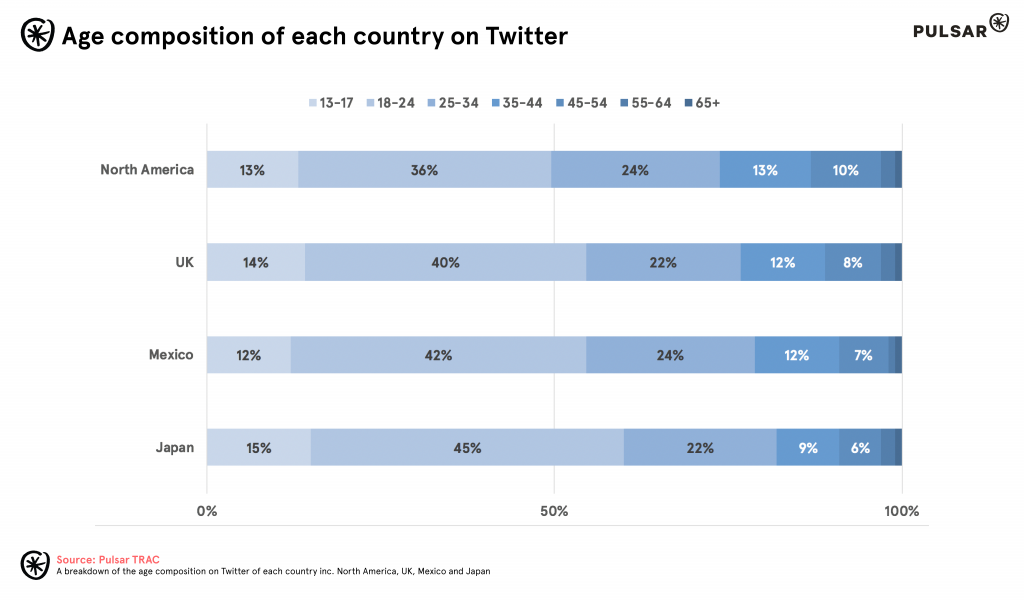 It should be noted that in this case, social media data is not an exact proxy for audience composition, since many older users around the world tend to steer clear of Twitter.
Yet this data shows a subtle but notable difference in age distribution that is still significant.
In North America, only 49% of the online baseball audience is aged under 24. This proportion rises to 54% in Mexico and the UK, and 60% in Japan: in foreign markets, the audience skews younger.
Japan
Japan saw a huge jump in conversations between 2017 and 2018, with 345,020 additional mentions, thanks to local superstar Shohei Ohtani joining the Los Angeles Angels.
The MLB is rewarding this talk of the town, giving fans a last chance to see Japanese baseball legend Ichiro Suzuki, who is effectively coming out of retirement for the Seattle Mariners.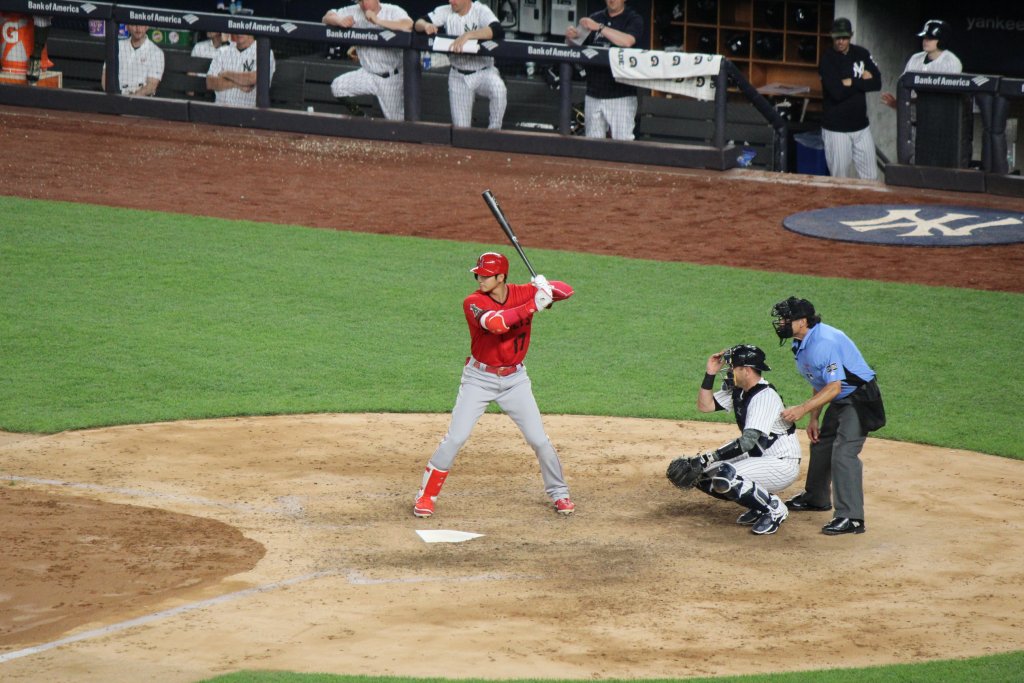 Japanese baseball superstar Shohei Ohtani who has just joined the Los Angeles Angels. Photo by Shinya Suzuki
Mexico has long been targeted as an area of growth for MLB, given its close proximity to the US. Mexico City is even being touted as a potential home for a new MLB team.
Close cultural ties between the US and UK make sense for London to be MLB's gateway into Europe. This is reinforced by data, which shows an increasing year-on-year interest in the sport from British fans.
We wanted to ensure that Japan, Mexico and UK aren't merely part of a blanket trend of non-US or Canadian markets talking more about baseball, so we also looked at the Dominican Republic – a non-North-American country, rich in baseball history and talent, which is still suffering from lower interest in 2018 (-30k).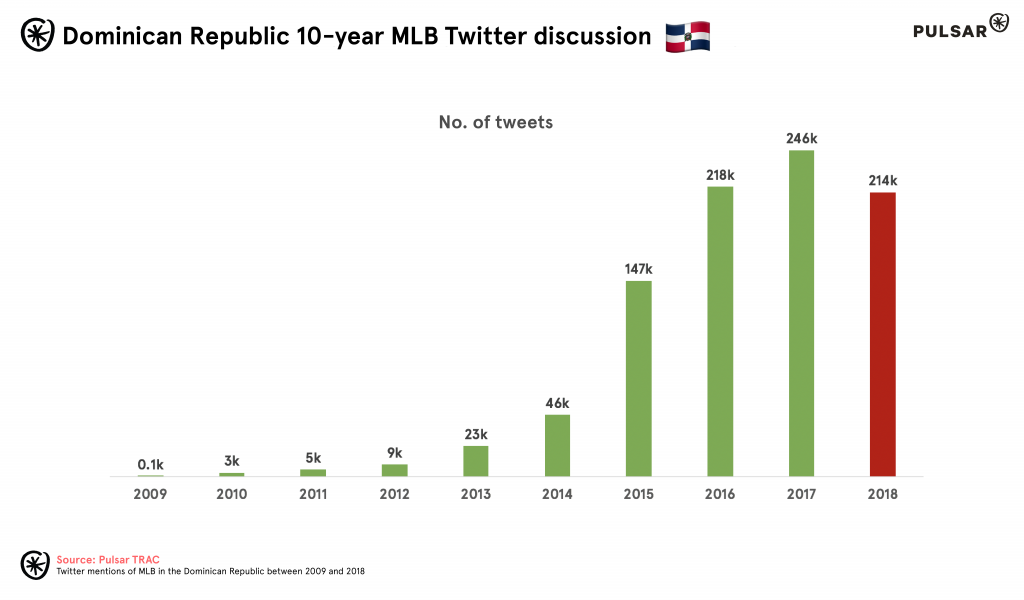 We can see there's a strategy going on. "Because both MLB as an enterprise and MLB as a game and a cultural institution now has come to mean so many different things, when we evaluate markets we are evaluating the fit of current and potential of our activities with the given community or the potential fans and partners we're trying to serve." – Chris Park, former MLB VP of International, 2016
Mapping the audience: who are these fans?
Using US and Canadian fans (combined) as the benchmark, we see a predictably male-centric audience with key interests being other North American sports and also music.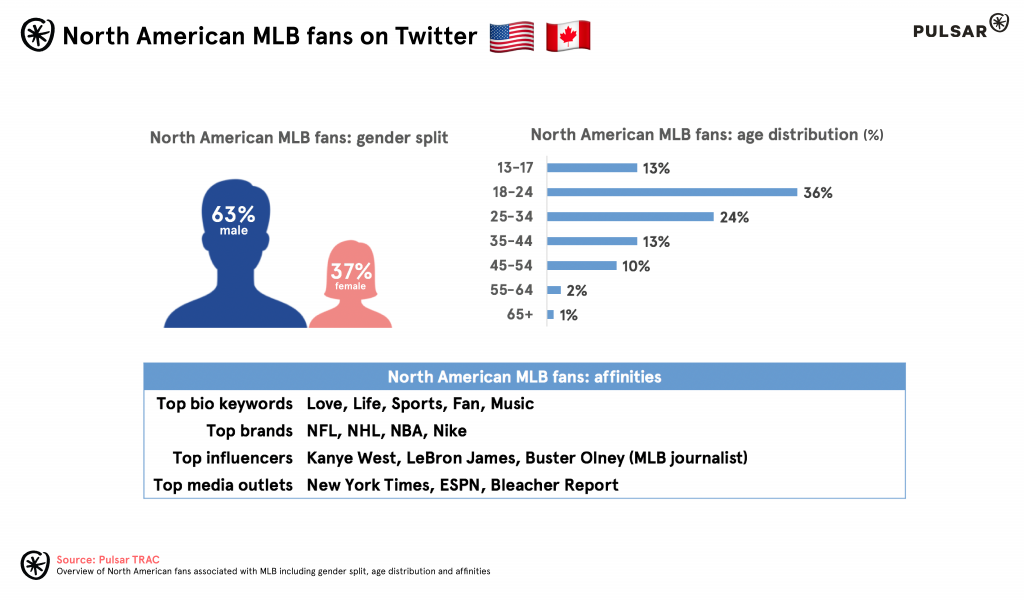 Connecting with the different fanbases on different levels
A look at the affinities of the fanbases gives a further idea into how they differ:
The Japanese MLB audience is made up of hardcore baseball fans – which tallies with baseball being the country's national sport. Their top influencers are all Japanese players who have made their mark in MLB. Amongst their favourite brands are the Nippon Professional Baseball association and Los Angeles Angels – for whom the young icon Shohei Ohtani plays. While it will be the Seattle Mariners and Oakland Athletics competing in Tokyo's Opening Series, might MLB look to host games featuring the Los Angeles Angels there in forthcoming years?
Mexico and UK
Mexican MLB fans show similarities to the core US and Canadian audience, exhibiting a love for all sports – both North American favourites such the NBA and NFL, and an interest in European soccer too.
The place of soccer is especially pertinent when considering the UK market. On the contrary to Mexico, soccer plays a very small role in the affinities of British baseball fans – as they prefer to align themselves closer to typical North American sports, influencers and media outlets.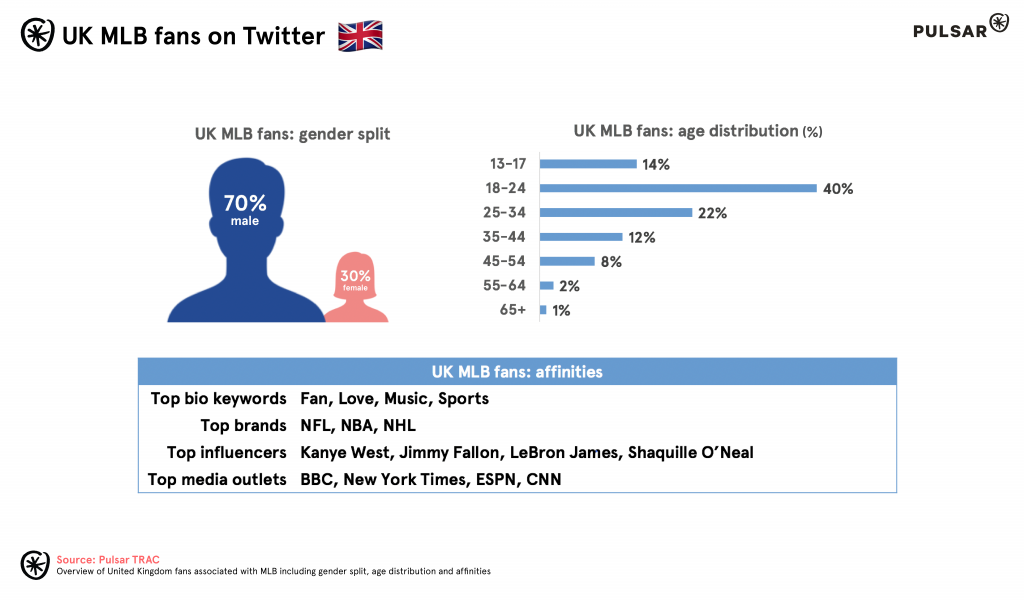 In the build-up to the Yankees/Red Sox series in London this summer, MLB might be wise to steer clear of using typical English football cues to excite fans, and stick closer to North American traditions.