Introducing web search data on Pulsar TRAC
Bringing all your digital signals in one place
About the update
Web search data available on Pulsar TRAC. This means that Pulsar now offers a more holistic view of your search, across all the data sources (from Twitter to YouTube and soon Reddit) we have to offer, within one dashboard.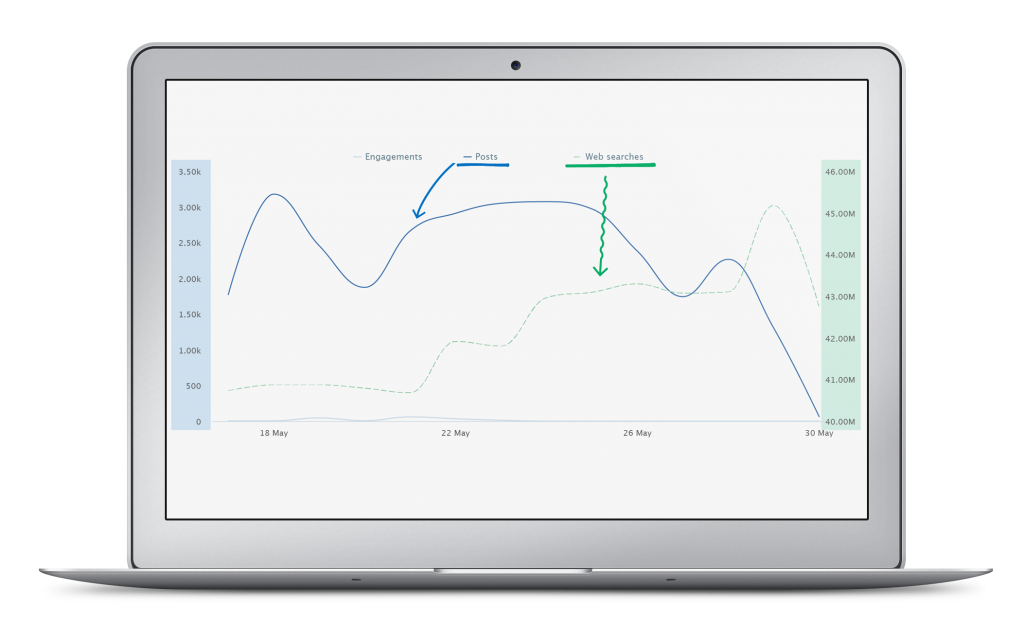 With the new web search data tool, you can now carry out your analysis all in one search, and view all your audiences in one place, allowing you to get even more context within every search.
Why web search data?
This year we set out to extend our coverage at Pulsar, to make it easier than ever to understand conversation and trends across the web's ecosystem. We know this goes beyond just social listening, so we've been focusing on combining social data with other sources – like web search.
Web search data is aggregated, anonymized data based on search queries put into a search engine, volume and location.
Our interest in social data stems from an ability to gauge the thoughts, opinions and behavior of audiences on a global stage: proactive, public posts that people choose to share with the world.
On the other hand, web search data is not posted to a public forum, yet offers fascinating insights as we learn how people search for products, trends and answers outside of the digital public environment. When you compare social and search data you can obtain some very interesting results about specific audiences, like how a social buzz drives traffic to a website.
To simplify: social data can tell us what audiences think. Web search data can tell us how audiences think.
Combining social and web search data gives you more signals to understand your data and get context from a range of sources in every search you carry out. We are the only product that brings these different signals together into one platform.
What can I use it for?
There are several use cases that would require a TRAC search combining social and web search data. For instance, this would be helpful for an insights team looking into the buzz around a new product release, and whether this translated into purchases.
Comparing a spike in social conversation about the product to web searches for that brand's website will give an indication about whether people were actually interested in buying it, or were just talking about it. The insight team can then advise both the product and marketing strategy.
Let's take searches related to beer – with social data we can understand what audiences think about beer and where this interest is cropping up, making it easier to segment and identify specific audiences and build tailored campaigns as a result.
With web search data we can start to understand how these audiences think about the product, based on the search queries they come up with. We can better understand their need for beer – are they looking for local bars? A gift perhaps? Or maybe a specific brand they're revisiting. Combining signals from both data sources helps us understand this audience better.
Where can I find it?
You can include web search data for any type of search on TRAC. By enabling this data source, you will be able to measure how many web searches have been performed around your subject in contrast to mentions within social, and you can visualize this in the overview chart.
If you're already a Pulsar client, then you can find out more about web search data in our What's New area under Resources. If you haven't tried out Pulsar yet then get in touch with our team by requesting a demo to find out more about the value web search data can bring.