How Stuff Spreads: #FekirFriday spawned the sharing of schadenfreude on Football Twitter
The journey of a football transfer rumour
If there's one thing which sends Football Twitter into overdrive, it's a transfer rumour.
There were over 200k tweets about #DeadlineDay on August 9th as the Premier League's transfer window closed – while "ITK" (parlance for "in the know" fans who claim to have insider info about transfers) was mentioned 130k times between June and August.
The evolution of discussion around a transfer rumour follows a typical trend: whispers start from the aforementioned ITKs or news sources, before gaining full traction when their credibility is confirmed by a journalist close to the clubs or player.
This usually reaches a crescendo just before the deal is officially confirmed as fans of the buyers desperately plead with their club's Twitter account to "announce Player X" (case in point: @Arsenal received 10k tweets in January from fans asking them to #AnnounceAubameyang).
But what happens when a high-profile transfer on the verge of completion actually collapses?
We looked at the failed deal to take Lyon's Nabil Fekir to Liverpool, to understand both the shape of conversation and identify which French and UK football fans participated during key moments of this transfer rollercoaster.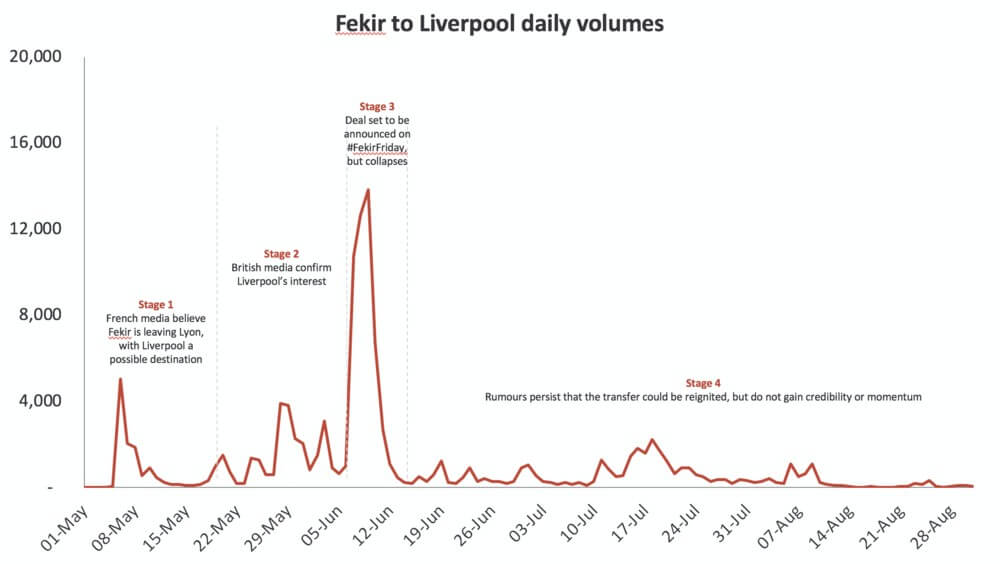 As the above chart shows, we've split the conversation into four stages:
Initial rumours from the French media
Confirmation from the English media
The collapse of the deal
Post-collapse rumours that it could be reignited
We've also isolated self-identified fans of specific clubs, and highlighted them in our network analysis at each of the stages:
Liverpool – red
Lyon – pink
Manchester United – blue
Arsenal – yellow
Chelsea – white
Everton – green
Manchester City – light blue
Please note that the bubbles represent an original post, and the connected lines stemming from them are retweets.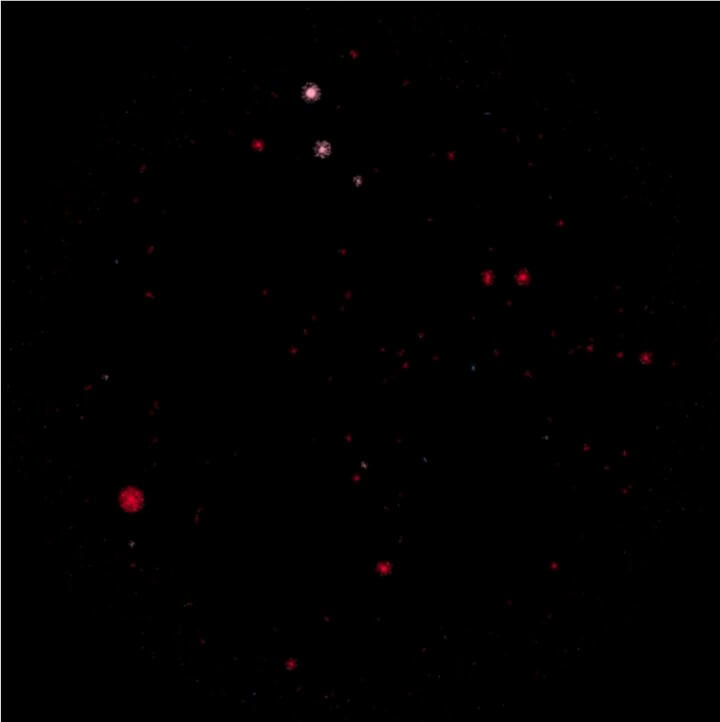 Stage 1 reveals a fairly even split between Liverpool and Lyon fans as it emerges in French media that Fekir may be leaving Lyon, and that Liverpool are a possible destination.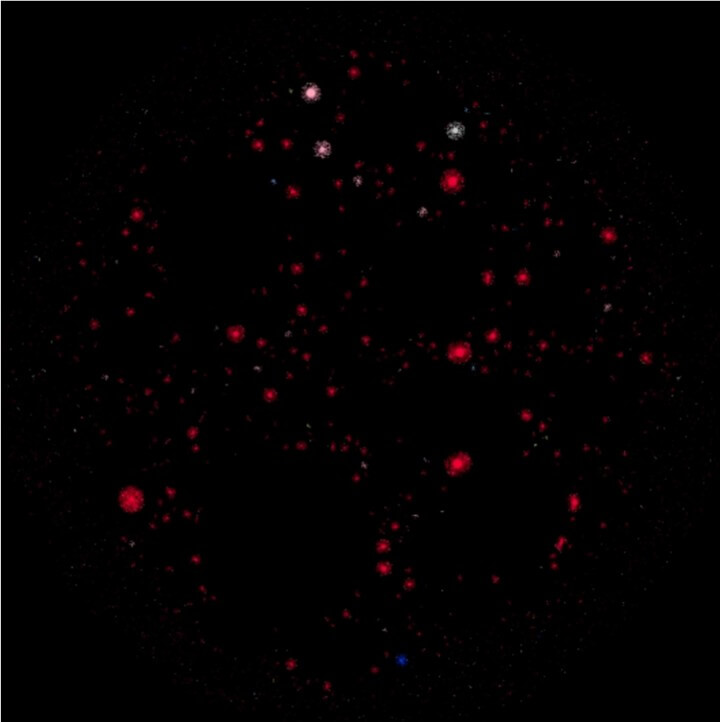 Stage 2 sees Liverpool fans rise to prominence, as the English media confirms Liverpool's interest and believes a deal could be struck soon.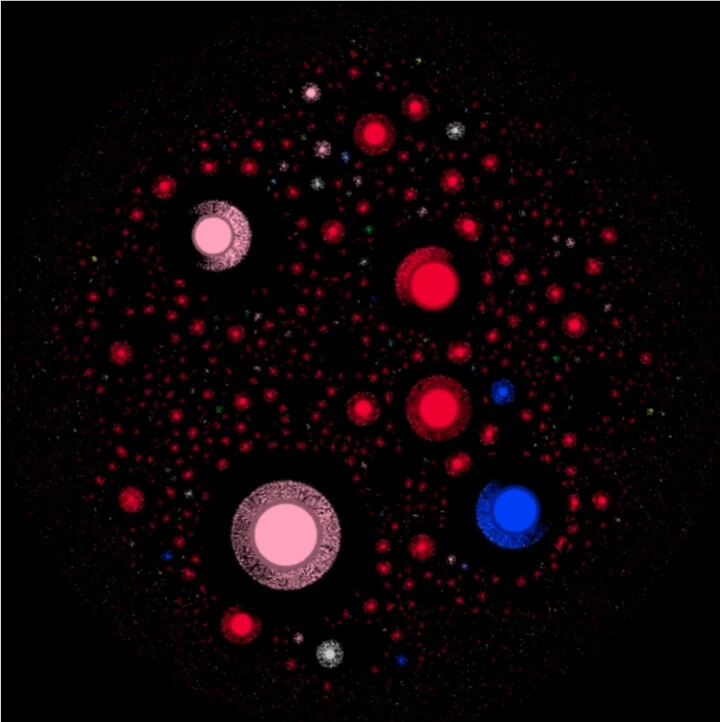 Stage 3 is where it gets interesting – the deal collapses after being on the verge of completion – with Liverpool fans excitedly using the #FekirFriday hashtag. This soon becomes a cause for mockery amongst fans of Liverpool's rivals (especially Man Utd), who emerge in the conversation alongside Lyon fans celebrating their captain seemingly staying.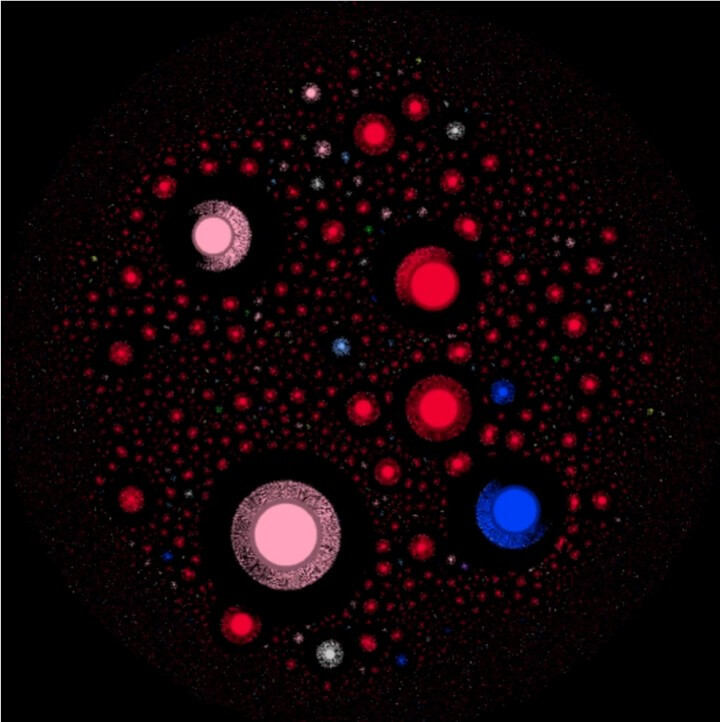 Stage 4 is much less eventful, as pockets of Liverpool fans continue to discuss the rumour in hopes of it reigniting.
Throughout the stages, what's particularly noticeable is how Liverpool fans have lots of small sub-communities taking part in the discussion. On the contrary, in Stage 3 we see that Lyon and Man Utd fans especially gravitate towards a few big accounts to celebrate (and mock) the deal being called off. Schadenfreude stems from retweets rather than original thought.
Furthermore, the conversation remains extremely isolated within clubs' fanbases; there are almost no instances where a Liverpool fan (red bubble) has posted something and it is subsequently shared by fan of a rival club.
This underlines the tribal and self-contained nature of football fandom on social media, and is a microcosm of our previous study into Twitter passion networks – sports fans communities' tend to not only revolve around their favourite sport, but also their favourite team.