Audience intelligence has entered the group chat
We scroll through the online conversation surrounding group chats, a unique social meeting place
Group chats are taking over our lives. As we continue to spend more and more of our lives on our phones, we're all having to navigate a relatively new form of online social space that is both social and intimate at the same time, figuring out what content is appropriate for each group we're a part of, and deciding where to leave, when to enter, and when to mute. 
The cultural relevance of group chats is growing: people's interest in group chats continues to grow, as evidenced by social and search data. 
With global audiences isolated as a result of immediate lockdowns, Google searches for "group chat" peaked at the outbreak of Covid-19 in March 2020. Social conversation as well has seen steady but erratic growth as group chats become an increasing part of the way we conduct our lives and communicate with each other.
The idea that everyone is part of a group chat pops up regularly in memes, framing the concept of the group chat as a keys source of social information and one of the first places for talking about what's new – from personal achievements to world events.
Of course, people are very likely to be in many more than just one group. After all, apps encourage users to have multiple chats. WhatsApp, Telegram and iMessage all offer the option to pin favorite chats to the top of your homescreen, customize the group name and picture and make the set-up process a few easy clicks through a simple UI.
Despite the proliferation of messaging chats and similar UI and offerings, WhatsApp reigns supreme and is top of mind for most people talking about group chats: the Meta-owned messaging app is referenced in almost two thirds of conversations around group chats which mention an app.
Similar to WhatsApp, Apple's iMessage and Facebook's Messenger (also owned by Meta) also come up frequently, but so do apps which offer alternative use cases or approaches. Discord for instance, an app initially attracting gamers and now very popular within the crypto-world, racks up 7.1% of mentions and differs greatly from the others in both user interface and user behavior. 
Telegram (9.1%), also very popular with the blockchain crowd, offers a mix of group chats and more traditional approaches to media: some Telegram 'group chats' for instance claim to have over one million users but more closely resemble a traditional social broadcast tool, where only the user who owns the group can post. Wherever possible, we tried to exclude conversation about those groups in our data as we don't believe they quite match the idea of 'group chat'. 
But which circles do people associate group chat with? Unsurprisingly our analysis shows an emphasis in talking about their closest relationships. 
Despite the rise of working and studying from home, conversation around group chats with classmates and colleagues doesn't reach the levels of online conversation surrounding family and friends. The most engaged with social posts mentioning group chats with colleagues cover topics such as bosses posting unreasonable demands, shift covering, and gripes over mandatory participation in work group chats.
Meanwhile posts around friends and family frequently move into deeper topics such as select friends being barred from the group chat and even the breakdown of relationships due to group chat conduct.
Predictably, snafus and questions around group chats feature prominently in the very popular Subreddit called r/AmItheAsshole (AITA) where posters posit the titular question along with a relational situation they're going through, asking whether they're in the wrong. 
It's clear that group chats are a social phenomenon whose relative youth sparks many debates about its proper use. Due to its online-only nature, the equilibriums of social norms around group chats don't get worked out in-person, leading audiences to discuss these issues on social media.
Of course, conversation isn't all contention and fall-outs. Group chats are also a place where people come together to discuss what they're up to; the mundane, the exciting, the celebrations. 
And of course it's also a place where brands are talked about.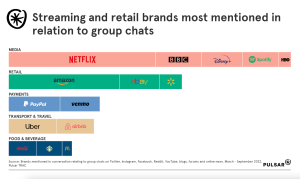 Media streaming platforms dominate conversations about brands mentioned in relation to group chats, breaking perceptions that streaming media is an insular, solo activity. The BBC, Disney+ and Spotify all come up in social conversations around group chats. 
And it certainly isn't all Netflix-and-chilling – retail and payment brands are also widely mentioned.
Kan!! We're talking about him in our whatsapp group after watching it on netflix! 😅

— syafique shuib (@syafique) September 18, 2022
But which audiences are participating in these conversations? Let's meet the main communities talking about group chats online. 
Group chat conversation's affiliation with media brands isn't surprising when we examine the audience of conversation leaders – those posting original content about group chats online. Here we see multiple audience segments aligned with different areas of popular culture and content. Clearly group chats are associated with cultural tastes, trends and lifestyle.
The media each community gravitate towards shift drastically between audience segments.
ESPN Sportsfans show a deep affinity for GIFs, while Drag Race Stans talk more about videos than any other audience group.
With Cool WhatsAppers over nine times more likely to use WhatsApp than the average group chat conversation poster, we see them showing a strong affinity for voice notes in their discussion of group chats online. 
As shown earlier, WhatsApp seems to be formidably dominating global online conversation about apps in relation to group chats. However, when we break the story down by geography, their stable bedrock is shaken.
WhatsApp obviously reigns supreme among the group-chatting apps in online social conversation, but it is yet to fully conquer the Apple-loving United States. iMessage and Telegram retain a larger portion of the conversation in the USA, whilst WhatsApp's European stronghold stereotype holds true in the UK. One Reddit user posits:
Group chats are causing an important and notable shift in communication style, which is having a big impact on audiences and intertwining itself with popular culture. It's clear that group chats are a point where complex social behaviors emerge – these complex behaviors and their navigation unsurprisingly are finding their way online through social posts. As group chats are now a staple form of digital communication, with their use and prominence changing over time, their impact on the social sphere and popular culture is here to stay.
---
If you're interested learning more about this dataset, or discovering how social data can lead to insights across technology, consulting and a number of other spaces, simply fill out the form below.