Frontier life food is the #NewNormal
Why bread-making, pickling and home growing are surging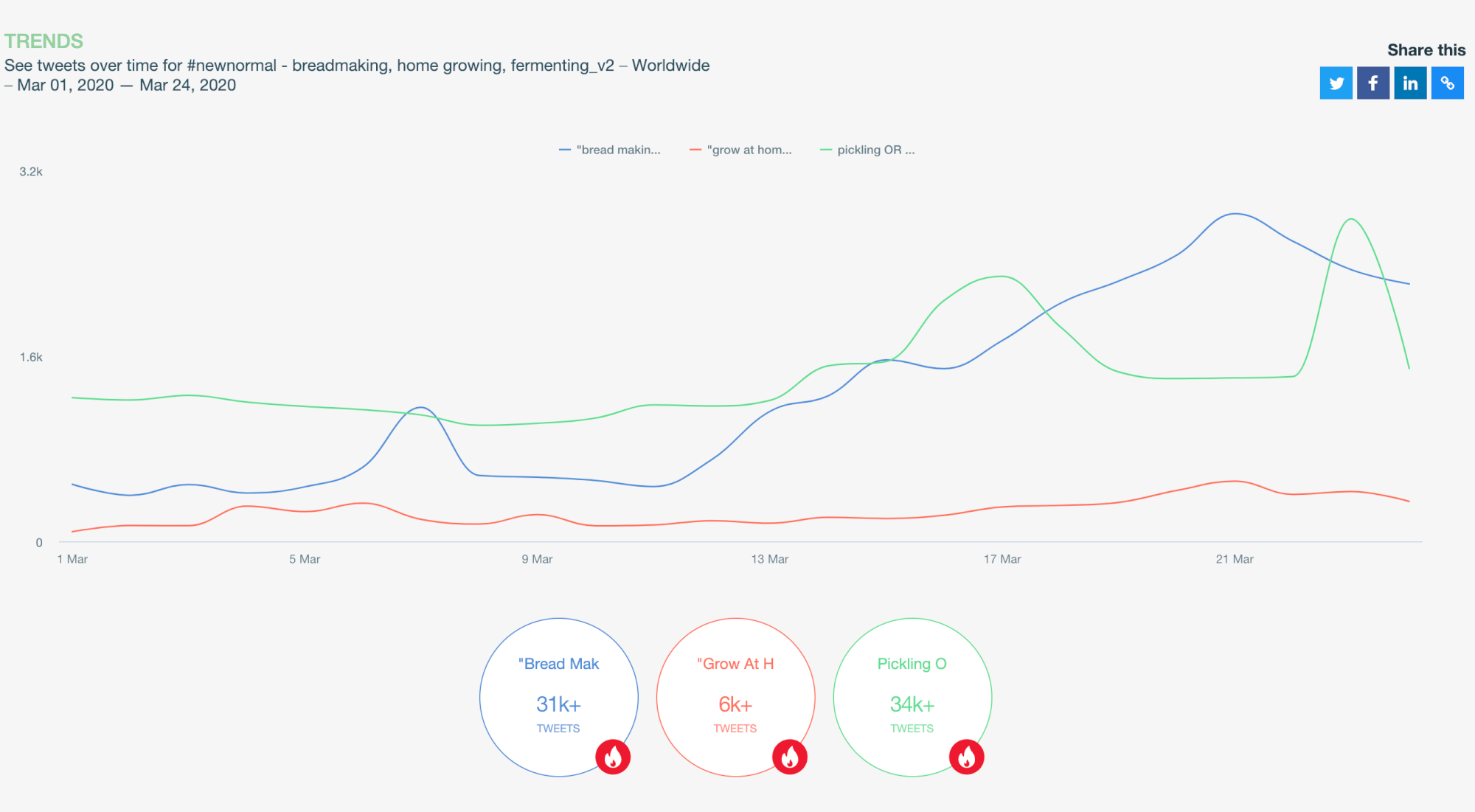 It's 2020, we're locked in, and many of us have a lot of time on our hands.
Seems like the perfect time to dust off those gourmet cookbooks and finally make some fancy food, right? 
My cook-y friends, it's time. Time to make those fully batshit recipes from El Bulli and Alinea and French Laundry and Noma that take fifteen days and require you to carefully air dry single flakes of red pepper and spend a day making consommé from only the left side of a chicken

— Jer Thorp (@blprnt) March 21, 2020
Wrong. Turns out, most people are turning to one of the oldest, simplest recipes in the world. 
As we navigate uncharted pandemic territories in times of uncertainty, we seek for ways to regain control over our life. So we turn to…
…making bread. 
Interest in bread, yeast and flour has seen explosive growth over the past month, along with mentions of bread recipes and of bread-making (smaller volumes, but faster overall growth).

Bread ingredients like yeast and flour are in such high demand that shortages are starting to emerge. 
Plus, it seems yeast is a black market good these days, so self-propagating starter is a handy thing to have (along with 150 lbs of flour, which I ordered weeks ago from a restaurant supply store). pic.twitter.com/gwOWDyQ6BS

— eor (@6502_ftw) March 25, 2020
Other 'frontier' food preparation techniques are also resurgent: audience interest in growing vegetables more than doubled over the past month, while mentions of pickling and fermenting have gone from around 1k/day in late Feb to peaks of 3k over the past week.