Virtuous, not tedious: 3 times audiences were made to care about the environment
The environment and climate change are BIG topics.
But something being important is no guarantee that people will find it interesting: backing up your hard drive, flossing your teeth, doing cardio do not a great story make. And neither, sadly, does the damage we are doing to our environment.
A 2016 study by the Yale program on Climate Change Communication found that for the most part, Americans care about the topic, but don't really talk about it, partially because they don't hear about it much.
Part of the problem might be that in most cases, everybody agrees: unlike political topics, or conversations revolving around gender, talking about our planet doesn't risk upsetting anyone.
So can anybody say something interesting about climate change? And if yes, how do you pull it off? We took a look at a few cases in which a company or a project managed to pierce the veil of indifference and make the topic become the talk of the town.
Shock: Polar bear
Towards the end of 2017 a picture of an emaciated polar bear went viral, following on from a similarly shocking photograph in 2015 of a starving bear trapped on an floating piece of ice.
The below graphs from Pulsar TRENDS show a spike in conversation about climate change and global warming soon after the pictures of the polar bears came out: one topic led to another.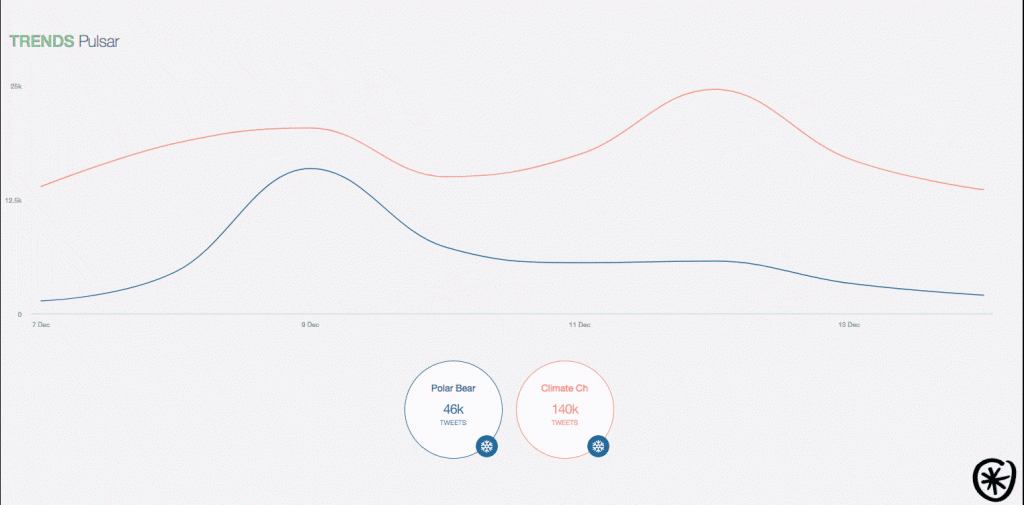 The polar bear images were shocking because they brought to life stereotypes about global warming and environment concerns: the images told a story that didn't need to be explained, fitting into a narrative that people immediately understood.
The 2017 image was distributed by Sea Legacy, an organization aiming to push conservation narratives, so it was not an objective reportage on the state of climate change or polar bears: Sea Legacy admits even they don't know what caused the bear to starve. But it did get many people talking.
But as  time went on, with no way to act on the issue, the topics dropped off the agenda. While polar bear images were high impact, these stories only contributed to the conversation fleetingly.
Going small: Pret a Manger
If the internet has taught us one thing, it's that people will weigh in with their opinions whatever the topic.
And that's exactly how Pret A Manger CEO Clive Schlee caught users' interests in late 2017 when he crowdsourced a decision on a small, but important sustainability policy: how to discourage people from using paper cups.
How do we encourage more customers to bring reusable coffee cups to @Pret? We're thinking of increasing the discount for bringing your own cup from 25p to 50p. Our organic filter coffee would cost just 49p! I'd love to hear your thoughts.

— Clive Schlee (@Cliveschlee) November 27, 2017
Thousands of people weighed in on Twitter, and it was decided that the cost of bringing your own cup to Pret would be decreased. In the replies to Schlee's Tweet, customers suggested hundreds of different solutions to the problem, creating a real debate out of sustainability.
The company wasn't trying to end climate change there and then, and likely that was the key to the initiative's success. Having the top dog start a conversation around a product that most customers have a direct relationship with the brand helped individuals feel validated, involved, and greener.
Pret may very well have already made their decision before crowdsourcing ideas, but the strategy allowed for a broader conversation to grow around the topic organically, while earning the brand much goodwill for being both environmentally concerned and open.
Respect: Blue Planet
Sir David Attenborough is the face of nature documentaries in the UK. His soothing narration, and deep, authentic passion for the subject have hit a winning formula with his blockbuster documentaries Planet Earth and Blue Planet.
The recent series Blue Planet II was watched around the world – with the UK's highest viewing figures for 2017 – and included an impassioned plea in the final episode to take better care of the oceans that had just been so beautifully depicted throughout the series.
The UK government took advantage of the passion Blue Planet II inspired on social media, with a chorus of tweets advocating for its message after the programme aired.
This seemed to open the door to a series of sustainable policy decisions that at times referenced Blue Planet's message.
Whether those policies will have an impact is hard to say, but by going deep, Attenborough managed to start more than just a conversation about the environment.