Is social media FOMO the best way to gain millennial banking customers?
Who could have guessed that the latest millennial trend wouldn't be related to avocado on toast or fidget spinners, but banking. Monzo is the current buzzword of the strapped-for-cash generation, but how has it managed to make budgeting…cool? And is this a bubble set to burst or is it signalling a (cash) flow into the future of banking?
A quick introduction: Monzo is a Fintech startup set up in 2015, that allows users to control and monitor their transactions from an intuitive app on their smartphones. Although it started out as a prepaid card, in April 2017 Monzo received its full banking licence and is currently in the process of rolling out a current account for customers in the UK. Amongst other clever things, the banking app sends notifications to users' phones when they make a transaction, for an in-the-moment read of their spending. Monzo's purely digital nature makes it unsurprisingly popular amongst millennials and its marketing takes full advantage of this.
Social validation and FOMO in marketing is thriving
The first time we came across Monzo was via a friend asking if a group had Monzo so we could transfer him money owed for a 5 a-side football match through the app. The next week, at dinner, the same thing happened again for splitting the bill. It very quickly began to seem like everybody had all been invited to a party thrown by someone we didn't know. Taking a quick look on Twitter it turns out we weren't alone:
Monzo's marketers have been very clever in the way that they have influenced this FOMO feeling. There is an enormously long queue to get a Monzo card, but you can skip it if you are invited by someone who has a Golden Ticket.
On Twitter, this strategy is incredibly effective for creating a perception of a community or club that people want to be a part of. It works in the same way that when you see a large queue outside a restaurant you're more inclined to stop by and find out what all the fuss is about.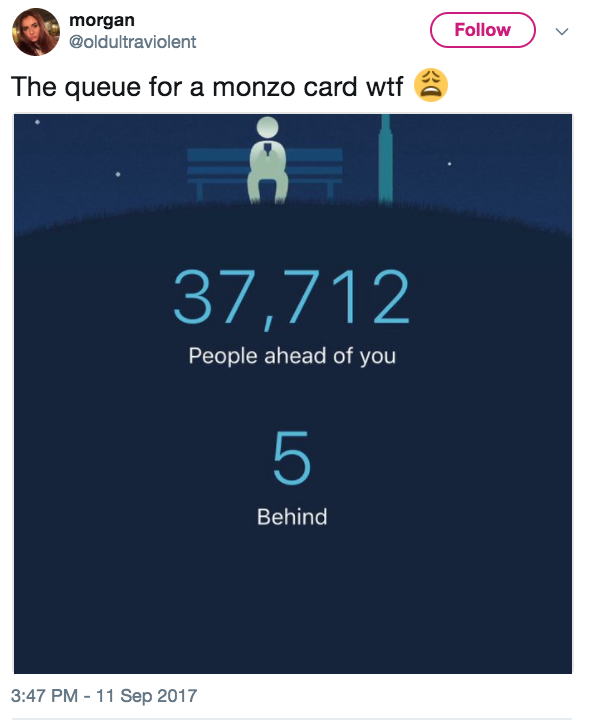 So what's the big deal?
Once they've been overcome by banking FOMO and got themselves a coral card, what exactly is it that people like about Monzo? We set up a search on Twitter using Pulsar to uncover some insights.
The first thing we came across was that the top three benefits that users are saying they like about Monzo are:
there are no fees abroad (although this has recently changed a little)
it helps them with budgeting
it is easy to transfer money to other users through the app
From here we wanted to see what was most important and found that the most mentioned factor is the budgeting potential that Monzo has, with 45% of the discussion dominated by this, compared to 31% of people talking about the favourable rates abroad.
This suggests there may have been a shift in thinking, with millennial consumers now feeling like their banking provider has more of a role to play in helping them keep track of their spending.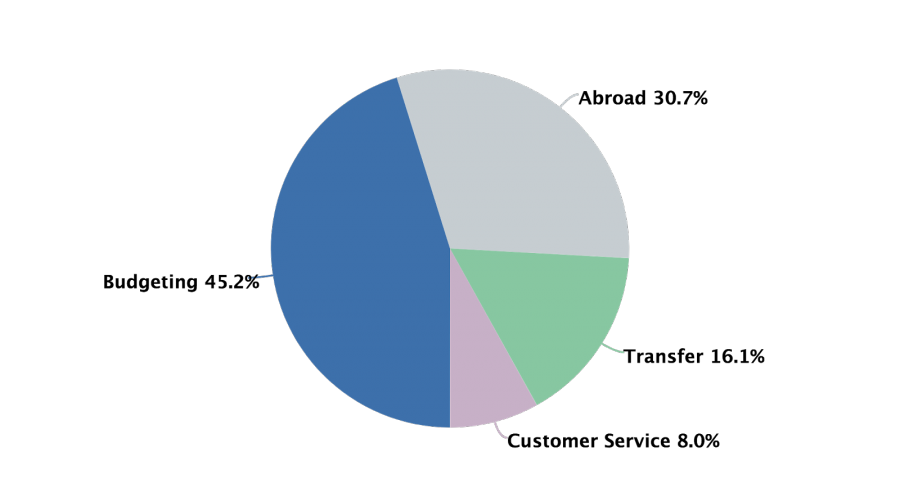 Is it just a millennial thing?
To test this idea about what consumers want from their banking we had a look into another bank that has been said to be disrupting the industry: Metro Bank.
A similar deep dive into what customers are saying reveals that the main thing people seem to like about Metro Bank is the quality of the customer service, and the way that they can carry out banking tasks so quickly – especially in comparison to a more traditional bank.
A resounding 93% of discussions mention Metro Bank's customer service as opposed to the other benefits it shares with Monzo, such as budgeting or transfers.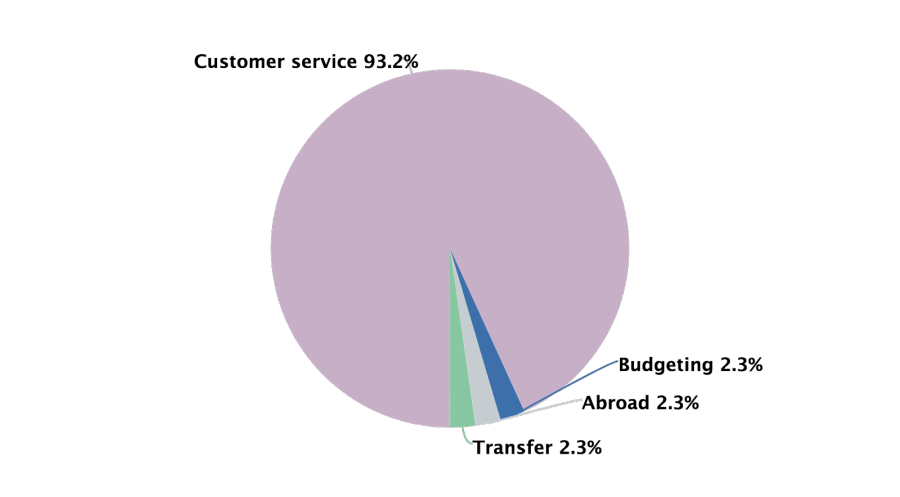 Those who are keen on Metro Bank seem to want something different from their bank to the Monzo audience, who generally tend to be younger.
Monzo's largely millennial audience are looking for their bank to give them the autonomy to get their own finances in order, whereas for Metro Bank customers the main onus is on the bank to provide fast and efficient customer service.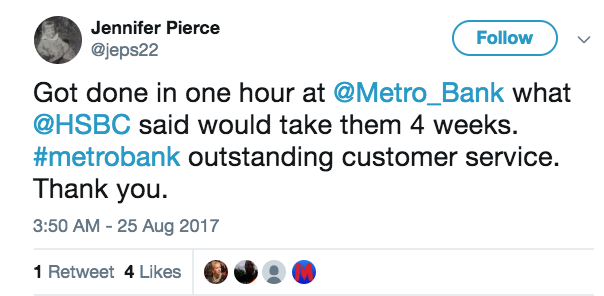 But they're not the only one
Using improved tech to challenge the traditional frustrations people have with banks is clearly a trend, but what about companies operating in a similar space to Monzo – is its success coming from just the FOMO-based marketing strategy alone?
Throughout this investigation we've been constantly coming into contact with competitors that consumers would be mentioning in comparison to Monzo. So we decided to check one of them out: Revolut. We were wondering why we'd never heard of it and so had a look through some of the data to see what was going on. On the way we found this tweet: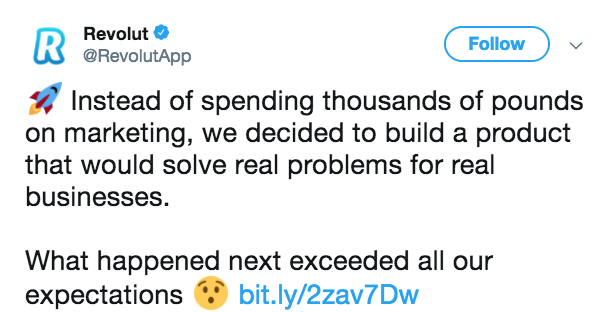 Here we have a bank presenting a similar product to Monzo, but with less of a focus on the marketing that Monzo has been so successful with. And this speaks volumes: since the beginning of 2017 discussions about Monzo has had over double the amount of Twitter impressions as Revolut.
In other words, half the amount of people have seen something on their timeline about Revolut than Monzo. These two Fintech startups have made a conscious decision to bring their products to market in very different ways; Monzo has placed more focus on marketing, whilst Revolut claim to be diverting this attention towards product.
It's worth noting that there is some evidence that Revolut's decision to focus on the product hasn't gone unnoticed: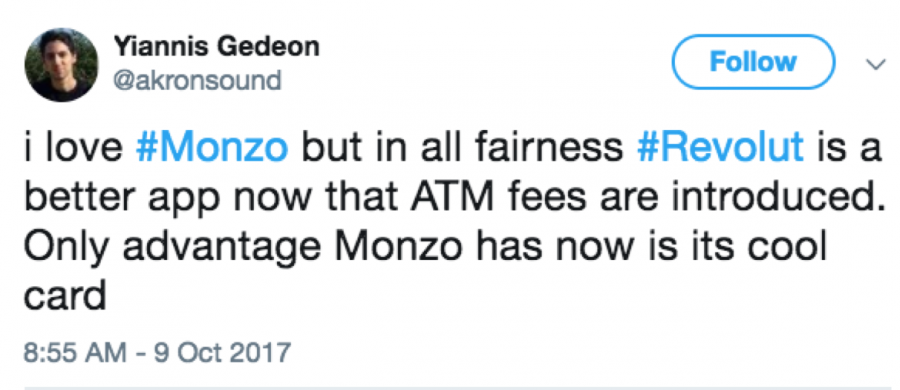 But what will be interesting to see is how these decisions play out in the months to come. Is Revolut's decision to focus on features rather than marketing justified? Will Monzo's focus on marketing mean that more people are aware about them and therefore they have obtained an unattainable lead?
Will this style of banking last?
Overall, the new digital banks have been a hit with the online community, but this is only one facet of success. Ultimately the question for brands like Monzo, Metro Bank and Revolut is whether or not their current popularity will translate to a significant disruption of the already-established larger banks. Monzo currently exists as a pre-paid card that couldn't offer a direct threat to the banking model until it rolled out its full current accounts.
It's possible a reason for Monzo's prosperity thus far could be because it played a different role and acted as a complementary account to people's main current accounts. Is the need to more effectively track their own finances something that customers want from banking more generally, and will this take precedence over other more traditional factors such as customer service? And will it be the most popular amongst its competitors?
Whilst there are a few examples on Twitter of people willing to switch over to Monzo as their main current account provider, time will tell if they have done enough to take a slice out of the main banking providers' cake.