Real-time Marketing on Twitter: Raising Awareness vs Changing Behaviour
Super Bowl Sunday has long been the Holy Grail for real-time marketers, and this year was no different, with many taking to Twitter to supplement their television spots. Two of these were online insurance company Esurance and Bank of America (BofA), who adopted different yet successful strategies.
In partnership with Twitter, we analysed these two different types of online engagement campaigns. Here's what we learned.
Esurance's easy entry raises brand awareness
Esurance's primary goal was to raise awareness of its brand on Twitter, so it focused on a volume-led campaign. In securing the first spot after the Super Bowl coverage ended, it saved $1.5 million and sought to gain goodwill by giving this away to one lucky winner.
To enter the competition, participants were required to tweet the hashtag #EsuranceSave30. This low barrier to entry was reinforced by the competition not being a quiz-type that required any particular thinking. There was also no limit to the number of times an individual could tweet the hashtag, creating an unlimited potential for the Esurance name to be spread.
The competition elicited a total of nearly 5.5 million mentions in 48 hours – as tracked by Pulsar – of which over 3.3 million were original entries.
The  video visualisation shows which Twitter accounts drove the most engagement and at what point during the day.
Each 'node' represents one Tweet, and its size represents the amount of followers of the author. Following size has been chosen to make more authors visible. If the ranking had been done by Retweets received or Visibility generated the only visible node would be Esurance who received more than 40k retweets during the entire campaign.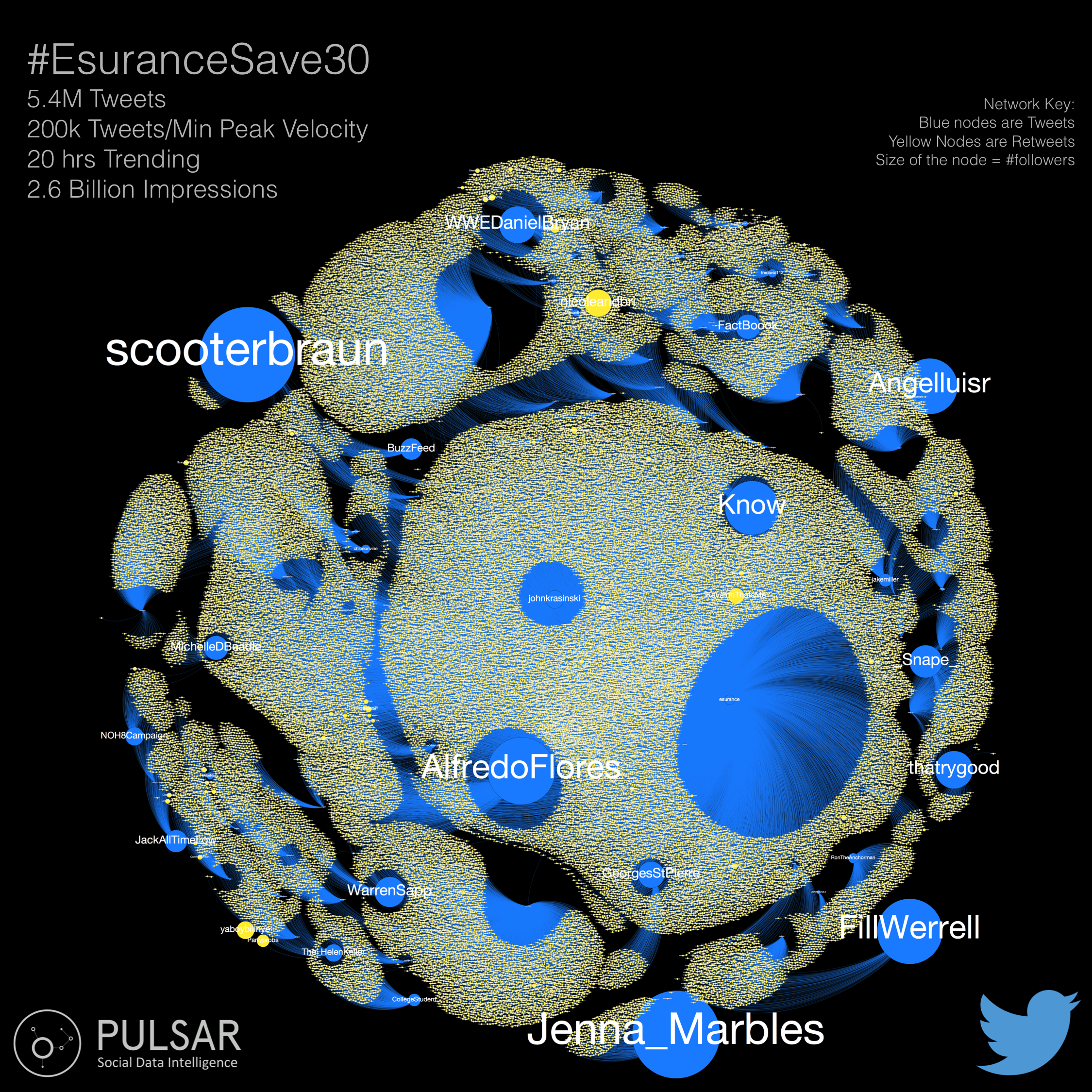 Dive into the Esurance diffusion network
BofA and celebrities' call-to-arms spreads a message and drives action
BofA's objective was less about Twitter volumes and more a call-to-arms to drive a specific behaviour. Following the airing of U2's new song 'Invisible' during half-time, the song was available for free on iTunes over the next 24 hours and every time it was downloaded, the bank donated $1 to (RED)'s fight against HIV and AIDS.
The campaign raised over $3 million, despite it generating around 200k total mentions on Twitter over 2nd and 3rd February. How? Because of the people endorsing it. Namely celebrities with a reach so substantial and a standing so influential they convinced people to take an action that required more than merely tweeting a hashtag.
The visualisations show which Twitter accounts drove the most engagement and at what point during the day. Each 'node' represents one Tweet, and its size represents the total Retweets received by the author.
(this video visualisation includes all the mentions related to the campaign)
Dive into the BofA diffusion network
Peak velocities highlight the different dynamics
The difference in dynamics is crystallised in their peak velocities. Given the timing of its advert, Esurance went viral between 7pm and 8pm PST, during which it received over 23,000 mentions per minute at peak time.  On the other hand, the BofA campaign – which had been announced in advance, somewhat dampening its spontaneous impact on Twitter – peaked at half-time between 4pm and 5pm PST at a velocity of 500 mentions per minute at peak time.
A deeper look at the retweet:tweet ratio during their respective peaks underlines the campaigns' contrasting characteristics. There are nearly 11 times as many tweets as retweets pertaining to Esurance, whilst retweets and tweets for BofA are almost level. Esurance sought to raise its own brand awareness, whereas BofA aimed to share a charitable message and encouraging action.
All-star army of advocates drive downloads
The top influencers for each campaign add to the story. Aside from Esurance itself and actor John Krasinski who starred in the advert, the most-retweeted individuals are 'regular' people. The BofA campaign is dominated by celebrities and accounts with a creditable and vested interest in the charity. A look at top locations verifies this, with Los Angeles, "home of the stars", featuring much more prominently for BofA than it does for Esurance.
With its all-star army of celebrity advocates, BofA was able to reach a diverse audience on Twitter. The initial burst of engagement prior to the Super Bowl was led by television and comedy personalities, namely Oprah, Jimmy Fallon, Conan O'Brien and Ellen DeGeneres. Actors and actresses such as Tom Hanks and Ashton Kutcher were also involved before kick-off, after which the music community took over. U2's appearance ignited Miley Cyrus, Usher and the Rolling Stones. The campaign then filtered down to business (Apple's Eddie Cue), politics (Bill Clinton) and fashion (Giselle Bundchen).
If you'd like to find out how we can help you make the best of your social media campaigns, let us know at [email protected] and we'd be happy to get in touch.