How Universities can use Audience Intelligence in Higher Ed Marketing & Communications
You won't learn much without listening: that's both true for students in the classroom (or class Zoom), and for the institutions educating them.
University marketing and comms departments today face many of the same challenges as other businesses, together with numerous others specific to higher education. Century-old universities retain some of the most well-known brands in the world, and are faced with the challenge of protecting their storied reputation during uncertain, volatile times.  Newer entrants in the university sector, on the other hand, need to quickly and consistently build a brand which inspires trust.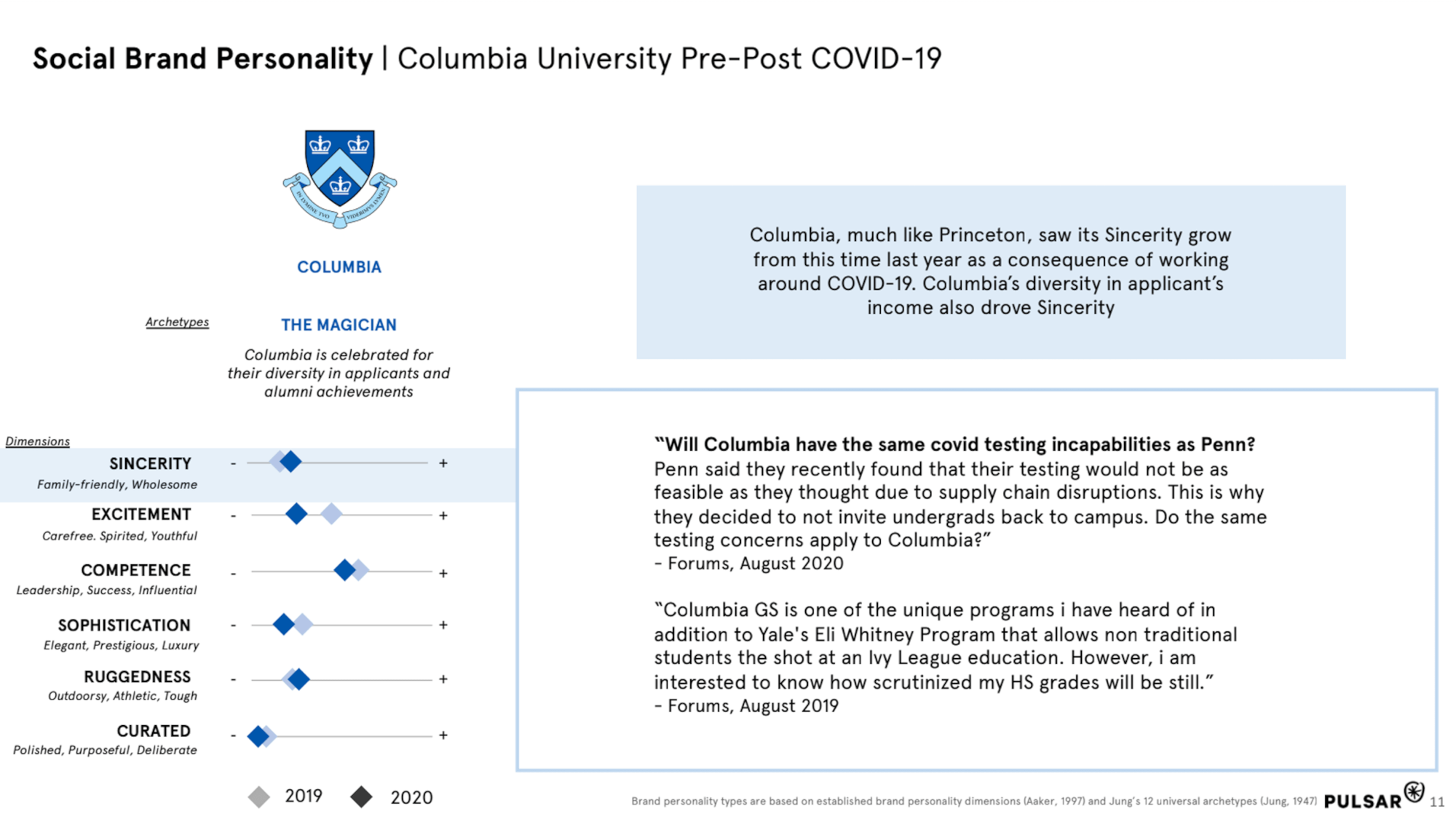 (excerpt from the Pulsar Social Brand Personality Report, of which more later)
But it's not just about reputation. Every year, colleges need to recruit the right students, amplify the impact of research conducted by its faculty, understand the needs of current students to improve campus life and experience, as well as foster relationships with key stakeholders, including donors, staff, alumni, sports teams fans, other universities, local communities, and more.
This constitutes a truly varied list of needs. The decision making process behind each and every instance of outreach or campaign, however, can be clarified by simply listening to, and better understanding, your audiences. It's a service Pulsar currently provides for, among others, the University of Oxford, King's College London and the University of Arizona.
Summary of the guide
This guide looks at how universities can capitalize on audience intelligence and social listening tools and apply these insights to optimize PR, communications, and content. The guide takes a deep dive into what universities can do to manage their brand, and how they can adapt their communications to focus on what matters to current and future students. The guide also incorporates video use cases, with recommendations as to how universities can incorporate audience intelligence insights into their marketing and communications strategy. 
In this guide, we will explore a number of distinct use cases in which institutions stand to improve their levels of insight and decision-making through the use of audience intelligence: 
Using Audience Intelligence Insights to Boost College Admissions and University Recruitment in the UK & US

Managing Higher Education Brand and Reputation

Using Insight to be Agile and React to Current Events with PR, Campaigns, and Crisis Management 
As a demographic, students tend to spend more time online, time in which they offer countless signifiers as to behavior, perspective and intention.
What's Pulsar TRAC?
Pulsar TRAC, an advanced audience intelligence platform, empowers higher education institutions to take a strategic approach to manage their reputation and brand. By mapping social conversations to audiences, universities can tailor their comms strategy and create bespoke content to engage different communities and stakeholders. 
Discover More
Using Audience Intelligence Insights for UK Student Recruitment  
Audience intelligence enables university communications teams to understand the drivers of student choices. In the UK, university brand, culture, and academic reputation are decisive considerations for prospective students, with The Russell Group universities consistently scoring highly across these considerations. Maintaining brand image is integral for universities in attracting the best and the brightest minds. 
Audience intelligence equips recruiters with powerful data-driven insight to understand the conversation around new admissions or enrolment. Pulsar TRAC users can set up distinctive keyword searches related to new students at the consideration stage of the enrolment funnel (click below for a video explainer on turning these into insights).
Higher Education Masterclass – Deanna – Strategic Partnerships with institutions from Pulsar Platform on Vimeo.
Understanding your audience is essential for formulating engagement strategies and understanding how to participate in the conversation. Your audience is not a monolith. After all, approximately 50% of a university's audience consists of students. The other half includes staff, researchers, charities, and journalists, and that's before we even get on to more nuanced disparities in identity, behavior and outlook. 
Advanced audience insight enables communications teams to create distinct personas and formulate relevant content strategies for each target audience.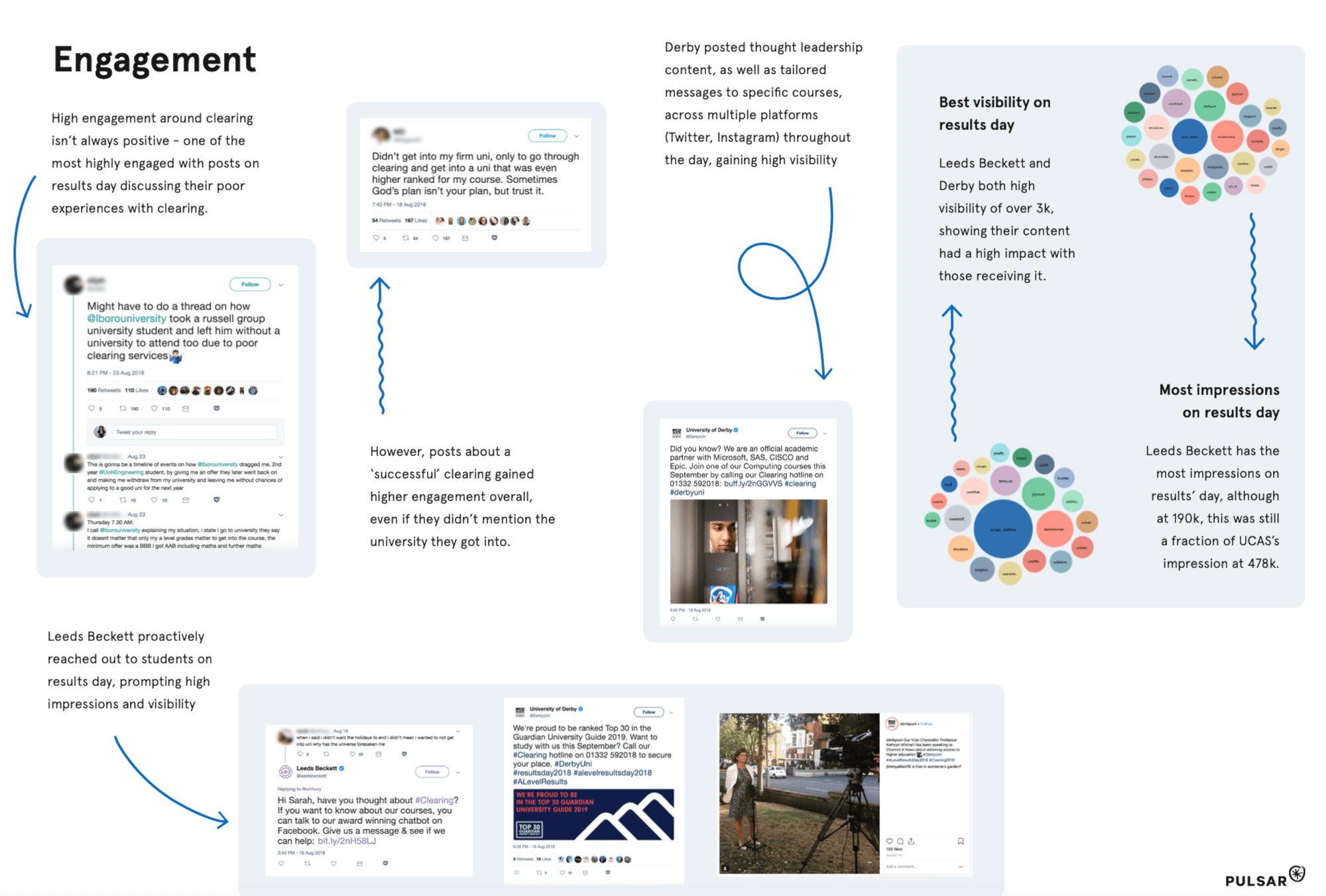 Pulsar users have access to a broad range of perspectives through advanced filtering. They can use these advanced insights to observe the far-reaching impact of topical conversation. 
Furthermore, marketing teams can access insight from a broader pool of potential applicants, including those candidates who have not yet entered the enrolment funnel. As well as listening to potential applicants, comms teams can formulate effective strategies to initiate a conversation with under-engaged groups. Proactive social listening enables teams to understand what matters to your broader public, even if they are not yet mentioning your brand or institution. 
And this understanding doesn't only take place on a domestic level, but also internationally; universities want to be able to attract the brightest and the best students from around the world. Within the Russell Group, 32% of students are from outside the UK; Pulsar users can track the online conversation in over a hundred languages.
Spotlight: Navigating the Clearing Conversation 
We gathered insights on which universities were most engaging and supportive to their prospective students.
The chart below lays out what we discovered in our inaugural edition. In subsequent editions we found that, overall, universities approached clearing on social by engaging with students, and pushing the 'fun' side of their universities, rather than doubling down on known factors which students will have already discovered in prospectuses and open days.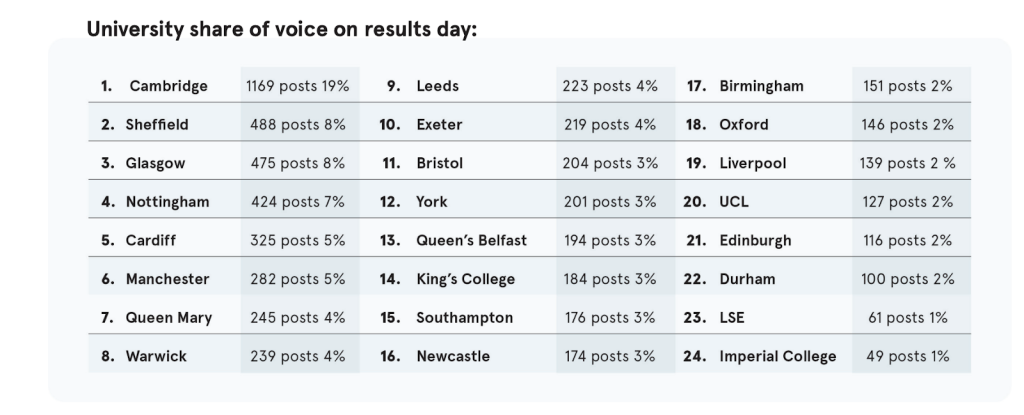 Before results day, 7% of posts mentioning clearing also discussed league rankings, which was similar on results day and this increased during the September period as students were more interested in where their new university ranked.
Accomodation was the most discussed topic alongside clearing, starting at 33.7% of discussion as students worried about arranging where to live if they went through clearing. Consideration of the campus itself also increased on results day, but and sports facilities stayed more or less the same throughout the period.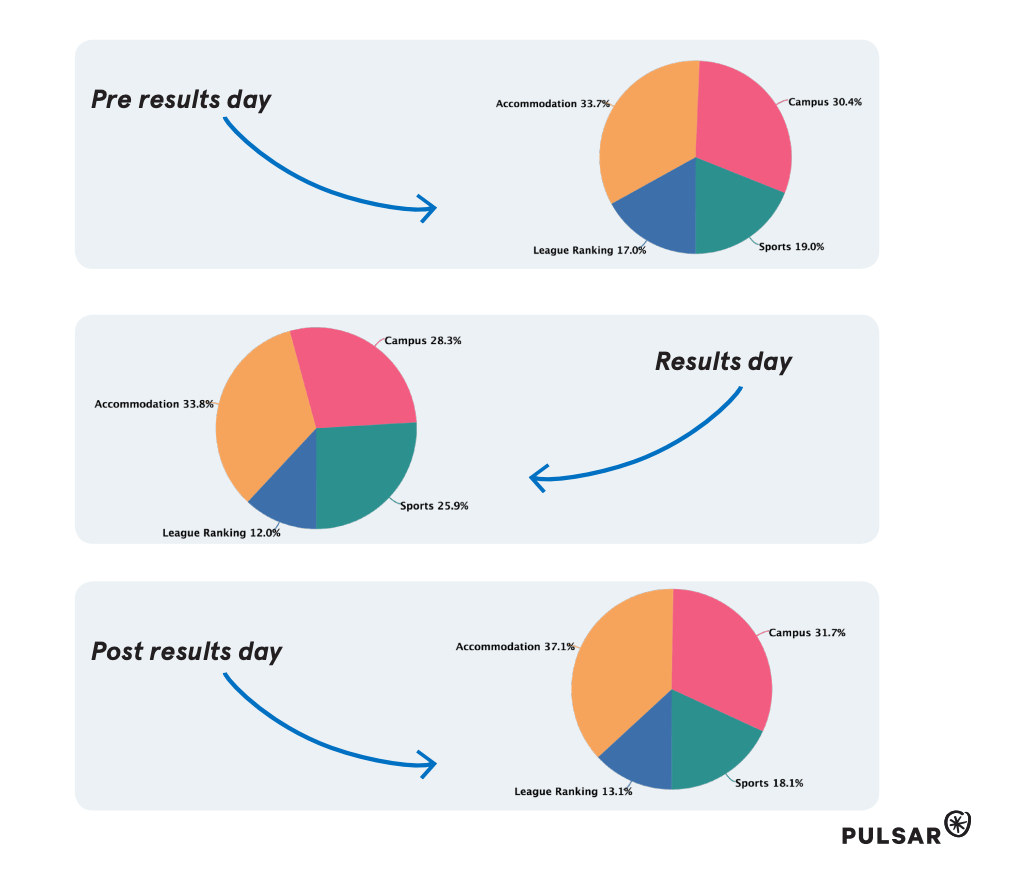 Read more on the most recent edition of The Clearing Report 
Using Audience Intelligence Insights for US Student Recruitment  
Case Study: Prospecting New Students in California
Universities want to understand why students apply to a particular school. A recent Pulsar study focused on understanding the conversation that took place among prospective students considering applying to Californian universities. Using Pulsar TRAC to observe the discussions around the college decision, users can visualise and understand the top considerations for potential applicants. 
The insights surfaced using Pulsar's Communities feature enable the user to understand the most influential factors for each distinct community. Using this functionality, the Pulsar research team segmented the college admissions conversation to observe the different audiences discussing Californian university applications.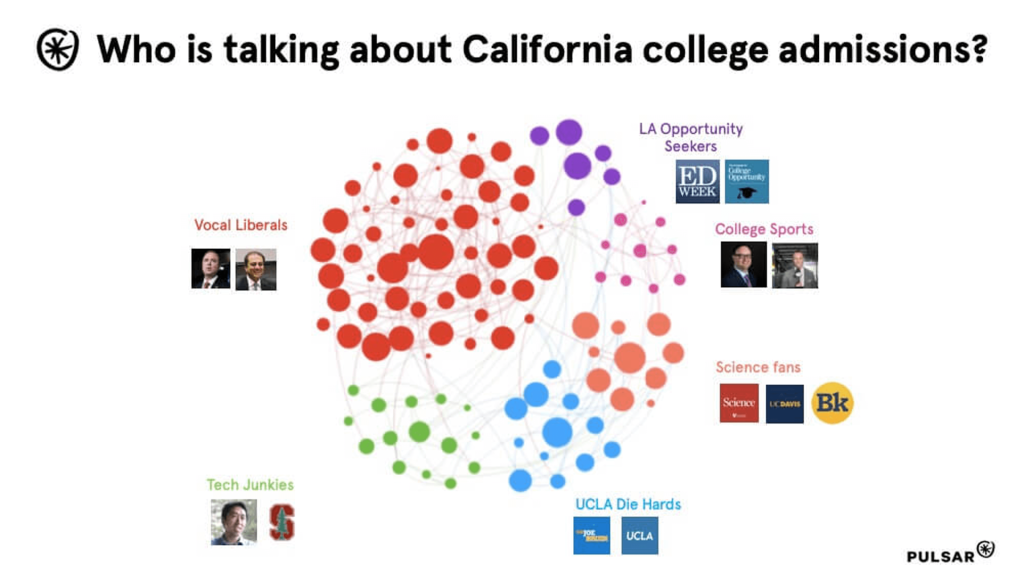 The data shows how different communities (such as vocal liberals, science fans, and college sports fans) contribute to the buzz around Californian college admissions. As well as segmenting by the audience, Pulsar users can also dissect the data further by channel. We know social media users use each channel differently; admissions can target each site with targeted content. Prospective students use each social platform to achieve different goals. Social media teams can boost engagement by adapting their strategy for each platform.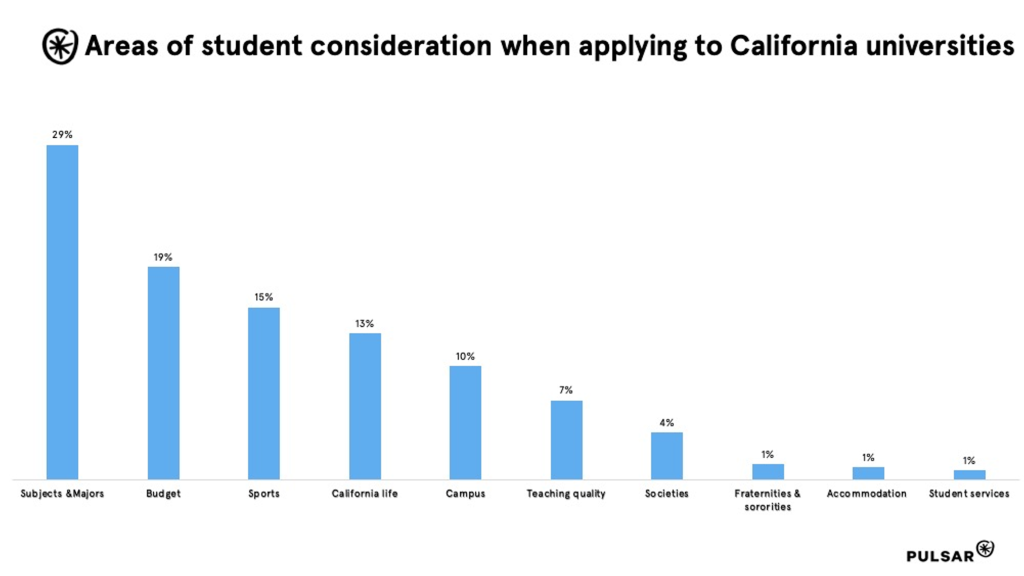 While Twitter is more focused on acceptance letters and offers, students use Reddit forums in the consideration stage of the enrolment process. Reddit is a better source for universities to understand the factors contributing to choosing a college. Here, students are also more likely to voice their worries and concerns about the selection process. 
Taking a deep dive into the different audiences highlights that Facebook is the channel of choice for guardians and caregivers. On Facebook, recruitment teams can adapt their messaging to be more family-driven and targeted at parents rather than students. 
Pulsar users can also launch searches constructed around specific stages of the process. For the admissions teams, this provides an opportunity to make an alternative offer to apply to a Californian university.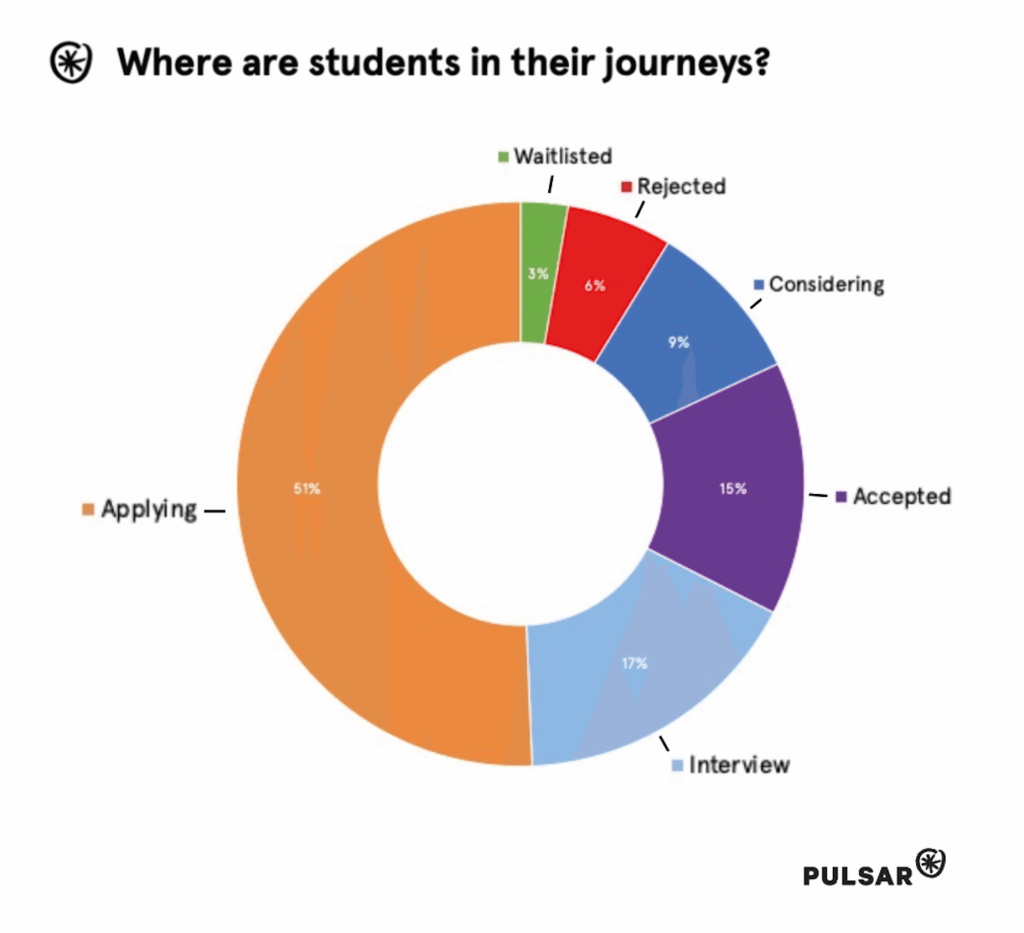 The Communities integration in Pulsar TRAC enables admissions teams to dig deeper into different audience segments.
Pulsar users can use advanced filters to break down the conversation by demographics, communities, and distinct audience segments. Users can slice and dice the data by particular keywords, which means analysts can categorize conversations into various topics. 
Recruiters can therefore see the factors that matter most to individual communities and groups of prospective applicants. Using these insights, the communications team can prioritize these considerations to tailor their marketing messages for each audience segment. 
Pulsar users can also see which audiences have higher affinities for particular colleges. Stanford was the most discussed school overall, but college sports fans showed higher engagement with USC. Meanwhile, LA opportunity seekers showed more interest in California State. 
Content teams can then apply audience intelligence to add an extra layer of insight to the conversation around college selection, viewing the most influential factors for different prospects. Pulsar's research showed Stanford was the most mentioned college in the context of fraternities and sororities, for instance, while conversations about diversity focused more on UCLA.
Managing Higher Education Brand & Reputation
Case Study: Using Audience Intelligence to Track the Reputation of Ivy-League Schools
Pandemic-induced campus closures led to the brand reputation of many globally renowned universities coming under fierce scrutiny. Charging fees while moving to virtual learning was a source of contention. Others fixed on the degree of support offered to students, and the participation of various bodies in creating, or endorsing, epidemiological measures such as vaccines or lockdowns. Pulsar's research team sought to quantify the impact by utilizing a new research methodology: the Social Brand Personality index.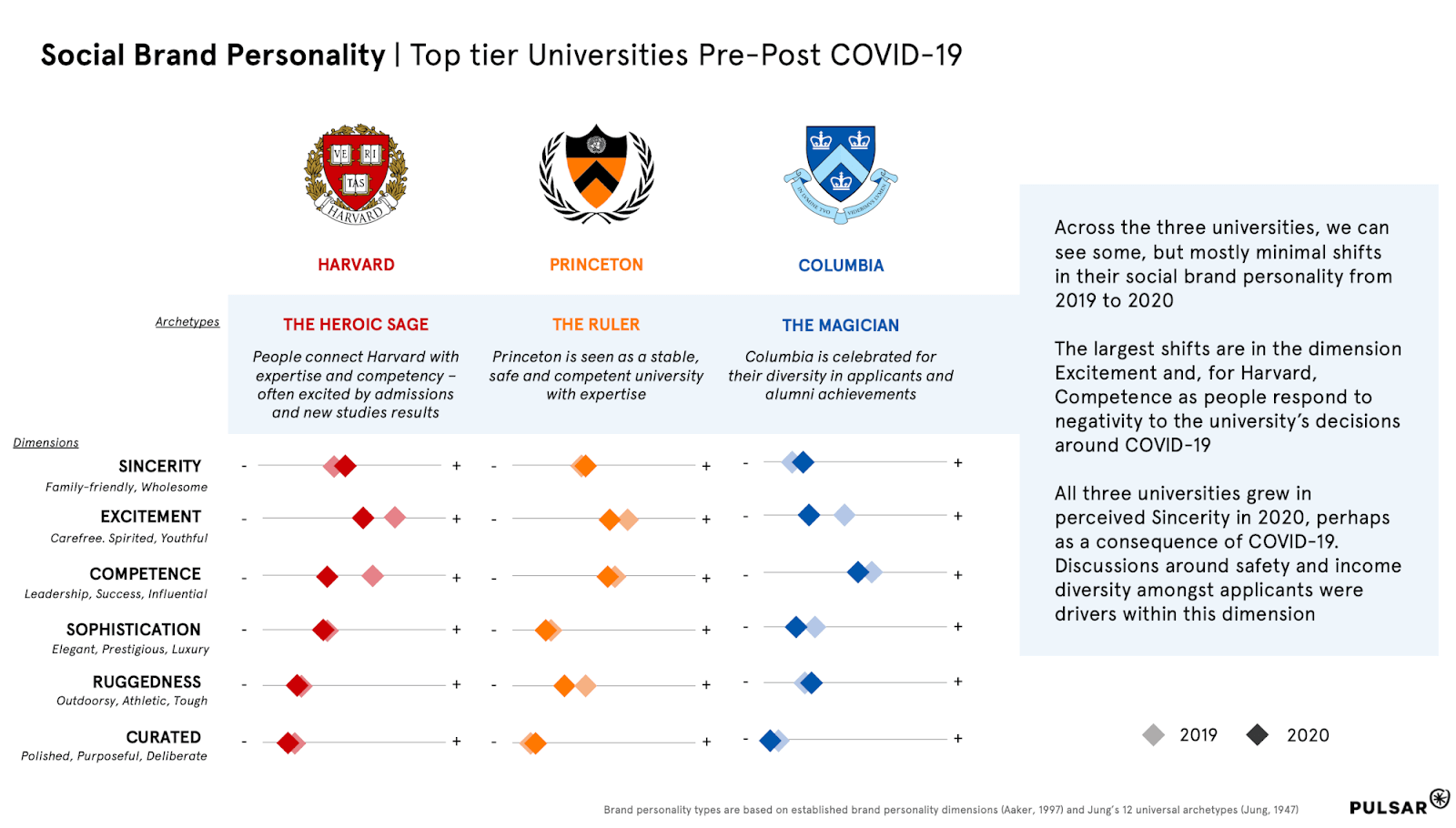 The Index uses advanced audience intelligence to map social conversations to brand personality traits and archetypes. The research focused on measuring pre and post-pandemic mentions of Harvard, Princeton, and Columbia. Observing social conversations at two different timestamps provided snapshots of brand perception before and after the impact of Covid19.
By fusing Jungian archetypes with Jennifer Aakers brand dimensions, as well as a wealth of social insights and signals, the research team used the insights to map social conversations to archetypes and brand attributes. This involved searching for particular words and phrases linked to specific archetypes and qualities: sincerity, excitement, competence, sophistication, and ruggedness.
Read more about the Higher Education Social Brand Personality Index 
Using Audience Insights for Agility and Reacting to Current Events 
Recent years have seen higher education institutions content with health emergencies, lockdowns and cancelled or compromised examinations. 
Given this turbulent backdrop, it's more important than ever for social media teams to focus on adapting their tone of voice to optimize their messaging and communication appropriately.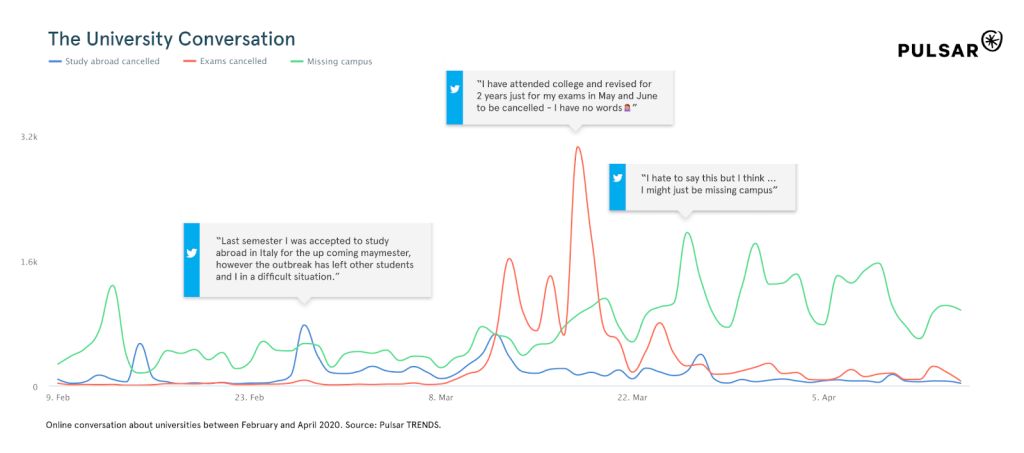 Having an ear close to the ground enabled social teams to be immediately responsive to the prevailing mood, and news cycle. Pulsar enables the user to stay on top of all mentions of their institution, faculty, alumni or associated campaigns. More importantly it also maps the communities having these conversations, and where they take place (to see a practical application of Pulsar TRAC, see the video explainer below).
Higher Education Masterclass – Philippa – Brand Tracking from Pulsar Platform on Vimeo.
Marketers and communication professionals within higher education are faced with a uniquely complex proposition, one that would have been entirely alien to founders of their institutions sometimes centuries before. 
They are also, however, presented with a wealth of information from a demographic with an outsized presence online. These communities are often not shy in expressing opinions – the information simply needs to be organised, tied to objectives, and listened to. 
---
If you'd like to discover more about our data sources, vertical AI, or the many different ways Pulsar can unlock insights across Higher Education, you can book a demo with one of our specialist using the form below.